Yocan Falcon Mini Nectar Collector
Yocan Falcon Mini Nectar Collector is a wax vaporizer with a NEON GLOWING design. It features 2 use modes, a safety auto cut-off function and variable voltages.
Yocan Falcon Mini Nectar Collector Instructions
Yocan Falcon Mini Nectar Collector Instructions
Overview
Yocan Falcon Mini Nectar Collector is a bedazzling and beaming firefly-inspired vaporizer pen! Yes, you read that right. This neon glowing vape pen is a kin of the famous Yocan Falcon 6-in-1 vape pen. But it is an ultra-compact version. Besides its mini stature and glowing body, it provides exceptional features perfect for busy individuals who want to puff away their worries. Plus, it gives an instant punch of vigor and vitality.
Do you want an extra dash of energy on a humdrum day? You might want to check out what this Falcon mini offers.
Since the Falcon Mini is a lightweight, compact vaporizer pen, you can easily keep this discreet pen in your pocket, pouch, or handbag, and you are good to go. Moreover, when using the device, the vaporizer's body lights up and disperse beautiful and multicolored lights; hence, making your vaping experience colorful, especially when vaping in the dark.
The neon lights in the transparent tube change from blue, purple, red, yellow, green, blue, and white. The smooth transition of these colors will make your vaping colorful.
So how does it make the vaping experience best? It offers two operative modes, i.e., on-demand and session modes. The on-demand mode will activate when you press the power button and it heats your wax concentrates for fifteen seconds. In contrast, click the fire button twice to enter the session mode. You can enjoy the continuous heat streams for fifteen seconds with this mode. However, this fifteen-second session will deliver incredible flavors and potent hits. Not to mention, the advanced gold-plated XTAL tip has five air holes that guarantee to provide smooth, delicious vapors and massive clouds.
Do you wish to make the most of your mini nectar collector? Its three adjustable voltage options will help users reap its wonderful effects and enjoy the delectable rips.
Press the fire button thrice to switch between 3.2V, 3.7V, and 4.2V. The highest temperature will extract the most potent cannabinoids to deliver the oomph you desire. What's more, it comes with a 650mAh long-lasting battery for a longer vaping experience. This miniature vape pen is powered by an ideal battery with excellent battery capacity.
Are you worried about your vaporizer going dead? Not a problem! It comes with a Micro-USB charger for instant charging; thus, making it a perfect candidate for people who are constantly moving.
What about its cleaning and maintenance? It does not require much. But if you feel the need to clean, the atomizer tube has magnetic connectivity for instant cleaning. Plus, it has a detachable airflow path. Thus, it will make the device's maintenance effortless.
Lastly, these portable, convenient devices are available in several colors like blue, Apple Green, Green, Red, Silver, and Black to suit your lifestyle.
Features of The Yocan Falcon Mini Nectar Collector
Innovated neon glowing design
Highly compact and portable
Discreet, robust, but lightweight body
Offers two modes, i.e., a session and an on-demand mode
Automatic cut-off after fifteen seconds
Ingeniously-designed gold-plated XTAL tip
Provides variable voltage settings
A long-lasting 650mAh battery
Includes a micro-USB charger
Straightforward usage and cleaning
Available in multiple colors
Specifications of Yocan Falcon Mini Nectar Collector
Size: 130mm x 20mm
Battery Capacity: 650mAh
Charging Type: Micro USB
15 Second Auto Cut-Off
Voltage Settings: 3.2V (White), 3.7V (Blue), 4.2V (Green)
On-Demand Mode And Session Mode
Atomizer Connection: Magnetic
Material: Stainless Steel, Ceramic, Quartz Tip
Colors: Black, Silver, Red, Apple Green, Blue, Green
Package Includes
1 x Yocan Falcon Mini Nectar Collector (With The Built-In XTAL Tip)
1 x Micro USB Charging Cable
1 x User Manual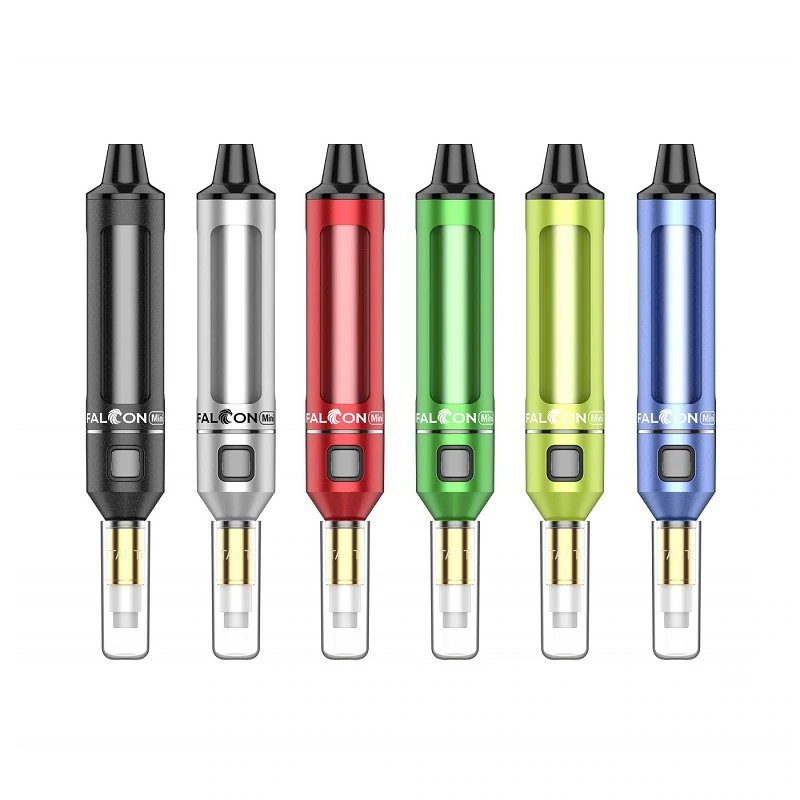 Customers who bought this product also bought:
Product added to wishlist
Product added to compare.

By entering Vape4Ever, you affirm that you are of legal smoking age 21+ and you agree to be Age Verified.