Yocan LUX 510 Thread Battery
Yocan LUX 510 Thread Battery with variable voltage 1.8V to 4.2V adjusted by dial twist comes with a durable alloy body and fits 510 carts for wax concentrates.
Yocan LUX 510 Thread Battery Instructions
Overview
The Yocan LUX 510 Thread Vape Pen Battery is a simple-to-use vaporizer suitable for both beginners and advanced vapers. The 510 thread battery enables users to use a wide range of coils and cartridges.
The LUX 510 Thread Vape Pen Battery has an alloy body, and it is one of the most durable vaporizers on the market. Compared to plastic, the alloy is a tougher material which means that your device will not easily break. Besides being a tough and durable material, the alloy is lightweight as well. This device is ideal for people who are looking for a convenient on-the-go vaporizer.
This Yocan battery comes with variable voltage. The voltage can be easily set by twisting the top of the vaporizer. This is very convenient because users will not have to remember different color codes for different temperature levels nor various button combinations. The voltage adjustment dial makes the LUX 510 Thread Vape Pen Battery perfect for beginners, experienced vapers.
Users can choose from a broad range of temperatures because the voltage range is from 1.8 volts to 4.2 volts. If you prefer flavorful and smooth vapor, then you should set a lower temperature. On the other hand, if you want to enjoy more potent hits, a higher temperature would be ideal for you. The temperature level is also important for conserving the battery. Lower voltage will use less power, and vice versa.
The 400mAh battery will enable you to use your vaporizer for a few hours, especially if you are using oils. It can be charged via a micro-USB cable. This device is suitable for short and light vaping sessions, and if you are a heavy user, you might need to charge the battery once or twice a day.
The Yocan LUX 510 Thread Vape Pen Battery features a 10-second pre-heat option for preparing your selected material (oil and wax concentrate) at a temperature lower than the vaping temperature. You can activate and deactivate the pre-heat feature by clicking the power button twice. This way, the battery is conserved, too.
There is also a 15-seconds safety cut-off feature which additionally conserves the battery. The power from the battery to the coil is automatically shut down, thus preventing the device from overheating and misfiring.
The Yocan LUX 510 Thread Vape Pen Battery does not have an open cartridge setting. This means that you can use various kinds of 510 carts and atomizers without worrying about their dimensions. Just place your selected 510 vape cartridge on top of the battery, and you are good to go.
Features of Yocan LUX 510 Thread Battery
Durable and lightweight
Premium alloy body
Variable voltage (from 1.8V to 4.2V)
Voltage adjustment dial for easy use
10-second pre-heat
15-second safety cut off
Micro-USB charging port
Fits 510 thread vape cartridges
Use for wax concentrates
Specifications of Yocan LUX 510 Thread Battery
Battery Capacity: 400mAh
Weight: 0.5-0.6 lbs
Voltage Range: 1.8V-4.2V
Preheat Mode: 10 Seconds, 1.8V
Material: Alloy Body
Connection: 510 Thread
Charging Type: Micro USB
Voltage Adjustment: Dial Twist
Available in 5 Colors: Black, Silver, Red, Gold, and Blue
Package Includes
1 x Yocan LUX 510 Thread Battery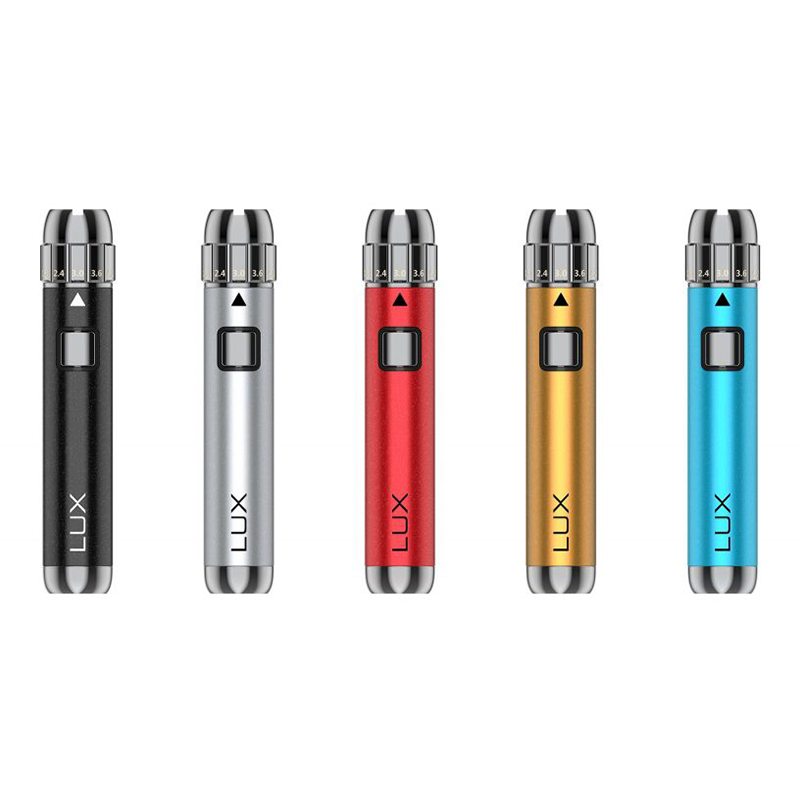 Customers who bought this product also bought:
Product added to wishlist
Product added to compare.

By entering Vape4Ever, you affirm that you are of legal smoking age 21+ and you agree to be Age Verified.