Best Dry Herb Vaporizers Overview
Do you know a dry herb vaporizer is presenting plenty of benefits for cannabis consumption? We made an effort and tried to make picking the first marijuana vape easier by compiling all the best dry herb vaporizers together. Additionally, cannabis legalization is currently opening business opportunities in US states and diversifying the selection of vapes. Still, more is about to happen in the vaping industry due to various weed pens and concentrates collections. What a snag! How would you find the best portable vaporizer that can save your bucks and your favorite cannabis buds? We know what's your taste. Here is a recommendation and buying guide for picking affordable vaporizers. Hold off because you'll say that's a good buy at the end.
Best Dry Herb Vaporizers For Beginners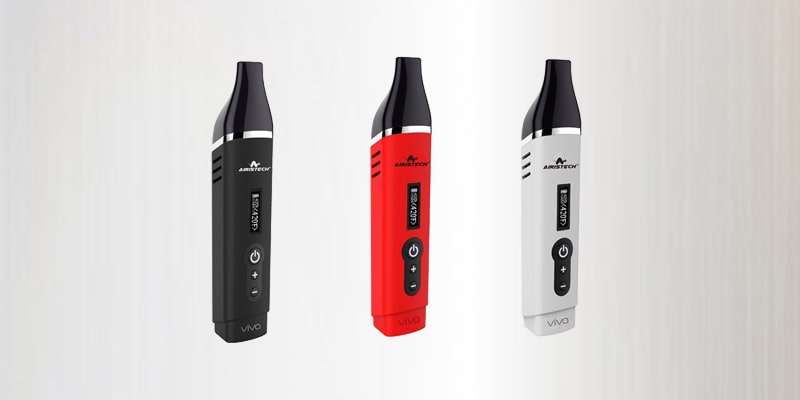 Airistech Herbva Viva packs stellar features in abundance for vaporizing weed. Its ceramic chamber has baking technology instead of combustion, thus, delivering pure, flavorful vapors. It offers various temperature settings, i.e., 300° F to 435° F, and the supersonic heating speed will only take 20-30 seconds to heat your cannabis at the desired temperature. This portable, single button-operated weed vaporizer also has an excellent OLED display to keep you updated and an outstandingly massive 2200mAh battery. The flower vaporizer comes with a micro-USB cable and other necessary accessories to make your vaping experience the best.
Best Dry Herb Vaporizers At Low Price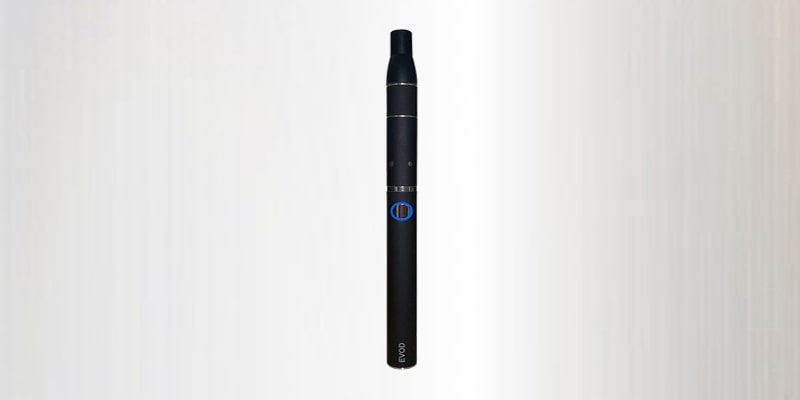 Premium Dry Herb Vape Pen is a trendy, slim, affordable, and cigarette-style vaporizer pen that is ultra-portable and discreet. This lightweight model's remarkable feature is its high-class heating chamber that utilizes a modern heating technique. The coil inside will not directly contact the herbs, hence, it will provide pure, luscious flavors. Moreover, this dry herb pen has a 510 thread connection making it compatible with 510 thread vape cartridges. It also includes an LED light for signaling various indications, an excellent rechargeable battery for extended vaping sessions, and a lock-safe battery that makes it extraordinarily travel-friendly and pocket-friendly.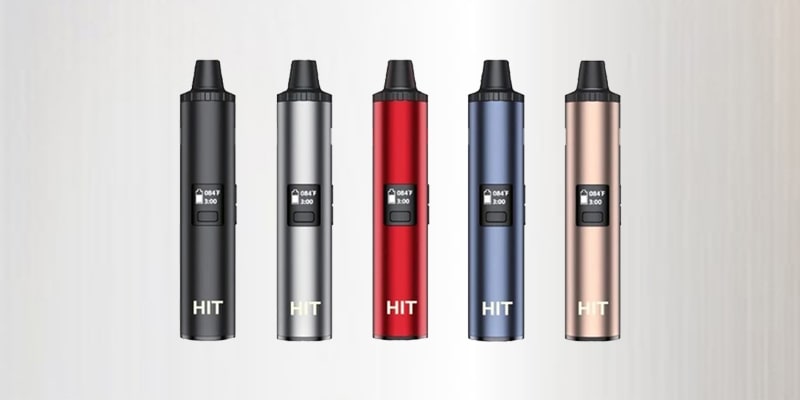 The most budget-friendly, innovative from Yocan is HIT. One of the extraordinary features of Yocan HIT is that it possesses a convection oven that offers impeccable vaporization of your favorite dry herbs without burning them. This ingenious weed vape includes other remarkable attributes like a ceramic chamber for constantly delicious, smooth vapors, a vibration feature, an excellent airflow distribution, an automatic power cut-off option, and a brilliantly designed OLED display. Moreover, it has a 1400mAh battery capacity, variable temperature settings (200°F-480°F), and two vaping modes (3 and 5 min).
Best Conduction Dry Herb Vaporizers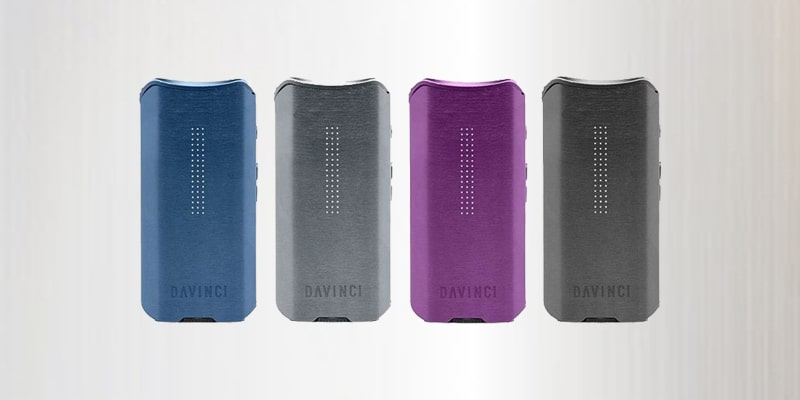 Davinci IQ2 is a small but mighty 2-in-1 vaporizer for dry herb and wax. t is a dual, discreet, and portable weed vape device that provides you with the best of both worlds. The Davinci IQ2 herb vaporizer guarantees user-friendly operation and top-notch flavors. It is a refreshed version of the original Davinci IQ that offers Air Dial settings to adjust airflow, an ultrarapid conduction heating mechanism, improved insulation, and an extensive material reservoir. Moreover, this brushed aluminum-crafted weed vaporizer is rechargeable and works with a removable 18650 battery. It offers four color options and includes all the essential accessories to make your vaping session worthwhile.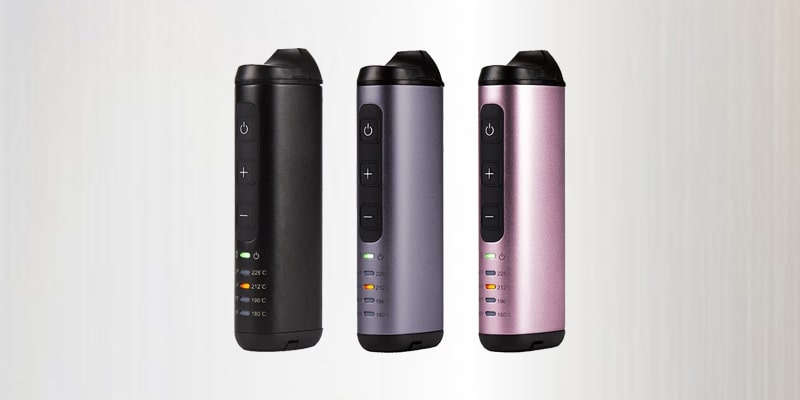 Vapium Lite is currently one of the most cost-effective, ergonomically-designed, and handy weed vape devices that delivers potent and flavorful vapors. This glossy and sleek-looking vaporizer is crafted in a medical-grade ISO-certified factory. Moreover, this vaporizer has several praise-worthy features, including a quick 45-seconds heat conduction technology, a cutting-edge ceramic oven for smooth, pure vapors, a 0.33 grams oven capacity, and an advanced air path. Plus, it comes with a rechargeable 1100mAh lithium-ion battery and eight different temperature settings (356 °F – 446 °F). The package includes the device and necessary equipment to make your vaping session exceptional.
Best Convection Dry Herb Vaporizers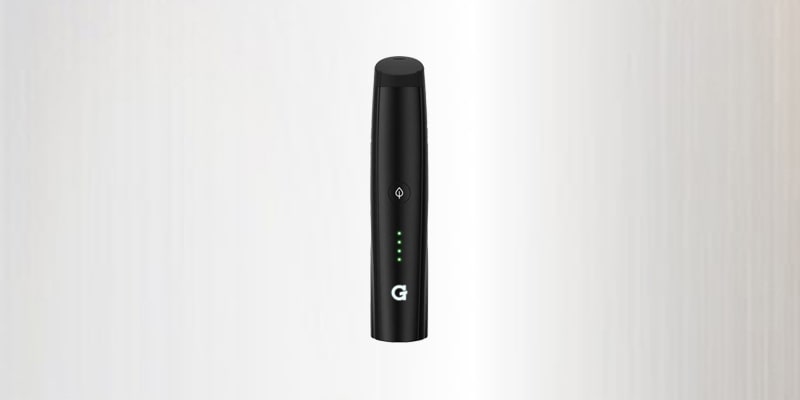 G Pen Pro is an innovative creation of Grenco Science that is compact, lightweight, portable, durable, ergonomically designed, and offers reliable performance. It is a portable, slim, sleek vaporizer for dry herb with a color-coded LED screen display. It operates via a single button, possesses a spacious ceramic heating chamber, and has three temperature settings (375°F, 400°F, and 428°F). This kit offers a convection heating technique to provide flavorful and smooth-tasting vapors. Its 1300mAh rechargeable battery takes thirty seconds to heat the content and features a safety power-off protection for long-lasting fun.
Boundless Tera is a slightly bulkier weed vaporizer than the other options mentioned. Still, it is a top-notch, portable, and durable vaporizer that allows you to vape concentrates and dry herbs. Its noteworthy features include a supersonic heating speed that usually takes 20-30 seconds, utilizes convection heating, and heat content evenly. It is one of the best weed vapes that comes with two removable and rechargeable 2200mAh batteries for stellar vaping sessions, and its open airflow allows smooth, cool vapors. Moreover, this premium food grade and medical grade flower vaporizer includes a water pipe adapter, protects the device via an automatic shut-off feature, and offers variable temperature settings for dry herbs (140°F–428°F) and concentrates (500°F).
Best Hybrid Dry Herb Vaporizers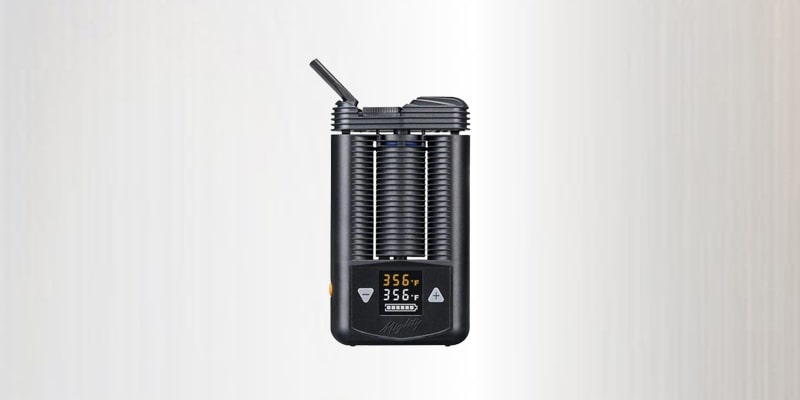 Storz & Bickel Mighty combines conduction and convection heating technology to provide the best tasting flavors without burning your weed. Its dual lithium-ion battery allows individuals to vape for an extended period, thus, eliminating the need to recharge the device every few minutes. This weed vape kit includes an LED display for indicating temperatures, an automatic shut-off feature after two minutes to preserve battery life, and features vibration design. It also allows temperature adjustability (104° F – 410° F) and enables you to customize your vaping experience with the help of a Bluetooth app.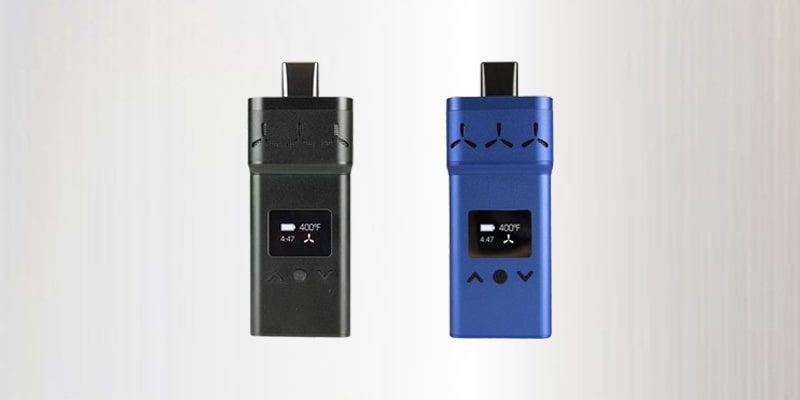 Airvape X is marvelously crafted by Airvape. It is incredibly user-friendly, portable, smell-proof, elegant, and leak-proof. This glass and aluminum manufactured herb vaporizer is versatile and compatible with waxes, concentrates, oils, and dry herbs. Its rechargeable 1300mAh powerful battery lets users heat their content via conduction and convection heating technology. Furthermore, the device discreetly vibrates, ensures optimal airflow, heats within 20 seconds, shuts off automatically, and includes an LED display and variable temperature settings (200°F to 420°F). In addition, it consists of all the essentials, and this weed vaporizer is available in two color options.
Best Dry Herb Vape Pens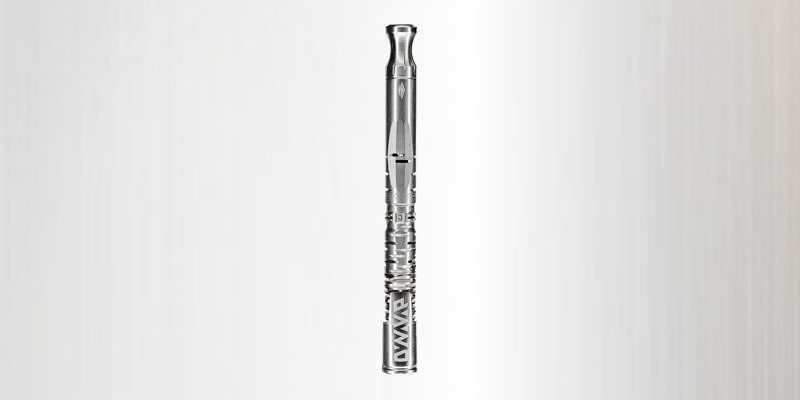 Dynavap The Omni 2021 is an upgraded, no-battery vaporizer designed to heat your dry herbs manually. Compared to Dynavap M 2020, this cigarette-style dry herb vape pen is crafted from titanium, thus, making it durable and robust. It is also portable, discreet, and straightforward to use. Moreover, its nine fins tip perfectly dissipates heat, a Nona crown increases airflow, and a spiral variable pitch enables you to change the airflow. The vape pen also includes an adjustable bowl that can fill up to 0.05 or 0.1 grams and twin turbulating air-ports. Although this device is compact and mini, it produces enormously thick vapors with potent effects for a satisfying vaping session.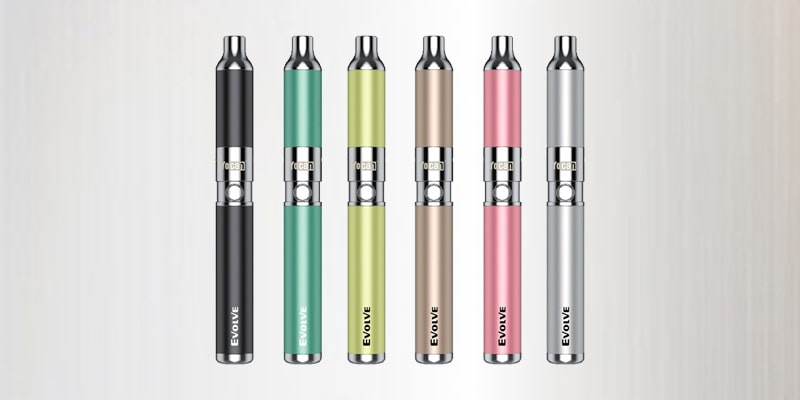 Yocan Evolve-D is a handy, compact, and highly convenient vape pen for dry herb. One of the most striking features is its pancake dual coil technology with an upgraded surface area to enable users to use an improved heating chamber. Plus, the Evolve-D heats the dry herbs evenly to produce massive, thick clouds. The other features include a chrome exterior that makes it exceptionally travel-friendly, a 650mAh rechargeable battery, a ten-second safety cut-off feature, a 510 thread connection, and a voltage range of 3.2V and 4.2V. Plus, it comes with all the necessary weed accessories to make your vaping experience top-notch.
Best Portable Dry Herb Vaporizers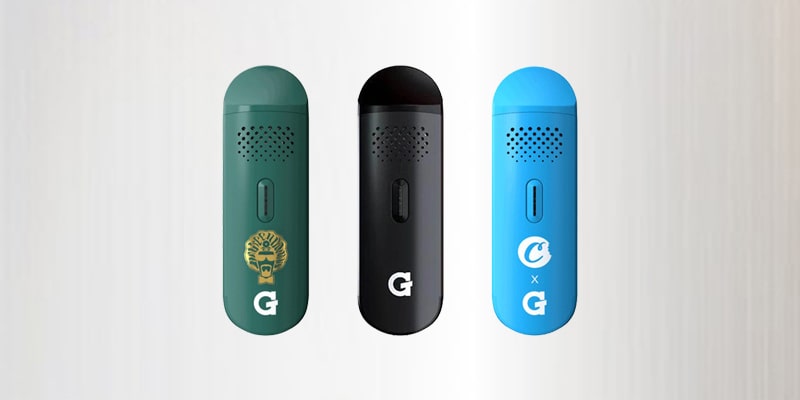 G Pen Dash is an aluminum-alloy constructed portable dry herb vaporizer, thus, making it exceptionally lightweight, durable, and travel-friendly. It is composed of a glass-glazed and stainless-steel heating chamber, and glass-glazed is known to enhance the vaping material's flavor. Moreover, this economical and rechargeable herb vaporizer includes a 950mAh battery, three adjustable temperature settings (375° F, 401°F, 428°F) indicated by various LED lights, and an automatic shut-off option, a 20-second heating time, and a 510 thread connection. It is pretty straightforward to operate, and it comes with a USB charging cord and a single charge offers eight to ten outstanding vaping sessions.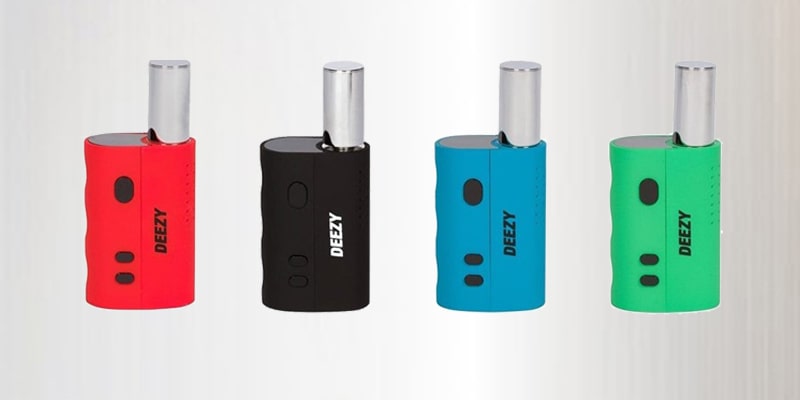 The Kind Pen Deezy is a mini and convenient weed vaporizer for delightful vaping and delivers outstanding flavors with minimal herb wastage. It has a magnetic cap that averts accidental opening, making it a perfect companion for traveling. This smallest portable dry herb vaporizer with a stylish matte finish has isolated airflow, 1100mAh powerful and rechargeable battery, operates via a single button, includes haptic feedback, heats content within thirty seconds, and provides variable temperature settings (302°F to 437°F). It offers six color options, and this vape kit includes all the tools and a universal USB charging cable to vape anywhere and anytime you want.
Best Desktop Dry Herb Vaporizers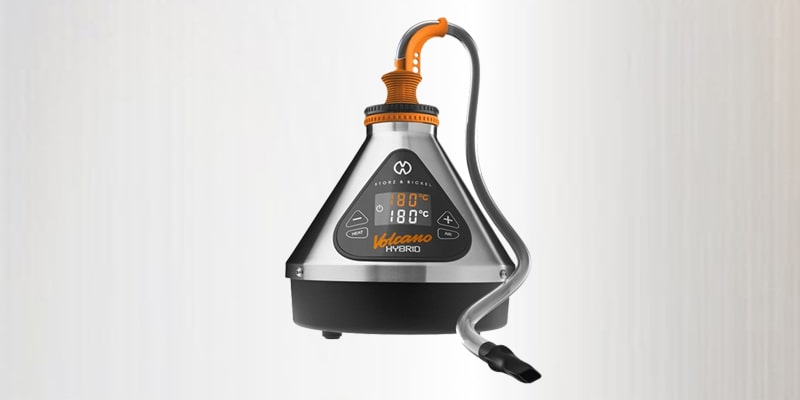 Storz & Bickel Volcano offers dual ways to enjoy delectable flavors, i.e., through the standard balloon bag or whip delivery system. And this Volcano vaporizer caters to vaping enthusiasts and novices simultaneously. Moreover, it offers a hybrid inhalation system, i.e., convection and conduction. The desktop vaporizer stellarly preheats wax concentrates and dry herbs within five seconds, offers variable temperature settings (104°F to 446°F), and includes an LED screen. Also, the Volcano hybrid vaporizer allows users to control the device temperature by downloading its app on a tablet or phone. Plus, its 100-wattage heater circulates the heat exceptionally and heats your cannabis flower without burning it.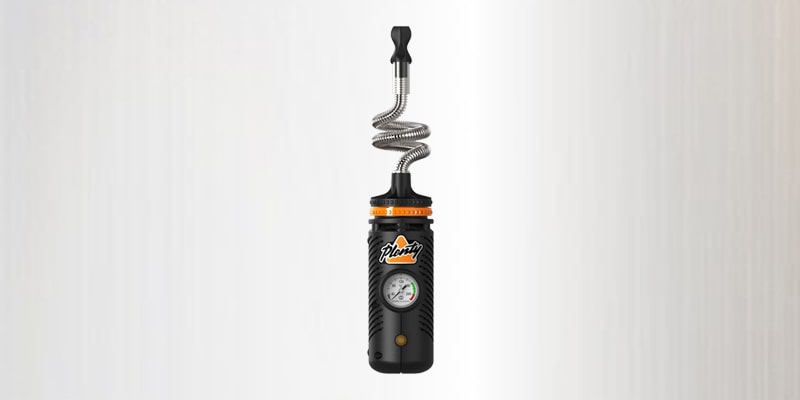 Storz and Bickel Plenty has unique features. It offers efficient cooling, powerful heating, an extra-large chamber, and flavorful, dense, high-quality vapors. This hand-held vaporizer is designed for weed and concentrates and uses a fusion of conduction and convection heating technology. Moreover, it possesses 0.7 grams chamber capacity and heats content within one to two minutes at various temperatures, i.e., 266 – 395°F. An analog thermometer will display your chosen temperature. Plus, the hybrid vaporizer operates silently and is crafted from top-notch materials, thus, making it functional, durable, and robust. Besides the weed vape unit, this weed kit from Storz and Bickel includes all the necessary equipment to help you enjoy your vaping sessions.
What Is A Dry Herb Vaporizer Used For?
As the name directs, dry herb vaporizers are weed vape devices used for warming up and melting the cannabis bud or flower to produce luscious vapors. You sense a lighter smell during the inhalation of clouds, vapors have zero concentrate residues. Portable dry herb vaporizer pens are so discreet and supported by a lithium-ion battery, while some desktop weed vaporizers are powered by 18650 batteries.
Pros of Portable Dry Herb Vaporizers
Less waste
More control
Lessen weed smell
Get all beneficial and healthy effects
Completely vaporizing herbs or cannabis flower
No harsh effects on lungs or throat
Vape without using a lighter
Ash and tar free herbs vaporization
Produce healthy vapors free from smoke
Quite safer and better instead of smoking
Available in portable & desktop version
How To Pack A Dry Herb Vaporizer?
A few weed accessories are required apart from the preferred herb vaporizer. You'll have to purchase a few picking tools to pack or load a weed vaporizer with cannabis buds. You can load the dry herb vaporizer with the help of funnel and scooper tools, get a taste, and experience the mind-blowing cannabis effect.
Make Quality Dry Herb First
Let's say, you have the best dry herb vaporizer, but unluckily you are missing the quality bud or weed. Meanwhile, your expectations are like, "I will get tasteful overwhelming vapors." Seriously that would be a weird joke. Poor quality will doesn't feel good as a premium quality bud does. Indeed, always ensure the premium dry herb vaporizer pens and top bud vape. Because high-quality weed concentrates are perfectly prepared to make the taste and vaporization much better. In addition, fresh and good quality bud offers you the mouthwatering vaping full of cherishing vapors for whom you invested.
Question! How to judge weed bud quality? Remember, high-quality marijuana bud feels wet, has an earthy aroma, generally has green color, and may contain ample moisture content. On the other hand, if weed bud has a brown color, feels too dry, and gives a pungent smell which is an indication, just let it go. That's not perfect for your weed vaporizer. You can evaluate and choose which bud deserves to load into your best dry herb vaporizers
Use A Right Herb & Weed Grinder
The appropriate weed grinder will grind the cannabis flower so effortlessly into acceptable small bits. Why there is a need for the best weed grinder? Because it breaks down the weed bud into uniform, consistent small fragments in one shot. We prefer "LTQ Vapor Electric Grinder" for a reason, i.e., apart from chopping the weed nicely. It makes the herb fluffy and upsurges the vaping surface area for pleasant vapors. You can try this weed grinder for more effortless and smooth grinding.
Note: You cannot straightly drop the cannabis bud into the vape chamber without grinding. Be careful, and if you do this sort of idiocy. There are more chances that the weed vaporizer will stop working due to clogging.
Dry Herb Vaporizer How To Use?
Have you collected all the essential tools for loading weed into your weed vapes? If yes, come and vape with us by following easy and uncomplicated steps.
1.Grind The Weed With Herb Grinders
The first step, grind your dry cannabis flower into fine pieces for dry vaping. Using an electric herb grinder like LTQ Vapor could be better instead of manually one that takes more effort. Every vaping aficionado uses the weed grinder for relishing the fine and plentiful vapors. Experience a heartwarming session by using finely ground dry herb!
2.Load The Dry Herb Vaporizer Chamber
Once you have ground the herb, the next step is to remove the lid or cap from the dry herb vaporizer pen chamber. Load the vaporizer chamber with uniformly ground cannabis bud via a small scoop or little funnel if you don't have these weed loading tools. You can fill the flower vaporizer chamber with cannabis buds by using your fingers. Avoid the overloading of weed buds. Moreover, conduction weed vaporizers can undergo in looser and tightly packed chambers. In contrast, convection weed vapes require room for better air circulation because they use heated air through the vape chamber. We always prefer the looser weed pack if you use a conduction vape.
3.Warm Up The Dry Herb Atomizer
Usually, the dry herb atomizer requires a minimum of 10-15s to warm up before delivering the first draw. The mentioned time for the heat-up of herb vaporizers can fluctuate contingent upon the features and size of your weed vape devices – If your portable best dry herb vaporizers come with variable temperature or voltages. Weed pens have a defined temperature range, such as 315 – 440˚F. Ensure you dry vaping is at the lowest heat setting that would privilege you by offering unvarying and more flavorful hits. However, higher vaping temperatures settings suit those who want heavier clouds and powerful herb effects.
4.Take The First Hit
You are ready to take a hit now after following all mentioned steps. Gently place the lips on the dry herb vaporizer mouthpiece, breathe in or inhale at a slow pace. After finishing the draws, most vapers advise taking in a small fresh breath of air. Since it helps drive the vapor clouds straight into the lungs, that's called MTL ( mouth to lung) vaping. Exhale now!
Consider, no need to hold vapors for the sake of experiencing the potent effects. Hold on for a second before exhaling and enjoy the MTL experience. Chug away the vaping session and get the longing effects. Take a tip, conduction weed vaporizers will keep burning the cannabis buds even if you are not heartily inhaling. Do you want to linger with the weed bud for a longer time? Then don't forget to take a minor break between each draw.
5.Turn Off the Dry Herb Vaporizer
Switch off the weed vaporizer once you are done with vaping session. Don't rush to store the vapes. First, let the herb vaporizer become cool down wholly. Afterward, keep or clean the flower vaporizer without getting flustered about the shelf-life of vaping stuff
How To Tell When Dry Herb Is Done In Vaporizer?
You can tell whether the dry herb is done in a dry herb vaporizer or not. So, open the chamber, check the weed bud color, and watch how heated it's looking. The cannabis flower is still green and useable or has become black or dark brown. Double-check that you have turned off the herb vaporizer pen before evaluating weed bud color. Avoid touching the chamber or any other scorching part if it's too hot. You can vape green color cannabis bud until it gets dusky roasted color. If vaping bud is flakey, brittle, and turns into dark brown color. That's a signal. Bud is no more to vape. Just dispose of the cannabis, reload the chamber with fresh dry herbs.
What Is The Best Dry Herb Vaporizer?
Choosing the best affordable and portable dry herb vaporizer is not easy-peasy as we think. Read on if you are yearning to grasp the best weed vape! We mentioned a complete list of the 15 best dry herb vaporizers for beginners and pro vapers. There are so many specifications and features that concisely matter or make these flower vaporizers perfect for your session. You can check them out, evaluate what kind of weed pen meets your dry vaping criteria. We have covered all versions of weed vaporizers that are approachable, namely portable, conduction & convection, hybrid, and desktop weed vapes. These weed vapes are the best on-demand vaporizer, plus they are accessible at a low price. Finally, evaluate weed vape pen options for flower vape by considering our buying guide.
Portability features make cannabis bud vape effortless due to its lightweight design. Here are handy, concise dry herb vaporizers that you take anywhere without nerve-wracking about battery timing or life, such as Boundless Tera, Davinci IQ2, Yocan HIT, Vapium Lite, and Airistech Herbva.
Materials create a massive difference between low and high-quality dry herb vaporizers. Weed vape pens with stainless steel style are safe to vaporize weeds. Furthermore, the finest heating chamber material will efficiently keep vaporizing the weed with zero tarts, a full compelling flavor.
As a novice, always choose easy-to-go flower vape. For instance, G Pen Dash dry herb vaporizer is the best portable weed vaporizer coupled with an effortlessness of use. Simple to upkeep and load the vaping stuff in contrast to desktop weed vapes.
Some vapers won't adore playing with various temperature settings, but most of you would tinker to control variable heat voltages. That's the reason different dry herb vaporizers are built-in while giving your desires for vaping and in-demand temperature control feature. Likewise, some weed vapes will automatically adjust the ideal temperature for optimum vapors. If you want more control over clouds and flavors, go with flower vaporizers with adjustable heat settings. Let's experiment with various temperatures for dense & lip-smacking vapors.
You perhaps think, "Can I find the best dry herb vaporizer at a low price? Yes, no wonder! Portable vaporizers are vastly more affordable, and we have finalized these pocket-friendly weed kits within your budget range. Higher price dry herb pens are also mentioned, such as luxurious desktop vaporizers. More giant clouds vapers lovers will find these weed vapes more prevailing.
Some vaping pens are 3 in 1 vaporizer pens in nature and are compatible with vaporizing herbs and cannabis concentrates (oil, wax). However, professional vapers try versatile vaporizers to relish clouds and experience different tastes resulting from the diverse nature of vaping formats.
Each dry herb vaporizer uses a slightly different heat method to vaporize the flower bud. As stated above, convection vaping uses hot air like an oven and warm-up time is faster than other vaping devices. Does herbal vaporizer work well? Overall, the conduction dry herb vaporizer's fabulous operating performance produces good flavor and keeps cannabis herb in contact directly with the heating chamber. It houses jumbo power and is smaller and inexpensive than convection weed pens. Listen to your desires and attentively buy a weed pen supported by your preferred heating method.
Dry herb pens are obtainable in different chamber sizes depending upon the vaper's need, frequency, and length of the session. Suppose you are forecasting or desiring extensive vapors sessions. Persevere the cravings with large-sized chambers, vape & vice versa.
Extra Tools & Accessories
As a beginner, wisely pick dry herb vaporizers that come with additional tools, for instance, bristle brushes, weed grinders, handy extras, and carrying cases. Since these kinds of weed accessories are in demand and mandatory for cannabis vape, instead of buying vaping tools separately, which would cost more, so sharply pick a flower vaporizer and additional weed accessories.
How To Choose A Dry Herb Vaporizer?
You can ultimately choose a dry herb vaporizer by focusing on the above-discussed specifications factors, including simple use, temp control, weed vape price, heating method, chamber size, and weed tools. But still, you brood over it and feel it's not plain sailing to pick a vaping device. Hope you enjoy vaping weed with our recommended above safest 15 best dry herb vaporizers for sale.
Conclusion
Vaping landscape has been changing with the best dry herb vaporizerw. Being cost-effective, they are trading off the out-of-date cannabis-consuming weed vape devices and methods. Some users mix up by thinking flower vaporizers are toxic. Remember, they have known as the safest dry herb atomizers with zero toxicity vaping effects. Surprisingly, vaporizers for weed are a natural sensation for marijuana patients and vapers that gives actual herb taste and calming effects by vaporizing cannabis buds. Keep us updated if you need more stuff related to any weed vape pens. Thanks a bunch for always standing with Vape4Ever. Stick around, vape on!