Best Disposable Vape Overview
As we know, the vape industry is over-crawling with whopping options of disposable vape pens and flavors. So, it's become more challenging to determine reputable disposable vape brands and vape devices that are appropriate and petite to carry and hold. However, we have enlightened some standardized myths to find the best disposable vape that hooks on vape juice, battery life, quality, salt nicotine strength, overall performance, and flavors.
Best Disposable Vape At A Low Price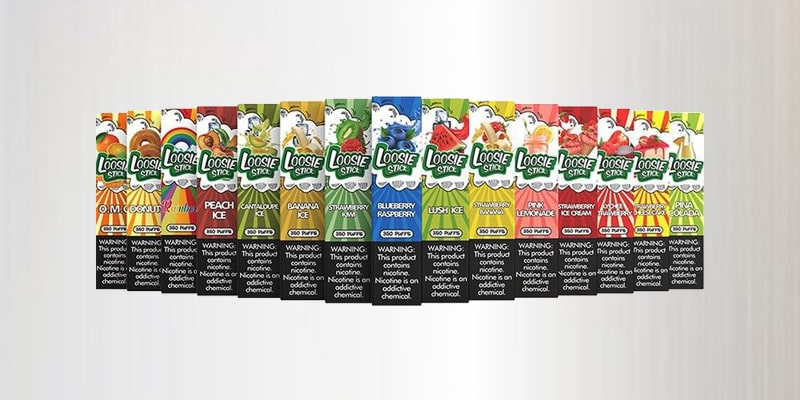 Loosie Stick has a capacity of 350 puffs counts, which is enough to deliver the lucrative vaping session. Each Loosie disposable vape stick comes with a 1.3mL vape juice, 5% salt nicotine, and a 280mAh battery. It is approachable at a low price, along with varieties of 15 seasonal savors. Vegetable glycerin (VG) and other ingredients of these pre-filled vapes are innocuous to vape. The stick is a masterpiece that offers an excellent option for vapers.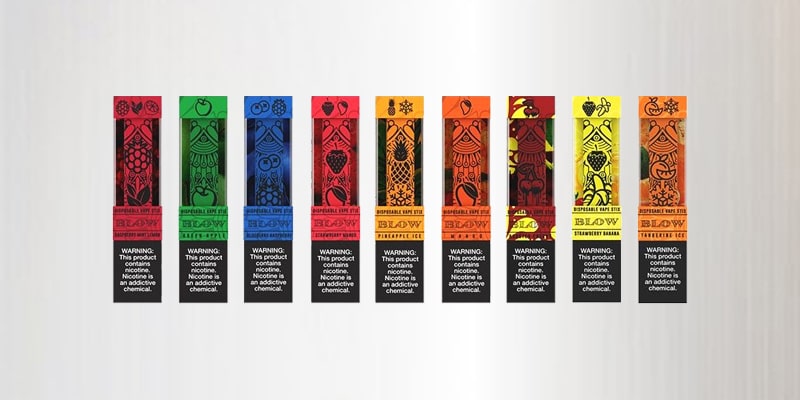 Blow Stix is discreet and has a vibrant portable design, refreshing disposable vape pen, and 300 puffs. They are swarming with 5% salt nicotine (which will never overwhelm the palate), 1.2mL vape juice, and 280mAh housed power. Internal first-class battery material helps the vaping pen stay long-lasting and produce celestial vapors. Each Blow Stix is in demand and assists beginners to test the quality and features of the best vapes pen. It is a pure vape flavor that contains hints of citrusy wonder, icy invigorating consistent sparkle that may be sufficient to awaken someone from the dusky ages.
Best Disposable Vape With High Puffs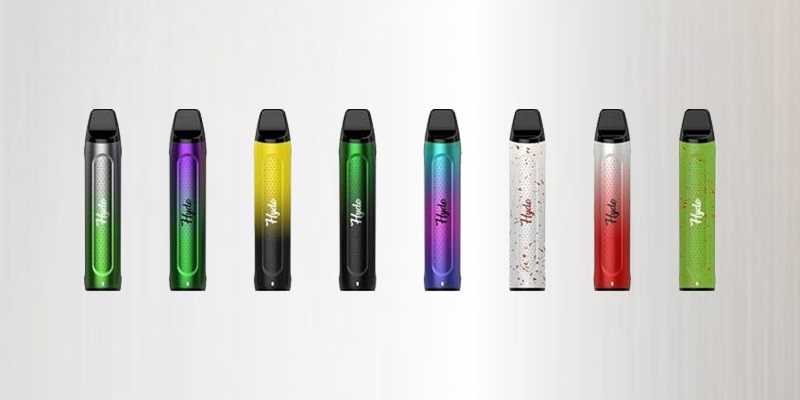 Hyde REBEL comes in a compact shape and design that fits the palm and costs a few bucks. Pro vapers go with higher puffs; that's why Hyde disposable features this vape stick with add-on puffs, more likely 4500. Also, It performs brilliantly and contains a unique heating system that supplies immense power to highly packed vape juice. And it includes a cylindrical style that holds more e-liquid for unstoppable vaping sessions. The favorite vape flavors of this rechargeable disposable vape are Blue Razz Ice, Aloe Grape, Sour Apple Ice, and 13 more flavors available.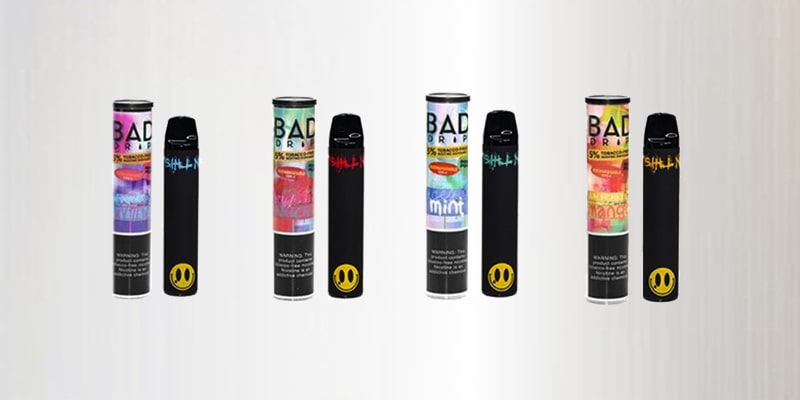 Bad Drip is lightweight and uses less space for your bags and pockets. Aside from the brand name, it satisfies the throat with delicious taste by picking the authentic vape kit. It's better to go with the Bad Drip disposable vape stick with 5000 puffs rather than a ciggy pack. Each handy Bad Drip puff vape has a 10mL massive e-juice tank, 50mg TFN (tobacco-free nicotine), 800mAh battery, and mesh coil to form smooth vapors. The benefit of choosing this tobacco-free nicotine vape is rechargeable power and 5000 puff counts. This is the best disposable vape that features a reloadable "Type C "battery that has ample capacity to give another tremendous soothing level to vaping experience with 8 imaginary flavors. Ready to avail of the outstanding features of it. So, drop the dough on the right vape bar and enjoy laid-back vapors.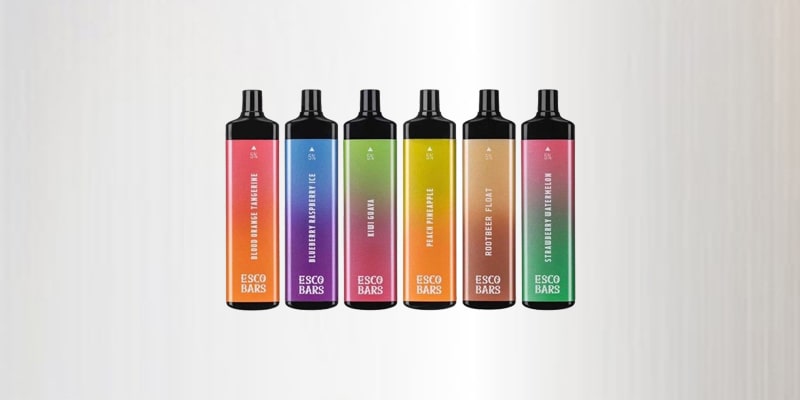 Esco Bars MEGA is one of the best high puffs disposable vape with an extensive limit, i.e., 5000 puffs. Mesh coil that makes perfect potent vapors so that vapers can adore the stress-free resolute vaping journey. Worries are gone with 14mL vape juice and a satisfying 5% salt nicotine level; 600mAh power has an extended shelf life and is the best longest-lasting disposable puff vape. Track your favorite vape flavors and keep going the vaping session with 6 delightful flavors until you want.
Best Rechargeable Disposable Vape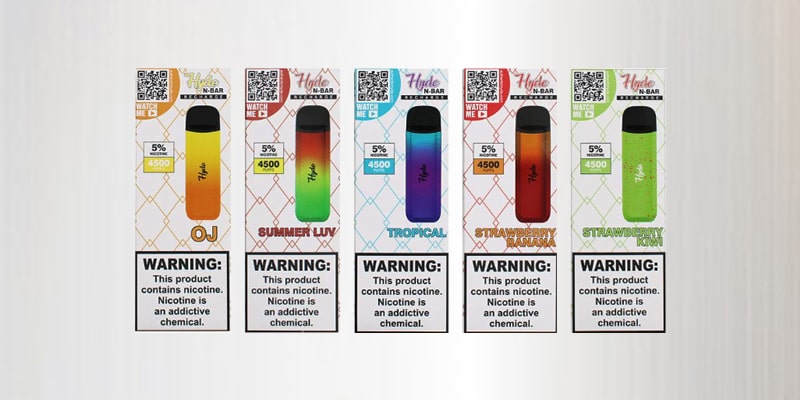 Let's meet the "Nord style" N-Bar of Hyde vape. It's a rechargeable disposable vape that features 4500 puffs and 20 perfect vape flavors side views. There is no trouble using vaping kits of the Hyde N-Bar because they do not demand much attention – 600mAh power that keeps driving the vape juice unless it expires or hits the puffs limit. Remember to buy the micro USB charger separately to recharge the Hyde Bars.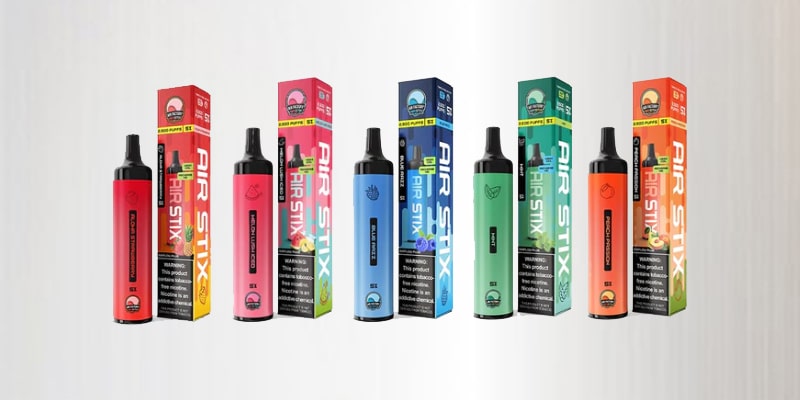 Air Stix disposable vape is a creation of the Air Factory brand combined with 2500-3000 puffs and a 400mAh battery that delivers the heaviest bold vapors. If you require a pre-filled medium concentration of e-liquid, i.e., 7ml, this is something that you need. Air Factory Air Stix has thoroughgoing 50 mg nicotine with plenty of vape flavors, such as Blizzard, Sakura Grape, Orange Mango Guava, & more. Each Air Stix has a built-in mesh coil that ramps up and turns the vape juice, heating element ON speedily compared to standard coils.
Best Disposable Vape Flavors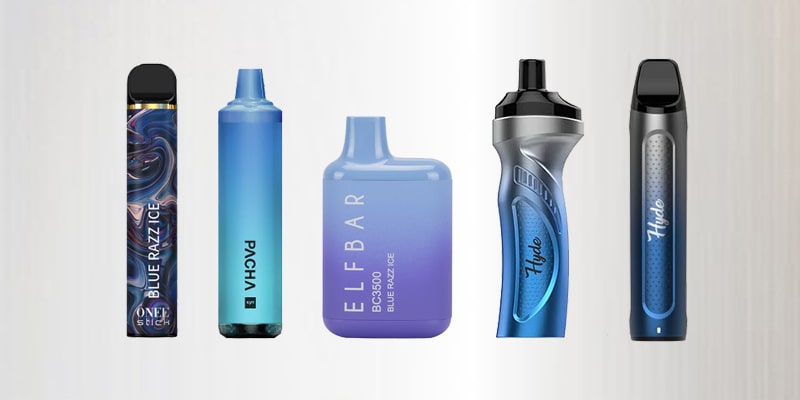 Blue Razz Ice Flavor
You should experience the Blue Razz Ice vape flavors rich with the intensely sweet, raspberries tart taste. Plus, it is prepared with a smooth touch of ice to serve the hot summer with a more relaxed kick. Everyone adores the razz ice vape flavor that satisfies palates. This flavor keeps you in a perfect energy mode that would never let you feel fatigued. All the day, the blue razz ice relishes the scrumptious refreshing appetite! Once you get addicted to the magical blue razz ice disposable vape flavor, your cravings will always wish for more taste.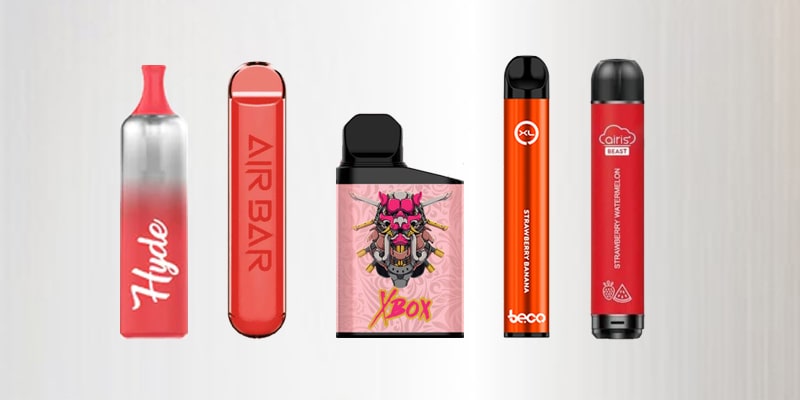 Strawberry Flavor
Are you a strawberry lover, and budget is a big hitch? Let's kill two birds with one stone by picking a strawberry's best, longest-lasting disposable vape flavor. Truly, a blend of sweet and sharp fruit medley flavor that gives a fresh exhale. Bonbons lovers are not in the mood to miss strawberry fusion. Get a real fruity summer kick created with an extraordinary union of juicy perception.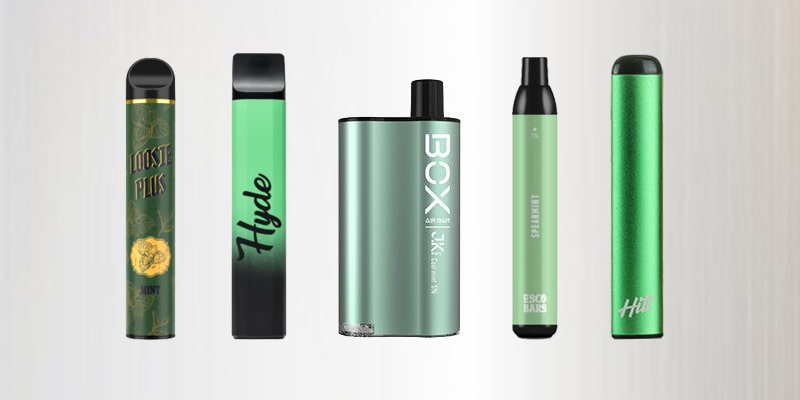 Mint Flavor
Some fresh breath lovers will never say no to mint vape flavors and are particularly excited about this classic taste. What makes it unique? Mint has the cool icy sensation that will combat the sizzling days of summer. Hikers feel uncomfortable without mint flavor, and they usually carry it during hiking for cooling and mellow effects. Are you ready to stay in tune with disposable mint flavor vape?
Best Disposable Vape Brands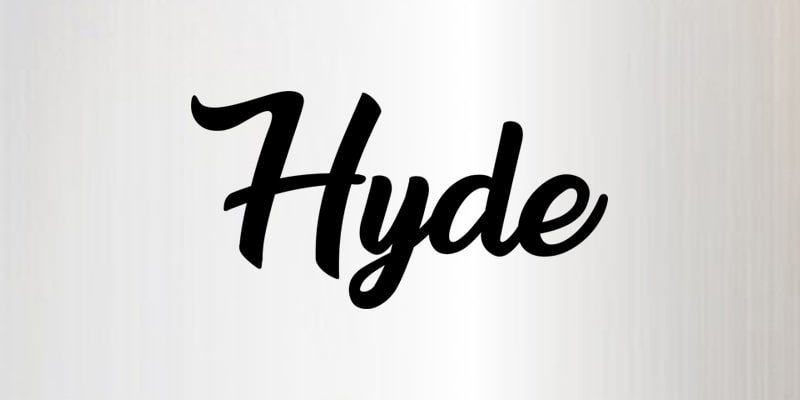 Hyde is a top-ranking brand ruling the nicotine vape industry by ensuring customer access to top-notch disposable vaping devices. Each device is manufactured while keeping the petite and lustrous design and feels to have no weight. Hyde vape supplies rare flavors coupled with the usual 50mg salt nicotine (tobacco-free) that refresh vapers with earthen taste. You can have a mouthwatering palate just at your price flanked by $6.99 to $18.99. Apart from the affordable and cheap cost of Hyde disposable vaping pod, you'll notice the quality is a constant factor between premium and low price vape sticks. Ace vapers who long for giant puffs limit and rechargeable disposable vape can explore the editions, namely Hyde Rebel, Hyde N-Bar, and Hyde Edge.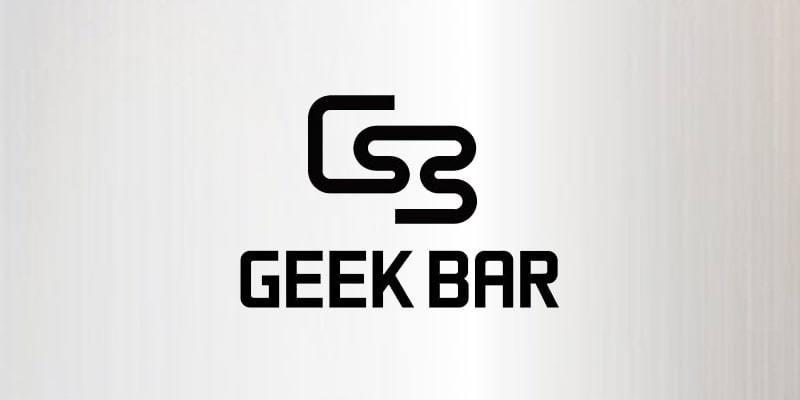 Geek Bar has been working as a disposable "e-cig" brand since 2015, famous for meticulously crafted vape devices. Each step from manufacturing to distribution of vaping kits utilizes quality standards. That's the reason vapers are openly investing in Geek Bar disposable vapes. What's more? Get a nourishing taste, colossal vapors, safe to activate, genuine vape flavors, and a uniform blend of potent salt nicotine and powerful battery by selecting Geek Bar. They are aspiring vapers to accomplish gratifying experience, and adults are in love with their more innovative matchless disposable e-cig vape sticks.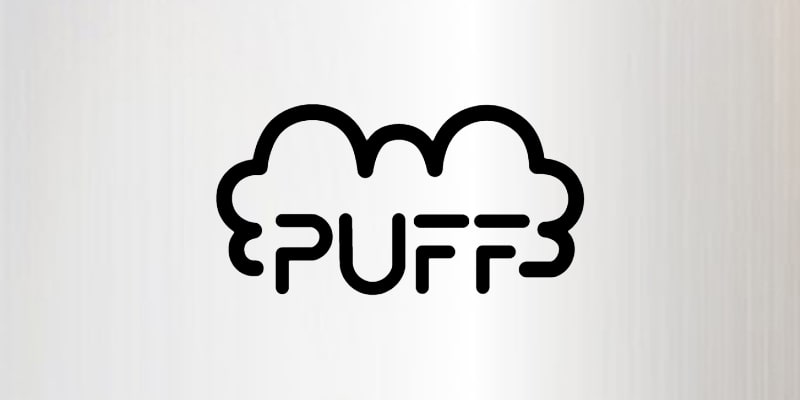 Puff Bar is known for vape juices, premium quality batteries, and starter kits. It's a prominent brand that is famous for historic flavorful disposable vapes and cartridges. Furthermore, Puffs Bar offers salt nicotine in 2 strengths, i.e., 20 to 50 mg (2-5%), and respectively each puff vape has a trivial design and appeals to no refilling. Choose whatever flavor you need, including Banana Ice, Mango, Lush ICE, Orange, Blue Razz, Guava, Cafe Latte, OMG Pineapple Lemonade, Watermelon, etc. Puff Bar disposable vape pen designs are related to their vape flavors. For instance, a green color pod will contain a spearmint savor, and a yellow color device will carry a banana flavor. That's so cool.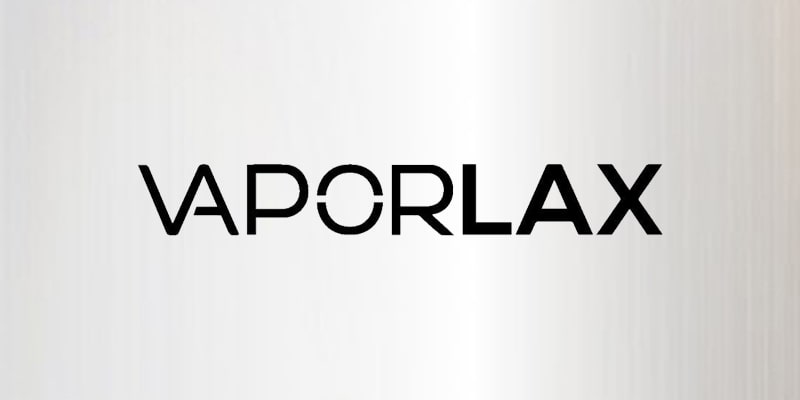 Vaporlax is one of the best disposable vape brands that is gradually becoming the peace of mind for everyone being so professional supplier of nicotine vape sticks. Customers always feel rewarded with their vape devices, and they are uninterruptedly making first-class rechargeable disposable vape. Would you miss attractive vapes designs with better taste? Vaporlax disposable vapes are calm and straightforward to use. Suppose you are eagerly looking to get reliable and convenient puff vapes too. Plan vaping sessions with Vaporlax Draco, Vaporlax BOBO, and Vaporlax Solar are new highlights from this brand that could be perfect for you.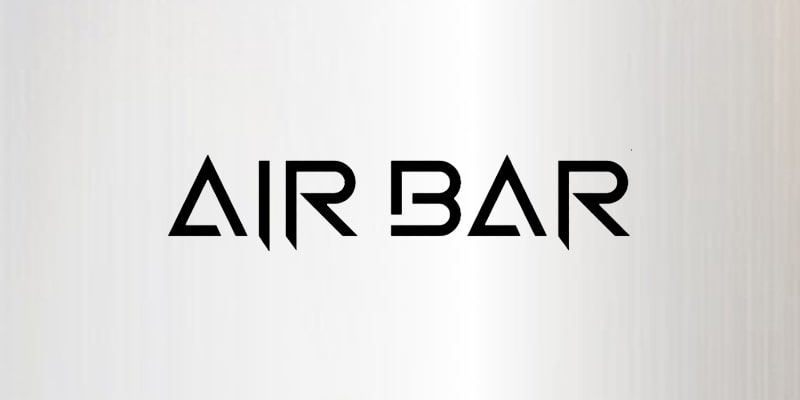 Sourin company is the possessor of the Air Bar, delivering countless disposable vape series. Moreover, this brand got authorization from approximately ninety states and persistently provided striking vaping devices and editions worldwide. Air Bar grew as a leading star due to tip-top quality and long-lasting unassailable performance. They are additionally known for supplying legalized vaping pods, and incredibly disposable vapes, at an affordable dough. Air Bar has infinite flavors: cool mint, cola, peach, and 27 more choices to select the savor. An essential highlight of this brand includes Air Bar Box, Air Bar Lux, Air Bar Diamond, and Air Bar Plus.
What Is A Disposable Vape Pen?
A disposable vape pen is an all-in-one vape pen that differs from a disposable vape cartridge. It encompasses a lightweight design, a non-refillable e-liquid tank, and a wholly charged whopping battery that is convenient for delivering delicious hits. Furnished with a massive storage tank containing nicotine salt and favorite flavor, mouthpiece, heating element, and battery featuring ash-free clouds. These disposable vape sticks give the choice of features and unlimited flavors (tobacco, methanol, fruity) for a genuine sedative sensation. Smokers who were used to roll-up adore ready-to vape affordable devices.
How To Use A Disposable Vape?
Suppose you are not familiar with how to use a disposable vape. Not a big deal! We are there to make vaping easy-going with these small steps.
Take out the handy vaporizer from the box or take away the packaging.
Let's suppose you have a rechargeable disposable vape. In that case, put it on charging; wait unless it hits 100% charging status.
Most portable vapes don't include buttons or LED lights. They work on sophisticated draw activation (sensors detect the inhale; device turns on) mechanism.
The mouthpiece is waiting for inhaling. As you do puffs in indicators, lights will be lit up. Puff out the vapors.
Keep the disposable vape dry at room temperature or under shade after vaping.
Usually, we recommend beginners take the jump with smaller puffs or draws because it's much better to stay away from overwhelming in the beginning. Plus, portable disposable vapes last longer with smaller puffs trick. Once your body gets used to vaping and attains acceptance. Then, you can gradually keep lifting the vaping experience in the way you want, either with larger doses or bigger hits.
How To Find The Best Disposable Vape?
The simple catch is how to knock out the best disposable vape? Not so straightforward to find the perfect brand and device when the vapes market is much more offering with blunders of low-quality products. How's to figure novelty that would save you from dropping needless bucks on low-quality vaping devices? Some factors act as magic hooks to pinpoint the perfect portable device like performance, flavor, design, features, salt nicotine strengths, puffs number, and throats hits. Remember, an ideal disposable puff vape serves the flavorful session and other quality features mentioned above for what you are paying for; we respect your choice, and it's our first preference. That's why we enlisted some worth considering factors that would make finding the best disposable vape much simpler and more manageable.
1. Choose Reputable Disposable Vape Brands
Why is it mandatory to pick reputable disposable vape brands? Choosing a specific and trustworthy brand will provide a consistent experience, peace of mind, and safety from scamming and adds value to the quality that everyone deserves. Double-check the reputation status of vape shops in the market and other people's opinions regarding the chosen vape brand products.
2. Select The Suitable Puff Counts
Each low-priced disposable vape is made-up to provide perhaps 300 puff counts. In contrast, premium and high-priced puff vape sticks offer 3000 or more puffing limits. You can select whether you are up to scratch with lower puffs counts or more comfortable with more significant puff counts. These puff's numbers can vary due to vaping material (oil, wax, or e-liquid), doses, and concentration. So, don't rush, and select the suitable puff counts.
3. Pick Your Favorite From Various Disposable Vape Flavors
It's pretty natural anyone who will go through oceans of vape flavors will feel mystified. You can tackle the tricky situation by following the first thought means that evoke first in mind when someone asks you to pick your favorite flavor. Let's assume you are on the beach and want to mitigate the harshness of hot summer. You will undeniably choose some icy sweet flavor like Blue Razz Ice or Banana Ice. You select your favorite disposable vape style, either sleek or modest design. Plus, favorite flavor profile and let the session go on to soothe your vaping desires.
4. Decide The Prefilled E-Juice That You Want
Confidently decide on the pre-filled vape oil either you demand CBD oil or other kinds of vaping stuff. Flavored disposable vapes are made from different pre-filled materials, but most include e-liquid, likely with nicotine salt. Be precise, and wisely decide on the pre-filled THC vape oil or another favorite vaping stuff that you want to use to heighten the vaping session.
5. Use Rechargeable Battery If You Like
At the beginning of the disposable vapes invention, rechargeable features were unavailable. With the help of engineering and technological advancement, brands started to offer rechargeable disposable vape sticks together with more giant puffs and gigantic batteries. Thus, always prefer to use the rechargeable battery that appears to convey easiness to vaping experience.
6. Buy From A Reliable Online Vape Shop
Times are gone when you had to go to local vape shops. Now, you have access to reliable online vape shops such as Vape4Ever, a persuasive trust brand full of trending and trustworthy vaping products. Approach the reliable online vape shop and buy the best disposable vapes by browsing and adding the products to the cart as we do during grocery. In last, press the buy button and wait for your order! Isn't easy-peasy to grab a good deal from an online vape shop?
Pros Of Using Disposable Vape
User-friendly
Lightweight and super handy
Easily accessible
Non-refillable
Ceaseless flavors
Satisfying nicotine level
Need no maintenance
Tight and comfortable draw
Environmentally friendly
Ideal & Affordable for beginners
Best substitute to quit smoking
Cheaper and convenience
Leakage-free technology
Relish safer & ash free vaping
Cons Of Disposable Vape
E-juice is non-reloadable
Non-customizable design of vaporizer parts
A little bit expensive from a short term
What Disposost Hits?
Hyde Rebel rechargeable disposable vape device has long-lasting and most hits yet. Its innovative features offered by Hyde vape are idyllic to quit smoking and switch to vaping.
How Long Will A Disposable Vape Last?
Check the device packaging since the puffs limit will be mentioned somewhere. Most disposable vapes have a minimum of 300 puffs and a maximum of 5000 puffs, which means the longer the draw limits, the longer the disposable vape lasts. Let's make a long story short. It's all about the game of vape juice, hits duration, and puffs number. Being disposable, just toss them when you feel there is no vape juice left, getting stingy flavor and lower clouds.
How Long Do Disposable Vape Batteries Last?
Generally speaking, the non-rechargeable disposable vape batteries can last until the e-liquid runs out. As for the rechargeable one, they can last longer as long as it is recharged.
How To Recharge A Disposable Vape Pen?
It's super convenient to recharge a disposable vape pen. Grab the compatible Type-C or Micro USB charging cable and the charger—plug the cord into the charging port of the disposable vaporizer device and connect the charger to the power socket. Remember, only the rechargeable disposable vape sticks feature this option.
How Much Is A Disposable Vape?
Usually, the best disposable vape cost range starts from $12 to $28. The price of these vaping devices can fluctuate attributable to quality, features, and performance.
How Much Is Nicotine In A Disposablee Vape?
Standard nicotine strength in popular disposable vape is typically 5-6mg/ml. Likewise, Hyde Icon disposable vape pen holds 10ml of e-liquid with 5% nicotine (tobacco-free).
What Does It Mean When A Disposable Vape Blinks?
It means you must put your rechargeable disposable vape quickly on charging. Some vape devices flash more than five times during the session to give you the signal of low power. Recharge the battery and solve the vape stick blinking issue. Enjoy vaping!
How To Throw Away A Disposable Vape?
Remember not to randomly throw away a puff vape because they include the "lithium batteries." Chances of fire hazard doubles when you unknowingly toss these portable vapes in recycling bins or garbage. Hold on! The best way to throw a disposable vape is to lob it into a specifically designed electronic trash bin that would be the safest disposal.
Conclusion
Disposable vapes are endlessly thriving as smart choices midst vapers due to easiness to use, portability, and oceans of favorites flavors. Each best handy disposable vape stick is incredible and features something different that could be missing in others. Thus, disposable vapes become an excellent opportunity for smokers to choose and avail of one-use puff vape that demands an easy-going and upkeep-free experience. It also brings diversity to your life and vaping session by giving you a shot at the new best disposable vape– Let these convenient disposable vapes serve something different for your vaping journey.