Yocan Evolve-D Vaporizer For Dry Herb
Yocan Evolve-D Vaporizer For Dry Herb is the product of brand Yocan, it's one of the best vapor products with the option of Black kit:1pcs, etc.
Yocan Evolve-D Vaporizer For Dry Herb Review
Yocan Evolve-D Vaporizer For Dry Herb Instructions
Overview
Yocan Evolve-D is a product that is designed for dry herb vaporizing that can be found in a highly convenient format. As a compact hand vaporizer the product also comes with a dual coil atomizer which is impressive for its size. The mouth piece on board also provides access to a shielding atomizer cover. These are features that you would typically find on a much more expensive vaporizer model.
Apart from the added features that can set this hand vaporizer apart from many desktop models, this is an incredibly efficient device. Visit camping device inside that can make sure you can
How to use: pack the herb firmly to provide excellent vaporization and improved doses. There's also a tough chrome exterior making this an easy product to travel with. The Evolve D is an actually durable option that you can use as your day-to-day vaping tool.
The Evolve D atomizer is a oval style dual coil. This style of atomizer is designed with improved surface area so that you can enjoy an improved heating chamber. With a much flatter and wider heating element, every piece of dry herb that you placed into the device is going to heat evenly. The Yocan Evolve D also produces an extremely substantial cloud coverage with every draw from the device. It truly is the perfect device for vaping any time and for those that love to get a big cloud as well. Replacement of the atomizer can be done quite easily with the screws in dual coil formats which can be placed into the atomizer tube. The tapping device also makes sure that there is no extra material that lost along the sides of the device.
The battery power:
Although the Yocan Evolve D is a relatively small device, it has an excellent level of power in the battery. The device comes with a 650 mAh battery and this offers extremely thick and impressive clouds over a long term. With this size battery, you can enjoy vaping over the whole day. The Yocan Evolve-D also heats in settings of 3.2 V to 4.2 V to achieve the optimal temperature range. There is a combination of flavors and potency that you can achieve with this device with dry herbs. The one button control also ensures that you can draw from the device very easily.
Stealthy to use:
The device measures just 5.75 inches in length and it's extremely discreet. As a pocket friendly vaporizer, this can be a fun device that you can carry with you that's compact and lightweight for use. By making sure that you can carry this unit wherever you are, you'll always have access to a great quality vaporizer in your pocket.
Features
Stealthy to use
Great quality from a small vaporizer
Powerful portable battery
Additional evolve D coil in spiral formation
Specifications
Use For: Dry Herb
Battery Capacity: 650mAh
Thread Connection: 510 Thread
Battery Charge Type: Micro-USB
Safety cut-off: 10s
Max Atomizer Wattage: 15W
Voltage Range: 3.2v and 4.2v
Package includes
1 x Yocan Evolve-D Battery
1 x Evolve-D Dry-Herb Atomizer
1 x Replacement Evolve-D Spiral Coil
1 x Cleaning Brush
1 x USB Charger
How to use the Yocan Evolve-D Vaporizer?
The Best part about this device is that it can be extremely easy to use. Rather than having to struggle with multiple levels of control and settings, you just need to click the power button in a few times to have the device start heating. Before you start heating process load the device with dry material that you would like to use in it. Press the button 5 times and once the device starts to heat up, you will be able to take a draw from the vape. The indicator light on the vapor will show you when the device is ready for a draw and you will be able to take your breath in from the device after that.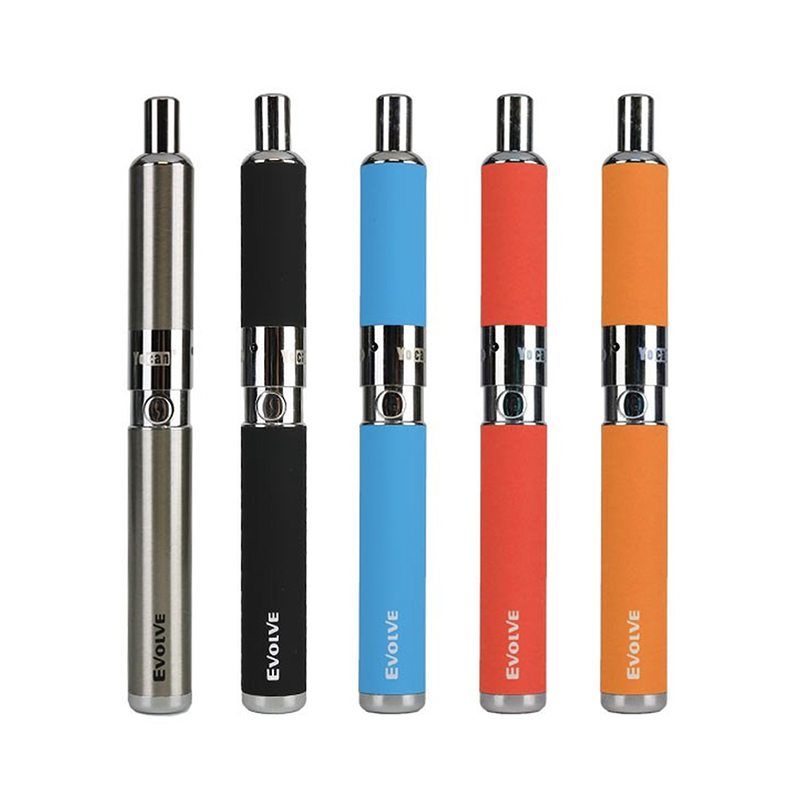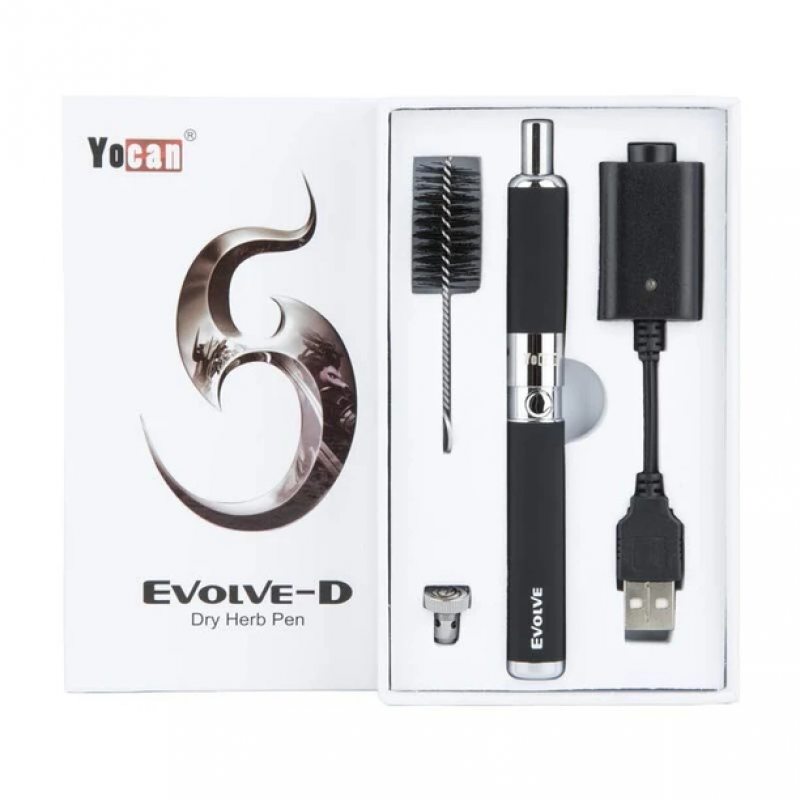 Cheap Vape Products For Sale and Buy
Product added to wishlist
Product added to compare.