Yocan Stix 2 Oil Vape Pen
Presale
Presale available! You can order now, we will give priority to your delivery when the product arrives.
Yocan Stix 2 Oil Vape Pen is designed with a ceramic 1ml cartridge for providing you with authentic oil flavor. It features Trio LED and sensor control.
Yocan Stix 2 Oil Vape Pen Review
Yocan Stix 2 Oil Vape Pen Instructions
Overview
Yocan is famous for its ingenious breakthroughs and craftsmanship of its vaporizers - one of them is Yocan Stix 2. What is so good about the Stix 2 oil vape pen?
Yocan Stix 2 Oil vape pen is an example right in front of you. It is a leak-proof, super-efficient, convenient, and discreet device. It is crafted entirely from ceramic, i.e., a ceramic atomizer, mouthpiece, inner chimney, wickless coil, and a wrapped base. Even it possesses a full ceramic cartridge with 1.0 ml of e-juice capacity and 510 universal thread. Thus, this ergonomic design promises to give luscious vapors by maintaining the oil quality.
Do you not find any fire button on this device? You will not because it is a buttonless vaporizer that activates when you draw off a stick. You don't have to press or hold the button; simply inhale for an enjoyable vaping session.
Furthermore, this draw-activation mechanism offers two modes, i.e., regular and advanced. You will get adjustable voltage options, a ten-second pre-heat option, and an auto-draw in an advanced mode. However, a regular mode isn't fancy; you can only auto-draw.
So how to use Yocan Stix 2.0 and what's the process of switching between the modes and voltages when the entire mechanism is buttonless? Here's the unique part. It operates via sensor control, so you have to slap the vaporizer's bottom to use its functions.
You have to slap five times to enter the regular or advanced mode. However, to switch between voltages like 3.4V, 3.8V, and 4.2V, you will have to slap three times. To utilize or switch off the ten-second pre-heat option at 1.8V, you will have to slap twice. What's more, the Stix 2.0 comes with thirty minutes of automatic standby protection, and a trio LED that tells all the information with its flashes.
You might think this compact vape pen is of one-time use; you are wrong there! It comes with a powerful, long-lasting, and rechargeable 350mAh battery. Even if the battery dies down after long vaping sessions, you can recharge it without a hassle as the device possesses a universal micro-USB port. Hence, its perfect size, slender body, and rechargeable feature make it an ideal companion for vaping.
What else? The Yocan Stix 2 Vape Pen come in different elegant colors such as green, red, blue, silver, and black to suit your lifestyle and personality.
In short, this innovative design gives a relatively unique experience to the users to enjoy the tasty vapors.
Features of The Yocan Stix 2 Oil Vape Pen
Simple yet ergonomic design
Handy, convenient, and discreet
Ceramic body and cartridge
Universal 510-threaded cartridge
Draw-activation vaporizer
Offers two modes, i.e., regular and advanced
Three voltage options (3.4V, 3.8V, and 4.2V)
Operates via bottom slapping
Built-in sensor control
Includes a ten-second pre-heat option
It comes with a trio flashlight indicator
Protects from short-circuit
Rechargeable and long-lasting 350mAh battery
It consists of a universal micro-USB port
Available in multiple elegant colors
Specifications of Yocan Stix 2 Oil Vape Pen
Size: 11.2 x 79.2mm
Cartridge Size: 11.2 x 49.0mm
Cartridge Capacity: 1ml
Atomizer Material: Ceramic
Resistance: 1.4ohm
Battery Capacity: 350mAh
Variable Voltage Settings: 3.4V, 3.8V, 4.2V
Sensor Control
Preheat Time: 10 Seconds
Connection: 510 Thread
Automatic Standby Protection
Activation: Draw-Activated
Two Use Mode: Advanced and Regular Mode
Color Options: Black, Silver, Blue, Red, Green
Package Includes
1 x Yocan Stix 2 Oil Vape Pen (Cartridge Pre-Installed)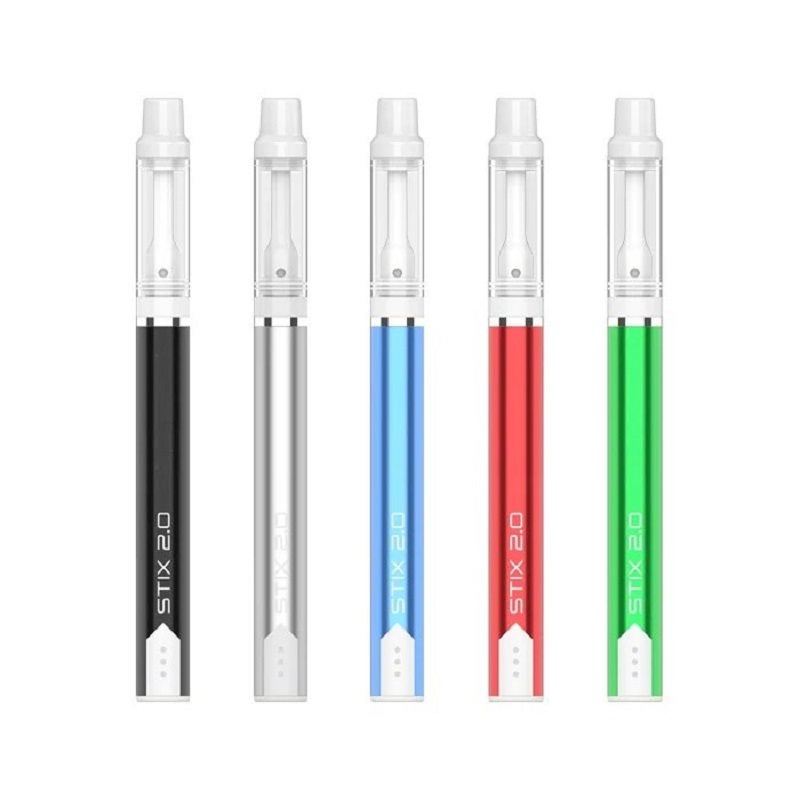 Customers who bought this product also bought:
Vape Brands & Companies
V4-10479-CC01C0
The CCELL Type 510 Thread Cartridge with a pure Ceramic Coil and White Drip Tip. 1.Used for thick oil cartridge. 2.The material is durable,fresh, environmental protection .3.Easy to refill,great taste and huge vapor. 4.Match 510 battery
The exquisite Vapmod Magic 710 Vaporizer Box Mod 380mAh engineered with 5 protections is easy to use with 510 thread magnetic connector, presenting pure vapor.
Product added to wishlist
Product added to compare.

By entering Vape4Ever, you affirm that you are of legal smoking age 21+ and you agree to be Age Verified.