Yocan Kodo PRO 510 Thread Box Mod Instructions
Overview
Yocan Kodo PRO 510 Thread Box Mod is the most recent release of the Yocan company after Yocan Kodo for oils achieved commercial success. Similar to its predecessor, the Kodo Pro is ideal for short hits. Its features are manufactured and created for oil users who are constantly on the go.
It goes without saying that Yocan Kodo Pro is a little and tiny gadget. This portable oil vaporizer was designed for people who need to consume their preferred oils when they are away from home because this vaporizer is designed to be portable, fitting comfortably in pockets, bags, and even the palms of your hands. Its digital OLED display offers it a wonderfully sleek and contemporary appearance. Its dimensions are little more than two inches long, over one inch broad, and around half an inch thick. Due to its mini size, it may fit in almost any pocket on your jacket, shirt, or slacks. All the information you want for the marvelous vaping experience is highlighted on display.
Yocan Kodo Pro Vaporizer is a true next-generation vaporizer since it has an adjustable temperature setting in comparison to other products at the same price point. A full-fledged customizable temperature setting, not a predetermined temperature option. Yocan Kodo Pro Vaporizer operates between 1.8V and 4.2V in voltage. The flavonoids in your favorite oils can be extracted at the lowest temperature. Additionally, since employing a low-temperature level generates fewer visible vapors, low-temperature levels are ideal for stealth vaping.
Features of Yocan Kodo PRO 510 Thread Box Mod
Wide-ranging heat settings between 1.8V and 4.2V
Safety shut-off function
Puff counter and crisp OLED display
Rapid 10-second pre-heating
Compatible with 510 thread atomizers
Built-in lanyard option hanging hole
Specifications
Battery Capacity: 400mAh
Charging Port: Type-C Charger
Adjustable Voltage: 1.8V-4.2V
Connection: 510 Thread Connection
Preheat: 10-second
Safety Cut-Off: 15-second
Colors: Black, Red, Yellow, White, Purple, Light Blue
Package Includes
1 x Yocan Kodo PRO 510 Thread Box Mod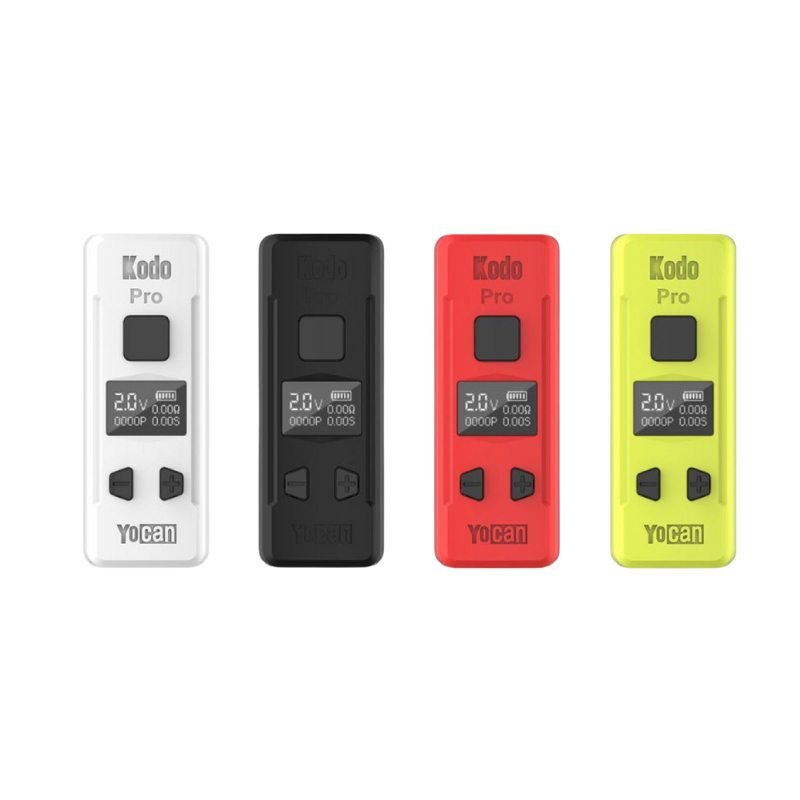 Customers who bought this product also bought:
Product added to wishlist
Product added to compare.

By entering Vape4Ever, you affirm that you are of legal smoking age 21+ and you agree to be Age Verified.