Imini Vaporizer 650mAh For Thick Oil
The ultra-compact 15W Imini Vaporizer 650mAh fits 510 carts for ideal vapor and has an easy-view glass tank, 10s preheat, variable voltages indicated by LED.
Imini Vaporizer 650mAh VV Battery Vaporizer Kit 0.5ml Capacity 510 Thread Review
Features
(1). Compact design, colorful options
(2). Hand-held size, easy to carry
(3). 510 thread is fit for most of CBD atomizers on the market
(4). Voltage adjustable function, meet various vaping needs
(5). 10s preheat function for CBD oil
(6). Patent protection
Parameter
(1). Fit For: Thick Oil/wax atomizer
(2). Color: Black, White, Red, Blue, Green, PInk, Orange, Yellow, Purple
(3). Cartridge Size: 0.5ml
(4). Material: Plastic+Brass
(5). Thread 510 thread
(6). Battery: 650mAh


Package include
(1). Imini Mod * 1
(2). Liberty Tank * 1
(3). Package box * 1
(4). Micro USB cable * 1
Imini Vaporizer Instructions
With the adequate amount of essential oils, Imini Vape is offering a unique and powerful compact vaping kit. With the 15W output power, Imni V1 kit comes up with the 650mAh Imini Battery and firmly maintains its figure. This Imini Vape device comes up 510 threading that is important for the universal compatibility. This vaping device is compatible with a wide range of industry cartridges.
The tank in this device floats while this Imini device holds your cartridge at one place. You can easily see the e-liquid level in the tank of Imini Vape with the help of its see-through design. From protecting this vape from bruises and bumps, the exterior is made up with high-quality rubber. The design of Imini Vape feels extremely comfortable in your hand. You can easily indicate when the device is securely locked with the help of the blue LED light. This LED light is located under the fire button. Tap the power button 5 times quickly for easy locking and unlocking of the device. For avoiding the overheating issues, the Imini V1 pause the heat and flash after every 10 seconds.
With the advance preheating system, you can also activate the warm-up option in the device. Tap 5 times on the power button for unlocking the battery then press 1 time for activating preheat mode. During the preheat session, the power button will blink, and it warms up the cartridge inside the tank. If you want to deactivate this vaping system, simply tap one time on the power button and the system will go down. Press the power button and hold it for a minute; this is the method to use Imini vape without preheating system.
With the 1.8mm port, the refillable tank of this device is compatible and deals with different viscosities of essential oils. With a wickless and spotless center post design, the glass tank features a top airflow design. This vaping device is compatible with any 510 thread cartridges, and it is not wider than 10mm.
There is much more to know about Imni V1 starter kit. Let's have a detail look at the exceptional features of this vaping device.
Available in three different sizes of 48ml, 30ml, and 16ml, this Imini V1 device can comfortably fit in your hand. This unique Pluto Imini V1 is difficult to spot during your vaping session. So, don't worry, no one will intrude in your vaping sessions. Due to ultra-compact design, you can shove this device in your bag or pocket easily and there will be no leakage. With a small size, this mini Pluto Imini mod provides powerful performance with 15w and 500mAh Imini Vape battery power. This eye-catching small device is all wrapped up in a rubberized case that ensures its durability.
This Imini V1 device comes up with an innovative design of a glass tank. From the side of the vaping, this crystal clear glass chamber is completely exposed. And you can examine the leftover level of e-liquid inside the tank. The glass tank is made up of breakage-resistant material and maintains the purity level of vapors. Due to the high level of durability, the tank can withstand high bumps.
Now you don't have to worry about the operating of Imini Vape during your office hours. This advance vaping device comes up with 5 times safety lock that disables the working of the device when you are travelling or working. With the help of the blue LED light, you can confirm that your device securely locked.
Advance Preheating Feature
The preheating function of Imini vape device allows you to use it on demand. You just have to tap the power button once after unlocking the device and vaporizer will start preheating.
Generous Airflow and Exceptional performance
The 510 thread tank of this unbreakable glass tank ensures the optimal performance. You don't have to worry about any wick because this vaping device maintains the steady flow of vapors. According to your needs, you can increase or decrease the top airflow to reach your demand. You can replace the 510 thread of this device with any 510 thread tank up to 12mm diameter.
Now you have learned all the important instructions, and it is the time to get one Imini starter kit for yourself. Just click on Vape4ever and order an Imini vape starter kit that can fulfill your vaping needs. You can also get Imini V2 from Vape4ver.com.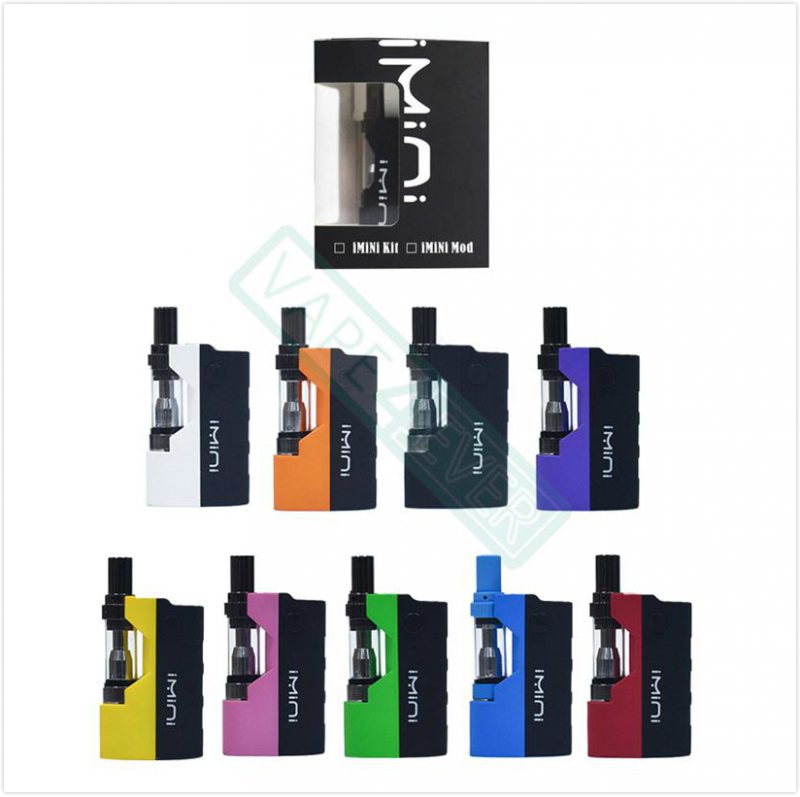 Customers who bought this product also bought:
Product added to wishlist
Product added to compare.