Suorin Air Plus
There are not enough products in stock
Suorin Air Plus Kit 900mAh & 3.5ml Pod System is the product of brand Suorin, it's one of the best vapor products with the option of Gun Metal Kit:1pcs, etc.
Suorin Air Plus Kit 900mAh & 3.5ml Pod System Instructions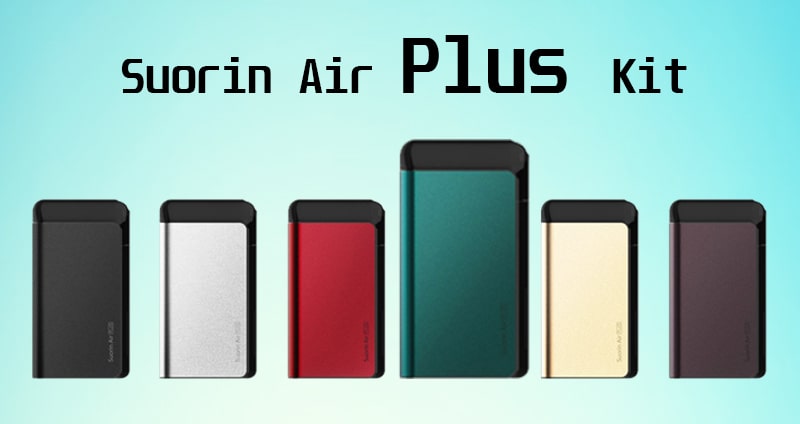 Suorin Air Plus Pods Overview
Pros:
A powerful 930mAh integrated battery with a cartridge carrying 3.2ml of capacity
Available in a variety of colors to suit your personal choice
Simple, comfortable, and easy to use mouthpiece
Dual purpose E-juice and Nicotine-salt usage capability
Smart LED indicator that shows five level indication
Double coil design for use with normal e-juice and nic-salts
Suorin Air Plus is the latest model of Suorin Air, and carries a powerful battery of 930mAh with 3.5milliltre capacity of e-juice storage. These specs allow it to be used for the complete day. The device is an excellent overall choice owing to larger capacity of pod. It also has quicker charging time. The battery is high powered battery. The coil also carries variable resistance. The device is suitable for using multiple types of juices.
The Air Plus packs a high capacity liquid tank (3.5ml). The versatile device is suitable for nic salts filling as well as normal vaping liquids. This feature allows you to load the type of liquid that suits your taste preferences. Its dual resistance coils are integrated into replacement pod cartridges. Each coil produces different output (normal e-liquid vaped with coil of 0.7ohm value). For nic salt usage, latest oil baffled system and 1ohm resistance coil is used. The model incorporates smart battery indicator to give you a good picture of how many hours of usage left. You can quickly charge the device through USB-C rapid as soon as you are left with little charging.
The device is available in six attractive colors. It is slightly larger in size as compared to Suorin Air V2. The device surely gives you more than the value of your money.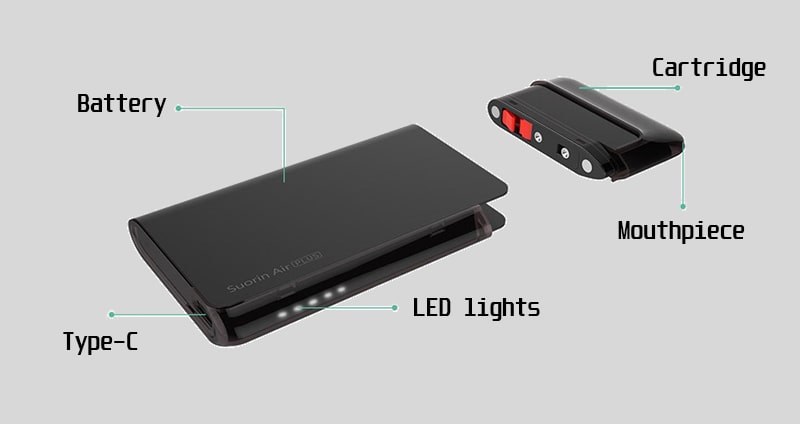 Package Includes
One complete kit for Suorin Air Plus device with pre-installed 0.7ohm resistance Coil
One cartridge for Sourin Air Plus device Cartridge 1.0ohm
One provided USB Cable for charging the device
One Instructional Manual for the device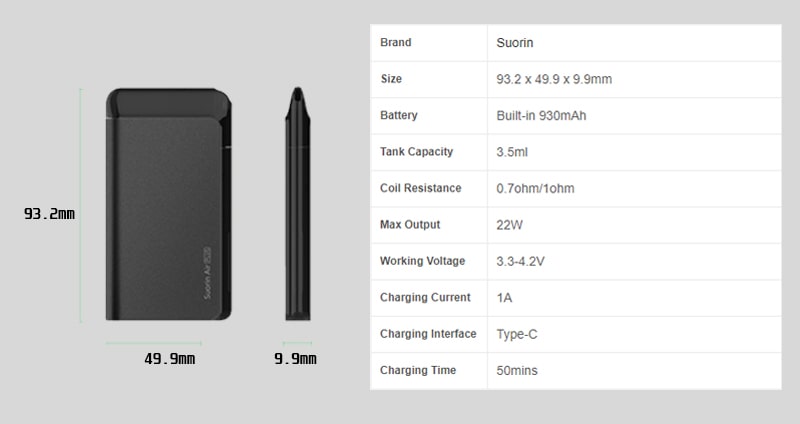 Specification
Size: 93.2 x 49.9 x 9.9 millimeters
Capacity of tank: 3.5ml
Resistance of the coil: 0.7ohm(pre-installed)/1.0ohm
Output (Maximum): 22W
Voltage (Working): 3.3-4.2V
Current required for charging: 1A
Built in Capacity of the battery: 930mAh
Interface for charging: Type-C
Time required for charging: 50min
Upgraded Battery, Large Capacity
The most striking feature that Suorin Air Plus carries is the highly powerful battery with 930mAh current. Interestingly, it is not much bigger than Air V2, however, the battery capacity is more than double. However, the usage time is not doubled since the wattage in Suorin plus is 22W as compared to Air wattage of 16W.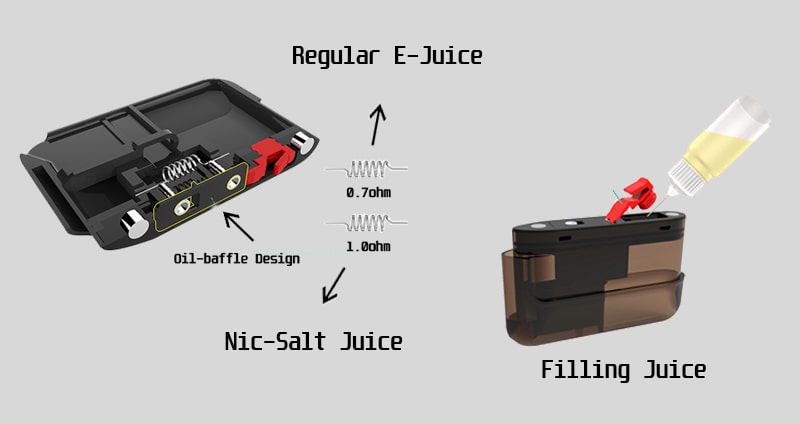 Upgraded Pod, Bigger Capacity And Two Options For E-juice
Suorin Air Plus Replacement Pod again carries a larger capacity (3.2 ml) as compared to 2ml in the last model. With such a huge filling capacity, your preferred salt nic juice would take you through a complete day without having to make a refill. The device baffle is designed to be anti-leakage with dual coil mechanism (1 ohm and .7 ohm). Dual coil system makes this device equally suitable for lower and high nicotine strengths.
How long do Suorin Air Plus pods last? This question can only be answered as the product achieve popularity in the market and enough number of units are sold. However, previous products from the same manufacturer, Suorin Air Pod, has lovely track record.
Suorin Air pods is designed for five refills of e-juice. However, different reports are available about the usage. Reportedly, the smaller coil is better suited to use lesser sweet e-liquids and taking small to medium hits. They also perform better when the ratio of PG/VG is kept equal. In such usage conditions, an Air Pod is reported to have taken even 8 refills.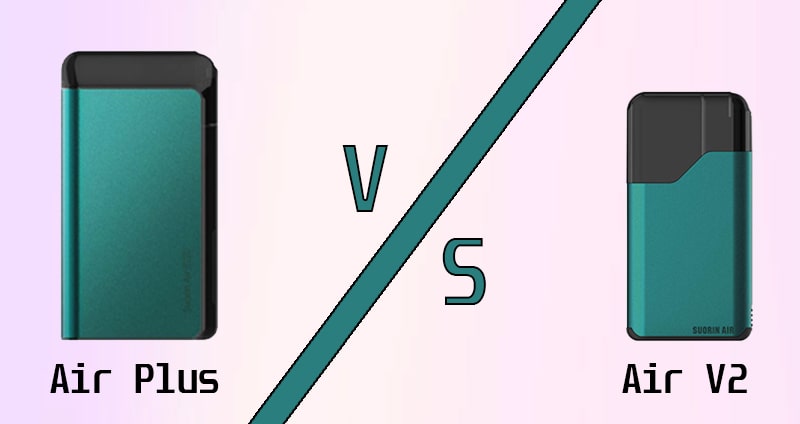 Suorin Air Plus vs Suorin Air V2?
Suorin has not adopted some cutting-edge new feature with their new product. They have simply improved the Air V2 features that made it such a success. Some of the outstanding features include dual coil system, quicker charging times, higher capacity battery, and larger pod capacity. Air V2 didn't prove to be as successful then it replaced Suorin Air. However, the Air Plus truly deserve the popularity in the market, that it is getting.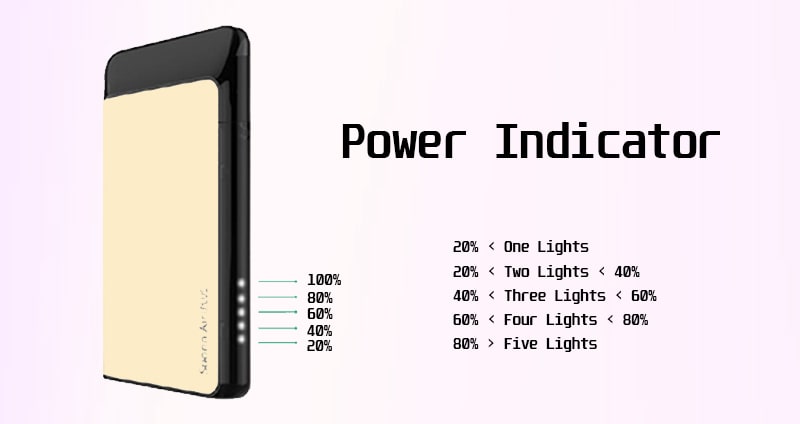 How to know when Suorin Air Plus is fully charged?
The device requires around 50 minutes to fully charge. In the full charge state, the device display five LED indications at the same time. It will show four lights when the power left in the battery is between 80 to 60%. Only one light will glow when the battery power drops below 20%.
Customers who bought this product also bought:
Product added to wishlist
Product added to compare.

By entering Vape4Ever, you affirm that you are of legal smoking age 21+ and you agree to be Age Verified.