Imini – Vape4Ever Version Overview
Imini is a classic vape mod for 510 carts in the industry right now to ensure you can use it discreetly without the fear of drawing attention. Despite its compact design, this vape promises advanced vapor production with unmatched consistency. It is designed to work with any oil cartridge to enable you to try out various blends according to your tastes and preferences. Imini battery boasts a see-through design to allow you to see the level of the liquid easily at any given time. It is simple to operate as it comes with a one-button control function that gives access to all its features and functions. Imini vaporizer has an excellent exterior construction consisting of high-quality rubber to protect it from bumps. The rubber exterior feels great in hand. I feel that it makes Imini vape mod slip-resistant for optimal grip and control. It comes with an LED light on the fire button that lights blue to indicate when the device is locked. Using the same button, you can press it 5 times for simple locking and unlocking of the device. Better yet, this unit is designed to pause the flash and heat every 10 seconds to prevent overheating. Notably, it is feature-packed. Read on to get an in-depth insight into some of its features. Take a look!
Imini Battery How To Use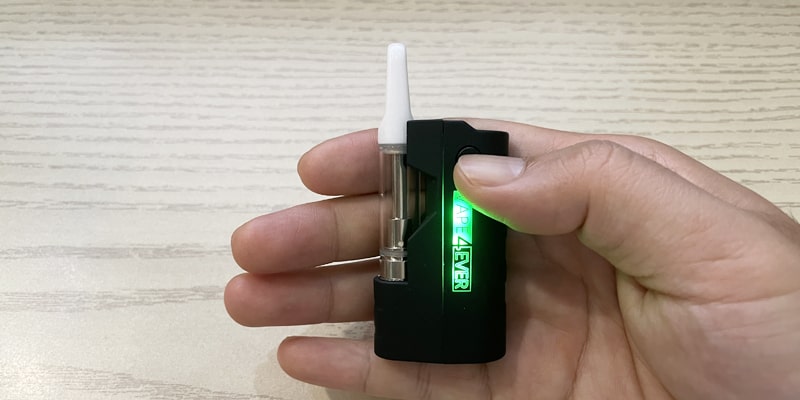 Before we indulge in the features of the Imini battery, let's take a look at how to use it. To power it on, you will have to connect a 510 thread vape cartridge and click the button five times. You can do the same to turn it off. When you click it twice after the first 5 clicks, the device will start heating up. Give it 15 seconds and you'll notice the LED light indicator. Further, you can click it one more time to preheat. Once this device it heated, it is ready for you to inhale as simple as that. Generally, this Imini battery is easy to use. Thanks to the ergonomic craftsmanship and user-friendly design, you can easily control this vape mod.
Package Of Imini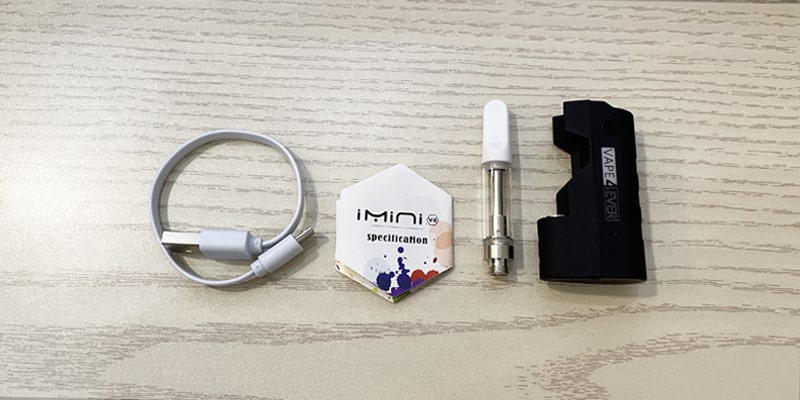 1 * Imini Vape Mod
1 * Micro USB Charging Cable
1 * Liberty Tank
1 * Package Box
Best Features of Imini Vaporizer
Just like I mentioned early, Imini vape mod is feature-packed. Here are some features that set it apart from the rest vape batteries in the same class
One of the features that stands out in Imini vaporizer is its ultra-compact design. I can hold it comfortably in my hands while vaping without the fear of someone interrupting my vaping session. Besides, when it's not in use, I can slip it into my pocket without feeling like I'm carrying something heavy. Thus, it will sit discreetly in the pocket that other people can hardly see, making it perfect for taking to a concert, party, or anywhere else.
Variable Voltage Settings
What I like most about Imini vaporizer is the variable voltage setting that comes with it. All of the settings are accessible through a single button to provide ease and convenience of use. Once powered on, I just need to click the button at different times to switch between the four different voltage settings. The voltage settings include 2.8v, 3.2v, 3.7v, and 4.2 v. The adjustable voltage settings are color-coded, so you never mistake one for the other. The lowest setting is indicated by a green light, blue light, yellow light, and red light, respectively. Personally, I prefer to have it on the lowest setting, 2.8v, which is marked by the green light. It has a nice flavor profile. However, you can select according to your taste and preferences to vape oil.
Imini allows you to enjoy your concentrates anywhere, anytime. Then again, it is equipped with an easy-to-use safety lock to ensure a secure lock during office hours. All you have to do is click the button 5 times to activate the safety lock feature to disable it. That is why it is a great companion for traveling or going to work. Even better, this device boasts a blue LED indicator to reassure you when it is locked, eliminating guesswork.
Advanced Preheating Feature
Imini battery is designed to offer an on-demand vaping experience. Thus, it comes with an advanced preheating function that lets you warm it up quickly and enjoy it in no minute. The preheating feature is easy to use. After unlocking the device, click the button once to activate the preheating mode and watch it repeatedly flash as it warms up the cartridge. To deactivate the preheating mode, simply tap the button once again and voila!
Generous Airflow and Exceptional Performance
Imini produces top-notch vapor quality with unmatched consistency each time.The airflow is adjustable to ensure you can increase or decrease it to suit your individual preferences. Even better, this battery works with most of 510 thread vape carts up to 10mm in diameter for exceptional performance and flexibility.
Imini vaporizer comes with a vape tank that gives you an easy view of the CBD oil level. The glass vape tank is crystal clear and easy to view from the side. In this way, you don't have to guess whether the vape oil is still available or has run out and needs refilling. Moreover, the glass is of top-grade construction, making it breakage-resistant to withstand high bumps for optimal longevity. Also, the glass material is high-quality to maintain the purity level of CBD oil. Thus, you can use it with peace of mind knowing that it is not contaminated in any way.
Compatible with 510 Thread Cartridges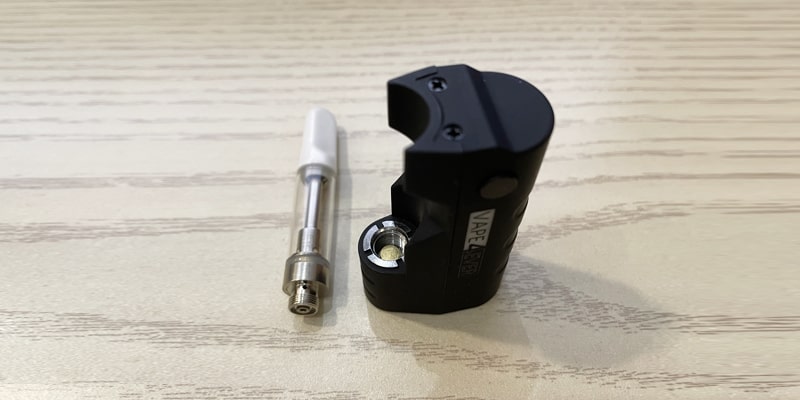 Imini vaporizer is equipped with a 500mAh built-in battery to deliver a power output of 15W. This battery works with all 510 thread oil cartridges to give you optimal flexibility. What's more, you can select a replaceable 510 thread ceramic coil vape cartridge to for backup. The only requirement is that the cartridge must not be wider than 10mm.
Specifications Of Imini
Power Output Wattage: 15W
Battery Capacity: 650mAh
Connection: 510 Thread
Fit For: Wax Atomizer/ Thick Oil
Cartridge Size: 0.5ml
Compatibility: 10mm Diameter Tanks Or Smaller
Charging Way: Micro USB
Color Options: Green, Pink, Black, Blue, White, Red, Orange, Yellow, Purple
Similar Vape Mod For Carts Like Imini
The following vape mods are great for users who want a visible cartridge like Imini vaporizer.
Vapmod Vmod For 510 Thread Cartridge
The kind Pen Mist 510 Thread oil vaporizer
Yocan Uni Pro Box Mod
Lookah Snail 510 Thread Battery
Verdict
After trying and testing Imini vaporizer, I highly recommend it to anyone looking for a discreet vape mod to use anywhere, anytime. This vape is pocket-friendly both in terms of size and money. Its compact design makes it fit neatly into the lighter pocket without leaving a conspicuous bump. What I liked most was the variable voltage setting that let you enjoy different levels of wax oil flavors. Our team finds the lowest voltage rich in flavor. However, you can explore all the settings to find your best taste.