Elf Bar 5000 Overview
Elf Bar 5000 is the answer to a top-notch rechargeable disposable vape with a greater puff count. It is a flat flagon-shaped device with dual-coil technology for a superior vaping session. If its battery juice runs low, you can instantly recharge its 650mAh rechargeable battery via a Type-C USB charging cable. The 79mm tall Elf Bar BC5000 holds 13ml of e-liquid and consists of 5% nicotine for a satisfying vaping session. The best thing is its 5000 puff counts, which satiates the cravings and enables to blow vape clouds to stand out! Although small, this box-shaped device with contrasting gradient colors is pretty and comes in more than 30 flavor options. Now let's jump into the Elf Bar 5000 review for a comprehensive insight!
Unboxing And Closer Look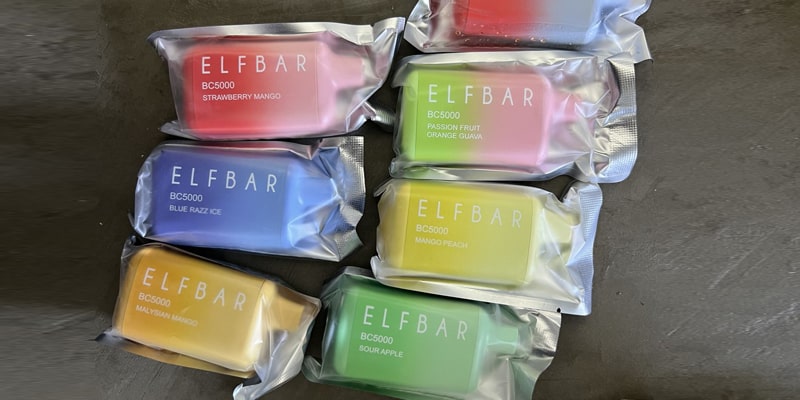 Elf Bar BC5000 disposable vape is in very simple packaging, portable and dope. The box includes all the necessary information like key ingredients, expiration date, parameters, etc. However, there is no charger inside the box, so I use my own Type-C USB charger to recharge it. By the way, the package does not include a user manual because it's relatively straightforward to use. So once you open the box, you will see the device is encased in a plastic wrapper. Simply tear the plastic wrapper to use this premium vape!
I first remove the silicone from its mouthpiece to use the device. Also, at the bottom, it says "open," so I remove the slit to uncover its three essential features – an LED indicator, an air hole inlet, and a charging port to connect the Type-C charger.
If we talk about this disposable vape's appearance, it combines a matte and glossy finish. Every unit has the fusion of contrasting gradient colors, depending on the flavors, which makes its outlook absolutely stunning. Since I have tried the Elf Bar BC5000 Strawberry Mango flavor, the unit intermixes the shades of pink making it extremely beautiful.
Elf Bar 5000 How Long to Charge
Elf Bar 5000 has an extraordinary battery life that will last around three days of heavy use or even more if you are not a frequent user. For me, once it runs out of power, I grab any Type-C charger in my house to instantly charge it.
It will usually take thirty minutes to an hour to charge this disposable vape. As soon as the charging is complete, what I need to do is just disconnect, puff away, and make the most out of it. Definitely, a compact disposable vape that offers the utmost convenience!
Specifications: Elf Bar BC5000 V.S BC3500
| | | |
| --- | --- | --- |
| | Elf Bar BC5000 | Elf Bar BC3500 |
| Size | 79mm*41mm*19mm | 69mm*41mm*19mm |
| Vape Juice | 13mL | 10.5mL |
| Battery Capacity | 650mAh | 650mAh |
| Nicotine Level | 5% | 5% |
| Puff Counts | 5000 | 3500 |
| Dual Mesh Coils | Yes | Yes |
| LED Lights Up When Inhaling | Yes | Yes |
| Flavor Options | 33 flavors | 19 flavors |
| Charging Way | Type-C | Type-C |
Best Elf Bar 5000 Flavors That I Have Tried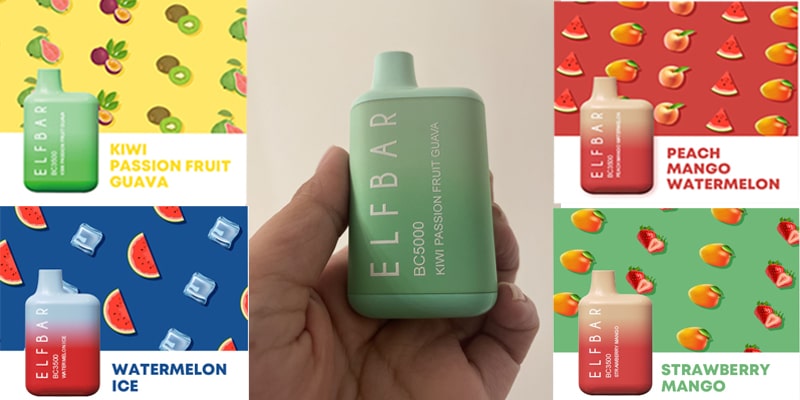 BC5000 disposable delivers the purest taste and great flavors due to the presence of dual mesh coils. I did not experience intense or brutal hits or got a burning throat. Instead, it was a very smooth and mellow vaping experience that was quite enjoyable.
After experimenting with different flavors, these are by far the best Elf Bar BC5000 flavors I loved.
Peach Mango Watermelon– It is one of the best Elf Bar Flavors I have ever tried. It's easy to imagine that this wonderful trio of peach, watermelon and mango with 5% nic salt will tantalize taste buds. They are such a bravo combination in the whole inhaling and exhaling process. I highly recommend this flavor as it tastes fantastic!
Strawberry Mango-This flavor is on point and wins my heart! Upon inhaling, it gives a sweet and minty flavor with undertones of mango, and on exhaling, you get a combination of strawberry and mango flavors. The merging of strawberry and mango makes this flavor absolutely amazing and delicious.
Kiwi Passion Fruit Guava-When inhaling vapor, kiwi flavor comes into my taste bud first, and later it feels like a kind of Asian candy that really gets me hooked! I have never experienced this type of special flavor from other disposables. Thus, kiwi combining passion fruit and guava is unique for me. Such a perfect vape flavor blend! I feel so satisfied to have Kiwi Passion Fruit Guava with its sweetness and menthol.
Watermelon Ice– It is a mind-blowing vapor flavor for me. The watermelon ice tastes exactly what it smells like. However, there is ice that delivers a cooling sensation to the throat and chest. I feel like it tastes more like watermelon bubblicious gum. The scrumptious water ice flavor is extremely sweet, smooth, and chilly. So, it is definitely a must-try for vapers who love sweet flavor and ice.
Vapor Test
Elf Bar BC5000 disposable vape works pretty smoothly. I do not get any intense throat hits. Once I inhale, I get the best flavors and vapors. However, this vaping device does not give those dense, thick, and big vapors like sub-ohm vape tanks. The vapor is thinner but packed with flavor. If you want concealable vapor while using in public, you can try to swallow it slightly and then exhale the vapor. The vapor I exhale in this way is thinner and will not be noticed by my friends nearby.
Features Of Elf Bar 5000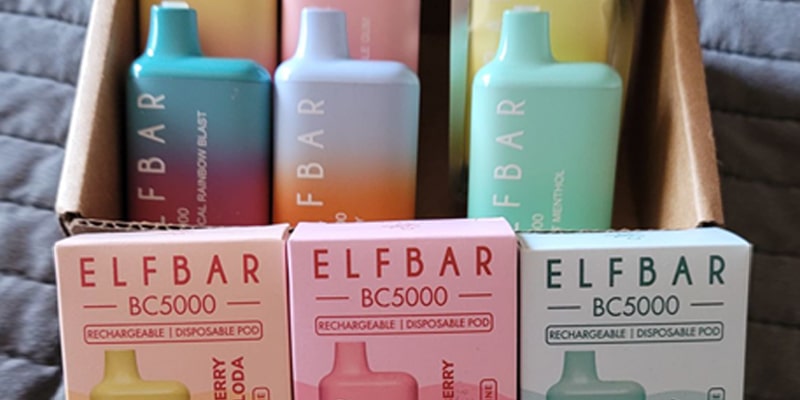 Elf Bar vape features no need for cleaning or maintenance. Thus, once finishing 5000 puffs of this vape unit, I just chuck the device away safely and purchase a new one. What else? Check below the best features of BC5000 I find.
Pretty Design Good For Socializing With Other Vapers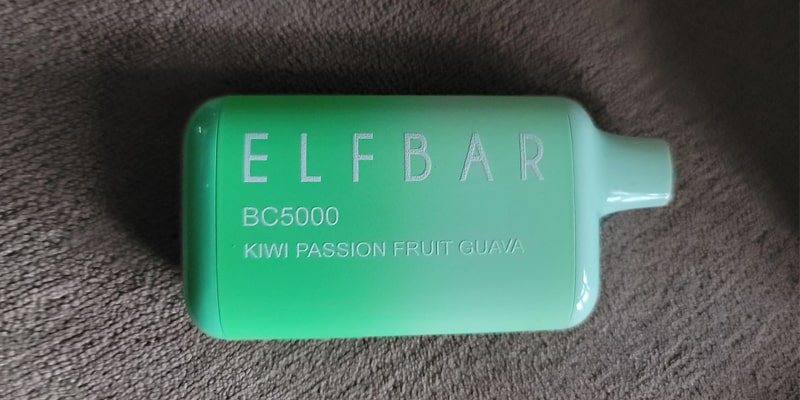 Elf Bar BC5000 is pocket-friendly and travel-friendly. It fits in hand with an ergonomic design, grippy and beautiful. I like its gradual external pattern and contrasting colors that make this powerful vape unique. Moreover, the matte and glossy finish also brings fantastic touching. I love BC5000 so much. It has become a perfect companion for socializing. Actually, I always bring it with me while going for short off-work holidays. I can't help to share with my friends how good it performs. And it turns out that my friends love this tiny disposable vape, too.
Dual Coils Deliver Purest Vapors
BC5000 disposable vape will grant your wish if you are looking for superior vapor production! Its dual mesh coils promise to deliver more vapor and way better flavor to let users enjoy the delicious 5000 puffs. I think it takes the cake because they have a lot of flavors and the tiny device packs the flavor punch inside. The sole reason behind this flavorful punch is that the built-in battery evenly heats these two coils to heat the vape juice to vaporize it. So, users can choose any of the Elf Bar BC5000 best flavors to enjoy the purest vapors produced by its dual mesh coils.
Convenient Type-C Fast Charging
Elf Bar BC5000 charger supports fast Type-C charging. It only costs me thirty minutes to one hour to get fully charged. But the precise charging time depends on how much power is left in the unit after last time's use. The inner 650mAh battery is excellent and lasts for more than three days if I do not vape frequently. This small disposable vape unit with around 5000 puffs charges relatively more quickly than other vaping devices. Thus, I do not have to wait too long for the next vaping session. Its rechargeable option provides convenience as I can charge anywhere with the Type-C charger.
One thing to notice is that when you plug in the cable, the LED light will not light up. Instead, when you unplug the charging cable, the LED light at the bottom will blink 3 times to indicate that it was properly connected.
Pros And Cons Of Elf Bar 5000
Pros
Cons
Great build quality, matt finish for grip-friendly

Sleek box-shaped design that is unique from a pen shape

Rechargeable battery via convenient

Type-C

Dual mesh coils for extraordinary flavors

13ml e-juice and 5000 puffs for a longer-term use

Draw-activated and straightforward usage

No cleaning or maintenance

5% nicotine salt for nicotine vaping enthusiasts
USB-C charging cable is not included

No airflow adjustability options

Not as slim and portable as a vape pen

Need charging frequently if vaping constantly
Similar Products Like Elf Bar 5000
Esco Bars H20 Disposable Vape
Elf Bar BC5000 Ultra
Elf Bar BC1600
Elf Bar LB5000
Verdict
I give Elf Bar BC5000 a 9/10 score because users can enjoy and get that life out of such a miniature device. Its design, performance, and mind-flowing flavor categories have won my heart. It perfectly fits in my hand, making it super discreet. I like its dual mesh coils that work amazingly to vaporize 13ml e-juice, and its delectable vapors will get you hooked.
The best part about enjoying its non-stop scrumptious flavors is that I can recharge its 650mAh battery. It is perfect for on-the-go vaping sessions because it is highly portable and eliminates the need to carry a bunch of things or an entire kit when you feel like vaping. However, if you want such huge clouds, it does not give those big, dense, thick, massive Os or vape clouds. Overall, it makes the vaping session pleasing, and its flavor categories give that slap.
I recommend Elf Bar 5000 disposable vape if you are new to vaping or have recently used other nicotine vape devices. It is undoubtedly the best innovation.