Vmod battery is from VAPMOD brand, which was established in 2010 in Shenzhen and thrived in recent years. I find that the brand has a research facility as well as several other franchises that assist in improving the quality and flavor of vape devices. Among the top vape mods from this brand are Vmod and Vmod 2. As a user, you may be wondering about the differences and similarities between these two cartridge batteries. For this reason, we have done the homework for you. Our team has tested the devices and compiled this review. Keep reading to find out more about them.
Pros And Cons Of Vmod And Vmod 2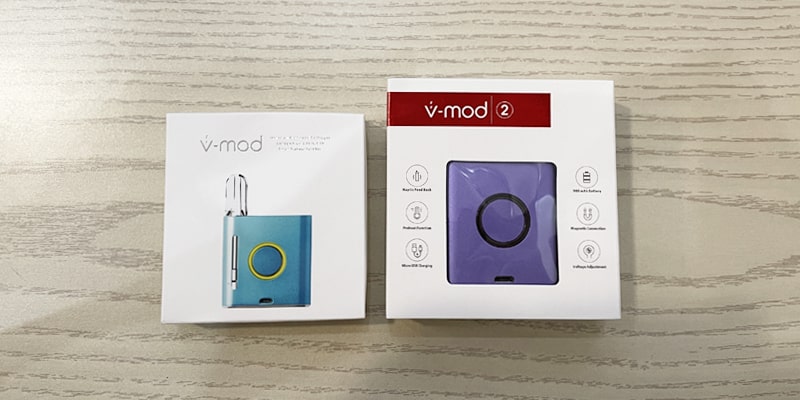 Pros
Concealable mini size
Long-lasting 900mAh battery
Attracting LED ring indicator
ST smart chip
Multiple safety protections
User-friendly oil window
Compatible with 510 carts
Magnetic connection
Preheat mode
Variable voltage setting
Battery life indicator
Cons
Without a lanyard hole
The package does not come with a cartridge
The charging port in the front is not aesthetic, and I hope it can be placed on the backside
Package And What's In The Box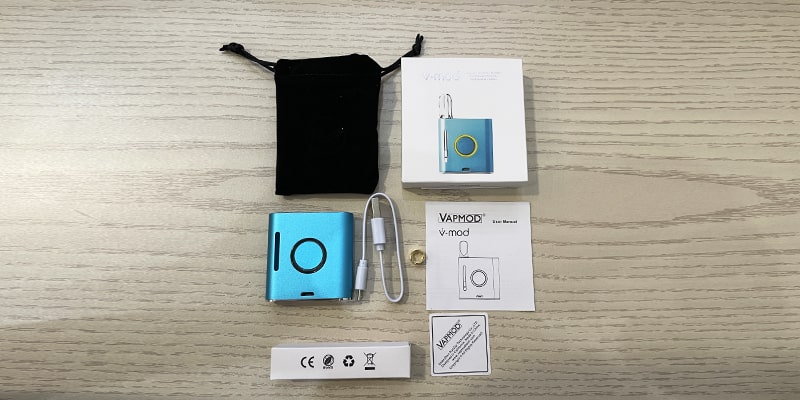 Vmod package comes with a label showing your product. The label printed on it will be depended on which one you choose. Unboxing the packing is quite simple. There is no adhesive used to seal it, so it will be straightforward. The first thing you will see is a tiny cloth baggie with drawstrings. This is incredible because it offers additional protection to your mini box mod. The USB charging cable and a small 510 thread magnetic screw adapter are also included. What's more, the easy-to-follow user manual will enable you to start enjoying your vaping experience in a few minutes.
What about the Vmod 2 device? One thing you should be aware of is that the box holding it is different from the other one. Its box comes with a transparent layer for you to have a glimpse of the unit inside. When you open the box, you will realize that there isn't a baggie in the package, which is different from the first generation. However, the accessories in the package are well cushioned to protect them.
Below is the package list.
Vmod 1
Vmod 2
1 * Vmod unit
1 * USB cable
1 * 510 thread magnetic connector ring
1 * User manual
1 * Vmod 2 unit
1 * USB cable
1 * 510 thread magnetic adapter
1 * User manual
Design And Construction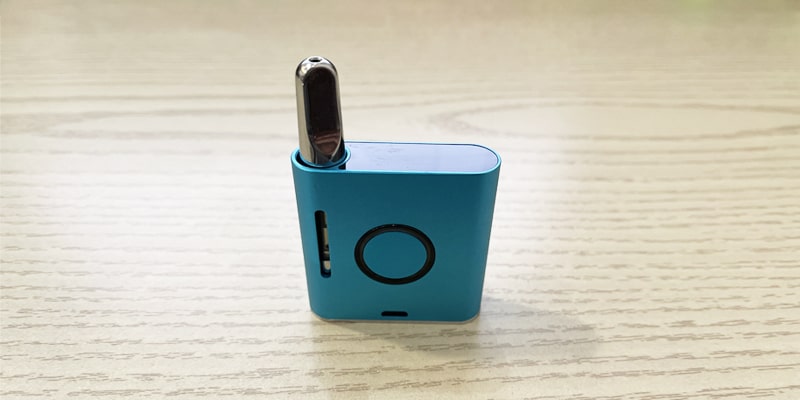 Vmod gives me the first impression that it looks like an iPod. Its measures 49 x 49 x 12mm. So, you will be forgiven for mistaking it for a mini iPod! The design is minimal and unobtrusive. Its mini size is great at ensuring that you have a comfortable grip. I really love the grip feeling while trying Vmod! It is simple with only one button for all actions. And it is readily movable and has much more than enough capacity for any consumer.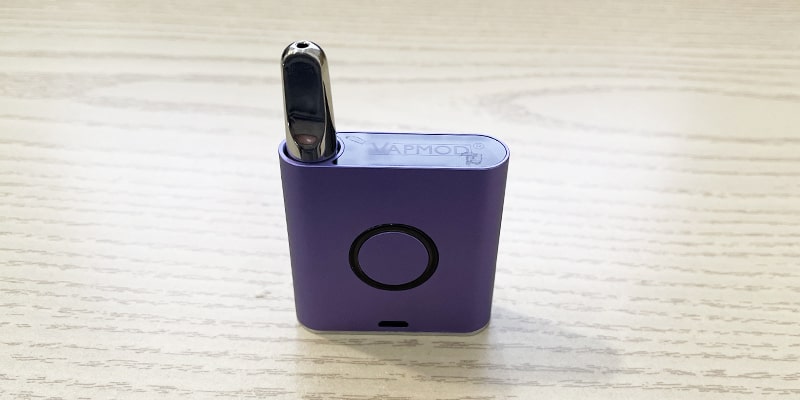 Similar to Vmod, the Vmod 2 battery also looks like an iPod. It is a stylish and sleek vape mod that boasts a large battery that fits inside a small and compact frame. This vape mod is a terrific gadget for savoring a range of liquids in combination with a number of cartridges, all bound up in a sleek, lightweight, and modern design. While using it, I love the way it rests easily in the palm of my hand. The grip is incredible and you can easily enjoy your vaping experience without worrying about your device slipping out of your palm. It has a simple single-button design that allows you to quickly cycle between three voltage outputs that are preset and engage the preheat function for a cleaner vape experience.
As you may have noticed, their design and construction are quite similar. However, we noticed a major difference that sets the two apart. First about their package box. I realized that the package box of Vmod 2 has a transparent layer while the other one doesn't. Therefore, when choosing one based on design, you are going to have a really hard time deciding because they both have a similar design. Another difference exists in the position of the liquid viewing window. Vmod has a viewing window on the front side. On the other hand, version 2 device has an oil window on one of the sides.
How To Use And Control Vapmod Vmod?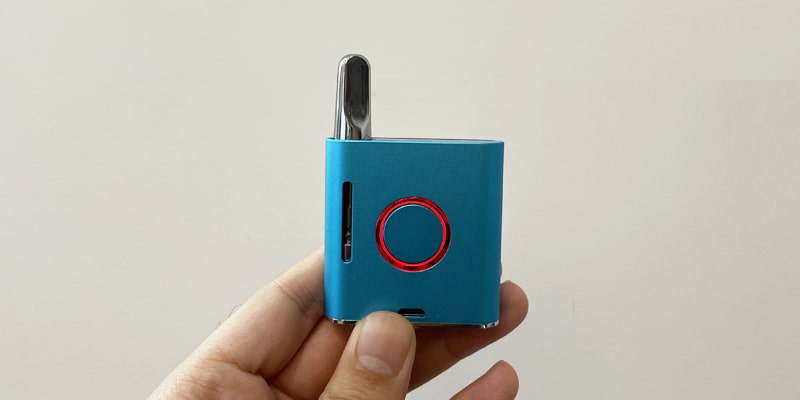 Using either of the two devices is incredibly easy and similar. Once you receive your Vapmod device, begin with the following steps.
Screw the connector onto the 510 thread.
Once the connector has been secured, place your cartridge into the box mod.
Start taking your rip.
Using the device is as simple as that! If you aren't sure, you can easily follow the user manual and in a very short time you can start enjoying your vaping experience.
For more settings, you can use the button on your device to control it. To turn it on, you click on it five consecutive times. The LED will then flash twice to show that it is on. To power it off, you again click on the power button swiftly five times. The LED should flash once rapidly to show that the device has been powered off. To preheat the device before using it, click it twice in quick succession while it is powered on. The LED will then flash 10 times. However, if for some reason you need to cancel preheating, you just click once.
Vapor Quality
I thumb up for the Vmod flavor taste, and it deserves applause. It makes me want to vape it over and over. Both batteries with oil carts present satisfying vapor density. In fact, while vaping, the vapor is not heavy, making vaping incredible! I believe that you will certainly love these two box mods because the vapor enhances smoothness. Besides, vapers can enjoy various vape performances with the low output preheat mode for warming up cartridge oil and adjustable voltage setting.
Vmod V.S Vmod 2: Features And Advantages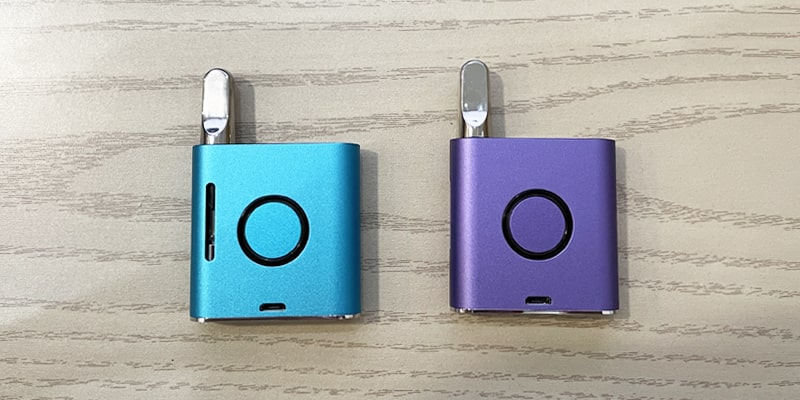 These two vape boxes are largely similar. It was quite difficult to tell the difference between the two, except for minor distinctions. They have similarities in their build quality and touch feeling, viewing window, battery life indicator, and several protection features. Keep reading to know the commonalities and advantages we find.
Premium Touch Feeling
I love the Vapmod build quality and the touch. Both vape batteries are made of Zinc-Alloy and have a solid colored finish. They give the feel of silky clothing material. It may feel a little bit cool in temperature when I grab them on cold days. But it's acceptable and does not affect the usage.
Mini Sized Built
I also like the devices' solid and lightweight build quality. It was also easy to handle either of the devices with just one hand while the other hand was engaged elsewhere. You can easily carry around your box-shape vaping devices wherever you are going.
Use In Multiple Scenes
Both Vmod and Vmod 2 can be used in several scenes requiring them to be on the move as they are mini-sized. For example, you can use them while traveling. You hold them in one hand while engaging in other activities, such as while making a call. While testing it, I love using it while I walked around the company to inspect some of my projects that were going on. I even worked on my recipes while vaping! You can also walk around with it in your hand without raising an eyebrow. For example, if you are at a function such as a family meeting or a friend's wedding, you can carry it around without anyone noticing. You can also carry it to your workplace. This is incredible because it enhances your privacy. We don't like cases where you get those weird looks because of people knowing that you are carrying a vaping device.
Convenient Viewing Window
As an experienced vaper, a visible liquid window is my favorite. Both Vapmod batteries have an oil window that is incredibly useful because it allows you to tell the amount of liquid in your cartridge. It is a convenient feature that eliminates the need to pull out the oil cart to check how much liquid is still remaining. Moreover, it is safer to use because you will know when it is time to replace the oil cartridge. Many vape mods on the market lack this feature, and you can only imagine the stress of having to keep pulling the cartridge to find out if you still have some oil to vape on. Thus, these batteries are user-friendly designed though they are tiny.
LED Battery Life Indicator Light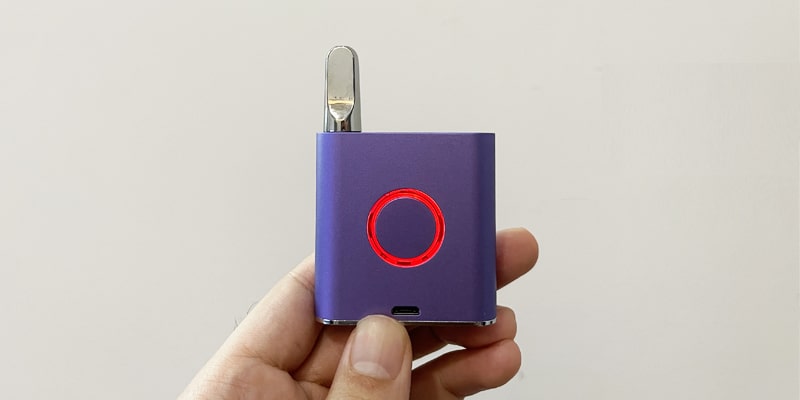 LED indicator can tell your battery life. LED indicator is incredible because you can ensure you have the correct battery charge when you are traveling, for example. In both Vapmod vape batteries, 70 percent and above is indicated by a green color. A yellow LED ring means that the battery life is between 30 percent and 70 percent. The red color on the LED indicator hints that you only have about 30% of your battery life left. Therefore, when you are curious about "why is my Vmod blinking red", you should think of recharging the battery at this "red" stage.
ST Smart Chip For Multi-Protections
Vmod and Vmod 2 are designed with an ST smart chip. It provides five safety protections, ensuring your safety and that of the device.
Overcharge protection helps protect your battery from overcharging.
Overvoltage protection prevents the discharging voltage from being too high.
Overcurrent protection prevents your device's discharging current from being excessively high.
Over-discharge protection light indicates you to avoid discharging excessively.
Short circuit protection is an automatic feature for your battery when a short circuit happens.
The LED ring flashes to alert you if any of the safety features are engaged. Therefore, you can easily tell if your device's protection features are on or not.
Vmod V.S Vmod 2: Specification Comparison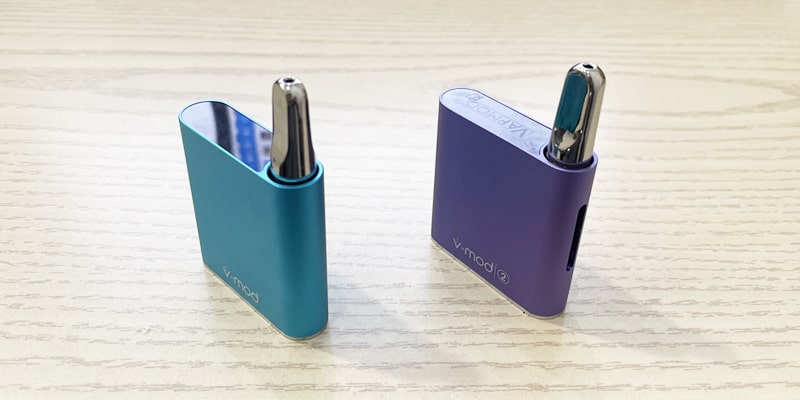 | | | |
| --- | --- | --- |
| | Vmod | Vmod 2 |
| Compatible With | Oil / Wax Atomizer | Oil / Wax Atomizer |
| Size | 49 x 49 x 12mm | 50×49×14mm |
| Battery Capacity | 900mAh | 900mAh |
| LED Battery Life Indicator Ring | Green – 100% to 70%Yellow – 70% to 30%Red – 30% to 1% | Green – 100% to 70%Yellow – 70% to 30%Red – 30% to 1% |
| Resistance | 0.5ohm – 3.0ohm | 0.5ohm-3.0ohm |
| Variable Voltage | 2.6V (Green), 3.3V (Yellow), and 4.1V (Red) | 2.6V (Green), 3.2V (Yellow), and 4.0V (Red) |
| Preheat Time | 15S | 15S |
| Vertical Viewing Window | At the front | On the Side |
| Hole Depth | 37 mm | 37 mm |
| Hole Diameter | 11.5 mm | 11.5 mm |
| 510 Magnetic ring | Yes | Yes |
| Charging Cable | Micro-USB | Micro-USB |
| Safety Protections | Yes | Yes |
| Color Options | Black, Red, Navy Blue, Rose Gold, Blue | Black, Red, Blue, Purple, Deep Blue |
| Haptic Feedback | No | Yes |
Products Similar To Vapmod Vmod Line
Yocan Handy
Yocan Wit
SMOK Micare
Kangvape Zeus
Airis Qute
DazzVape GT800
Airis Mystica 2
Verdict
There you have it! Now you know how these two box mods differ from each other. Generally, I love both products. I won't mind using either of the two products, but I would choose the upgrade version because its haptic feedback allows me to know once its preheat function is ready. Thus, I will rate it a bit higher. At the same time, I will rate the Vmod at 4 and Vmod 2 at 4.5 on a scale of 5.
| | | |
| --- | --- | --- |
| | Vmod | Vmod 2 |
| Overall score | 4 | 4.5 |
| Portability | 5 | 5 |
| Ease of use | 4 | 5 |
| Vapor smoothness | 4 | 4.5 |
| Flavor | 4.5 | 4.5 |
| Design | 4 | 5 |
| Built quality | 4.5 | 4.5 |
| Durability | 4 | 4 |
| Features | 4 | 4.5 |
| Compatibility | 5 | 5 |
| Ease of Cleaning | 4.5 | 4.5 |
| Features and functions | 3.5 | 5 |
Nonetheless, both vape batteries have incredible design and build quality. They have a discreet body, being incredibly durable and easy to bring with. The small dimension also enhances your privacy because you can carry them around without necessarily raising curiosity. It is concealable and can be carried in a variety of settings, including public transportation vehicles, your workplace, a public park, or even at a family gathering!
Remember that they perform well with oil vape carts, especially CBD and THC carts. Also, you don't have to worry about impurities because the preheat function helps do away with debris and other impurities. Hence, the excellent vapor is also a selling point. You can get an incredible vape smoothness with the original flavor of oil. Lastly, Vmod and Vmod 2 cost less than $30. Considering the incredible features, these two mini box mods are affordable and cost-effective. No matter which one you have, I am sure it will bring an unforgettable vaping journey.