Yocan Kodo is a portable and easy-to-use vape mod with a universal thread connection. It's mini yet powerful, precisely constructed with useful features and functions, giving me an impressive experience with my oil cartridge. Let's have a closer look at this review.
Pros and Cons
Pros
Premium shape with hanging hole
Fast preheat time
Excellent battery capacity & shelf life
Easily controlled voltages
Come with safety features
510 thread connection
Cons
Vapor is not massive
Non-adjustable airflow
My Expected Upgrading
With OLED screen
Different colors of LED indicator
Crafted Design
Yocan Kodo is a solid-colored vape battery in four common colors: blue, black, white, and red. The device's finish is smooth to touch. There is one button and three LED indicators on the front. This elegant design will offer you easy and direct control. Also, you can see that the brand name "Yocan" and the model name "Kodo" is carved on the mod to make the product authentic in case some consumers buy the fake one. One highlight is that there is a hole on the right side of the model top, where you can use a lanyard. This user-friendly design makes Yocan Kodo device portable in a new way. The 510 connection is on the top of the device so that you can screw your oil cartridge with this battery. The micro-USB charging port is at the bottom. So you can even vape when waiting for battery power.
Brilliant Functions and Features
Yocan Kodo is a one-button control vape battery. Despite the tiny shape, it presents a lot of features. I will show you how great its functions are.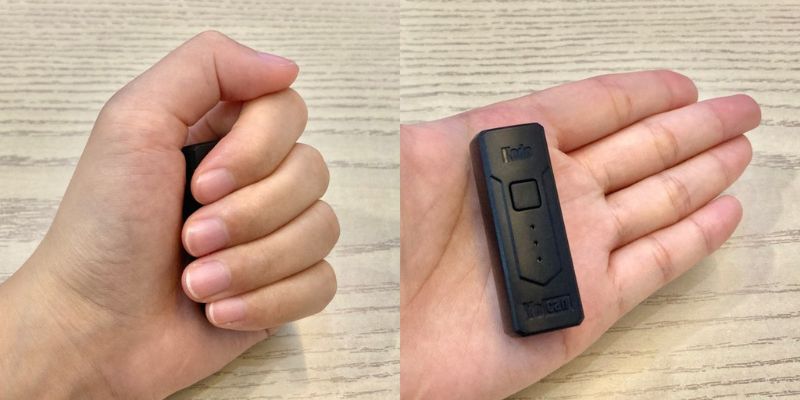 Compact and Portable Size. Kodo works wonderfully due to its small size with the dimension of 17.5mm in depth, 53mm tall and 20mm wide. Its circle-angle shape provides me with a suitable gripping. The whole battery practically fits into the palm, becoming a perfect option for those who like to vape in a concealable way. You can easily fit it in your pocket.
10s Preheat and Variable Voltages. This preheat function is surprising for me because I've never seen a small vape battery with preheat function. To activate this function, you should click the Kodo power button twice. And your material will be heated for 10 seconds. I've tested several oil cartridges, and this Yocan Kodo vape battery performs well. I actually think that's a good feature. In my opinion, it melts down the wax concentrates in advance.
Another advanced feature of the Kodo device is voltage adjustment. You can enjoy different vapor experiences through three types of voltage levels. Three LED lights show voltage levels. When one indicator lights up, it means low voltage (2.5V), two for medium (3.0V), and three for high voltage. To switch the voltage setting, you should click three times on the button.
Battery and Charging Time. Yocan Kodo is equipped with a non-removable built-in 400mAh battery. I know it's a small pretty vape mo. But I'd say it's actually a very big battery capacity considering its size. I was wondering if this size of vape mod would only feature a 280mAh battery. Now, with this 400mAh battery capacity, you can enjoy a complete day of use without another charge. This little battery is charged through a micro-USB cable and can be at full power within 30 minutes. During charging, you can also inhale and enjoy the vapor, which is great. By the way, the charging cable is included.
Safety Features
Protection of short-circuit
Protection of low-voltage
15-second auto cut-off
Hanging Hole. Yocan is a brand that considers vapers' using habits. It designs a hanging hole on Yocan Kodo, making it more convenient to bring with. You can easily wear it on your neck or key ring. The benefit of this feature is that there are no more worries about forgetting and losing the device.
Universal Cartridge Compatibility. As we enter the vaping world, we all know that the 510 thread is the most common connection. Yocan Kodo keeps up with this trend and sets a 510 thread connection for your CBD or THC oil vape or even a wax atomizer. You can use your favorite oil cartridge with this discreet battery. For me, I have tested the Kodo device with the Dope CBD cart. It works well for me. And more important is that even after installing the cartridge, the whole vape mod and the cart still portable. These are the biggest advantages I like, universal compatibility and great portability.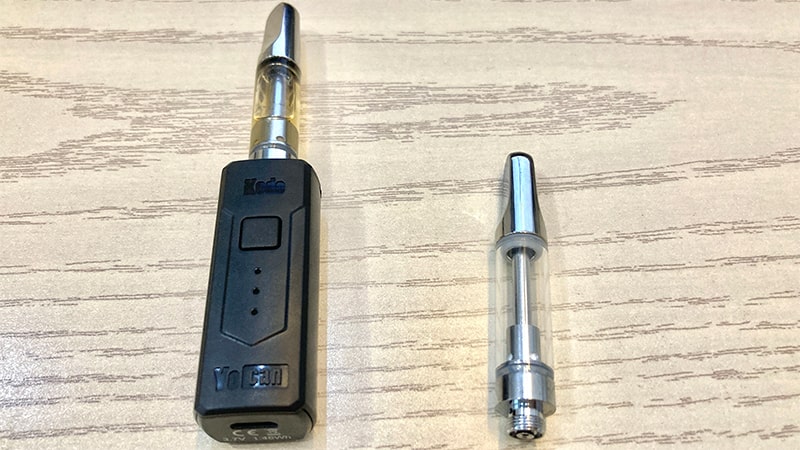 Kodo Yocan How To Use
It's very easy to use Yocan Kodo. Operating instructions are listed below.
Step 1: After screwing your oil cartridge to the vape mod, click five times on the device's power button to turn on the device. When three green lights flash, it means the device is on.
Step 2: Green three lights show the voltage indicators.
Step 3: Again, click the device power button three times to select your preferred voltage. Before use, you have to need to preheat your material by clicking twice. It will automatically turn down when finishing 10s preheating.
Step 4: Now inhale and exhale to enjoy your selected oil vaping.
Step 5: After using, click on the power button 5 times to turn off the device.
Smooth Vape Performance
Yocan Kodo presents the smallest vapor on its lowest level 2.5V. Hence, I like the clouds and their flavors powered on medium 3.0V and highest 3.5V. This Kodo mod is perfect when used at the highest voltage because it performs bigger clouds. However, the vapor is actually depending on your choice and which 510 oil carts you are using with this device. CBD oil cartridges are my favorite because they will not give the high effects but still contains cannabinoids. I enjoy the taste of it being absorbed in my soul and feel comfortable in my complete day.
Discreet Vape Battery Like Yocan Kodo
Lookah Snail 510 Thread Battery
Vapmod Vmod 2
Airis Mystica 2
Yocan UNI Pro
Yocan LUX
Yocan Kodo V.S Yocan Lux
These two Yocan vape batteries have a lot of similarities but what differs is the voltage control and charging way. The Kodo is designed with common button-controlled voltage adjustment and micro-USB charging. However, Yocan Lux comes with a more precise voltage setting, allowing users to twist the dial and set the voltage between each 0.6V in the range of 1.8V-4.2V. More details we find are listed below.
| | | |
| --- | --- | --- |
| | Yocan Kodo | Yocan Lux |
| Dimensions | 53 x 20 x 17.5mm | 76.5 x 16.5 mm |
| Use For Cartridges | Oil And Wax | Oil, Wax, E-Liquid, and Dry |
| Connection | 510 Thread | 510 Thread |
| Battery Capacity | 400mAh | 400mAh |
| Charging way | Micro-USB | Type-C |
| Fully charging Time | 30 Minutes | 30 Minutes |
| Variable Voltages | 2.5V, 3.0V, 3.5V | 1.8V-4.2V |
| Voltage Control | Button | Twist Dial |
| Indicator Light | Yes | Yes |
| 10 Sec Preheat | Yes | Yes |
| Hanging Hole | Yes | No |
| Oil Window | No | No |
| Safety Cut-Off | Yes | Yes |
| Color Options | 4 (Blue, Black, White, Red) | 5 (Blue, Black, Silver, Red, Gold) |
Overall Experience
Yocan Kodo earns a 4/5 score because its mind-blowing flavors and stylish design performance win my heart. Its tiny body fits in my hands, and I feel comfortable during vaping. I love its 400mAh battery timing and smooth and tasty vapes. Its rechargeable feature saves money, and I can enjoy a non-stop vape.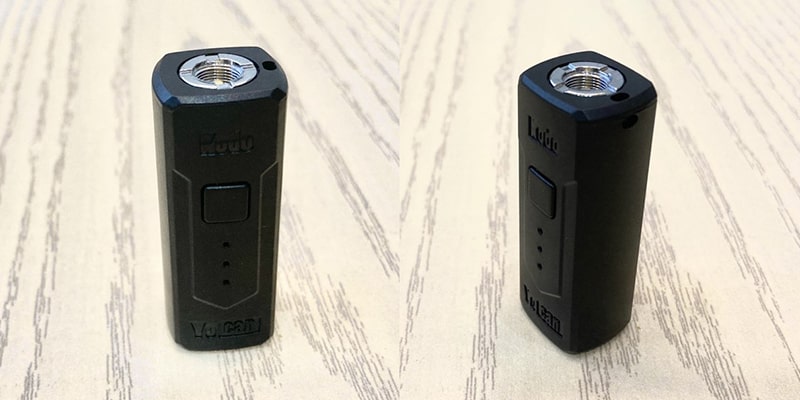 It is highly perfect for use during walking because of its small size body and long-lasting battery gives you a bunch of vapes and completes your desire in traveling. If you are interested in vaping, then you are in the right place because you can enjoy thick and dense clouds vaping.
Overall, its vaping session gives me an internally pleasant. I will strongly recommend you Yocan Kodo because this is suitable if you are new to oil vaping. It has unbelievable benefits and the best innovation. This cart battery will definitely not disappoint you.