Yocan Evolve series is on a roll for reliability, easiness, and quality. It's now my best match for cannabis concentrates and I can go anywhere to enjoy vapors. The brand is more conscious of bringing affordable, alluring, and hassle-free wax vaporizers. With fervors, Yocan launched a broad product line within a few years. All dab pens are easy to use and include modern features. Original Evolve kit is one of the examples to inspire you since it has a gorgeous look and contains a QDC coil for smooth flavor. Not to mention a 650mAh battery which features a 10s cut-off safety.
As I said before, Yocan dab pens are affordable. Because they have the option of coil replacement to comfort the user's dabbing experience. Many chic and premium wax pens don't offer the coil replacing feature. In case of a bad and burnt taste, some of you invest in new vaporizers. That's pricey. Our team loves the original Evolve due to its exquisite design, bigger battery, and QDC technology. Even a lay person can get a smooth vapor like experienced vapers. All the Yocan Evolve series upgrading features, such as battery size, compatibility, and coil type, are stated below.
Evolve

Evolve 2.0

Evolve Plus

Evolve Plus XL

Evolve D


Evolve D Plus


Size
120 x 14mm
105 x 24 x 12.8mm
120 x 19mm
115 x 22mm
131 x 14mm
125 x 19mm
Battery
650mAh
650mAh
1100mAh
1400mAh
650mAh
1100mAh
Use For
Wax
Oil & E-Juice & Wax
Wax
Wax
Dry Herb
Dry Herb
Coil
QDC
Quartz Coil for Wax Pod,
Ceramic Coil for Oil
& E-Juice Pod
QDC,
Ceramic Donut Coil
QUAD (4 Quartz Rod Coil)
Pancake Coil
Dual Coil
Storage Container
×
×
√
√
×
√
Hanging Ring
×
×
×
√
×
×
Variable Voltage
×
√
×
×
×
×
Adjustable Airflow
×
×
×
√
×
×
Charging
eGO/510 Thread
Micro-USB
Micro-USB
Micro-USB
eGO/510 Thread
Micro-USB
Glow in The Darkness
×
×
×
√
×
×
Yocan Evolve 2020 Version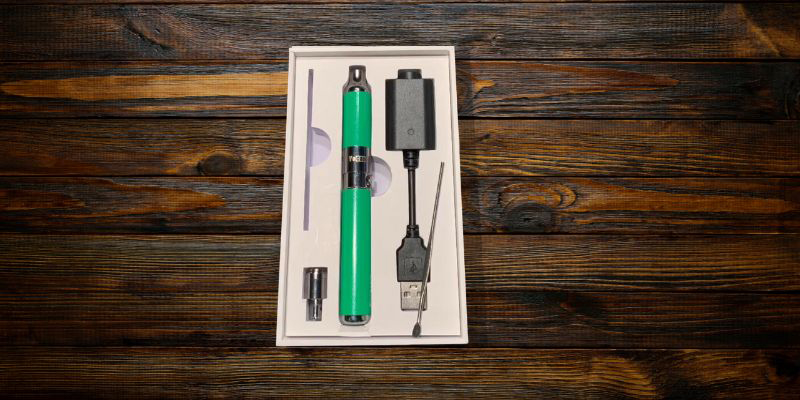 Yocan Evolve wax vaporizer with a non-adjustable temperature preset offers flavorful vapors. This device presents a mind-blowing session for beginners with a simple unaccompanied push button. Its internal Quartz dual coil (QDC) never saddens you from taking the next robust dab and delivers intense flavors.
This dab pen contains a high-quality coil cap. What's enchanting? During dabbing, sometimes, due to malfunctioning of the coil mouthpiece gets too hot. It prevents the extra heat from reaching straight to your mouth and keeps the fresh taste of wax concentrates. Yocan dab pens series are crafted in consideration of user safety. Hazard-free dabbing is waiting to enthrall you!
Unboxing
Yocan Evolve vaporizer package box completely expresses what it includes inside. The front side of the discreet rectangular box contains the brand's logo and the wax pen picture. While on the flip side, you will see the list of what you will get after unboxing. Any guess what will be the next lengthways of the box features like cut-off timer and battery capacity are mentioned. I'll explain the cool and newest thing we have ever seen while unboxing the concentrates pens. I feel like a million bucks with this dab pen. I love to have this top-of-the-line device for wax concentrates.
You'll be drawn to the tiny cardboard box holding the device tightly to prevent it from taking down. The instructional manual is the first thing in the kit that every user must read to know cautions and more. It shows a step-by-step guide and directs where and how to enjoy vapor hits. I once picked the green and black colored one, which is vibrant and basic enough. But you can try others which allure you. Its metal-based body is hard-wearing and lasts longer. The following essential items you'll get with this vaporizer kit.
Evolve wax pen
USB charger
Picking tool
Replacement DQC coil
User manual
Exquisite Look
There is no need to worry about breaking your dab pen since it has an iridescent metal texture. I like the shimmering specks, which enlighten the sharp look of the wax pen. Each device comes with the logo of Evolve printed in white color. Whereas the Yocan brand name label on QDC and the base of the wax vaporizer. The metal button in the center of the dab pen is designed to initiate the wax vaporizer. We adore this metallic silver power button. Because some of the concentrate pens come with a poorly crafted button which creates inconvenience alright, while this device is pieced together, you will notice the mouthpiece at the top. An atomizer is equipped with a splash guard, which evades getting any splatter with vapors. The battery is furnished with gloss metal. However, it exists on the end of the dab pen. In a few words, we appreciate the exquisite look of Evolve wax pen.
Anatomy Of Yocan Evolve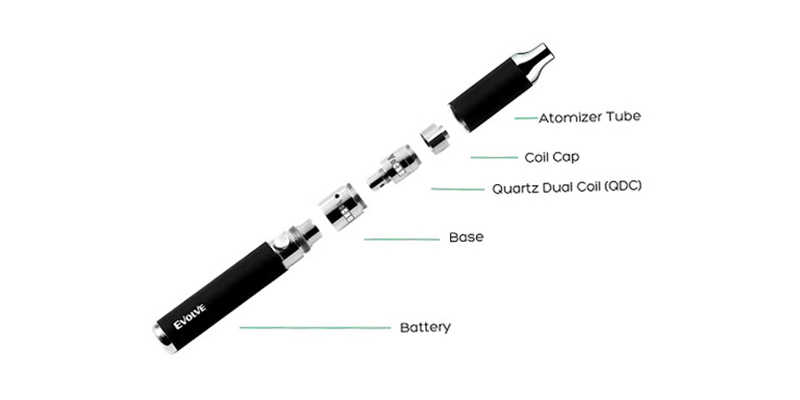 The atomizer tube is the topmost detachable element that fastens on Evolve wax vaporizer. It's where you draw the scrumptious vapors from the heating unit and delivers them to the mouthpiece.
The coil cap is the lid you see after you unfasten the atomizer tube. One trick you can use is to unscrew it and load cannabis concentrates via the picking tool. And then fix it back on the top of the QDC (quartz dual coil) lid. The coil cap doesn't let this dab pen overheat. Instead, it helps to trap and maintains the left-over heat.
Replacement Quartz Dual Coil (QDC)
Coming off the coil cap reveals the replaceable Yocan QDC. If you look closely at this element, perhaps you might find the dual quartz rods of this wax vaporizer. It's shrouded within premium titanium coils for quicker heating and has resistance against heat. The essential balance of dense toothsome clouds will amuse the fans. On top, it encourages the users to enjoy the on-the-go flavor of their preferred cannabis wax without strong vapor hits for the throat.
Base
A solid metal base of standard quality keeps the atomizer fixed for a stable connection. It's a sandwich between a replaceable quartz coil and a 650mAh battery. We love the calm Evolve base that keeps the battery safe even when an atomizer is unbefitting compared to some low-quality wax pens that do not have such a strong base. That results in the vaporizer's wobbling and ultimately worsens the mood.
Battery For Fixed Voltage
This vape pen battery features a 650mAh capacity to heat cannabis concentrates. I don't mind dabbing at its preset temperature settings. Moreover, the battery life reserves due to preset voltage. Most of the time, some dab pen coils are burnt due to higher heat, which is a disadvantage of wax dabbing at variable voltage. That's the reason why it doesn't produce the yummy clouds, and your throat feels the harshness at each draw. Don't you weigh up that's bad for health? However, Yocan dab pens batteries that I have used haven't confronted this situation. In addition, they keep the balance and consistent, potent flavor every time.
How To Use Yocan Evolve?
This creative concentrate vaporizer is hassle-free to operate. Follow the steps to enjoy wax dabbing just with a single metallic button. Be in no doubt 650mAh battery is enough to begin the dabbing. How straightforward is it?
Unfasten the atomizer tube or mouthpiece. Unbolt the coil cap, which is visible after detaching the atomizer tube.
Grab the given picking tool and take off the QDC lid. Once the cap is unscrewed, heating coil will be noticeable.
Yocan Evolve How to load? Use the picking tool to place the wax over the heating coils without touching or damaging the fragile heating unit. Avoid overloading.
Fasten the cap coil again. It's cool since it prevents the pieces of wax from getting into the mouth.
Load the mouthpiece again in its place. Now make sure every unit of wax vaporizer is assembled perfectly.
Activate the wax pen with its metallic button, press it 5 times, and the white light will flash.
The vaporizer is ON, and the QDC coil will start melting the wax.
Take a draw while keeping the power key pressed and enjoy the pleasant taste.
Note: You don't have to put much effort into disassembling wax pen units. Suppose you want to keep activating the coil since the Yocan Evolve vaporizer comes with a fixed voltage. Make sure you are holding the metallic button during the draw because this wax pen has a 10s cut-off feature that automatically turns off the vaporizers when it's not in use. I like this feature as it's suitable for extending battery life. Let's be clear, and you'll miss the QDC technology in other dabbing pens on the market.
How To Clean and Maintain
Evolve wax vaporizer gets dirt due to sticky concentrates after a few weeks of use. So, I clean regularly right after using the dab pen. It's such fun being easy-peasy since it takes a few minutes to remove the remains of the dabs. After that, your concentrate pen coil would produce overwhelming and lip-smacking clouds. Maintenance of this wax vaporizer will double the reliability, and the device will endure longer. I like to use a cotton swab for its maintenance. Just dip it in alcohol to clean the mouthpiece area and the battery. Don't use the cotton swab directly on replacement QDC. The best bit, soak the base and the quartz dual coil in alcohol for deep and safe cleaning. After a couple of minutes, take the base and QDC out and assemble the units when it's completely dried.
Vape Performance Test
Yocan Evolve vapor quality is breathtaking may be due to the dual quartz coil (QDC). It works appropriately to offer top-notch and tasty vapors. Quality has become the standard of the Yocan wax pens, and importantly QDC technology is becoming the desire of every vaper. I sometimes like light vapors and now and then dense clouds. Perhaps you are thinking about how it is possible to get the desired density of vapors with fixed temperature settings. Inhale after you turn on the power for 10s. In case of lighter and smaller appetizing vapors, hold it for 3-5s. It's up to you what kind of quality and quantity you are in the mood to acquire from your concentrates. Keep trying to find the best time duration for potent and incredible clouds.
How Do I Feel About Yocan Evolve?
The performance and build quality of Yocan Evolve deserves a score of 4 out of 5. Its exquisite look inspires me a lot, and I like its comfortable texture. This vaporizer easily fits my palm and even a wallet. There is a broad range of color options in this wax pen kit. Plus, I'm in love with its QDC technology. Because there is no better taste than a premium replacement quartz dual coil, with time, the newbie will get used to the fixed voltage feature and find a way to enhance vapor production.
Improvements Of Yocan Evolve Series
Yocan loves to add new features that were perhaps missing in the previous lines of the wax pens. For instance, Evolve 2020 includes the QDC coil and is compatible with wax only. The Plus XL is upgraded with a massive battery, Quad Quartz coils, glowing texture, and adjustable airflow. Similarly, 2.0 version is known as 3 in 1 vape pen because of its diverse compatibility for vaping concentrates and variable voltage. The complete Yocan Evolve series review is available right below. You can get an idea of the resemblance and differences between all these brand lines.
3 In 1 Use – Yocan Evolve 2.0
Let's compare Evolve 2.0 with the original one. This 3-in-1 use vaporizer will conquer due to compatibility for three types of concentrates. Bonus, a user can share it with all types of friends whose preference is somehow CBD oil, THC oil, wax or e-juice. The strong connection between the pod system with battery and leakage-proof design makes the device more powerful. A level window of the pod vaporizer is a unique feature since it's not common in other Yocan dab pens. Such a multiple-use dab pen with cross-compatibility. Two coils are included. One of them is a quartz coil designed for dry herbs. Another one is a ceramic coil for e-juice and CBD oil. Let's cut to the chase. Both dab pens comprise on same battery capacity and single power button. But the 2.0 version has an adjustable voltage interface, and the vaporizer gets ready to produce flavorsome clouds in 2s.
Storage Container – Yocan Evolve Plus 2 In 1
Suppose we compare the original one and Yocan Evolve Plus 2-in-1 vaporizer. The most significant difference between these 2 products is the battery capacity, coil configuration, and storage jar. This plus dab pen kit has a consumer-friendly silicone jar at the device's bottom. Travel-friendly concentrate pen with 1100mAh battery and supports USB charger. The convenient port is crafted for faster charging. Yocan Evolve Plus coils are durable and utilize QDC and Ceramic Donut Coil for an untainted experience.
Glowing – Yocan Evolve Plus XL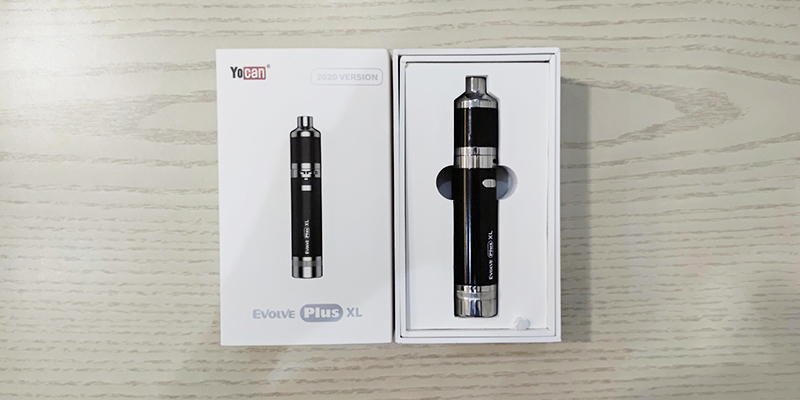 Compared to the original kit, the Evolve Plus XL coil has more charm. Wondering how? You will get the hanging ring, gigantic battery, silicone jar, adjustable airflow, 4 quartz coils, and the glowing feature. Imagine the pure sensation of dry herb taste when first-class quad coils without the wick work together to offer you the best. The XL vaporizer permits users to adjust airflow while dabbing at a fixed voltage. The 1400mAh battery size is outstanding and trailblazing from the perspective of vapors quantity. The glowing feature reminds me of attractive clubs. I love it when it glows in the dark.
Use For Dry Herb – Yocan Evolve D Line
Yocan Evolve D is a little bit similar to the original wax vaporizer. But it's specially designed to keep the dry herb user happy. It's famous for its easy use and is bigger than the original one. Furthermore, it is equipped with a Pancake coil. This type distributes the heat uniformly and vaporizes every piece of dry herb to serve the juicy clouds.
In contrast, the Yocan Evolve D Plus version is chicer, having a 1100mAh battery capacity and storage jar. The patented storage container, designed with premium quality compared to other Yocan series, is more reliable across the board. Moreover, it is built with dual coils and 12 wraps for better heating, which is novel for me to experience efficient heating and heavy clouds.
Similar Products Like Yocan Evolve
Yocan Orbit Wax Pen
The Kind Pen Lobi
Dr. Dabber Stella Vape Pen
Dr. Dabber Light Vaporizer
LTQ Vapor Mini Globefish Wax Pen
Benefits Of The Yocan Evolve Series
Yocan Evolve series comes with new updates to appease the users and make the dabbing budget-friendly. The brand is doing its best to satisfy user demands by providing energetic colors, features, versatile functionality, etc. Here drill down into how the Evolve series benefits its users.
Satisfy Users Need
Yocan brand listens to the customers' needs and endlessly delivers the vaporizers with new updated features. It keeps the trustworthiness and sustains the users' demand by providing the dab pens at a pocket-friendly price. The idea for the never-ending Evolve series is to satisfy the user's demand with its flexible compatibility features. Briefly, this reliable brand uses rudimentary and advanced technology for newbie and pro levels of customer happiness.
Innovative & Functional Design
Aside from offering reasonably priced dab pens to consumers, Yocan is also innovative. This vaporizer brand knows very well what its users like. The Evolve series' functional and ground-breaking design defines that Yocan knows what's the customer demand. So, suppose you want elegant and exquisite-looking dab pens that suit your lifestyle, give a shot at its vaporizers.
Portable
Above and beyond, everyone loves to carry a portable wax vaporizer in their pocket. While contrast, vapers feel boredoms during dabbing with bulkier desktop devices. Evolve series vaporizers are not only handy but also lightweight. This feature lets the customer carry the device wherever he wants to enjoy the dabs.
Drawbacks Of Yocan Evolve Vaporizer Series
There is no evident downside of Yocan Evolve vaporizer line. But I guess the color options are low-profile. Since each customer is blessed with various color preferences due to different personalities, I hope in the future the brand will design some bold options for the youth who loves vaping and adore having vividly colored vaporizers.
Which One Do I Use Most?
I like dry herb and wax vaping more than oil. That's why I use Yocan Evolve D slim body vaporizer, which is far-fetched for dry herbs. Also, the pancake coil delivers a delectable cannabis taste and overflowing vapors. For wax concentrates, I use Evolve Plus due to its easy use, bigger battery, built-in silicone jar, and two types of coils (QDC & Ceramic Donut Coil). Both coils make my dabbing session implausible. In last, the micro-USB cable of the Yocan Evolve Plus wax pen is so suitable for more rapidly charging.