Yocan Regan is somewhat a twin of Magneto wax pen, by the looks of it. It is a trending dab pen out there, and undoubtedly, Yocan is a dynamic manufacturer offering an extensive product line. Today we are going to scrutinize and look into the Regen vaporizer. It is a concentrate pen for those finally getting the hang of the vaporizers. I have not tried this wax pen yet, but as I continue to write the review, I will try it for the first time with you. Not to mention, Yocan lines never disappoint, especially those I have tried. All of their products are exceptionally brilliant and hit the mark. I have summarized the Pros and Cons of Yocan Regen and will show you at the beginning of this review.
Pros
Durable, grip-friendly device
Compact, discreet, and lightweight
Straightforward usage and maintenance
Two coil options
Three variable voltages
Excellent 1100mAh rechargeable battery
2ml built-in silicone jar
Strong magnetic cap at the top
Includes a lanyard and a hanging ring
Available in six colors
Includes LED light indicator
Cons
No adjustable airflow
The battery may deplete quickly if used frequently
Not ideal for massive dabs
Improvements We Want
Adjustable airflow
Multi-use to compatible with dry herbs as well
Basic Product Info
The little box includes a Yocan Regen concentrate vaporizer that features two different coils. It is well-packaged and includes all the accessories and a user manual to make your vaping session exceptional. Details are mentioned below to have a closer look!
Multiple Creative Designs
Yocan Regen is a sleek columnar-shaped wax pen with a slightly wider circumference than the usual vape pens from this brand. The wax pen design is a mixture of Yocan Loaded or Evolve Plus vaporizer. However, it is still pretty discreet and portable.
The concentrate pen comes with all the necessary accessories and features two different coils. In addition, it includes a tri-coil or QTC and dual-coil or QDC. Moreover, the best thing about the Yocan brand is that it loves to have hanging rings for maximum portability.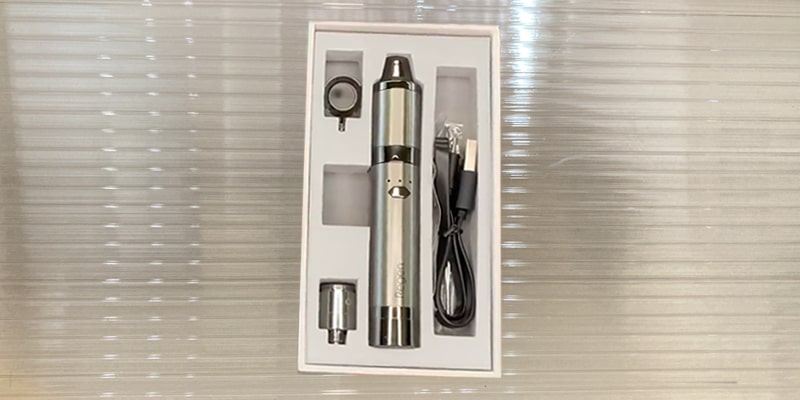 The other great thing about the Regen wax vape kit is that it includes a built-in container for storing your dabs. So you do not have to carry your prepackaged dabs separately. You can keep them in this container for an effortless vaping session. I'll break its multiple features down to have a better understanding!
Portable Size and Great Gripping
Yocan Regen is compactly built. It opts for a sparkly finish instead of plain rubberized coatings. With a futuristic look, this wax pen is grip-friendly and travel-friendly. In addition, its zinc alloy-based 4.4 inches tall body is 0.74 inches wide, making it highly mobile and convenient.
Yocan Regen concentrate vaporizer mouthpiece has magnetic connectivity. Thus, it eliminates the issue of cleaning up the gunk that usually accumulates around the threads of a typical wax pen mouthpiece.
The hanging or lanyard ring feature makes the device unique. It will go on the concentrate pen to attach a lanyard, making it perfect for ladies who wish to go purseless and can carry their Regen Yocan by wearing it around their neck. Or, if you have a habit of constantly losing your device, a lanyard ring is a great design that will prevent your device from getting lost in the crowd. To attach a hanging ring, you simply have to untwist two pieces. You will notice a little circle made to place your hanging ring. Place it on and screw back the other piece. That's it! Attach a lanyard to carry the device anywhere you go.
The small jar at the pen bottom, a sneaky container for storing dabs, is a plus point of Yocan Regen for me. With this 2ml built-in silicone-lined container, I do not have to carry a lot of things when going out. I only have to fill up the container with your dab and screw it on. However, ensure not to store the wax all the way to the top because it can become messy when shaken.
It is an accessory, not a feature, and is included with the device. A picking tool, or a dabbing tool, is a must-have with this concentrate pen because it offers several purposes. For me, the handy dandy tool usually serves as a stirrer, loader, and cleaning wax vaporizer. With the picking tool, I can stir your concentrate during a vaping session, clean its chambers or residues, and load your wax pen.
Yocan Regen How To Use
Open the magnetic top cap and unscrew the cap to reveal the bucket with the coil. Choose your favorite concentrate and put a generous amount in the deep wells of the atomizer. Snap back your magnetic cap.
Switch on the device by clicking its fire button five times.
Adjust the voltage to your preference, i.e., low, medium, or high, by clicking its power button thrice.
Enjoy inhaling.
So you see, the device is relatively straightforward to operate. It is hassle-free and requires no extensive experience or expertise to use it.
The charging is also easy. If the battery becomes low, three LED lights will blink 10 times and stop working so you should charge it with the micro-USB charger included in the box. The LED will glow during charging. When the device battery gets full power, its light indicator will automatically shut off. Moreover, the indicator has more functions. For example, three lights blinking 8 times means it will power off because you continuously press the button for more than 15 seconds. When it confronts with short circuit, three lights blink quickly for 2 seconds.
Use In Different Scenes
Yocan Regen wax pen is a perfect candidate for individuals who desire to step up their vaping game by opting for a heavy-hitting vaporizer. I have tried vaping this device in an outdoor and indoor setting without an issue. You can also vape Regen in a vape shop, at home, at a friend's party, at a camping site, and while enjoying nature. The possibilities are endless. However, ensure to store and use your device correctly for greater longevity.
Satisfying Vape Performance
Yocan Regen's impeccable features make it an excellent device. It tantalizes your taste buds with immense flavors and offers smooth draws. Although the device does not have an airflow control option, it delivers satisfying hits. Furthermore, it will vaporize your concentrates perfectly for a satiating vaping session. I have divided Regen concentrate vaporizer performance into other sections to have a closer look!
Yocan Regen Coils Compatibility
This dab pen kit comes with a quartz double coil (QDC) and a triple coil (QTC) atomizer to get you hooked. These atomizers are pretty deep, so you can load a lot of your favorite concentrate. It also includes a screwable cap to cover this chamber, and its purpose is to reduce the splatters that can come into the mouthpiece while inhaling. The only bane is that this part is threaded and gets dirty relatively easily. However, if you want a flavorful punch, go for the QDC coil. If you crave bigger dabs with dense vapors, opt for QTC.
Vapor Quality
This wax pen promises to deliver massive clouds. Even on the lowest settings, I can achieve it. I always get a really nice pull on this, whether on the highest or the lowest setting, so you will love it. It is not only about Yocan Regen. All Yocan concentrate pens will give those luscious flavors you desire and massive clouds. I think this brand provides the best clouds out of dry herbs and concentrates, and no other brand has reached its level of performance and durability yet. Not to mention, the secret behind the excellent vapor quality of Regen is because of its variable voltage settings and two coil options. Let's tap into it!
Voltage Levels
Yocan Regen vape features three different voltages. By clicking its power button thrice, you can switch between 3.0V, and 3.5V, to 4.0V. The LED light indicator will indicate whether your voltage is adjusted to low, medium, or high with its one, two, or three lights. The variable voltage option offers flexibility to the users and provides a unique vaping experience depending on the coils and temperature you have selected. The concentrate pen has a decent temperature range that you can play around with. Moreover, you need great battery life to use the device on different voltage settings, and this wax pen has definitely got one!
Powerful 1100mAh Battery
What I like about this wax pen is that its battery life is quite long if not used frequently. Its built-in 1100mAh rechargeable battery will last around one or two days, depending on the coil I use. It supports a long-time vaping and makes me enjoy the vapor quality. And, of course, when someone uses Regen Yocan on the high voltage setting, its battery life will deplete more quickly than expected. The plus point is that it is a rechargeable device, and you can juice up its battery life with a micro-USB charger. However, the battery needs almost an hour to charge fully.
Wax Vaporizers Similar To Yocan Regen
The Kind Pen Lobi
Yocan Orbit
Yocan Apex
LTQ Vapor 311
Kandypens Crystal
Vapmod Stoner-X
Dazzvape Melter Kit
Yocan Evolve Line
Yocan Regen V.S Evolve Plus
I have compared these two concentrate vape pens below to understand these two products better. These products are somewhat similar, but a few differences make them unique. Check them out to understand the differences and similarities between the two!
| | | |
| --- | --- | --- |
| | Yocan Regen | Yocan Evolve Plus |
| Dimensions | 110mm x 19mm | 120mm x 19mm |
| Use For | Wax | Wax |
| Material | Zinc Alloy | Stainless Steel |
| Indicator Light | Yes | Yes |
| Battery Capacity | 1100mAh | 1100mAh |
| Rechargeable Battery | Yes | Yes |
| 510 Thread | Yes | Yes |
| Lanyard Ring Option | Yes | No |
| Voltage Setting Option | Yes | No |
| Color Options | 6 (Black, Stainless Steel, Gray, Apple Green, Light Red, Light Blue) | 5 (Silver, Black, Red, Blue, Orange) |
| Charging Port | micro-USB | micro-USB |
| Silicone Jar Available | Yes | Yes |
| Coil Options | QTC and QDC | QDC ONLY |
| Time For Fully Charging | 1 Hour | 2.5 Hours |
| Resistance | 0.5-0.8ohm | 0.75ohm |
| Magnetic Connection | Yes | No |
| Airflow Adjustable Option | No | No |
Yocan Regen Cleaning And Maintenance
It is relatively normal for the gunk to develop after using the device for a while. However, cleaning is not difficult, and it is essential to do it occasionally to increase the longevity of your device. You only need a few cleaning must-haves like cotton swabs, a small cup or container, and isopropyl alcohol. Here are how you can clean and maintain your Yocan Regen vape below:
How To Clean
First, you need to remove its top cap and unscrew its coil. Then follow the steps below to clean Regen vaporizer.
Soak its top and coil cap in isopropyl alcohol.
To remove the stubborn buildup, use the cotton swab to wipe it down.
Also, clean the battery's 510 connection.
Before replenishing the device's storage compartment, ensure to clean it with a cotton swab.
How To Maintain
These are the following points and tips you should keep in mind to maintain your device to use it for an extended period:
Prevent exposing the device to high temperatures.
Avoid charging its battery via a car.
Avoid charging it unattended as it can overcharge.
Prevent using this concentrate pen while connected to the charger.
Do not replace its battery.
Do not let its coil get way too hot.
Store it correctly.
Keep its atomizer and mouthpiece clean for optimum vaping sessions.
Verdict
I love using Yocan Regen wax pen as it does not cause sore throat. In addition, it is smooth and does not cause that tingly effect in your throat. I think I will probably be using this concentrate pen repeatedly without having to buy another one because of its top-notch build quality.
You can pretty much expect the things after hearing about the product Regen Yocan. It will not disappoint, and I rate this concentrate pen 4.5/5. The device has a very sturdy feeling as it is made from metal. However, at the same time, it is incredibly lightweight and portable. It is sleek, cylindrical, compact, and pretty discreet. Undoubtedly, it will be the best companion while traveling or for the on-the-go vaping wax. Furthermore, it is straightforward to use and offers convenience. It provides clean, massive flavorful clouds and is quite hard-hitting. Yocan always offers unbeatable price ranges, and unarguably this Yocan Regen vape is pretty cost-effective.