Being an avid vaping enthusiast means going on quests for vaping devices that provide the perfect blend of style, performance, and innovation. Amidst this pursuit, I discovered Vozol Star 6000 disposable vape. This vape has become the talk of the town as it promises an excellent vaping experience and introduces users to a world of new flavorful possibilities. In this Vozol Star review, I'll be discussing different aspects of this vape that make it worth trying.
Pros And Cons
After my experience, I was able to draw a list of pros and cons of this disposable pod.
Pros
I found Vozol Star 6000 to have a robust battery life
I enjoyed its wide variety of flavors
The user-friendly design makes it easy to handle
Flavorful vaping experience

Cons
Lack of airflow adjustment
Elegant Design, Comfy Hold
Vozol Star 6000 portrays the skills of the craftsmen who have done an outstanding job on its design. The ergonomic design of Vozol Star 6000 has both an aesthetic appeal and a comfortable grip. Its body consists of PCR (Post-Consumer Recycled material) and comes with a soft mouthpiece. I was impressed by these features as they ensure a smooth vaping experience with a pleasant touch on the lips. Not to mention, I admire the design of its body with extreme precision in its curves. Furthermore, the color combinations add more to the charm of this physically attractive disposable vape, giving it sophistication and style.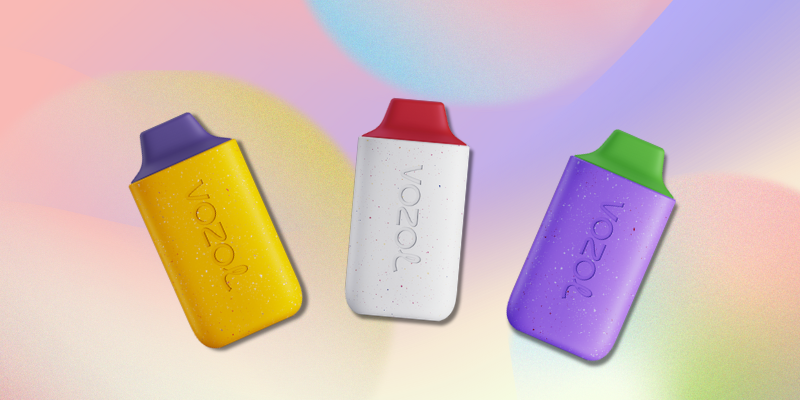 Enhanced Flavor: VAMT Mesh Coil
Vozol Star 6000 comes with a VAMT Mesh Coil which is responsible for working as its engine to provide an exceptional flavor. I enjoy the inclusion of this advanced vape mesh coil technology as it ensures that each puff is infused with vibrant flavors. Correspondingly, I was indulged in a soothing burst of taste with each inhale. The VAMT Mesh Coil has a unique golden ratio airflow design that eases the balance between temperature, taste, and flavor. In addition, it comes with an intricate design that further helped to elevate my overall experience.
Longevity And Safety Features
Vozol Star 6000 promises its customers security and durability along with a wide variety of features that ensure a safe vaping experience. Let's discuss some of the features that compelled me to rate this pod highly:
Swift Type-C Charging
In my experience, I found its Type-C charging capability to be one of its notable attributes. This ensures efficient and speedy charging which goes on to reduce downtime. The addition of Type-C charging shows a futuristic approach to changing technology. Such advances mean that I could power up the device according to my convenience, hence making the overall experience smooth.
Intelligent Charging Control Chip
Vozol Star 6000 is available with safety features such as an intelligent charging control chip. This chip controls the charging process by preventing overcharging and protects it from potential hazards such as overheating. I particularly admire the addition of this futuristic intelligent chip as it made my vaping experience hassle-free and ensured that I could enjoy the rich flavors with each puff.
Robust Voltage Endurance At 24V
The 6000 puffs device is proud of its voltage endurance. It comes with an impressive 24V capacity that takes it ahead of several disposable vapes in the vaping market. To me, such exceptional voltage endurance speaks volumes about the device's superior performance capabilities. While the other vapes operate at a lower voltage of 7V, Vozol Star 6000's outstanding voltage endurance took my overall experience ahead of many premium disposable vapes in the market.
Tasty Spectrum Journey
Without delaying it any further, let's dive into the flavorful world of Vozol Star 6000. This magnificent disposable vape comes with an impressive selection of flavors, each being exotic and delivering a satisfying vaping experience to the user. Here are some of my favorite flavors from the wide range:
Amidst the variety of flavors, Blackberry Passion Fruit stands out and has gained popularity amongst enthusiasts. This flavor prioritizes the tropical sweet flavor of passion fruit coupled with the tanginess of blackberries. Together, passion fruit and blackberries provide a revitalizing feeling with each inhale.
Mango Peach Pineapple flavor has also been a standout flavor for me. It comes with the sweetness of succulent mangoes, ripe peaches, and juicy pineapples. This fusion has successfully indulged the vape enthusiasts with its unique flavor.
The Rainbow Candy flavor deserves equal recognition. It provides a playful blend of fruity notes that play with the taste buds and appeals to vape users with a penchant for whimsical and juicy flavors.
Vozol Star 6000 Summary
After exploring the various aspects of Vozol Star 6000 disposable vape, I can recommend this device to enthusiasts who are seeking an enjoyable vaping experience. I would rate this disposable vape 5 out of 5 for its excellent experience and due to its dedication to an effective vaping experience. I love the premium feel of the device at its low price point. Also, I admire the variety of flavor options it comes in, each promising to tantalize the user's taste buds. Not to mention, it has an aesthetic design and delivers a top-notch performance every time.