In the ever-evolving world of vaping, finding the perfect device that combines style, technology, and functionality can be a daunting task. Recently, our team stumbled upon a game-changer – Airis Neo P8000 Disposable Vape. As a vaping enthusiast, I couldn't wait to dive into this innovative device and experience the hype for myself. Therefore, allow me to lead you through this journey where we will learn more about this extraordinary vape pod through this vape review.
Aesthetic Appeal
At first glance, I was mesmerized by the aesthetic design of Airis Neo P8000. The creators have done an amazing job by giving it a sleek and modern design.The P8000 disposable vape is available in a compact and ergonomic shape which makes it easier to handle. Handling it feels as if you are holding a premium quality disposable vape.
Furthermore, it comes with a metallic finish and a streamlined silhouette that makes it even more attractive. The designers have done an outstanding job with the overall handling feeling of this device. It also features an adjustable airflow dial enhancing its convenience. I was particularly impressed by its unique ring battery indicator. Not to mention, I found the brand logo minimal yet captivating.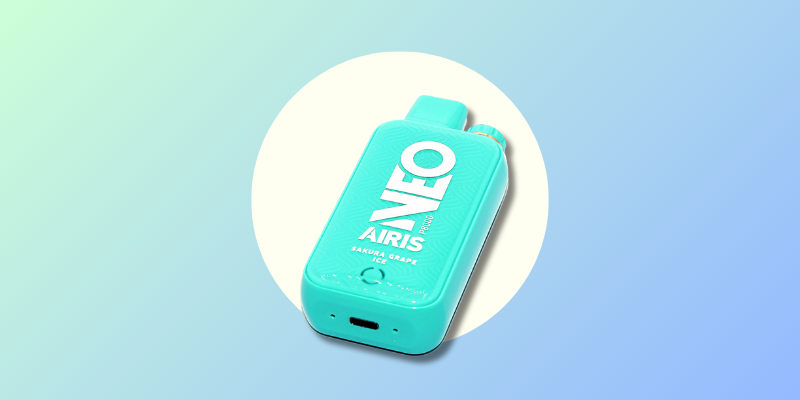 The Technological Marvel
What sets Airis Neo P8000 apart from the competition is its impressive technological features. Equipped with a 20mL E-Liquid reservoir, this device offers a whopping 8000 puffs and lager 650mAh rechargeable battery. All this ensures that it provides a long-lasting and satisfying vaping experience. In addition, the 1.0ohm mesh coil makes it richer in flavor.
20mL E-Liquid: The Backbone Of 8000 Puffs
Airis Neo P8000 comes with a remarkable 20mL E-liquid capacity which serves as the pillarstone of its exceptional performance. The users can amuse themselves with 8000 puffs of sheer brilliance. There is no compromise on quality despite the mammoth number of puffs. The 20mL E-liquid capacity meant that I did not need refills during my vape sessions. I found the P8000 to be the perfect long-lasting vaping companion that I enjoy after a long day.
650mAh Battery: Your All-Day Vape
Moving onwards to the premium features of Airis Neo P8000, it comes with a sturdy 650mAh rechargeable battery. This integration is a game-changer for users like me who enjoy vaping throughout the day. No one likes a vape that takes hours to charge right? Well, the Type-C charging port in this disposable takes care of that problem. With the convenience of a Type-C charging port, recharging the device is quick and easy, ensuring that I never run out of power when I need it the most.
1.0ohm Mesh Coil: The Catalyst Of Flavor
You might be wondering the secret to this product consistency. One of the standout features of Airis Neo P8000 is its 1.0ohm mesh coil. This innovative technology enhances the flavor profile of every puff, delivering a rich and satisfying taste that keeps me coming back for more. The coil's efficiency also ensures a longer lifespan, making it a cost-effective choice for vaping enthusiasts.
User-Friendly Experience
Incorporating user-friendly features, Airis Neo P8000 offers a hassle-free experience. The built-in battery indicator allows me to monitor the device's power level, ensuring that I never unexpectedly run out of charge. Additionally, thas an adjustable airflow feature which allows me to customize my vaping experience. I could adjust it according to my preference, making my experience smooth, allowing for both tight draws and airy clouds.
A Palette Of Flavor Choices
One of the aspects that truly impressed me about Airis Neo P8000 is its wide array of flavor choices. It presents a carefully curated palette of flavors, which ensures a delightful and immersive vaping experience for the users.
Watermelon Bubble Gum of the P8000 vape, which presents a nostalgic essence of bubble gum coupled with the juicy tones of watermelon. Together, this combination takes you back in time and makes you enjoy the playful vaping sensation.
For those who are seeking a vaping experience that prioritizes the sweet notes of berries, then Strawberry Cream is the ideal option. This flavor offers a blend of ripe strawberries and thick, velvety smooth cream. Together this combination offers a rich and creamy vaping experience that promises to satisfy your taste buds.
As a grape enthusiast, I've had the pleasure of tasting the Sakura Grape Ice flavor and it has quickly become a cherished selection in my repertoire. The harmonious blend of cherry blossoms and grapes, with a refreshing ice undertone, transports you to a serene summer garden with each puff. The cooling sensation is just the cherry on top, making each vaping session a delightful escape. I highly recommend this vape.
Advanced Safety Features
Safety is paramount when it comes to vaping devices, and the P8000 doesn't disappoint. Powered by the Airis Pure Core Chipset, this device boasts six advanced safety protections, including overcharge protection, over-discharge protection, short circuit protection, and more. These features provide peace of mind as they make the offer ease of use, allowing me to enjoy my vaping sessions without any concerns about safety.
Compared With Other 8000 Puffs Vape
| Product | Airis Neo P8000 | Beco PLUSH 8000 | HQD Cuvie Mars 8000 |
| --- | --- | --- | --- |
| Battery Capacity | 650mAh | 800mAh | 650mAh |
| Charging Port | Type-C | Type-C | Type-C |
| E-Liquid Capacity | 20mL | 16mL | 18mL |
| Nic Salt Level | 5% | 5% | 5% |
| Mesh Coil | 1.0ohm | 1.0ohm | 1.2-1.4ohm |
| Safety Features | Yes | / | / |
| Battery Indicator | Yes | / | / |
| Airflow Adjustment | Yes | Yes | / |
The Verdict: An 8000 Puffs Journey
Having explored every aspect of Airis Neo P8000, I can confidently say that this device has exceeded my expectations. In my opinion, it deserves a perfect 5 out of 5 rating. The reasons are crystal clear. With its high-capacity battery, long-lasting coil, and ample e-liquid reservoir, the vape offers exceptional value for money.
From its durable construction to its outstanding performance, it exudes quality in every aspect, ensuring a satisfying and enjoyable vaping experience. This vaping device combines style, technology, and flavor variety, making it definitely worth trying.
Its exceptional features, user-friendly design, and safety considerations make it a standout choice in the competitive world of disposable vapes. Don't miss out on the 8000 puffs journey – give it a try and elevate your vaping experience to new heights.