In the world of vaping, innovation never stands still. Today, we are reviewing the latest KROS Unlimited 6000 Puffs. This chic and sleek vaping device promises not only a fashionable exterior but also advanced mesh coils that deliver an exceptional vaping experience. Join us as we check the details of this remarkable device and explore how it feels.
Pros And Cons
Pros:
Stylish And Fashionable Design
Corex Mesh Coil For Longer Vaping Session
11 Flavors Offer Wide Selections
Overcharge Protection
Smooth And Flavorful Airflow

Cons
Settled Airflow Strength Only
Stylish And Modern Design
KROS Unlimited 6000 Puffs is a harmonious fusion of form and function. Its design clearly shows a sense of elegance, making it a useful tool for careful vapers. This exceptional device boasts a slender and ergonomically designed body, adorned with gracefully flowing curves and a tastefully understated minimalist finish. Available in an enticing array of colors, it caters to diverse individual tastes. With its stylish look, this great vaping device invites you to enjoy your vaping in the most fashionable of ways.
Excellent E-juice And Battery Capacity
This vape bar stands out with its generous e-liquid capacity and a powerful battery, designed to support 6000 puffs.
Large E-juice Capacity Enough To Provide 6000 Puffs
When it comes to e-liquid capacity, the numbers can make a significant difference in your vaping experience. Horizon Binaries TH6000 offers a respectable 12mL capacity, providing ample vaping sessions. However, KROS Unlimited 6000 Puffs takes the lead with an impressive 14mL capacity. This additional 2mL means fewer interruptions for replacement.
Safe And Strong Battery For Extended Use
At the heart of KROS Unlimited lies a powerful 650mAh Type-C rechargeable battery. Notably, it comes with overcharge protection, a pivotal safeguard against battery overcharging. This dual function, delivering extended usage and security, contributes significantly to both the device's durability and the overall safety of your vaping experience.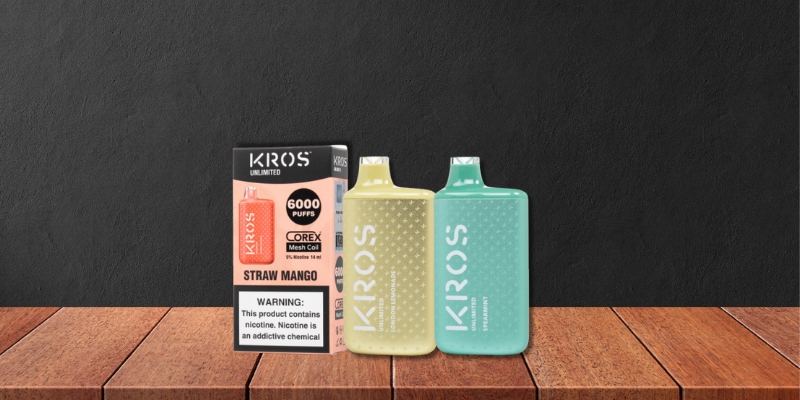 Advanced Coil And Airflow Makes It Better
As a user, what captivated me most are the intricate features of both the airflow and the flavor profile. KROS Unlimited 6000, equipped with a Corex mesh coil and fine-tuned airflow system, not only meets but exceeds expectations, offering immersive vaping experiences that I couldn't help but fall in love with.
Corex Mesh Coil For Accurate Flavor And Lasting Taste
In the realm of vapor and flavor, KROS Unlimited disposable emerges as a winner, thanks to its advanced Corex mesh coil technology. These coils, meticulously engineered, promise a vaping experience with numerous advantages. Foremost among them is their unparalleled prowess in delivering precise and accurate flavor. Moreover, these coils are masterfully crafted for long-lasting taste, ensuring you a consistent and delectable flavor journey throughout the coil's entire lifespan. This longevity translates to fewer coil replacements and, in turn, more soothing vaping pleasure, solidifying KROS Unlimited 6000 Puffs as a great choice for those who pursue strong flavor.
Great Airflow For Unlimited Experience
KROS Unlimited boasts its user-friendly airflow system, a feature that promises smooth and consistent hits for every user. This disposable vape has been designed to offer a convenient and pleasurable vaping experience straight from the outset. Yet, I must notice that as I continued to use it over a period, I found that a bit more effort was required to achieve the same level of satisfaction. It seemed that I had to inhale harder as time went on, encountering increased resistance that was palpable. This slight change in the draw resistance over time is something potential users should be aware of. While it does not necessarily diminish the overall functions of the vape, it does alter the experience slightly, requiring a firmer pull to enjoy the full flavor and vapor production as initially intended.
KROS Unlimited Flavor Guide
This device offers 11 different flavors, which can make it hard to choose where to start. I've selected 3 popular options to help narrow down your choices.
Immerse your senses in a vibrant burst of fruity ecstasy with Tropical Rainbow Twist. This e-liquid concoction blends tropical fruits in a dazzling fusion, offering a symphony of flavors reminiscent of sunny island getaways. Each puff brings a kaleidoscope of taste, delivering a delightful tropical escape.
Vanilla Wafer offers comforting nostalgia with every draw. It's a sweet symphony of creamy vanilla notes entwined with the subtle crunch of buttery wafers. This e-liquid captures the essence of freshly baked vanilla wafers, providing a warm and satisfying vaping experience.
London Lemonade emerges as a refreshing citrus masterpiece, brimming with zest. It skillfully captures the essence of a classic lemonade, reminiscent of leisurely sips on a sun-drenched London afternoon. The tangy lemon notes are artfully harmonized with a subtle undercurrent of sweetness, rendering it an ideal companion for scorching summer days, delivering a burst of refreshment with every puff.
Parallel Disposable Vape Selections
Settled Conclusion
I would like to share some insights into KROS Unlimited 6000. Firstly, it catches the eye with its elegant design and a wide variety of color options. It's not just visually pleasing, and also offers great usability, accommodating both newcomers and veteran vapers seamlessly.
A significant advantage is its impressive e-liquid capacity and strong rechargeable battery, equipped with overcharge protection, ensuring a longer lifespan for the device. Its sleek and ergonomic structure facilitates easy handling, making transportation effortless.
The standout feature, in my opinion, has to be its ability to deliver exceptional flavor and vapor production, because of the advanced Corex mesh coils. While KROS is still building its reputation in the market, this product clearly indicates a bright future ahead in the vaping industry. I personally would rate it a solid 4 out of 5.