Spinner Vision 2 Battery Overview
Spinner Vision 2 is the solution to your problem of a low voltage battery. Nowadays, disposable vapes are the most trending products for people who love to smoke or have a taste of nicotine with additional flavors. Multiple vape products in the market offer high-class features for the users. However, some vapes have low-capacity batteries, which is annoying for a disposable vape user. Here comes Vision Spinner 2! It is a mixture of performance and high voltage batteries to give you the best experience while you vape. 1600mah battery with no compromise on design is perfect for your vaping needs. This lightweight Vision Spinner 2 battery is available in multiple colors which suit your personality and choice. If you want something that can add charm to your character and simultaneously fulfill your vaping needs and desires, then this second generation of Vision Spinner is a perfect choice.
Outlook And Design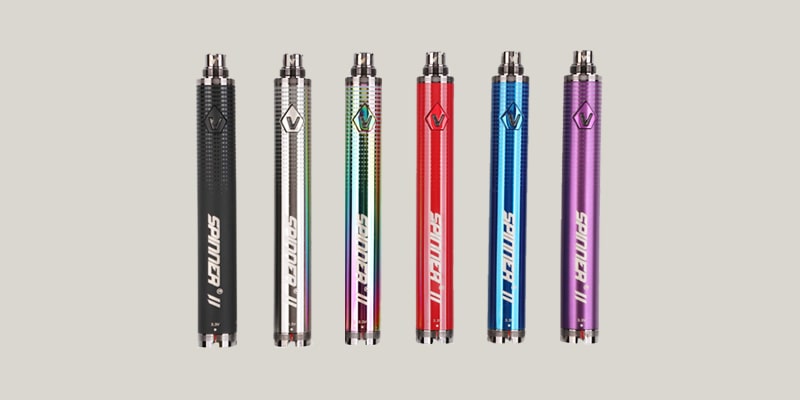 The battery has its product name on one side, making it authentic at first glance. It has a push-button near the mouthpiece that is pentagon shape and clicks easily. The threading on and inside the mouthpiece helps attach multiple types of tanks with Spinner Vision 2 battery. At the bottom, you will have a voltage dial, making it easier to adjust your desired voltage.
Spinner Vision 2 Unboxing: How's The Package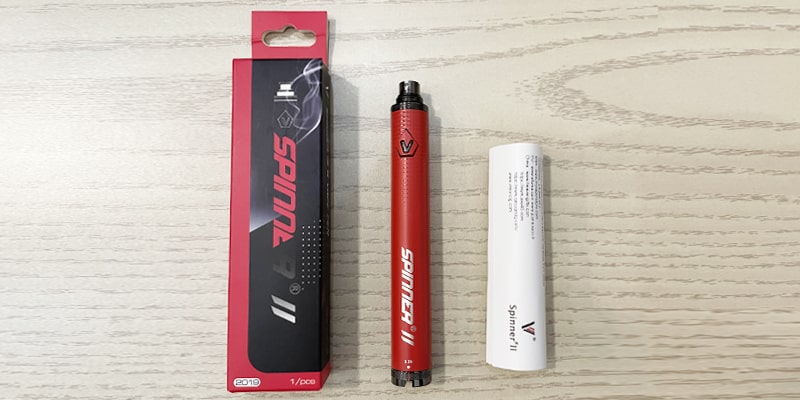 The packaging is in a square box that is not pretty impressive. It has the product name on the front side of the pack, while the other three sides provide you with some information about Spinner 2, which is, of course, unique. There is a bar code on it that says scratch me. After scratching, you can scan to check if the product is authentic. Checking the vape battery's authenticity is very important because using a fake product may risk your life.
Inside the outer box, another gold color box contains the same information as the outer box. This box includes Vision battery in a plastic wrap to keep it safe inside the box. This 510 battery does not have a charger or tank in the package. It's only one single unit. You will also have an instructions manual with the product to help you use the vape battery.
What's The Package Include
The package includes 1 single device, Spinner Vision 2. With your ordered color, it gives you a ton of features and benefits for you. Before we find out its features, let's have a brief look at its advantages and disadvantages.
Pros And Cons of Spinner Vision 2
Pros
Cons
1. Long-lasting battery is suitable for travels to give you the long tension-free hours of vaping.

2. High-class vape performance gives you the best taste.Multiple protections while using.

3. You can enjoy variable voltages that give different vaping vibes.

4. Multiple use for e-liquid, dry herb, wax, and oil.
1. It takes longer to charge, making it difficult for you to use it continuously.

2. You cannot use the vape while charging because of its design.
Features Of Vision Spinner 2 Battery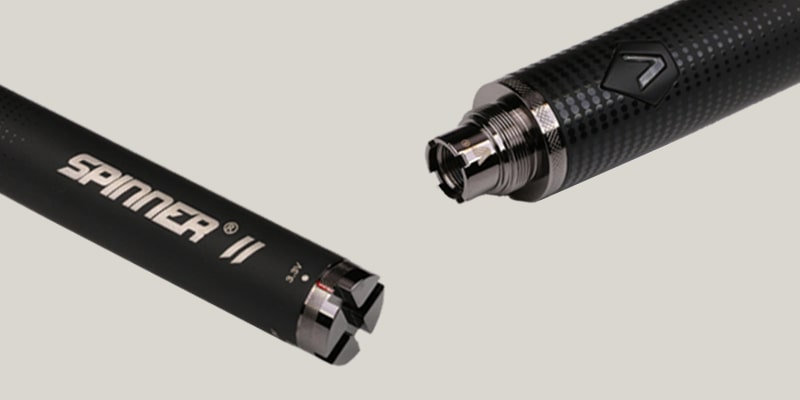 Looking for the features of Spinner Vision 2 Battery? We have listed some top features for you after trying out this vape battery after a few days of using it.
Multiple Protection-Spinner Vision 2 Battery comes with a protection system. In case anything goes wrong, this Vision battery will automatically shut down all the work to prevent you and the surroundings from any type of emergency and mishap. Secondly, it also offers working time protection. In case your battery is on because of the frequent pressing of the button, the button will flash five times and shut down instantly. This protection helps to save battery and lets you enjoy more puffs with a single charge.
Button LED And Battery Indication-The "V" button on the Spinner Vision 2 is pretty to look at, but it has a bigger function. You can know with the color of the light whether the battery needs to charge with a blue light or it's already charged with white light. This helps you to know about your vape when it gets fully drained.
Ergonomic Bottom Dial For Voltage Control– Controlling the battery's voltage is possible on Spinner Vision 2. In this way, it's easier for you to use the voltage settings. The ergonomic bottom dial is very simple to move and allows you to reset the voltage on different levels according to your need. You can move the dial from 3.3 to 4.8, making it our team's one of the best choices because you have so much in this compact vape battery.
Compatible With 510 Vape And eGo Vape Tanks– The device can be matched with different styles of vape tanks or cartridges, which offers an amazing fit if you enjoy using different vapes. Join it with a tank that gives your favorite flavor or the maximum amount of liquid.
These are the features of the second generation of Vision Spinner. However, what are the differences between the first original one? Let's dig deeper in this Vision Spinner battery review.
Spinner Vision 2 V.S The Original Version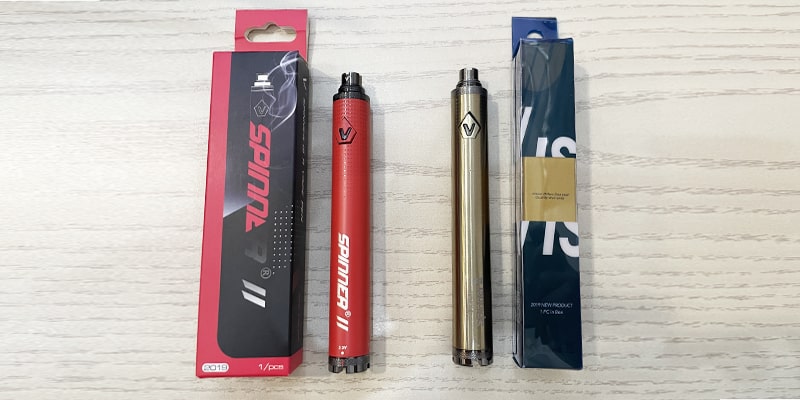 You must be thinking about why you should purchase this upgraded version of Vision Spinner battery and skip the old one? Yes, you are correct in thinking so. I have brought a solid comparison of the two vape batteries to help you out. Read out the following 4 upgrades to know which one is the better option for you.
1. Extending Height
Talking about the height, the upgraded version of 125mm is longer than the previous one that is 99mm. The improved height makes Spinner Vision 2 easier to hold. However, the previous one was easy to carry in your pocket, while the upgraded one being longer makes it challenging to carry. And you can select a suitable height for a comfortable and friendly grip.
2. Position And Shape Of Click Button Are More Practical
The position and shape of the button have changed in Spinner Vision 2. From what we see, the original one had a circular button near the mouthpiece of the device, which was sometimes difficult for you to click while vaping. While the second version had the "V" on the pentagon-shaped click button that is much easier to press, making vaping comfortable. Further, the button's position is also changed as it is slightly lower than that of the original version.
3. Bottom Design To Adjust Voltage Is More User-Friendly
The bottom design of the battery is different in both vape batteries. In the original version, the bottom dial designed to change the voltage is smooth, making it somewhat difficult to rotate. Additionally, it produces no sound while you rotate it to show that the battery voltage is changed. However, in the second version, Spinner Vision 2, the upgraded dial is created with a cross to help you hold it better and move more efficiently. This innovative design gives you a click sound when you rotate the dial. The sound confirms the change in the battery voltage.
4. Larger Battery Capacity
The most significant difference between the two is that it will change your mind if the differences weren't convincing up till now. Considering the original version that only provides you with a 1300mAh battery capacity, which isn't enough to enlighten your vape for the whole day, it may cause troubles for long-time use. This vape battery needs to be recharged twice daily to fulfill your vaping needs. However, the latest version battery will be more beneficial for you as have a 1600mAh capacity. It will be enough for the whole day. You will love it for the battery capacity because no one loves to recharge the battery frequently.
After Knowing the differences and upgrades of Spinner Vision 2 over the original version, let me show you the detailed specifications of this vape battery.
Specification
Weight: 75g
Length: 125mm
Activation: Button Control
Voltage Setting:.3V, 3.8V, 4.3V, 4.8V
Voltage Control: Dial Twist
Battery Capacity: 1600mAh
LED For Battery Indication: Orange (0-30%), Blue (30-60%), White (60-100%),
Colors Option: Stainless, Blue, Rainbow, Red, Purple, and Black
Vision Spinner 2 How To Use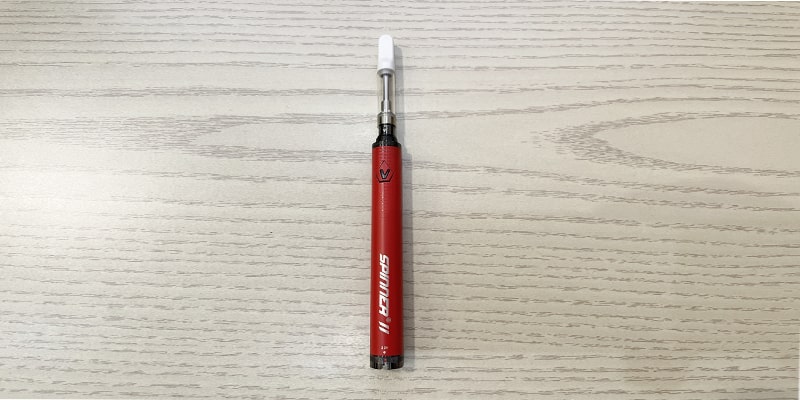 Prepare Accessories-Before using Spinner Vision 2, you must prepare the accessories. Pick a charger and charge the battery fully. Attach your vape tank with the battery to help yourself start vaping. I used a full ceramic cartridge because it works amazing for me and makes this Vision battery look even more beautiful.
Activate the Battery– Click 5 times on the pentagon-shaped button. Adjust the voltage via the bottom dial depending on what you want to enjoy using your vape. The stronger taste you need, the higher voltage you should set. By the way, the click control is just out of class because if you forgot to switch it off, it would automatically turn off after blinking five times. This is a good thing, preventing you from recharging it frequently.
Adjust the Voltage-The dial under it is fantastic. You can easily rotate it in any direction, and it will give you a click sound when a voltage is selected.
Vape Performance
Spinner Vision 2 battery is adjustable with any 510 vape tanks you want. You just have to inhale from the mouthpiece for 10 seconds and then enjoy the vaping material, including e-liquid, dry herb, and wax oil. You can use it for a day with 100 puffs or more. Vaping experience at different voltages, including 3.3V, 3.8V, 4.3V, and 4.8V, will give you the best vaping time ever. The more you increase the voltage, the stronger your vape flavor will be.
Similar Vape Batteries Like Spinner Vision 2
You might wonder if you can enjoy similar products like this one. If so, my answer
is yes, you can. Look at the following list of a few more batteries that are similar in functioning and features to the device.
Variable Voltage 510 Battery
Evod Twist 2 Battery
The Kind Pen Slim Oil Premium Vaporizer
Evod 4 in 1 Vape Pen
How To Charge A Vision Spinner 2
Vision Spinner 2 should be charged with an eGo-USB charger in almost 3-4 hours. It cannot be charged from the side. Instead, you have to open up the thread and then use a compatible Vision Spinner 2 charger. And this charging way means you cannot use it while charging. You might have to wait a bit while it's charging. We didn't like that it takes more time to charge, but you will not regret it because it will last longer than your previous vape batteries. However, if you can even wait for that much time, a better idea is to have two of them to use alternatively. The large battery doesn't make things worse. You will enjoy it like I did when I first tried it out.
How Long Does It Take Vision Spinner 2 To Charge
Vision Spinner 2 has an extended voltage battery, which takes more time to charge. Our team charged the battery many times and found that charging takes almost 3-4 hours on average.
How To Tell You Have A Real Vision 2 Spinner
We discovered that this vision device has multiple copies in the market, which means it may be difficult for you to purchase the right one. If you are hoping to find a simple trick to know that you have a real Vision 2 Spinner, you can scan the QR Code on the package to verify.
Verdict
Spinner Vision 2 cart battery is a great choice to carry with you. It will be a wonderful experience as everyone will be giving you compliments on the look of your vape battery pen. You can purchase it in the optional color you want. By the way, I tried it on with the rainbow one, and it looks incredible with me, adding soberness. I will give a 9/10 rating for this battery. The best part of Spinner Vision 2? You can use 510 thread or eGo vape tanks. Such an exciting feature! So, if you are thinking of purchasing it, you can find this vape battery available at vape4ever.com.