As avid vaping enthusiasts, my team and I enjoy exploring the latest vape pods making waves in the industry. Luckily, I had the opportunity to test Horizon Binaries SV15000. At first glance, it felt as if I were holding a vaping device that was ahead of its time. In this review, I will take you on a journey discussing its design aesthetics, futuristic features, and talk-of-town flavors that have made SV15000 disposable vape a celebrity in the world of vaping. Hop on this ride to discover all you need to know about this product.
Sleek And Visionary Aesthetics
There are many features that make Horizon Binaries SV15000 a standout device and a vape pod to look out for. Let's dive deep into its visual features and discuss its design and ergonomics.
Stylish Look
Upon first glance, I couldn't help noticing the fantastic job done by the designers at Horizon Binaries. This disposable vape has an elegant and futuristic design. When handling it, I was impressed with the sleek contours of the device along with its bold patterns and the vibrant colors that made its visual appearance eye-catching. Furthermore, I found the vape to have an ergonomic shape that provided a comfortable grip, adding further charm to this device.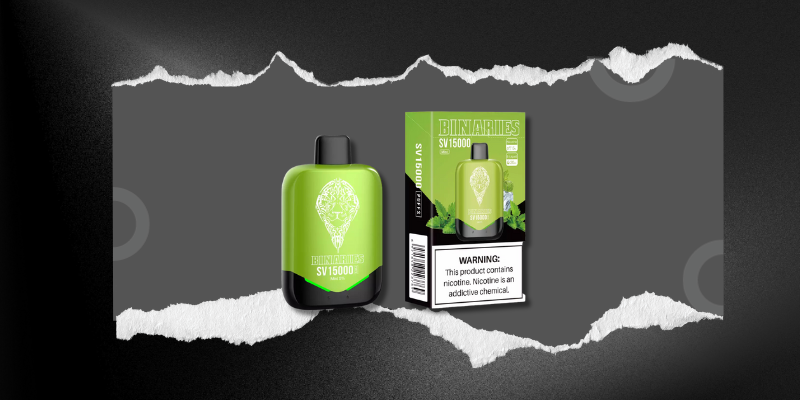 Smart Eyes – LED Indicators
The LED indicator lights are a standout feature added by SV15000. These LED lights add to the tech-savvy aesthetics with their unique placement giving the appearance of eyes. Apart from the aesthetics, they have a practical purpose. These lights serve as a display of battery life and e-juice indicators respectively. I was impressed by this feature as it makes this device user-friendly. My vaping session was comfortable and smooth as I was able to keep a check on the vape pod's battery and e-juice levels.
Bottom Adjustable Airflow
In addition to the above-mentioned features, Horizon Binaries SV15000 disposable vape comes with an adjustable airflow button at the bottom. This feature takes the device to another level making it feel like a flagship device. I particularly admire the adjustable airflow as it allowed me to customize my vaping experience with either a Restricted Direct Lung (RDL) or Mouth-to-Lung (MTL) state. The tactile button at the bottom allowed me to adjust the device easily and cater to my preferences.
Innovative Auto-Switch Dual Mesh Coils
At the core of SV15000, lies an auto-switch mesh coil. This futuristic advancement has paved the way for an excellent vaping experience. Some traditional coils need manual adjustments which is a hassle for users. Contrarily, I was amazed to find that the auto-switch mechanism adapted to my inhalation patterns. As a result, I experienced consistent and flavorful vapor with each puff.
In addition, the dual mesh coils are responsible for enhancing vapor production. This helps create denser clouds and robust flavor profiles. Such features of Horizon Binaries SV15000 set it apart and confirm its place as a standout choice for vape enthusiasts.
Rapid Type-C Charging Capability
Horizon Binaries SV15000 is a device from the future, to keep up with this claim, the device comes with a rapid Type-C charging port. Correspondingly, I found it convenient to charge the high capacity 600mAh battery of this disposable vape in minimal time. This makes the device hassle-free and an ideal choice for those enthusiasts who travel.
A Selection Of Ten Exquisite Flavors
Without any further delay, let's dive in deeper and explore the wide range of flavors offered by Horizon Binaries. The SV15000 is available in ten exquisite flavors that offer a diverse experience and cater to the preferences of many.
● Cherry Cola Ice
This unique Cherry Cola Ice flavor of is a delightful fusion of the sweet notes presented by cherry coupled with the refreshing taste of cola. In addition, this fusion is further complemented by a cooling vaping sensation.
● Orange Lime Soda
Orange Lime Soda is one of the customer favorites among the flavors of SV15000 vape. This flavor emphasizes the tangy notes of lime and orange. Each puff feels as if you are enjoying a fizzy citrus soda on a summer's evening.
● Blue Razz Cherry Ice
This is a blend of the tartness of blueberries, and sweet cherry. To top it off, it has an icy finish. This flavor is an ideal option for those enthusiasts who prefer enjoying a fruity and refreshing vaping experience.
Compared With Other Horizon Binaries Vapes
Product
SV15000
SE6000
TH6000
Puff Count
15000
6000
6000
E-Liquid Capacity
20mL
12mL
12mL
Mesh Coil
1.0omh Dual
Mesh Coil
Bamboo Pulp
Mesh Coil
Bamboo Pulp
Mesh Coil
Battery Capacity
600mAh
650mAh
650mAh
Charging Port
Type-C
Type-C
Type-C
Battery Indicator
✓
✓
✓
E-Liquid Indicator
✓
✓
✓
Adjustable Airflow
✓
✓
✓
Flavors
10
33
30
The Ultimate 15000 Puff Verdict
To conclude this SV15000 review, I found this vape to be a device that is ahead of its time. The features provided in this vape at its affordable cost should send the benchmark in the vaping market. The overall aesthetic design, along with the futuristic features such as an auto-switch dual mesh coil and Type-C charging, along with a wide variety of flavors, totaled up to a satisfying vaping experience. My overall rating for Horizon Binaries SV15000 would be an easy 5 out of 5. It is a must-try device for seasoned vapers who are seeking a convenient and hassle-free vaping experience.