In the world of vaping, iJoy Bar SD10000 stands out as a remarkable addition, blending innovative features with an elegant design.
Recently, our team got the opportunity to experience this cutting-edge disposable vape, and we're excited to share our insights with you. Designed to provide a satisfying and convenient vaping experience, iJoy SD10000 impresses us with the unique combination of advanced technology and sleek aesthetics.
In this review, we will delve into the design, specifications, adjustable airflow, smart screen functionality, mesh coil performance, user experience, and even some top flavor profiles to try.
Design: Gradient Patterns And Shiny Outer Shell
iJoy Bar SD10000 boasts an eye-catching design that effortlessly marries form and function. The inner shell of this vape pod features captivating gradient patterns, and the shiny outer finish adds a touch of elegance. Furthermore, it has a transparent mouthpiece adding a touch of modernity, allowing me to keep an eye on the vapor. Holding the device feels convenient, and its slim profile fits comfortably in your hand. Not to mention, the airflow holes with an adjustable airflow switch provide a personalized vaping experience. In addition, the Type-C charging port ensures convenient and fast charging, making it ideal for on-the-go use. Whether you're a fan of simple design or bold style, iJoy Bar SD10000 is sure to leave a lasting impression.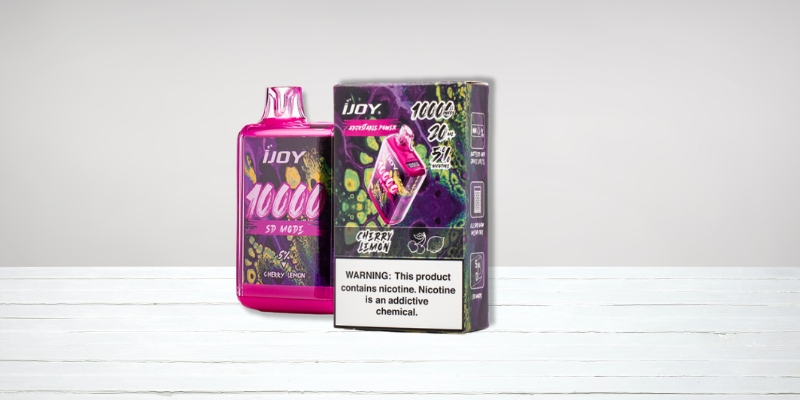 Specification: High E-liquid And Sufficient Battery Capacity
One of the standout features of the iJoy Bar is its high 20mL e-liquid capacity. With its ample e-juice, you'll enjoy prolonged vaping sessions without frequent refills.
I found myself enjoying extended periods of usage before needing to recharge since the 650mAh battery capacity ensures that your device stays powered throughout the day, making it a reliable companion for your vaping needs.
Additionally, iJoy SD10000 offers 5% nicotine levels, perfect for those in pursuit of higher nic salt levels and stronger throat hits.
Adjustable Airflow: Unique SD Mode
iJoy bar vape introduces the unique SD mode, a game-changer when it comes to adjustable airflow, enabling me to fine-tune my vaping experience to achieve the desired level of vapor and flavor.
This innovation empowers you to customize your vaping experience according to your preferences. S mode provides powerful hits while D mode allows you to take smooth draws. Whether you prefer a tighter draw or a more open airflow, the SD mode delivers versatility that is rare among disposable vapes. It's a feature that truly sets this vape bar apart from its competitors.
Smart Screen: Battery And E-Liquid Indicator
The integration of a smart screen on iJoy Bar SD10000 adds a layer of convenience and user-friendliness which is proof of iJoy's commitment to user convenience. The screen displays essential information about battery life and e-liquid level, ensuring you're always aware of your device's status. You can check the info after taking a puff.
This practical addition ensures that I had a smooth vaping session by preventing unwelcome interruptions, like running out of battery or tasting burnt flavor, allowing me to manage my vaping sessions more effectively.
Mesh Coil: Dense And Warm Vapor
Its 0.8ohm mesh coil contributes to the dense and warm vapor, and I was genuinely impressed by the performance it delivered.
This enhances your overall vaping experience as the low ohm coil ensures that each puff is filled with rich flavor and satisfying vapor production. A low ohm mesh coil can produce denser and warmer vapor, and the flavor is more intense. With this mesh coil, I can experience an enhanced vaping session and savor every note of my chosen vape flavor.
User Experience
iJoy Bar SD10000 comes with various outstanding features and using it was a delight from start to finish, thanks to its intuitive design and user-friendly features. With the SD adjustable airflow control, customizable vaping is just a few clicks away.
Additionally, the smart screen provides real-time information, giving you control over your device's performance. As you take a draw, the mesh coil delivers a smooth and flavorful vapor that envelops your senses. The airflow is a little bit tight for me, and the throat hits are not that strong. But it is great for vapers just switching from smoking.
Coupled with the innovative features, iJoy Bar vape is a standout option for both beginners and experienced vapers alike. The ergonomic design feels comfortable to hand, and the gradient pattern on the shell looks fantastic.
Whether you're taking a quick break or winding down after a long day, this device offers both an enjoyable and effortless journey.
Top Flavor Profiles To Try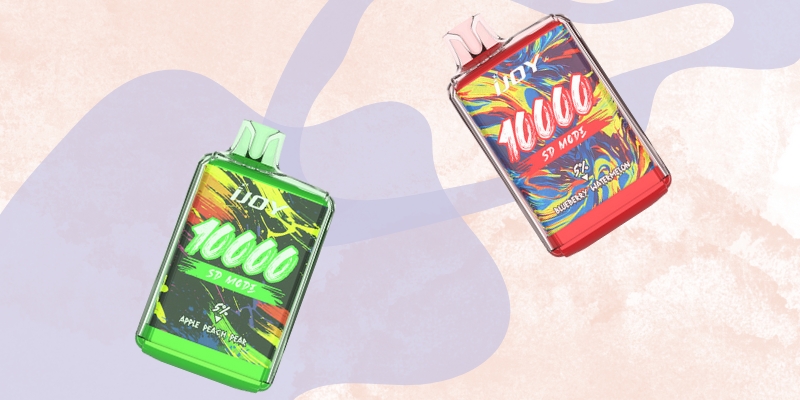 iJoy Bar SD10000 comes with a selection of enticing flavor profiles that cater to diverse preferences:
Indulge in the sweet and decadent taste of freshly baked banana cake, leaving a luscious aftertaste on your palate.
Experience the burst of flavors from a blend of juicy berries, including strawberries, blueberries, and raspberries. They are combined into a tangy and sweet symphony.
Delight in the harmonious fusion of crisp apple, succulent peach, and juicy pear, resulting in a refreshing and fruity vaping experience.
Summary
In summary, iJoy Bar SD10000 is a standout disposable vape that offers a blend of innovation, style, and convenience. From its design aesthetics to its advanced features, this vape earns high marks across the board. I will rate it 4.5/5.
Its design is excellent because of the shiny outer shell and gradient patterns. The smart screen and SD adjustable airflow control make this vape bar easy to use. 20mL e-liquid is certain to support 10000 puffs. The vape is thicker than regular disposables. Considering its high puff counts, it is acceptable. The 0.8ohm mesh coil offers warm and dense vapor that enhances the overall vaping experience. Furthermore, iJoy's reputation for quality shines through in iJoy Bar SD10000.
Our team's experience with iJoy SD10000 is overwhelmingly positive, making it a terrific option for vapers seeking a reliable and enjoyable vaping companion.