EBDESIGN BC5000 Disposable Vape 5000 Puffs
EBDESIGN BC5000 is a box-shaped device that comes up to 60 flavors with a gradient finish, capable of holding 13mL e-juice.
EBDESIGN BC5000 Disposable Vape 5000 Puffs Instructions
Overview
EBDESIGN BC5000 allows you to enjoy up to 5000 puffs worry-free with its pre-charged 650mAh built-in battery and pre-filled 13mL of e-liquid without additional setup or hardware. The BC5000 is rechargeable with a USB-C cable. This device has a high-powered battery and more, which allows it to be used by almost one user for a week. Its 5000 puffs fill with e-liquid with a nicotine strength of 50mg. It has a dual coil to enhance the flavor and vaping experience, making your experience even better and more enjoyable.
Specifications
Total Puff: Up to 5000
Dimensions: 79mm x 41mm x 19mm
E-liquid Capacity: 13mL
Nicotine Strength: 5%
Battery: 650mAh
Charging Type: USB-C Port
Coil: Dual Mesh Coil
Flavors: Lemon Mint, Strawberry Mango, Sakura Grape, Strawberry Kiwi, Sweet Menthol, Kiwi Passionfruit Guava, Watermelon Brzz Ice, Strawberry Banana, Peach Blue Razz Ice, Triple Berry Ice, Sour Apple, Mango Peach, Watermelon Bubble Gum, Peach Berry, Sunrise, Mandarin Lime, Strawberry Cream, Peach Mango Watermelon, Clear, Passion Fruit Orange Guava, Rainbow Cloudz, Watermelon Cantaloupe Honeydew, Green Apple, Strawberry Pina Colada, Cranberry Grape, Malaysian Mango, Energy, Watermelon Jolly Ice, Ice, Pineapple Strawnana, Winter Berry, Guava Ice, Sour Candy, Gumi, Mango Peach Apricot, Grape Energy, Blueberry Energize, Tropical Rainbow Blast, Blue Razz Lemon, Malibu, Strazz, Strawberry Watermelon, Honeydew Pineapple Orange Strawberry Ice, Mixed Fruity, Beach Day, Watermelon Ice, Crazi Berry, Watermelon Nana Ice, Rainbow Candy, Miami Mint, , Summertime, Black Winter, Cranberry Punch, Blue Cotton Candy, Pineapple Coconut Ice, Sunset, Fuji Ice, Red Mojito
Package Includes
1 x EBDESIGN BC5000 Disposable Vape 5000 Puffs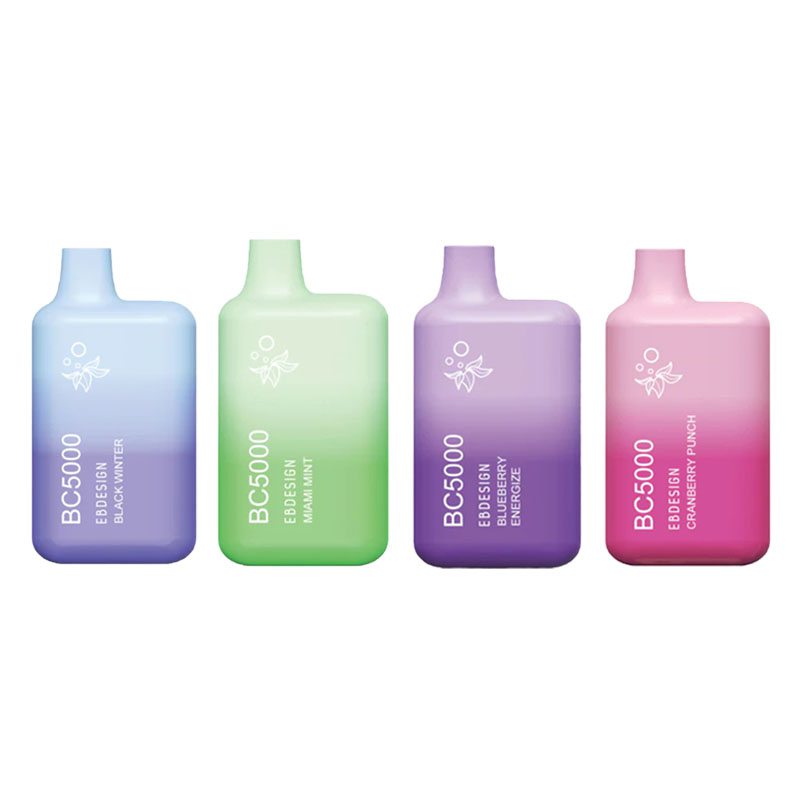 Customers who bought this product also bought:
EBDesign
EBDesign
V4-11531-
Elf Bar EBDesign TE6000 features a QUAQ technology mesh coil and 10.3mL e-liquid, offering lasting 6000 puffs in a variety of flavors.
Geek Bar Meloso MAX Disposable Vape 9000 Puffs offers a dual mesh coil and adjustable airflow function, providing smooth clouds and amazing vapor.
Product added to wishlist
Product added to compare.

By entering Vape4Ever, you affirm that you are of legal smoking age 21+ and you agree to be Age Verified.