JUUL Starter Kit
There are not enough products in stock
JUUL Starter Kit is the product of brand Juul, it's one of the best vapor products with the option of JUUL Starter Kit:1pcs, etc.
JUUL Starter Kit Instructions
JUUL Starter Kit Instructions
Overview
JUUL Starter Kit provides an affordable AIO vape kit. This available of the Kit brings them on the top of the chart in the market. If you have a lot of Vaping experience and are looking for a different Vaping experience, JUUL starter kit has something to offer you. On the other hand, if you are a newcomer, you will love the experience you are going to have by using JUUL Starter Kit.
JUUL Starter Kit has an innovative two-piece design. You will find a rechargeable battery in the starter kit. This battery has compact style and is no bigger than your flash drive. Further, the starter kit also has a pre-filled and disposable JUUL Replacement Pod. This pod has the function of holding E-liquid. It is an innovative but simple design. Surprisingly, this simple design was an inspiration for many smokers out there who were looking for an alternative to live a better life. JUUL doesn't depend upon any confusing screen or buttons to perform its functions. You will see a draw-activated firing mechanism which helps JUUL Starter Kit perform its functions. If you put the kit up to your mouth and then inhale, it will activate, making the process lot more comfortable. Contrasting a regular sub ohm tank which requires cleaning before changing the flavors regularly, JUUL has an interchangeable pod system. This pod system helps the user to change the flavors on the go while enjoying their Vapors. The whole procedure is effortless. Now you don't need to worry about any mess or cleaning issue.
JUUL pod has 0.7ml nicotine salt juice. This juice provides a smooth, satisfying, and enjoyable vape. Nicotine salts have a high body absorption character. The absorption delivers power, and quick nicotine hit. This nicotine hit is very similar to the experience of a regular cigarette. Unlike the regular cigarette, you won't experience any harsh feel in your throat. In traditional cigarette, you will get the harshness due to higher strengths of nicotine. This character of this starter kit distinguishes the company's product and makes it an excellent choice for ex-smokers.
JUUL Starter Kit is a compact, pocket-sized and lightweight kit. You will find a JUUL USB charger along with the kit which you can use to charge the device easily. The charging process of the kit is very simple. You will only need to put your kit in the charger and then connect it to the available USB port. You can also verify the charging of the kit through the LED light. The battery will take an hour to fully charge.
JUUL Starter Kit Package Includes
1 x JUUL device
1 x USB Charger
1 x JUUL Virginia Tobacco Pod
1 x JUUL Cool Mint Pod
1 x User Manual
JUUL Starter Kit Specifications
Dimensions: 18 x 9.5 x 115mm (D x W x H)
Construction: Stainless Steel
Pod Capacity: 1.5ml
Max Output Wattage: 13W
Resistance: 1.8ohm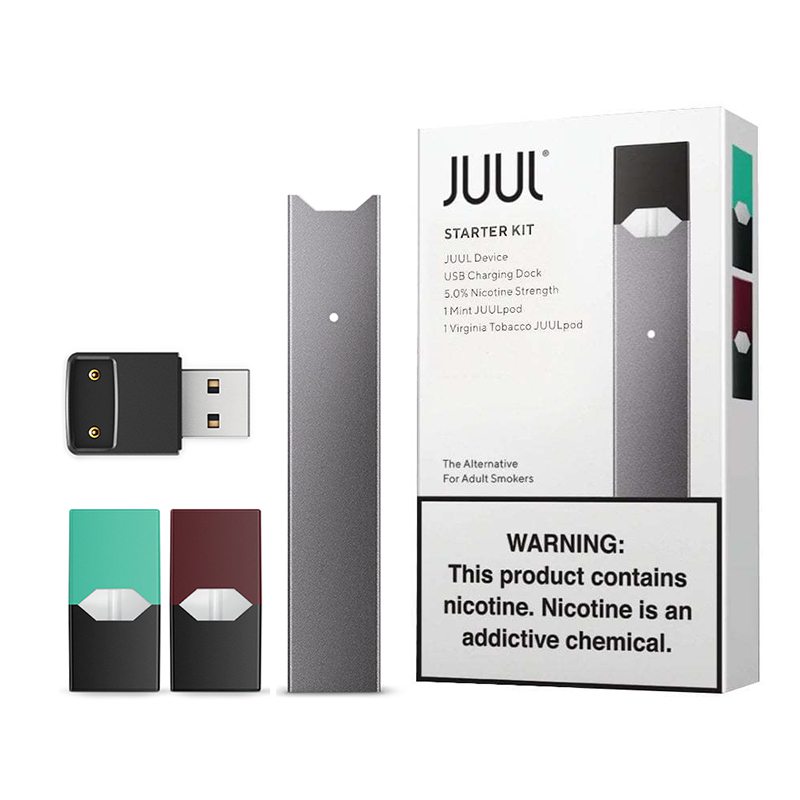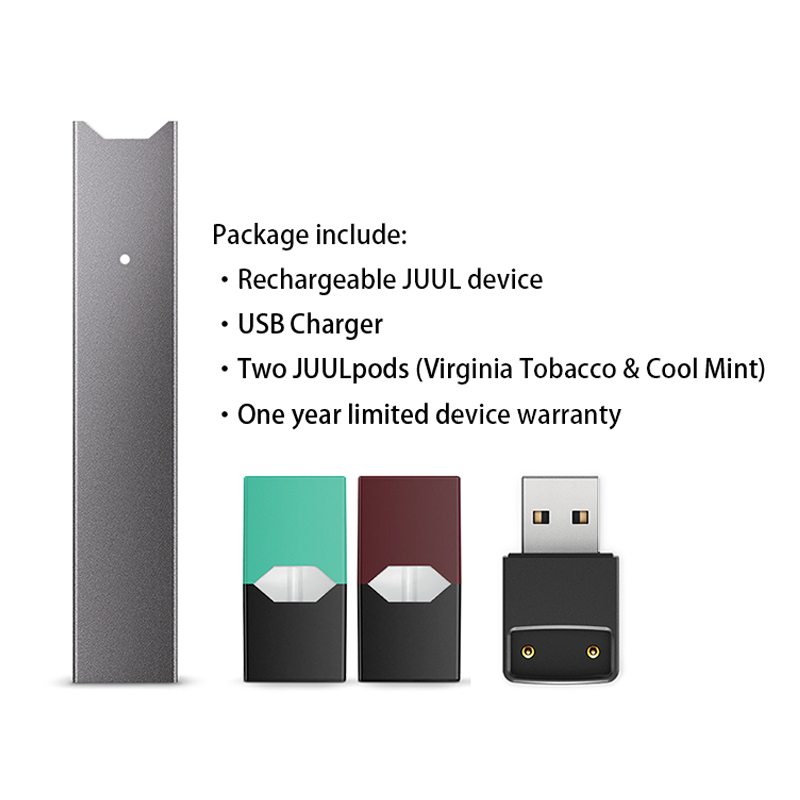 Customers who bought this product also bought:
LTQ VAPOR
LTQ VAPOR
V4-10947-
LTQ Vapor KONE 510 Thread Box Mod 900mAh is the product of brand LTQ VAPOR, it's one of the best vapor products with the option of Black Mod:1pcs, etc.
JUUL Pod Flavors is the product of brand Juul, it's one of the best vapor products with the option of Furit Medley Pod 5% Nic:4pcs, etc.
JUUL USB Charger is the product of brand Juul, it's one of the best vapor products with the option of JUUL USB Charger:1pcs, etc.
Product added to wishlist
Product added to compare.

By entering Vape4Ever, you affirm that you are of legal smoking age 21+ and you agree to be Age Verified.