JUUL Pod Flavors is the product of brand Juul, it's one of the best vapor products with the option of Furit Medley Pod 5% Nic:4pcs, etc.
JUUL Pod Flavors Instructions
JUUL pods Instructions
Overview
JUUL pods are the amazing pods which will keep you close to your favorite flavors, even in your busy schedule. It will ensure that the cool feel of menthol and the unique taste of different flavors are always near to you. The Vaping experience of the high-quality liquids for JUUL Starter Kit is now a lot easier than ever. Now you don't have to wash, dry out, and clean to switch the flavors in E-cigarette. It is the reason of replacement pods' arrival that our experience has became a lot easier. Get your relaxing level a bit higher. Now you don't have to go through the installation process of replacement coils as you need to when using a sub ohm tank. JUUL Replacement Pods are very convenient and easy to use. These pods are the base of your wonderful Vaping experience.
If you are a menthol lover, you will love and appreciate the sensational cooling and refreshment of JUUL Mint Pod. Even if you don't enjoy the spearmint flavor, the Cumber will reduce the itchiness of menthol, thus giving you a soothing and relaxing experience. If you are a fruit lover and don't usually get a chance of enjoying fruit flavors, Fruit and Medley Pods are here for your entertainment. You can feel the exciting mango flavor thanks to the mango replacement pods. The fruit Medley has a unique experience in itself, which will teleport you to an Island, and you will feel like a King. If your taste buds are a fan of the bountiful desert, JUUL has something for you as well. You can enjoy the Creme Brulee replacement pods to have a satisfactory feeling. JUUL has satisfaction option for traditional cigarette smokers as well with their Virginia Tobacco pods and Classical Tobacco Pods.
JUUL pods Package Includes (Options)
1 x 4pcs JUUL Mango Pods
1 x 4pcs JUUL Cool Mint Pods
1 x 4pcs JUUL Virginia Tobacco Pods
1 x 4pcs JUUL Cool Cucumber Pods
1 x 4pcs JUUL Classic Menthol Pods
1 x 4pcs JUUL Fruit Medley Pods
1 x 4pcs JUUL Creme Brulee Pods
1 x 4pcs JUUL Classic Tobacco Pods
JUUL Pod Flavors Specifications
Pod Capacity: 0.7ml
Number of puffs: 200
20 or 50 mg Salt Nicotine Strength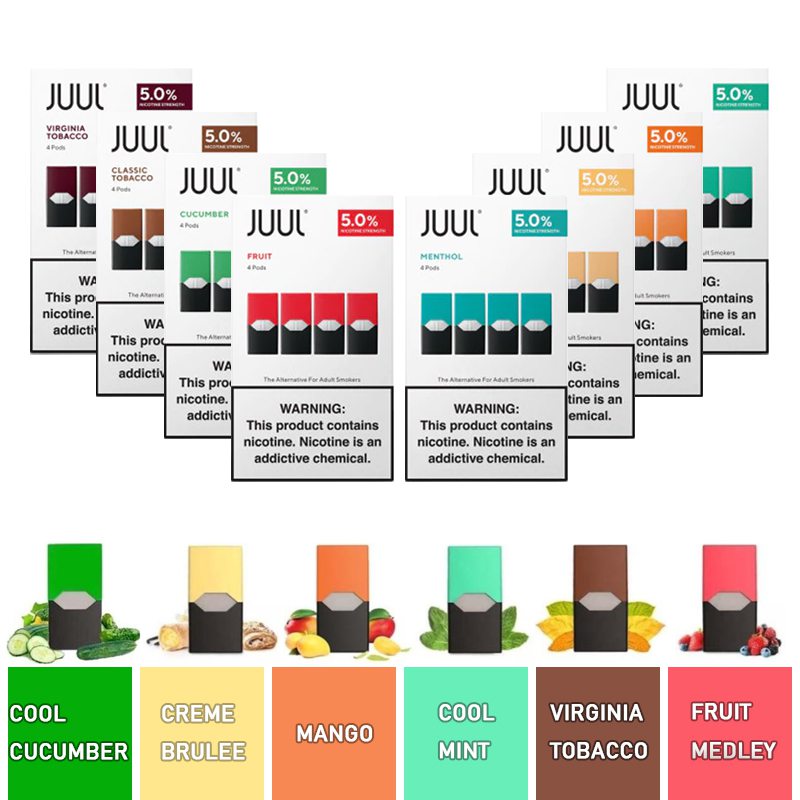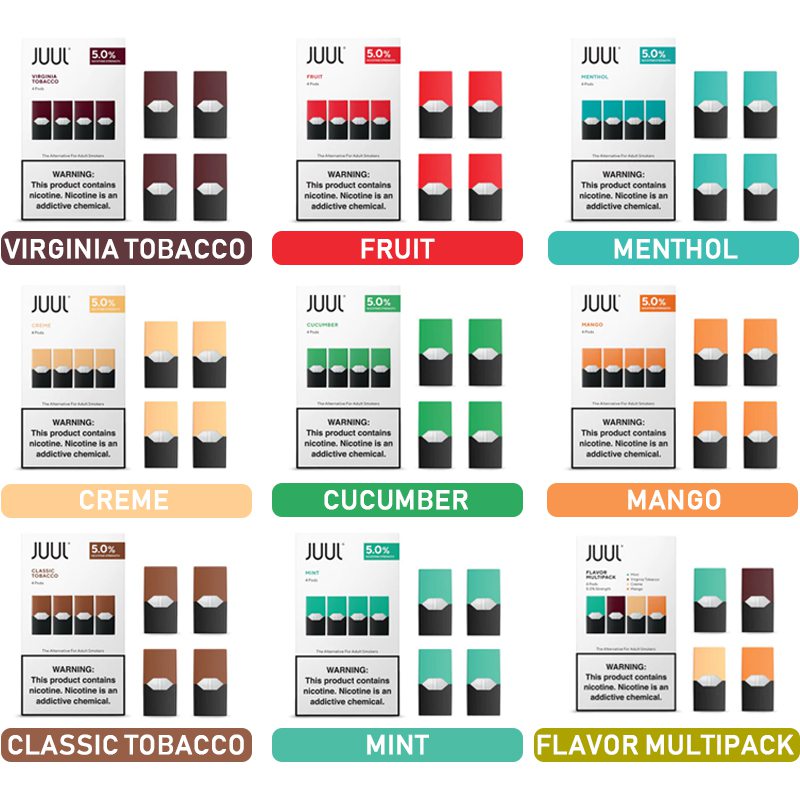 Customers who bought this product also bought:
Product added to wishlist
Product added to compare.

By entering Vape4Ever, you affirm that you are of legal smoking age 21+ and you agree to be Age Verified.