Uwell Caliburn A3 Kit features 15 minutes of quick charge, and the optimized internal structure makes daily utilization easier.
Uwell Caliburn A3 Kit Instructions
Overview
Uwell Caliburn A3 kit is the ideal choice for vapers looking for a device that is easy to use. The kit already has a built-in 520mAh battery capacity that can generate up to 13W of power. So, there is no need to worry about buying other batteries. Two 2mL 1.0ohm pods are also contained in the box. These pods are marvelous for creating a precise MTL (Mouth to Lung) experience.
You may choose how to operate the vape because it has both inhale activation technology and a conventional firing button. To use your Uwell Caliburn A3, all you have to do is inhale through the mouthpiece.
It will create an MTL inhale that resembles the sensation of smoking a cigarette and emits a small quantity of vapor. Also made very simple is topping out your gear. To access the filling port and add the e-liquid of your choice, all you need to do is remove the mouthpiece from the Uwell Caliburn A3 pod. Though any e-liquid will work with this vape equipment, for the best results, we'd suggest using a 50/50 or high PG blend.
A faultless MTL inhalation may be accomplished by just pushing the fire button or inhaling via the mouthpiece. In addition, you won't have to be concerned about an unintentional misfire occurring when your smartphone is moving about in your pockets, thanks to the lock-up safety feature. With every inhalation, your E-Liquids will taste richer and more powerful because of the device's built-in Pro-FOCS flavor technology, which is patented by Uwell.
Features of Uwell Caliburn A3 Kit
Automatic ignition detection using two methods
Functional and safe button lock
A quick 15-minute charge
Large window for checking e-liquid
Interactive and concealed lighting at the bottom
Simple top fill
Technology for adjusting taste in Pro-FOCS
Connection to a solid magnetic pod
Specifications
Dimensions: 109.8 x 21.3 x 11.7 mm
Net Weight: 31g
Output Power: Maximum 13 W
Battery Capacity: 520mAh
E-liquid Capacity: 2mL
Heating Element: 1.0ohm Mesh Coil
Firing Mechanism: Draw-Activated
Charging Port: Type-C Charging
Fill Type: Top Filling
Colors: Red, Blue, Black, Gray, Green, Silver
Package Includes
1 x Uwell Caliburn A3 Device
2 x 1.0ohm Refillable Pods
1 x Instructions Manual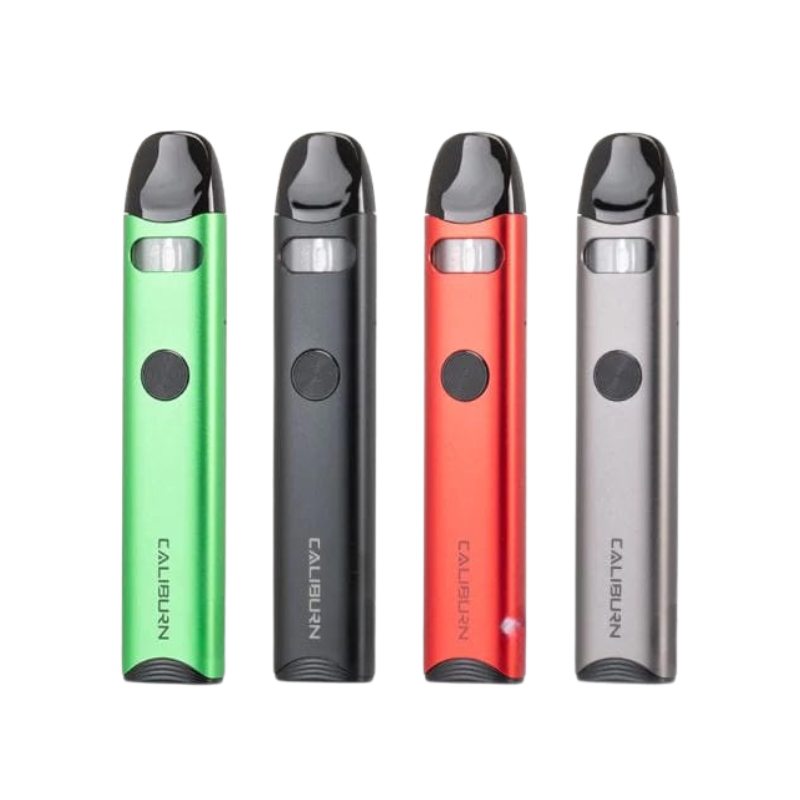 Customers who bought this product also bought:
Vape Brands & Companies
V4-11460-
Esco Bars E-Liquid 60mL comes with multiple nicotine strengths, and 70VG/30PG will give you an appropriate throat hit.
Product added to wishlist
Product added to compare.

By entering Vape4Ever, you affirm that you are of legal smoking age 21+ and you agree to be Age Verified.