Vaporesso Zero Care Pod Kit
There are not enough products in stock
Vaporesso Zero Care Pod Kit is the product of brand Vaporesso, it's one of the best vapor products with the option of Black kit:1pcs, etc.
Vaporesso Zero Care Pod Kit Instructions
Overview
The Vaporesso Zero Care Kit was designed to give the user an aromatic and flavourful experience which is simple yet it lasts longer and is also pocket-friendly for them. The POD system used in this zero care kit is made up of medical gradable materials that are a healthy alternative to smoking and gives chain smokers a variety of options of flavours to choose from. You can literally just fill it up and it is ready to go with you wherever you take it. The latest OMNI board features comes with a 3 mode power system along with many safety precautions to make sure you do not face any difficulties while using it.
The Vaporesso Zero Care Kit is a handy POD system device that is specially created to keep the everyday usage in mind, not comprising on how it appears to be to others. It is an updated version of the Vaporesso Renova Zero Kit. This one, however, comes with a replaceable mesh POD cartridge system for your convenience and to keep you away from any kind of hassle. The size of the kit is compact.
The Vaporesso Zero Care Vape System Kit uses fingerprint less coating material that keeps your hands from the smell of the flavour that you like to use. The touch features gives you an easy and comfortable experience while you are using the product. The built-in battery and one-touch buttons are save you from the trouble of recharging it.
Vaporesso Zero Care comes with two new PODS with this new and improved device, both of which come with built-in coils. They are as follows: the Zero CCELL POD and the Zero Mesh POD. One unique feature of the Zero CCELL POD, however, is that it isespecially regulated for a lasting nicotine satisfaction for chain smokers. The Press to Fill (PTF) system is one of its kind that makes the refilling experience as easy as possible for the user by keeping the leakage in check. It is also quite safe for everyday usage. The innerspring capacity of the PTF makes a tight seal inside the product and makes sure that there is no vacuum created which does not let any spillage or mess happen while you are using it.
As a regular user, you are likely to experience dry throat when using other out-dated products but, not with this one. This vape kit is light on the throat. You have to update to this kit to enhance your vape experience. Try it out!
Features
It is lightweight
Comes in a portable design
Fingerprint-free coating material
Integrated 650mAh rechargeable battery system
Comes with two new PODs
Has the Press to Fill (PTF) system
Quick and easy to refill
Has a new and advanced leakage reduction quality
Has a variety of colors to choose from
Specifications
Use For: E-Liquid
Battery Capacity: 650mAh
Battery Charge Type: Micro-USB
Color: Black Silver, Black Red, Black Purple, Black Blue, Black Green, Rainbow
Compatible Pods: Vaporesso Renova Zero Pods, Vaporesso Zero Mesh Pods
Package includes
1 x Vaporesso Zero Care Device
1 x Mesh Pod 1.0ohm
1 x CCELL Pod 1.3ohm
1 x E-juice Filling Bottle
1 x USB Charger
1 x Manual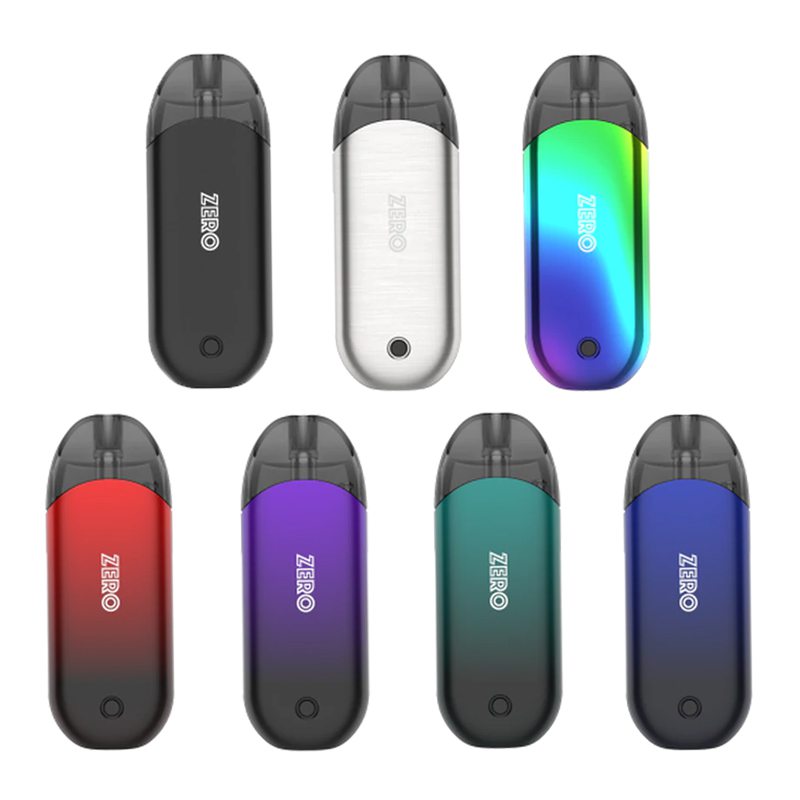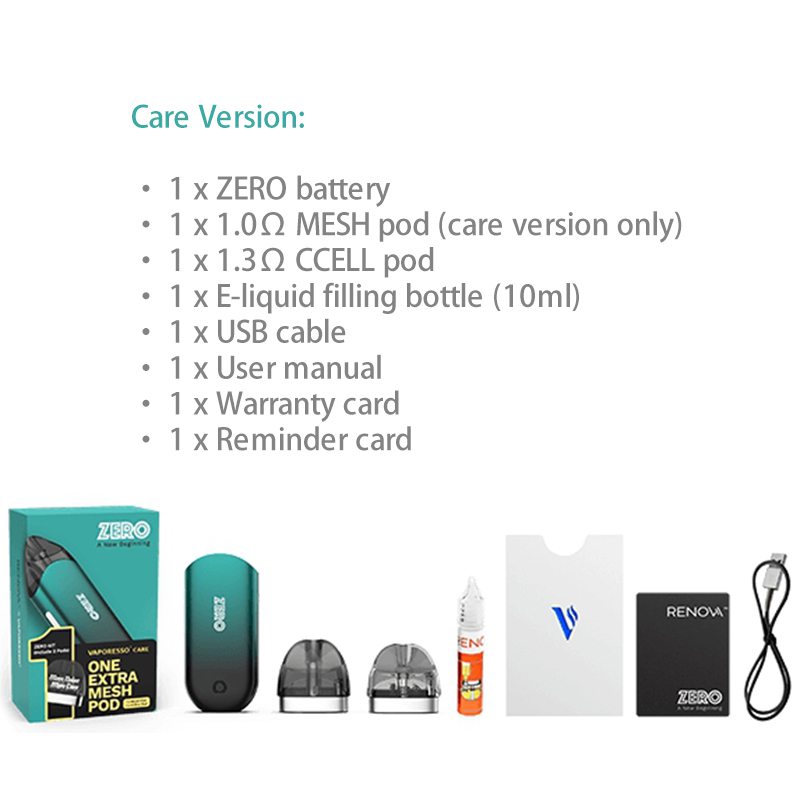 Customers who bought this product also bought:
Product added to wishlist
Product added to compare.

By entering Vape4Ever, you affirm that you are of legal smoking age 21+ and you agree to be Age Verified.