Yocan Orbit Wax Pen
Presale
Presale available! You can order now, we will give priority to your delivery when the product arrives.
Yocan Orbit Wax Vaporizer is innovatively designed with two spinning balls to evenly and sufficiently distribute the heat, offering superb vape sessions.
Yocan Orbit Wax Vaporizer Instructions
Yocan Orbit Wax Vaporizer Instructions
Overview
The Yocan Orbit Wax Vaporizer is a skillfully designed vape pen used for wax concentrates. This is one of the most innovative and advanced wax pens on the market due to its unique features, such as a coil-less quartz cup, two spinning quartz balls, and a top vertex airflow system. The Yocan Orbit Wax Vaporizer heats the material evenly, producing vapor with unmatched quality. Even though this is a complex device, it is straightforward to use due to its single-button interface.
The Yocan Orbit Wax Pen is built of durable materials. The body is lightweight, and it is made of stainless steel, the mouthpiece is made of glass, and the balls in the coil that are responsible for heating the material evenly are made of quartz.
This wax pen is powered by a long-lasting 1700mAh battery and promises long and enjoyable vaping sessions. Larger batteries like Yocan Orbit Wax Vaporizer's battery are charged at lower frequencies. You can recharge it with a type-C cable. The designers aimed towards creating a user-friendly device, and the type-C port makes using the Yocan Orbit Wax vaporizer even easier. With this type of port, you will not have to worry about which way the cable goes. The connector is smaller and universal. It takes 2.5 hours to fully charge the battery.
There are three different voltage levels to customize the vaping experience, including 3.4V, 3.7V, and 4.0V. If you want to enjoy more flavor, choose the lower voltage setting. On the other hand, the highest voltage setting enables vapers to enjoy sessions with more vapor but less flavor. The middle voltage level will provide you with a balanced vaping experience in terms of flavor and vapor quantity. There are three light indicators for each voltage setting – white for 3.4V, blue for 3.7V, and green for 4.0V. The LED light indicator is located around the power button, and makes the device's appearance even more appealing. Press the button three times and choose your preferred temperature.
You can further improve the overall vaping experience thanks to the 10-sec preheat feature of the Yocan Orbit Wax Vaporizer. Rapidly click the button twice to activate this function. Your selected material will be prepared at 3.4V, and you will be able to embark on a delicious vaping journey. Pressing the power button twice is also used for deactivating the preheat function.
The Yocan Orbit Wax Vaporizer operates in a unique manner. The device converts the kinetic energy of the airflow into the kinetic energy of the two quartz balls. Once you breathe in, these balls start rotating very fast to distribute the heat evenly and create high-quality vapor. These quartz balls also improve the overall performance of the device and help it achieve the ideal temperature for vaporizing.
Another distinctive element of the Yocan Orbit Wax Vaporizer is the coil-less cup. The quartz balls are able to spin freely in this cup since there is no coil in it.
This wax pen is available in six different colors, including black, silver, green, blue, gold and red.
Features of Yocan Orbit Wax Vaporizer
Top Vertex Airflow System
Unique spinning balls for evenly distributing the heat
Coil-less quartz cup design
Variable voltages available
10 seconds fast preheat
Convenient Type-C Charging
Long-lasting 1700mAh battery
Glass mouthpiece for a pure vaping experience
Specifications of Yocan Orbit Wax Vaporizer
Use for Wax Concentrate
Glass Mouthpiece and Cover
Dimensions: 131mm x 22mm
Battery Capacity: 1700mAh (Rechargeable)
Material: Stainless Steel and Quartz
Battery Capacity: 1700mAh
3 Voltage Levels: 3.4V (White), 3.7V (Blue), and 4.0V (Green)
Resistance: 0.4ohm
Type-C Charging Port
Charging Time: 2.5 Hours
Colors: Black, Silver, Green, Blue, Gold, and Red
Package Includes
1 x Yocan Orbit Device
1 x Type-C Charging Cable
2 x Picking Tool
1 x Lanyard
1 x Hanging Ring
1 x User Manual
*Extra Seal Rings
*Extra Quartz Balls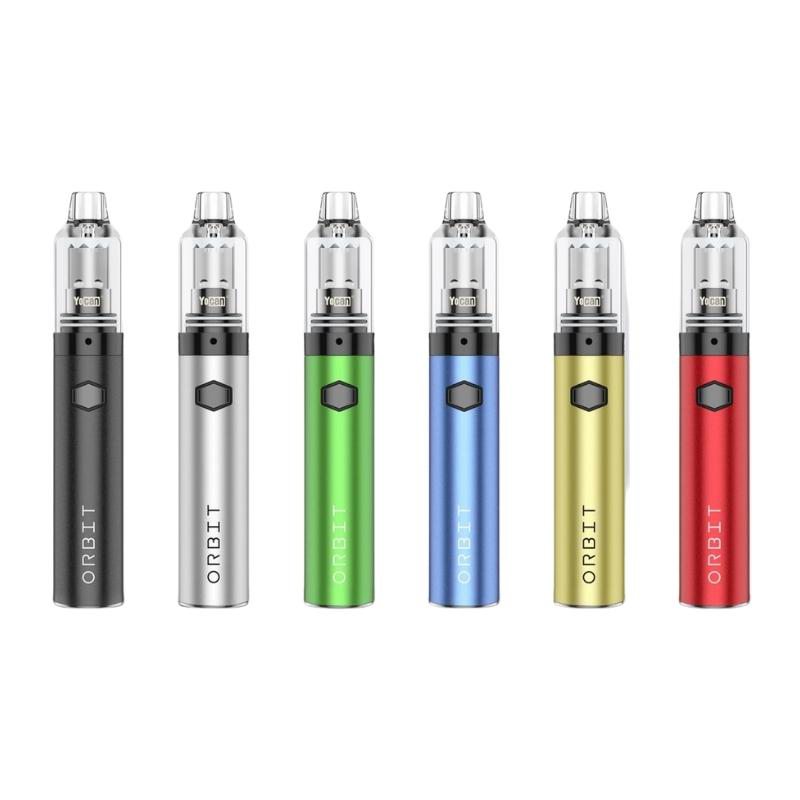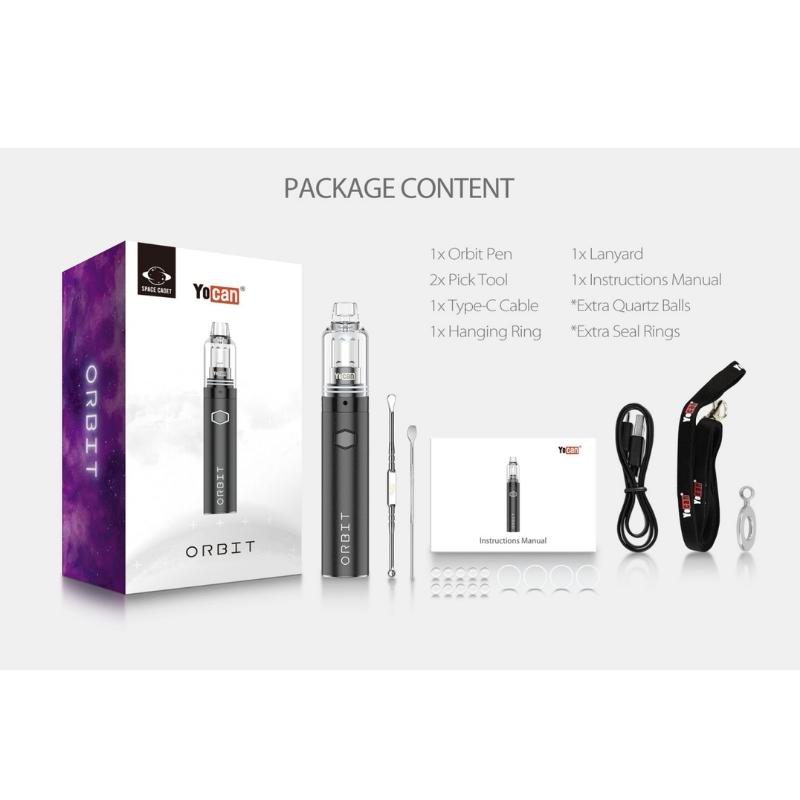 Customers who bought this product also bought:
Product added to wishlist
Product added to compare.

By entering Vape4Ever, you affirm that you are of legal smoking age 21+ and you agree to be Age Verified.