Innokin Adept Kit
There are not enough products in stock
Innokin Adept Kit is the product of brand Innokin, it's one of the best vapor products with the option of Black Kit:1pcs, etc.
Innokin Adept Kit Instructions
Innokin Adept Mod Instructions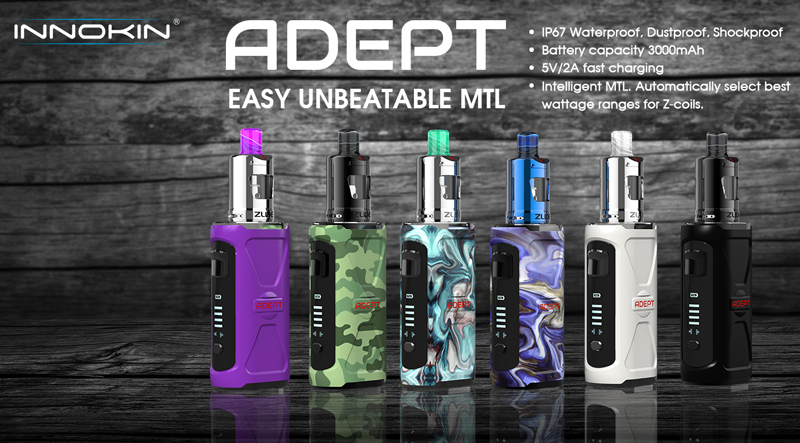 Overview
The Innokin Adept and ZLIDE tank starter kit is a highly portable and professional level vaping kit. The new system comes with an intellective coil resistance recognition system or IP67 solutions for coil management. The design of the device is made to be extremely user-friendly as well is focused on flavor. It is preconstructed using a durable alloy zinc and it comes with a 3000 mAh battery that is completely rechargeable. The battery is not removable and it's built into the chassis to protect the components inside. The IP rated exterior shell protects the chipset and reduces the chance of overheating. Intelligent detection systems on board also ensure that it's easy to adjust the wattage and to identify the ideal wattage range for vaping using certain products. The Innokin Adept and ZLIDE starter kit also comes with an external coating to prevent against dust and accidental contact with the ground. This highly protected box and the onboard cover ensure that this is a device which can come with a much longer lifespan than the traditional starter kit.
Innokin Adept Mod Features
The Features for an Innokin Adept Mod include:
Dust resistance
Water resistance
Ergonomic Design
Shock resistance
Soft touch rubberized finish
3 Colors LED display
Micro USB charger with Silicone seal plug
Protection from short circuits
Features of the Innokin ZLIDE tank:
Lock on the drip tip
Retractable filling top design
Glass tank construction
4 airflow hole design
Adjustable airflow valve for control
Innokin Zenith Atomizer heads
Z-PLEX3D Kanthal Mesh coil with flavor boost
Innokin Adept Mod Specifications
Specifications of Innokin Adept Mod:
510 contact pin is spring loaded
Dimensions: 1-1.8"x 1-9/16"x 3-1/4 without the tank
Battery capacity built in is 3000 mAh
Auto wattage system delivers intelligent power
Higher than 1.0ohm Coil: 11-14W
Lower than 1.0ohm Coil: 14-17W
Resistance range:0.4-3.0ohm
Specifications of Innokin Zlide Tank:
1-15/16x7/8" with the threads and drip tip
Diameter 22mm
Threads are 510
2ml of e liquid capacity
Innokin Adept Mod Package Includes
1x Innokin ADEPT Smart MTL Box Mod
1x 2ml Innokin ZLIDE Tank
1x Micro USB Cable
1x User Manual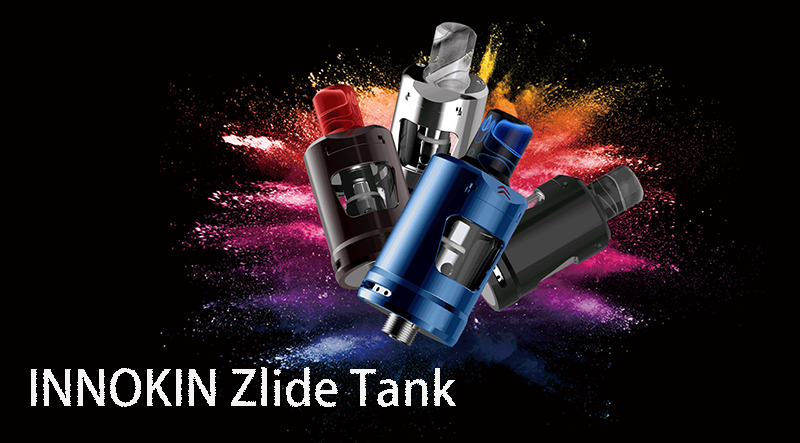 What's more on Innokin Adept Mod
A Starter Kit Built For Longevity
With an IP 167 dustproof, waterproof and shockproof rating, the adept is built for a long lifespan.
The Best Wattage Through Auto Select
With any Zenith coil tank, you can have a device that will auto-select the best wattage range. The two panel display showcases the info for setup and there is no large screen or advanced features to get hung up on. All the info you need is on screen and you can select through the button cycles to find 4 optimized wattage levels. LED display showcases the current settings easily
Huge Power Packed in A Small Container
The Adept comes with a 3000 mAh battery with a 2Amp micro USB quick charger. The tri-color LED showcases current battery level.
Great Safety Features
Protecting against overcharging
Protection on discharging
Short circuit protection
Protection from overheating
High resistance cut-off
Over voltage protection
What's more on Innokin Zlide Tank
Innovative Childproofing
The top cap on board is designed with childproofing in mind. The mouthpiece removes and allows the top cap to slide open, With the mouthpiece removed the cap lock closes, preventing use of the device.
Easy Filling With The Slide Top Cap
Easy filling with liquid shutoff occurs when the tank reaches 2ml. There is also a 22mm format to help you use a quick fill slide filling top cap. There is little chance of flooding the coil with the quick fill safety features.
Compatible With All Z-Coil Lines
The tank is compatable for filling with any Z coil line. You can quickly clean the device and perform coil replacements with this Zenith.
Super Easy Cleaning
Tanks can be unscrewed quickly for quick glass replacement or simple internal cleaning.
Next Generation 3d Mesh Coil
Z-PlEX3D 0.48 ohm Kanthal 3d mesh coils improve coil life, coil warmth and the overall flavor. This is an option that is perfect with high power or low power settings.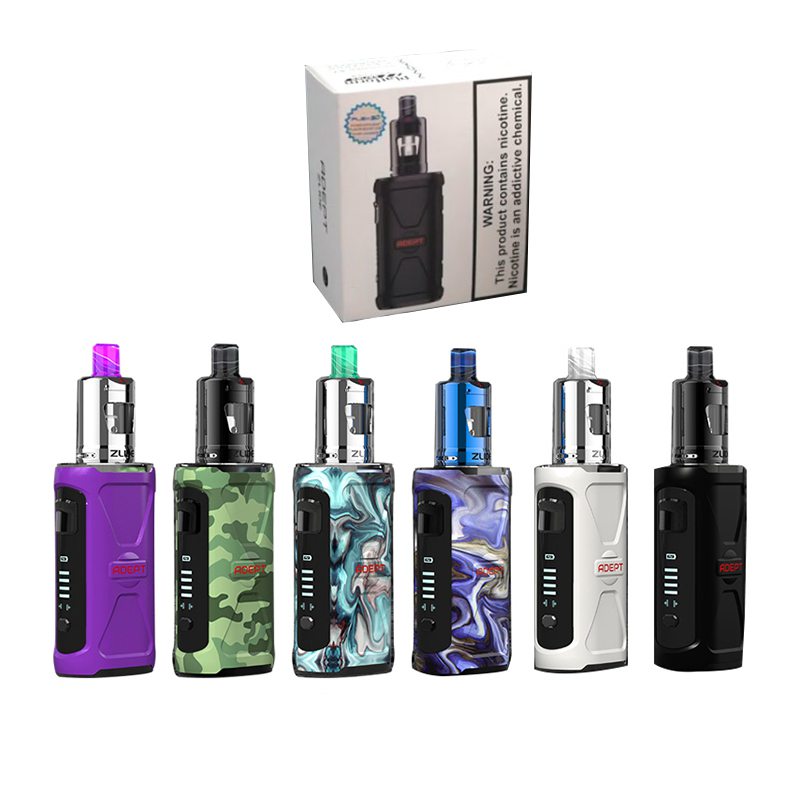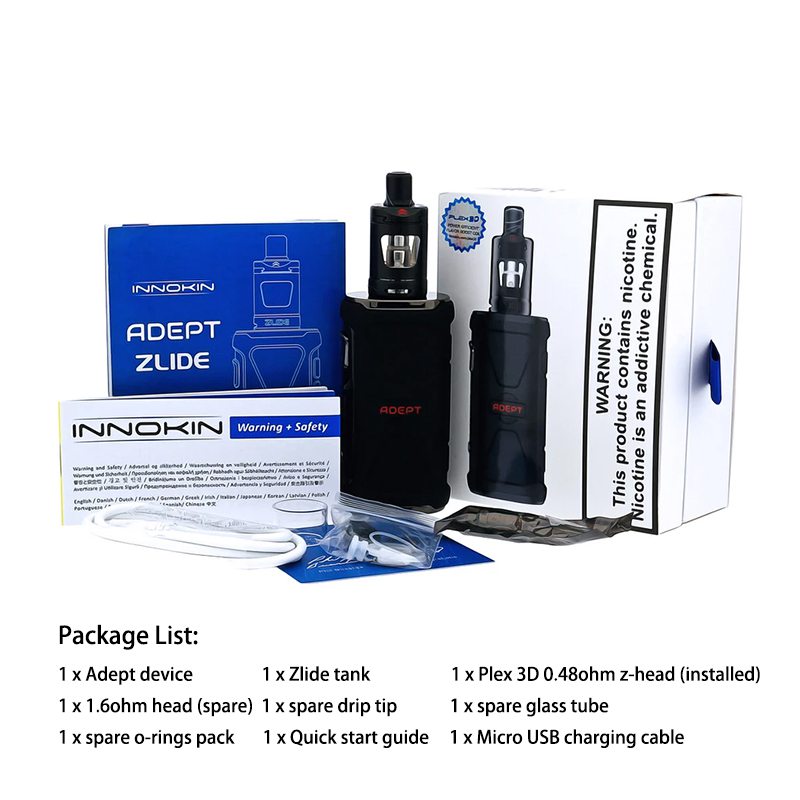 Product added to wishlist
Product added to compare.

By entering Vape4Ever, you affirm that you are of legal smoking age 21+ and you agree to be Age Verified.