Vladdin Slide Kit 1000mAh Pod System
There are not enough products in stock
Presale available! You can order now, we will give priority to your delivery when the product arrives.
Vladdin Slide Kit 1000mAh Pod System is the product of brand Vladdin, it's one of the best vapor products with the option of Goblin Green Kit:1pcs, etc.
Vladdin Slide Kit 1000mAh Pod System Instructions
Vladdin Slide Kit Instructions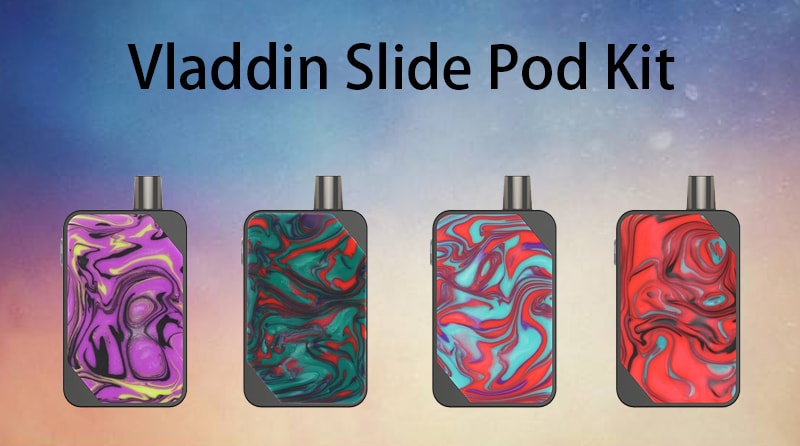 Overview
Vladdin Slide Pod Kit makes use of a transportable size and unique look. It makes use of a slide component design, which has been tried and tested for a use of over 50000 times. The slide design provides the users with a powerful hit. With this innovative design, you can enjoy this new feature for the device.
The vape kit makes use of a 1000mAh battery, with a maximum output of 12W for a stable vaping experience. It has three various voltage settings range from 3.25V to a higher 3.45V, meaning that your vaping experience can be uniquely tailored to your preferences. The pod itself uses a strong mesh coil, which can be replaced if necessary. The amount of airflow in the device can be changed to the users preferences. In addition to this, with the slide panel being used over 50,000 times, you can have a convenient side fill. The 3 battery indicators inform you of your current battery life and the device is available in 4 various colors so you can choose your favorite.
Vladdin Slide Kit Features
Innovative and unique resin panel design
Sliding motion for over 50,000 uses
Maximum of a 12W output
Easy to use slide refill
Large 2ml capacity for e-juice
Changeable airflow
Strong mesh coil & coil replacement support
1000mAh long lasting battery
3 changeable voltages between 3.25V and 3.45V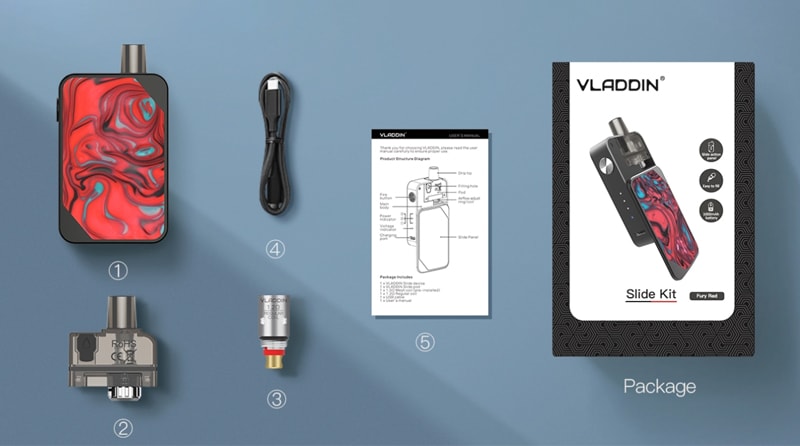 Vladdin Slide Pod Kit Package Includes
1 x Vladdin Slide device
1 x Vladdin Slide Pod (1.0ohm mesh coil Pre-installed)
1 x 1.2ohm Regular coil (Spare)
1 x USB cable
1 x User's manual
1 x Warranty card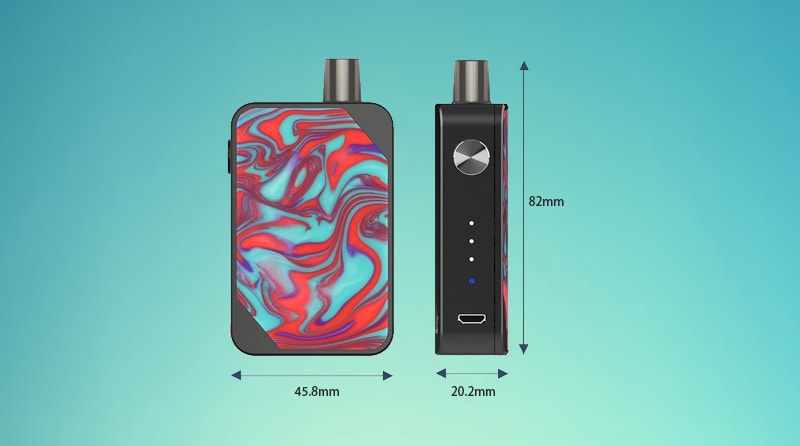 Vladdin Slide Pods Specifications
Size:82mm x 45.8mm x 20.2mm
Total Capacity:2ml
Maximum Output:12W
Maximum Voltage:3.45V
Voltage Options: 3.25V/3.35V/3.45V
Type Of Battery: Single built-in 103030 battery
Total Battery Capacity: 1000mAh
Material's Used: Aluminum Alloy & Plastic
What's More On Vladdin Slide Pod Kit
Innovative Design, 4 Various Colors Available
Unlike the traditional Vladdin RE, the Vladdin Slide Pod Kit is not shaped in the traditional 'pen' look. Instead, it uses the shape of a general box mod, however is significantly smaller, making for a unique yet distinctive design.
Extremely Slim
The total length of the kit is 82mm, the width is 45.8mm and the height is 20.2mm, making it both small and simple to carry around. It can be easily carried both in your pocket, or your bag for a convenient travel. Each Slide Pod System comes with its own unique resin colored panels (4 in total) providing each user with their own unique device.
Slide Feature Can Be Used Over 50000 Times
The Sliding feature allows for a fast and convenient fill. You will not need to disassemble any features to refill the device. You can slide your panel downwards in order to open the hole, then begin your refill. The durability of this mechanism has been tested over 50,000 times, ensuring a durable device that you can enjoy without hassle.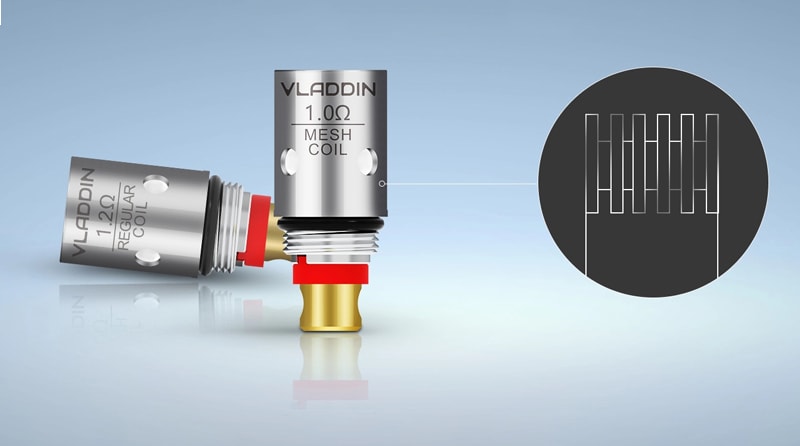 Uses A Powerful Mesh Coil
The mesh coil used helps to provide fantastic flavor alongside high outputs of vapor. The coil has a large area of contact with the wick, enabling more e-juice to be vaporized. It makes use of a grid pattern to provide en extensive taste and smooth feeling with any e-juice.
Coil Is Replaceable
The device allows the users to replace their coils. There will already be a 1.0ohm mesh coil installed, as well as a 1.2ohm regular coil. This allows for a variance in tastes and sensations.
Support Coil Replacement
So that the users can experience a flawless taste on each and every smoke, the box mod supports the replacement of coils. This allows each user to customize their experience and keep flavors fresh and enjoyable.
Adjustable Bottom Airflow
It is possible to adjust the airflow of your device to tailor it towards your preferences. Should you like greater vape clouds, simply adjust your device to limit your airflow, or loosen it for an easy vaping experience.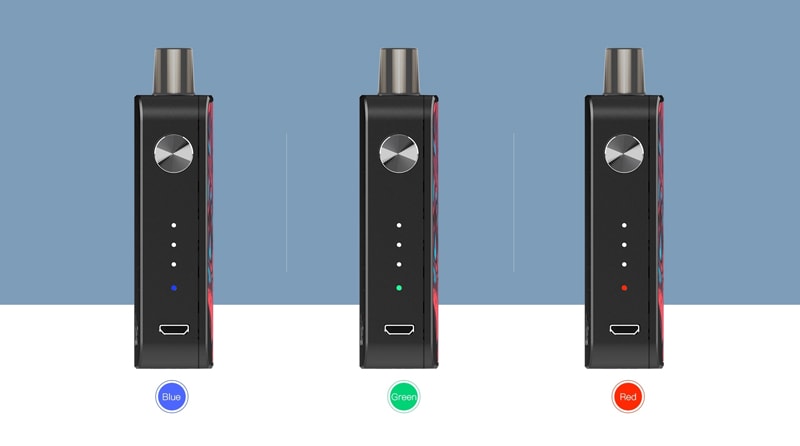 Three Levels Of Voltage Regulation
Fast click your button a total of three times in order to change your voltage indicator. The three settings are: a red light (3.25V) a green lights (3.35V) or a blue light (3,45V).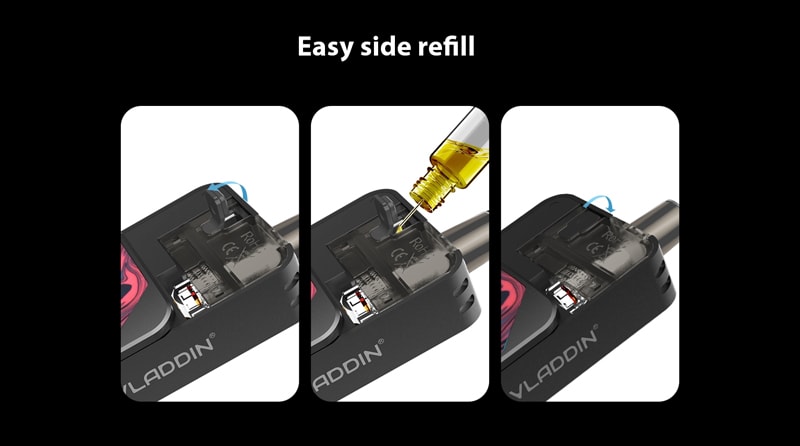 FAQ for Vladdin Slide Pod Kit Problems
How To Refill Vladdin Slide Pod?
Slide your side panel down and remove the pod.
Open up your silicone plug in the left corner of the pod (top), fill the pod through the filling hole with your liquid.
After you have completed the filling process, simple insert your plug and place the pod back into its original spot, then slide the panel up to close the hole.
When Should Change The Coil Of The Vladdin Slide Pod?
For a flawless experience, it is recommended that you change your coil after every 2 to 3 refills.
How To Change The Coil Of Vladdin Slide Pod Kit?
Simply rotate your coil base on your pod.
Rotate your used coil from the base and screw in your new clean coil into the base itself.
Screw base of the coil into your pod.
How To Adjust The Airflow Ring Of The Vladdin Slide Pod Kit?
Simply rotate your airflow ring clockwise to alternate the airflow.
When To Charge The Vladdin Slide Pod Kit?
Once your last LED light begins to blink, your device has started its low power mode and will soon need to be charged before the battery dies.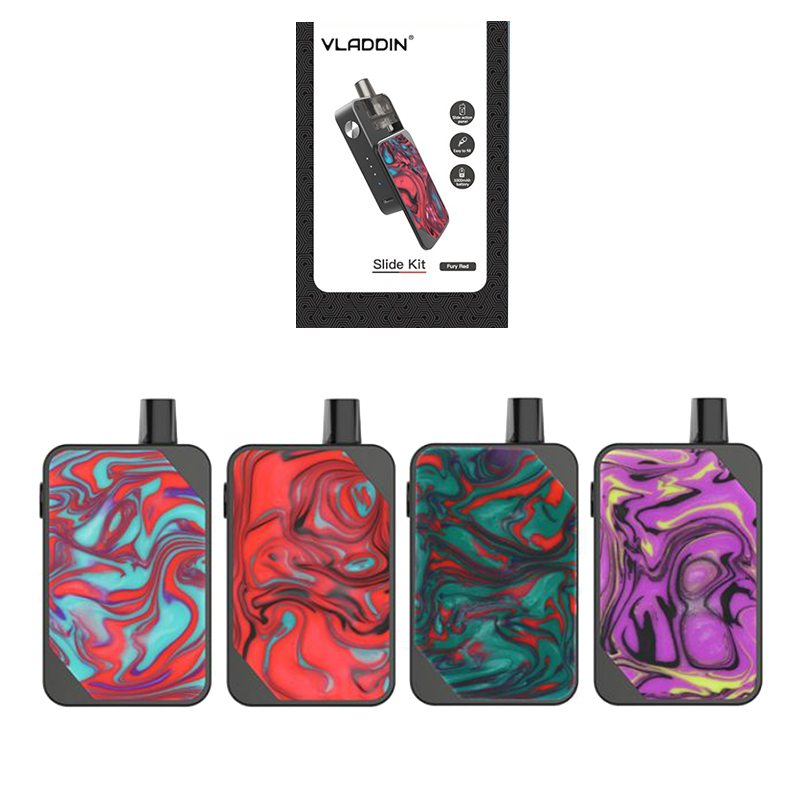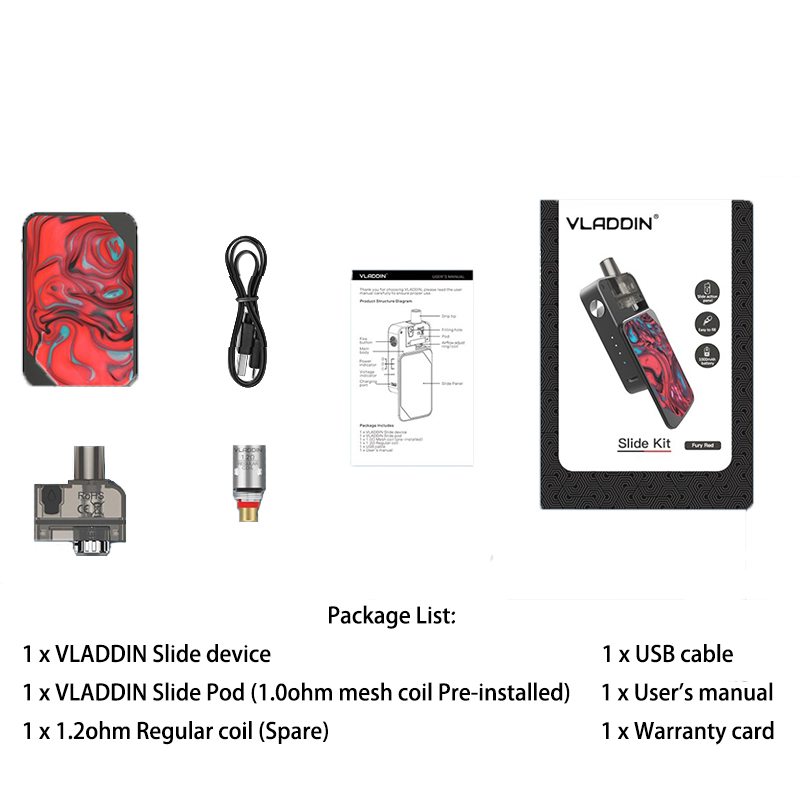 Product added to wishlist
Product added to compare.

By entering Vape4Ever, you affirm that you are of legal smoking age 21+ and you agree to be Age Verified.