HorizonTech Magico Nic-Salt Pen Starter Kit 5.5ml & 2000mAh
There are not enough products in stock
HorizonTech Magico Nic-Salt Pen Starter Kit 5.5ml&2000mAh is the product of brand Horizon, it's one of the best vapor products with the option of SS Kit:1pcs, etc.
HorizonTech Magico Nic-Salt Pen Starter Kit 5.5ml&2000mAh Instructions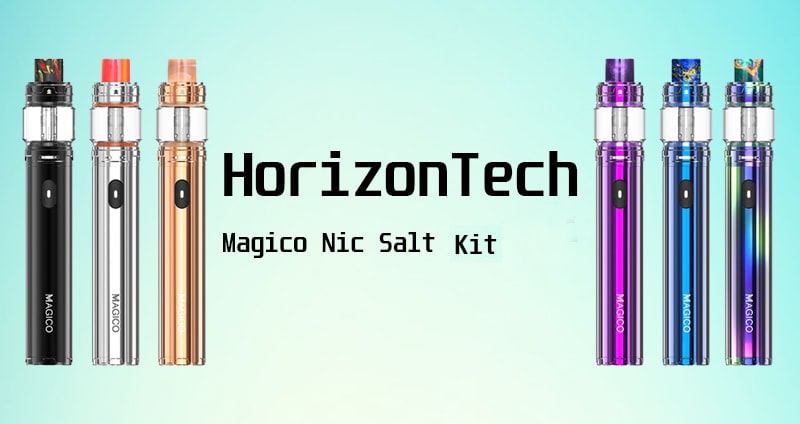 HorizonTech Magico Nic-Salt Pen Kit Overview
Pros:
Comes with 2000mAh of power and 5.5ml onboard
Remains compatible with regular juice and Nic Salt offers power in .12ohm and 1.8ohm
Has new programming through a resistance control microchip
The newest chip is compatible with MTL and DTL
Very stylish finish and available in multiple colors
Easily slides open for convenience and neat refills
Horizontech is known for releasing new vape pen kits quite regularly. The HorizonTech Magico Nic-Salt Pen Kit is a new system that many people are raving about. This is not a pod system but rather something that is designed with nic-salt use in mind. It comes with two different types of coils which are made from a bamboo filter and it works with regular e-liquid designs as well as nicotine salt. With an impressive 5.5 mL liquid capacity and an onboard battery up to 2000mAh, this is a product that you can use for daily vaping with real discretion. The Magico starter kit also comes with two different types of air flow control and this means that you can use the micro hole adjustment to improve the type of vapor that you are inhaling. The device will bring about a better form of saturated flavor or you can change the density of your vapor.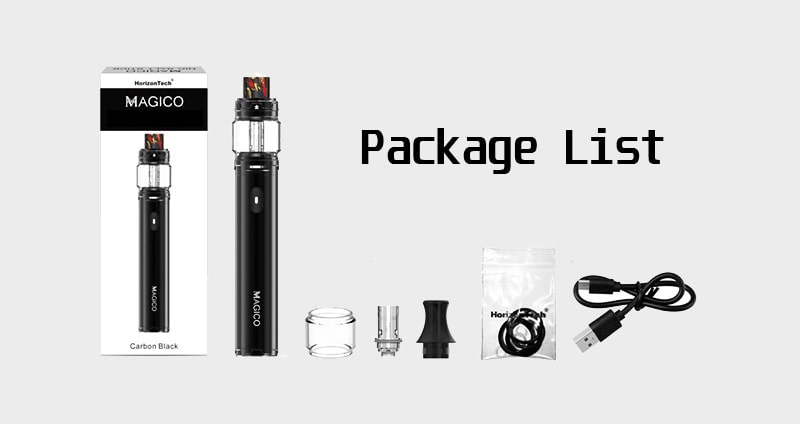 Package Includes
1 x 2ml Magico Nic Salt Tank(included Magico Mesh Coil 0.12ohm)
1 x 2000mah Buit-in battery
1 x Magico 1.8ohm coil
1 x 5.5ml Glass tube
1 x Drip tip for MTL vaping
1 x Bag O-rings
1 x USB cable
1 x User manual and warranty card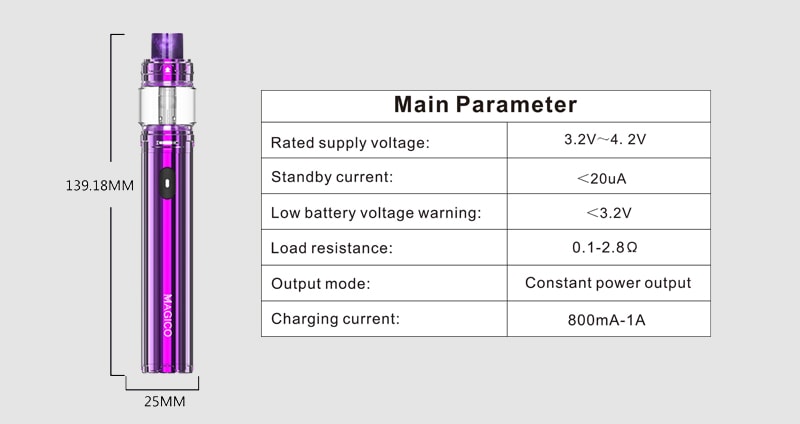 Specification
Battery Size: 91mm x 22mm
Tank Size: 52.4mm x 25mm
Tank Capacity: 5.5ml
Battery Capacity: 2000mAh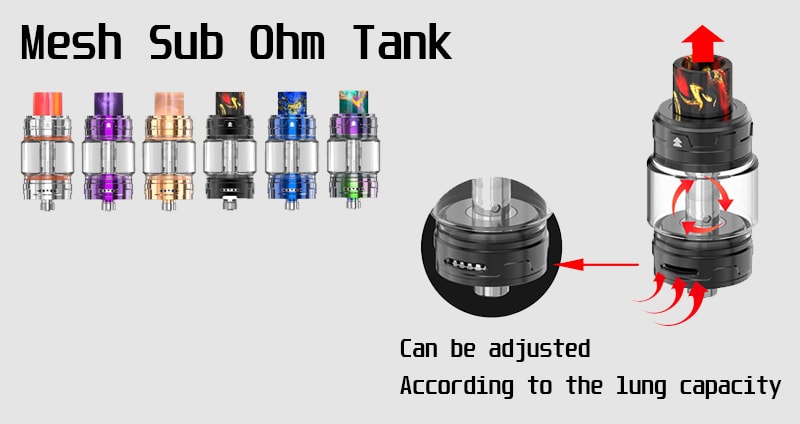 Horizon Magico Sub Ohm Tank
The Horizon Magico tank is quite revolutionary as well. It comes equipped with a mesh coil as well as a .12ohm resistance. This can make sub ohm vaping super accessible for ejuice users. The 1.8ohm coil for nic salt is a product that is also quite easy to use and it can ensure a greater level of versatility for the device. The capacity on this device is 5.5 mL and that can ensure that the average vaper is ready for several days worth of durable vaping. The top filling system remains simple to use and the airflow system on the bottom also is highly convenient for use. The new liquid guiding equipment on board ensures better wick soaking and improved airflow control from the wick too. This is a product that suitable for all kinds of users.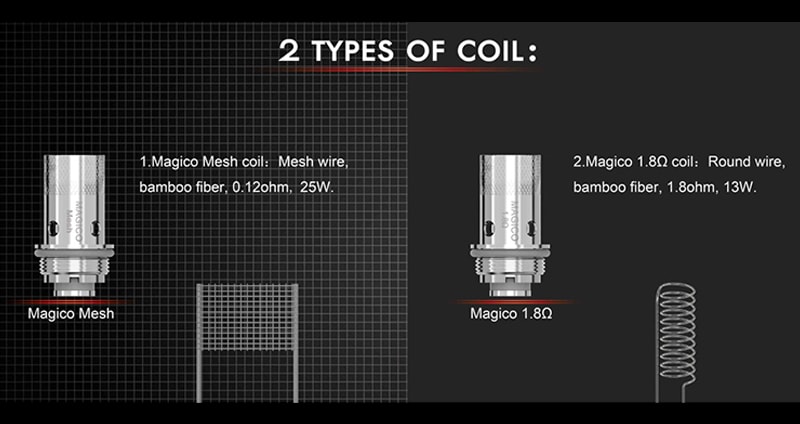 Two Coil Options: Magico Mesh Coil 0.12ohm and Magico Coil 0.18ohm
Horizon Magico coils are .12 mech coils and a 1.8ohm coil. This ensures maximum compatibility and a really good quality of fresh vapor.
Magico Mesh 1.2ohm Replacement coil: The replacement coil is produced using a bamboo filter and mesh coil. Constant output is 25 W +1 Wwith a battery step down to 1.73 V.
Magico 1.8ohm Replacement coil: The replacement coil for the 1.8 ohm is a bamboo filter with a battery boosted to 4.84v and a constant output at 13 W +1W.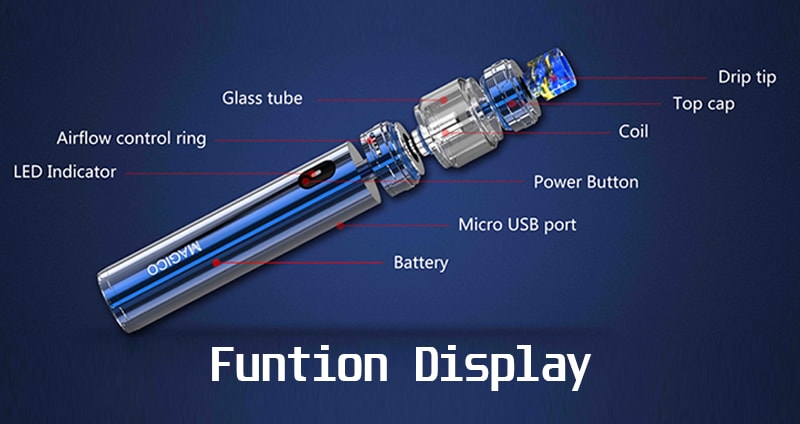 The guide on the HORIZONTECH Magico
The standby mode is activated unless you press the power button five times rapidly. You will notice a flashing white light on the LED button that will go three times and enter into the power mode or power off.
The power light will flash three times and enter into the dormant mode as soon as there is no vaping or draw from the mouthpiece.
When entering into vaping mode the LED light and output will be turned on and the action and output is stopped when the LED light is turned off.
When changing output the indicator will turn green from 4.2 v to 3.9v. The output moves from 3.9 V to 3.7 and the color will change blue. The output moves from 3.7 and the indicator will turn red. The same light will come on when the battery requires a charge.
The working button will be pressed when there is a need for the atomizer to disconnect. White lights will then flash three times in the output will cease.
The charging function with this device is easy. It requires a micro USB at 5.0 V and a connecting charger. The red light will flash and enter into charging mode when the battery power is ready. The battery power is charged for, 18v+0.05 and the green light will come up. This indicates that the charging mode has been completed. The adapter is made with a factory compliancy.
The coil resistance will determine the output power. If the resistance is lower than 10 the output power will be 25w+1w. The load coil resistance at a value higher than 10 will set it at 13W+1. The coils ranging above 30 are not available on this model.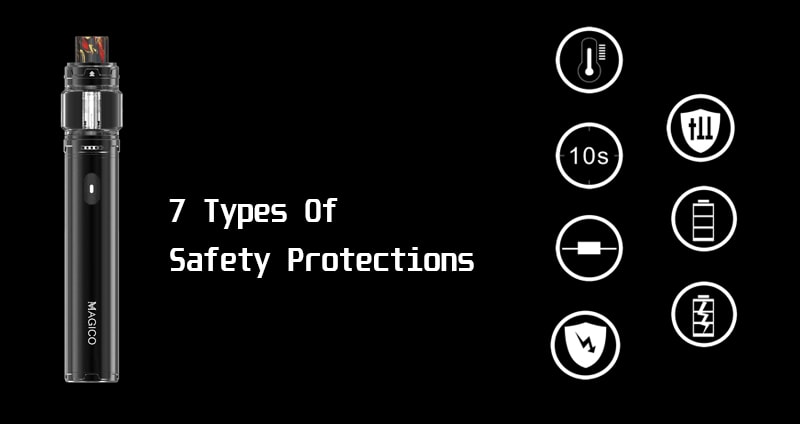 ?7 safety features of the Magico Stick:
Greater temperature protection:
When the temperature on the device or the main control board exceeds 85°C the blue light will flash five times indicating a temperature alarm and the device will shut off.
Improved overtime protection:
If vaping over 10 seconds, the output turns off in the LED light will flash 10 times indicating a timeout on vaping.
Low resistance protection for coil:
To protect the coil, when resistance is lowered below .08 a red light will flash three times and the device will go into a sleep mode to protect the coil.
Protection on low-voltage:
When battery voltage lowers beyond 3.2 V a red light will flash 10 times and indicating a low-voltage alarm and that a proper charge is needed.
Protection from short circuits:
If short-circuiting occurs red lights will flash three times and alarm will prompt to enter the device into a sleep mode.
When charging voltage sits at 5.5 V and a value lower than 24 V, the chip will protect the device shutting it down.
Charge protection in circuits:
When the device is charged to 4.2 +.05 V the circuit will be disconnected to preserve the battery life.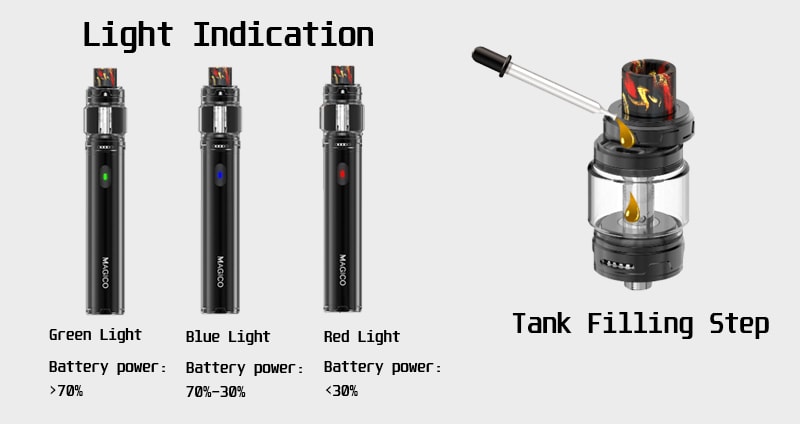 Frequently asked questions about HORIZONTECH Magico Kit
What is the green light, blue light and red light indicate on the Magico stick kit?
The green light is an indication that the battery powers more than 70%, the blue light indicates a battery value between 30 to 70% and if the device is turning red then this is a need for charging as the battery is lower than 30%.
How to prime the juice into the Horizontech tank?
Pull up the slide on the device and open the top cap
Fill the tank using the filling hole
Close the top cap and slide back then press it firmly for a close
You can now use the tank
Customers who bought this product also bought:
Product added to wishlist
Product added to compare.

By entering Vape4Ever, you affirm that you are of legal smoking age 21+ and you agree to be Age Verified.