Yocan ARI Series 510 Thread Battery
Presale
Presale available! You can order now, we will give priority to your delivery when the product arrives.
Yocan ARI Series 510 Thread Battery Instructions
Overview
Do you need a brilliant device for exquisite aromatherapy? Look no further because Yocan has introduced new ARI series that individuals can use for medicinal or recreational purposes.
The Yocan ARI series 510 thread battery amalgamates several incredible features perfect for novice and seasoned vape users. The Yocan ARI series has some basic and advanced dab pen batteries categorized into ARI Mini, ARI, Slim, ARI, and ARI Plus.
These portable, concealable, effortless, discreet mini vaporizers are pretty powerful. Their bodies have a very futuristic, ergonomic, and durable design. Furthermore, these stainless steel manufactured devices have a shiny acrylic display and are grip-friendly.
These dab pen batteries operate via a single button and have a ten-second pre-heat option to heat the oil cartridge for an enjoyable session.
Moreover, these oil or wax dab pen batteries fit any 510 thread cartridges. These dab pens also include top-notch rechargeable batteries, and they offer battery capacities like 350mAh, 400mAh, 650mAh, and 900mAh. Thus, providing several battery options to opt for a device according to your needs.
What if the batteries die? These dab pens come with a hassle-free refueling system. These are rechargeable and use a current-generation technology, i.e., a Type-C USB charger.
The good thing is that the charger charges the device at a supersonic speed, so you don't have to wait longer, thus, making it an exceptionally travel-friendly device. So whenever there is a need to charge, plug in the dab pen to refuel it instantly!
The bottom of the dab pen battery has a twisting dial to change the voltage. You can adjust the voltage from 1.8V to 4.2V, thus, enabling you to adjust the voltage to find the perfect temperature to heat your weed.
Plus, to prevent unnecessary heating and conserve these devices' battery life, they cut-off power after fifteen seconds - which is a very convenient feature. In addition, the Yocan AIR series is available in several colors, i.e., gold, blue, green, red, silver, and black.
Features of Yocan AIR Series 510 Thread Battery
Efficient and straightforward to use
Offers voltage adjustability (1.8V - 4.2V)
Enables fast charging via Type-C charger
Stainless steel construction
Robust and durable
Possesses a rechargeable battery
Shiny, acrylic display
Have a nice grip
Different battery capacity options (350mAh - 900mAh)
Operates via a single button
Includes a ten-second pre-heat option
Safety cut-off after fifteen-seconds
Available in several colors
Specifications of Yocan AIR Series 510 Thread Battery
Preheat Time: 10 Seconds
Safety Cut Off Time: 15 Seconds
Compatible with Wax Coil or Oil Cartridge
Connection: 510 Thread
Compatible with Atomizers with Resistance Greater than 0.8 Ohms
Voltage Settings: 1.8V – 4.2V
Charging Type: USB-C
Colors: Black, Silver, Blue, Green, Red, Gold
YOCAN AIR MINI
Size: 80mm × 14mm
Battery Capacity: 400mAh
YOCAN AIR SLIM
Size: 99mm × 22mm
Battery Capacity: 350mAh
YOCAN AIR
Size: 35mm × 14mm
Battery Capacity: 650mAh
YOCAN AIR PLUS
Size: 110mm × 14mm
Battery Capacity: 900mAh
Package Includes
1 x Yocan AIR Series Battery
How to Use Yocan AIR Series 510 Thread Battery?
Firstly, make sure that your device has a full battery.
Load the device with the wax coil or oil cartridge you desire.
Next, choose the voltage setting by twisting the dial at the bottom.
Press the fire button five times to switch on the device.
As the dab pen begins to make vapors, place your lips on the mouthpiece to inhale those flavorful vapors. Repeat this process as necessary.
Press the control switch five times to switch off the device.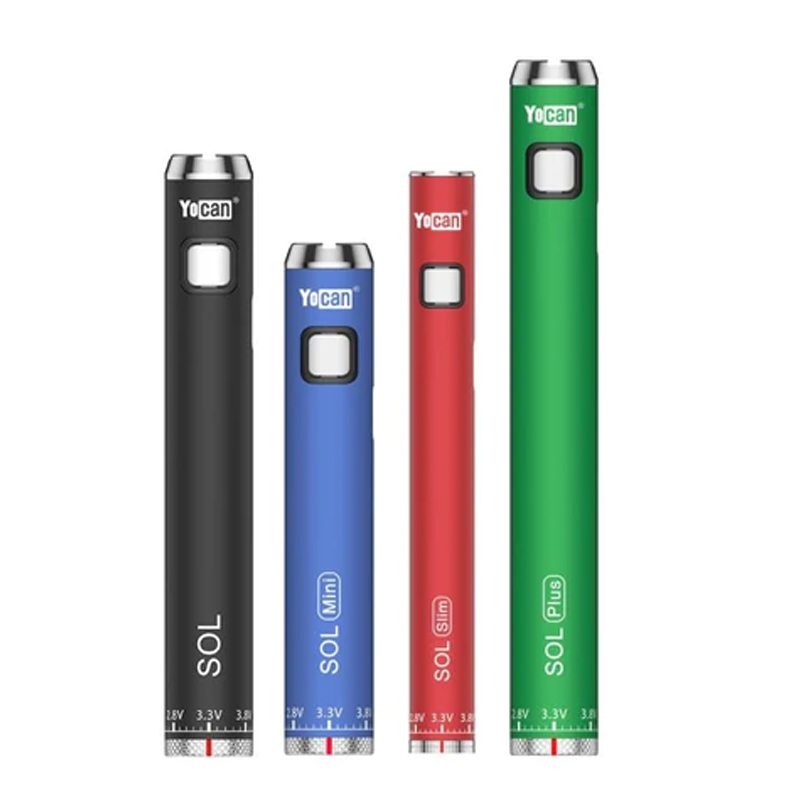 Candy King
Candy King
V4-10800-
Worms - Candy King On Salt is the product of brand Candy King, it's one of the best vapor products with the option of 35mg:30ml, etc.
The Kind Pen
The Kind Pen
V4-11206-
The Kind Pen Bullet Wax Vaporizer with matte finish and ceramic chamber ​is equipped with titanium coil and dual quartz rods for great vaping efficiency
Geekvape
Geekvape
V4-11336-
GeekVape L200 Aegis Legend 2 Kit is lighter and smaller, built with shockproof & leakproof tech, featuring larger air slots, adjustable airflow, and TFT screen.
Customers who bought this product also bought:
Product added to wishlist
Product added to compare.

By entering Vape4Ever, you affirm that you are of legal smoking age 21+ and you agree to be Age Verified.