Yocan B-smart 510 Thread Battery
Yocan B-smart 510 Thread Battery 320mAh, a vape pen battery with LED indicator and variable voltage, preheating within 10s, is compatible with 510 cartridges.
Yocan B-smart 510 Thread Battery Instructions
Overview
The Yocan B-smart is a sleek vape device that takes vaping to a whole other level. Since the device is light in weight, placing it in your pants, jacket or blazer pocket won't be a problem. Thus, with the Yocan B-smart device, you can vape anytime, anywhere without stress. It comprises a 320mAh capacity built-in chargeable battery with a variable voltage range from 2 volts to 4 volts.
This device has rear compatibility with a 510 thread charger and 510 pod cartridges. It also has a LED indicator that shows the battery power levels. This indicator also provides a charging signal and percentage of the present battery charge. Below are features, specifications, maintenance and how to use the Yocan B-smart battery.
Features of Yocan B-smart 510 Thread Battery
Durable battery capacity (320mAh)
Pre-heated duration of 10 seconds
It is compatible with a 510 thread charger
Compatible with 510 pod cartridges
A variable voltage that ranges from 2 volts to 4 Volts
Available in various colors
LED light battery indicator
Compact battery
Specifications
Battery Capacity: 320mAh
Convert 510 Thread Battery to USB
Voltage Range: 2.0V-4.0V (Twist)
Preheat Time: 10 Seconds
Color: Black, Gold, Blue, Silver, Red
Package Includes
1 x 510 Thread Charger
1 x B-Smart Battery
How to Use Yocan B-smart 510 thread Battery?
Prepare the Yocan B-Smart Battery and turn it on.
(Note: Make sure the battery is fully charged before you turn it on. Press the power button located below the Yocan logo five times.)
Load the Yocan B-Smart Battery with wax concentrate or oil cartridges.
Tightly connect the atomizers or cartridges to the Yocan B-Smart.
(Note: Be careful when tightening the atomizers to the 510 threaded connectors, to prevent the thread from getting worn out. Loose or leaking connection affects the status of electricity and it will invariably affect the vaping experience.)
Vaping: Make sure the battery is fully charged and the device is loaded with your favorite cartridges or atomizers before starting to vape.
After the above procedures, place your lips on the atomizer or cartridge mouthpiece and be ready to inhale.
Long press and keep holding the power button until it makes a vapor, then inhale it.
Repeat this way until the loaded atomizer or cartridge is empty.
How to Maintain Yocan B-Smart Battery?
Clean and reassemble the device after use.
Avoid the use of an incompatible charger and adhere to the charging instructions.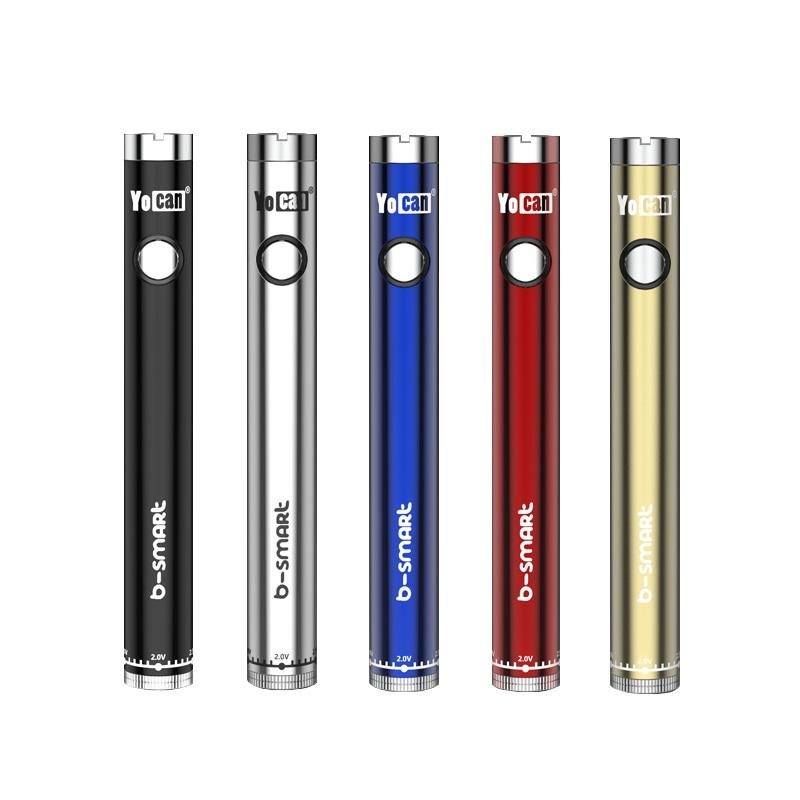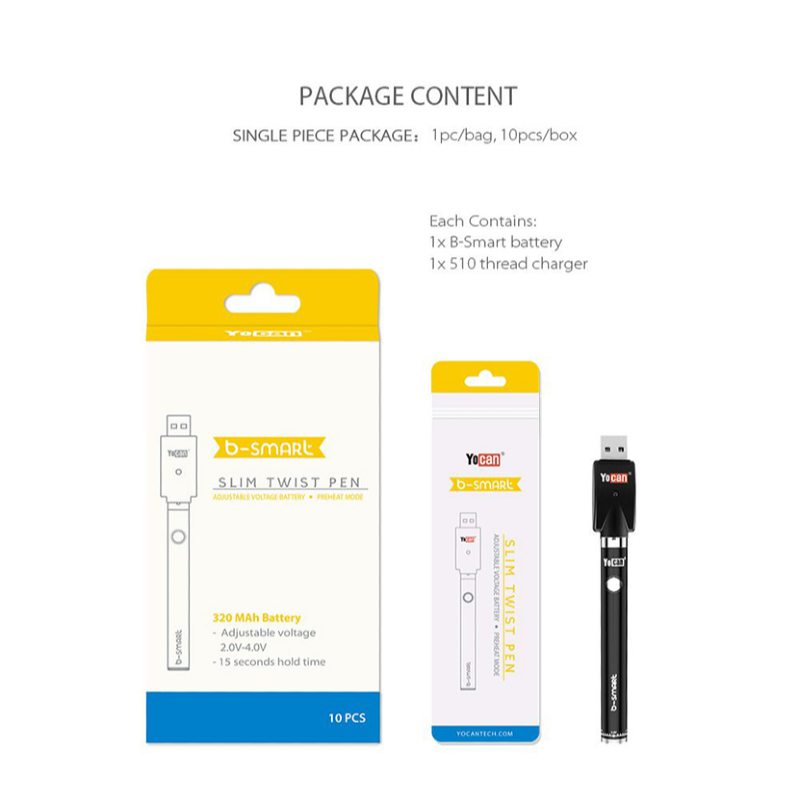 Customers who bought this product also bought:
Product added to wishlist
Product added to compare.

By entering Vape4Ever, you affirm that you are of legal smoking age 21+ and you agree to be Age Verified.