CBDfx CBD Vape Juice 30ml Collections
CBDfx CBD Vape Juice 30ml Collections is the product of brand CBDfx, it's one of the best vapor products with the option of Blue Raspberry 500mg:1pcs, etc.
CBDfx CBD Vape Juice 30ml Collections Instructions
Overview
CBDfx vape juice is one of the highly popular and leading products of the CBDfx company. They offer organic and pure CBD for the vaping liquid so the user can have the ultimate experience. These CBD vape juices by CBDfx come in a variety of flavors and you have the option to choose whichever one you want to try or pick the ones that will suit your tastes the most.
These CBDfx vape juices contain the ideal concentration of organic CBD, therefore your need for hemp is met in the best possible way. The vaping juice comes in such measurements that it is easier to control the juice's volume that you want to use throughout the whole day. The CBDfx vape juices collection is created in such a way that it can be used with any standard vaping devices, including with portable and smaller vaping kits. Hence, you are able to control the dose of your CBD that you want to vape in an enjoyable and convenient manner.
Features
Comes in a 30ml bottle
CBD available in 1000mg or 500mg
Obtained from organic hemp farms in the United States
Carefully made inside a cGMP certified facility
Perfect PG/VG ratio for the ideal vape hit, each time
Multiple delicious flavors
Specifications
Use For: CBD Vape Juice
CBD Contains: 500mg / 1000mg
Bottle Capacity: 30ml
Flavor: Strawberry Kiwi, Wild Watermelon, Blue Raspberry, Strawberry Milk, Fruity Cereal, Rainbow Candy
Package includes
1 x CBDFX CBD Vape Juice 30ml
What's more on CBDFX CBD Vape Juice?
CBDfx vape juices are highly effective, and that effectiveness is due to the high quality ingredients that are used when making this product. Another great thing about these vape juices is that they are made from natural ingredients. The ingredients used in the vaping juice depend on the flavor of that specific vaping juice. For example, the blue raspberry vaping juice flavor contains raspberry extracts. The strawberry flavored vape juices contain strawberry extracts, and so on. Besides the natural ingredients and the natural flavoring extracts, these vaping juices are also made up of vegetable glycerin, propylene glycol, and of course cannabidiol (CBD). Not a lot of chemical components are used when making this product; hence this makes it safe to use.
·
How to use CBDfx vape juice?
You can use the CBDfx vape juices in refillable vape cartridges in order to fully immerse yourself in the vaping experience.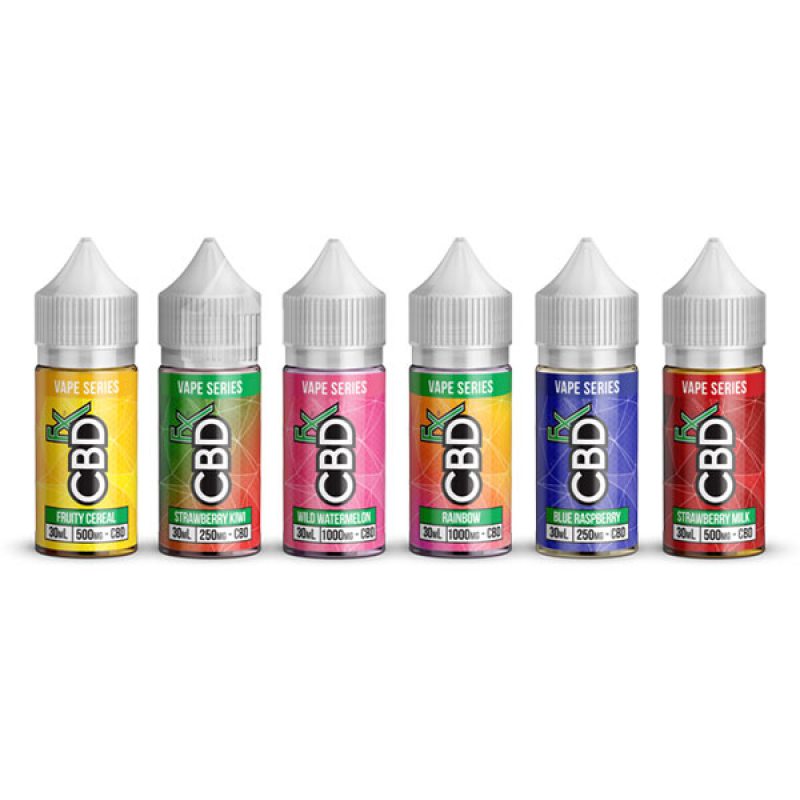 Customers who bought this product also bought:
Product added to wishlist
Product added to compare.

By entering Vape4Ever, you affirm that you are of legal smoking age 21+ and you agree to be Age Verified.