Juice Head eJuice 100ml Collection
Juice Head eJuice 100ml Collection is the product of brand Juice Head, it's one of the best vapor products with the option of Strawberry Kiwi 0mg:1pcs, etc.
Juice Head eJuice 100ml Collection Instructions
Overview
Juice Head is focused and working on creating customers that are loyal to the brand and will never forget the taste and quality of vape juices. The flavor inside each pack of vape juice is in great quantity that each puff is going to feel like your first. Vape juices by Juice Head are the best recreation of your favorite fruit flavors that you can enjoy all day long.
Juice Head - Blueberry Lemon 100ml
Blueberry lemon is a very delicious flavor as it will take your buds up a wall. This particular flavor is made with blueberries with slight tartness, however, most of the blueberries used are sweet in taste and bit of lemon flavor is also used. As soon as you take a puff of a Juice Head Blueberry Lemon, the blueberry vape juice flavor will give your taste buds a mixed flavor of bitterness and sweetness. The best thing about this vape juice flavor is that it will give your taste buds utmost joy and flavor that you'd want to hold on to. With each puff of this flavor the perfect blend and balance of lemons and blueberries will give you sweet and bitter flavor and it will make your taste buds scream with happiness and joy.
Juice Head - Peach Pear 100ml
Summer comes with many refreshing fruits that help us relax under the hot sun. With this delightful flavor of Peach Pear by Juice Head we want you to enjoy the perfect peachy flavor. In summers the beautiful orchards get filled with delicious and warm Georgia peaches that gently sway in the sweet summer breeze. When take a bite of a warm peach, its juice forms sticky streams and run down your mouth that makes it the flavor of summer. This flavor also contains the juice of fresh d'Anjou pears, combined together they provide great taste and joy to your taste buds. This flavor is perfect for people who love pear as it also captures the grainy pear skin combined with energizing flavor of subtle sweet pear Drax. Enjoy puffing this perfect blend of peach and pear goodness and prepared with the warmth and freshness of summers. This flavor will fill you with hot summer air and appealing sweet fruit aromatic tastiness. Made with fresh peaches and pears, this flavor gives your taste buds blend of sweet and sun-warned fruit juices that you'd be able to enjoy for days to come.
Juice Head - Pineapple Grapefruit 100ml
This flavor by Juice Head consists of juicy and delicious grapefruit combined with the hint of pineapple to product a flavor that will make you go wild.
When you will inhale the Pineapple Grapefruit Juice Head flavor it gives an amazing wholesome taste of pineapple which gives an amazing experience to enjoy the real taste and flavor. This flavor is very rich and exciting that it will become one of your favorite flavors. When you exhale the grapefruit, flavor takes over the pineapple flavor and gives a soothing feeling taking away the tanginess of pineapple. This combination is such a unique combo that it immediately becomes the first choice and gives an amazing pleasure to the taste buds.
Juice Head - Strawberry Kiwi 100ml
This flavor is another exclusive combination of energizing flavor of juicy strawberries and tasty kiwis. This flavor gives a nostalgic reminder of summer feeling even in the period of winters. Just a puff of this flavor vape juice and it will be leave you needing for more and more. As you start puffing the vape juice the freshness of strawberries will make your taste bud enjoy the most ultimate taste of strawberries. The flavor is in such a right combination of both the fruits that it gives the feeling that nothing can be compared to it. When you exhale, the fruity taste of kiwis takes over the strawberries' sweetness making you enjoy it all day long.
Juice Head - Watermelon Lime 100ml
Juice Head always comes with a unique blend of fruits. Watermelon and lime are a flavor that is out of the world. One can truly appreciate this marvelous art of combining these two flavors to make the person on the top of the world. This summery flavor of watermelon and lime gives the freshness and takes over the all the taste buds in the mouth. The watermelon flavor is extracted from the rich juicy and fresh melon that a refrigerated to deliver the most amazing flavor. This vape juice flavor will give the most authentic taste of the watermelon. But not only this flavor is offering the rich taste of watermelon, it also offers a rich taste of fresh Floridian limes picked just for the crafting of this amazing flavor. These fresh green amazing limes takes the flavor to whole new level of tanginess when exhaling the flavor. When inhaling the flavor, the majestic watermelon taste takes over the entire mouth making you feel like you are swimming in watermelon juice and while exhaling the flavor it take you to whole new level that makes you feel like walking in the gardens of Floridian limes.
Specifications
VG / PG Ratio: 70 / 30

Nicotine Level: 0mg / 3mg / 6mg

Nicotine Type: Regular Nicotine

Bottle Sizes: 100ml

Bottle Type: Plastic Dripper

Brand: Juice Head
Package Includes
1 x 100ml Juice Head E-liquid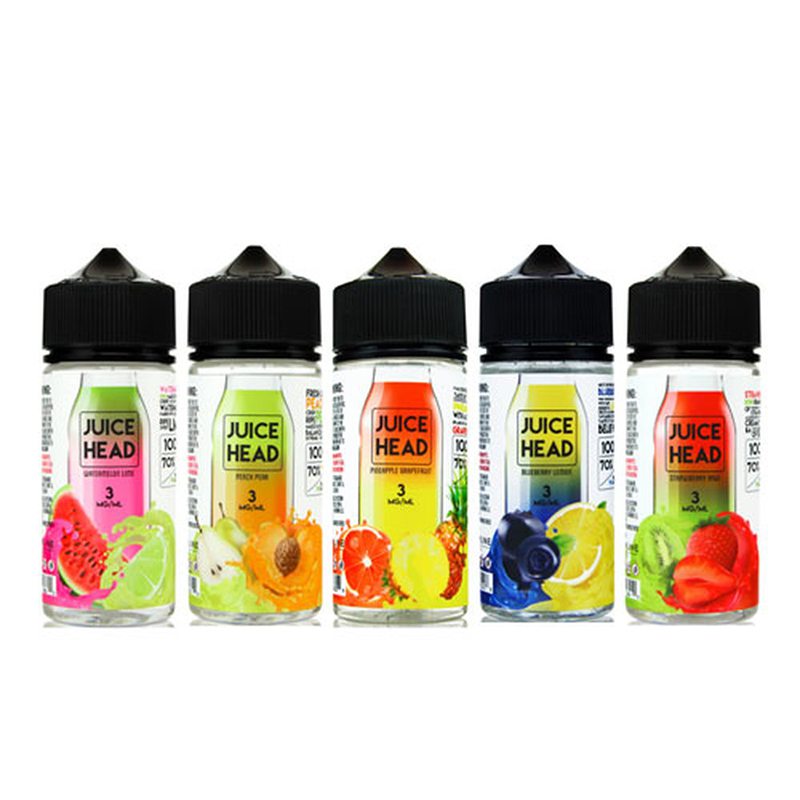 Customers who bought this product also bought:
Product added to wishlist
Product added to compare.

By entering Vape4Ever, you affirm that you are of legal smoking age 21+ and you agree to be Age Verified.