Kangvape Klasik V2 Vaporizer 650mAh
There are not enough products in stock
Kangvape Klasik V2 Kit 650mAh is the product of brand Kangvape, it's one of the best vapor products with the option of Black Metal Kit:1pcs, etc.
Kangvape Klasik V2 Kit 650mAh Instructions
Kangvape Klasik V2 Kit Instructions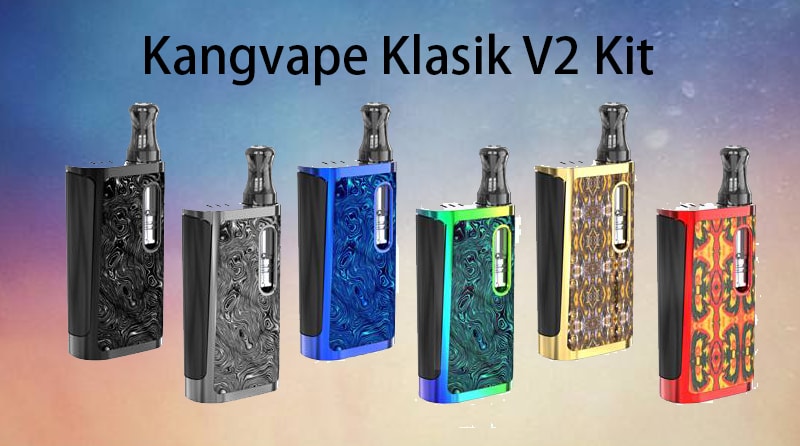 Overview
Kangvape Klasik V2 Kit is based on the design of the popular and original Kangvape Klasik Kit. It adds to the beauty with multiple options in colors.
The package contains premium Klasik V2 Mod. The mod is served with customizable output/preheating settings. The package also carries advanced K5 cartridge. Its wickless core is ceramic and optimum heating potential delivers top results.
You can fill max 0.5 ml of e-liquid from the top of the cartridge. The volume is enough to last a day without having to worry for a refill.
The Klasik V2 Box Mod is served with a universally compatible 510 thread connection. The connection is good for most other models of atomizers with a diameter of 11mm.
You have the freedom to pair any type of oil cartridge with this device. The settings will allow you to enjoy optimal output for great vaping experience.
The device is designed with preset voltage levels (four in number) for best possible results. Press the power switch for five times to turn the device on.
As soon as the device is powered on, select the desired voltage level through 3 times pressing of the power button. The LED indicator on the device will indicate chosen output level as follows:
3.2V: Red
3.5V: Blue
3.8V: Green
4.1V: White
After you have set the power output of the device, turn the preheat mode for first usage. This feature in Klasik V2 starter kit is designed to auto heat the liquid in cartridge for fifteen seconds by double clicking the button.
The device features an LED indicator to warn you about the remaining life of the battery. The feature works with double push on the button with an interval of 2 seconds. Three different colors of LED will indicate the life as follows:
Red: 10-40%
Blue: 40-60%
Green: 60-80%
White: 80-100%
Kangvape Klasik V2 Kit Features
Easy to carry with super compact size that fits the palm of your hand
Modern design with multiple color options
Easy single button working with LED power indication system
Manufactured with industrial grade Zinc alloy
Unique preheating feature with customizable power output option
Pass-through charging with micro USB power input
Custom Kangvape K5 Cartridge (high quality)
5mL trouble free refilling through top slot
Kangvape Klasik V2 Kit Package Includes
1 x Kangvape Klasik V2 Mod 650mAh
1 x Kangvape K5 Oil Cartridge 0.5mL
1 x 510 Magnetic Adapter
1 x USB Charging Cable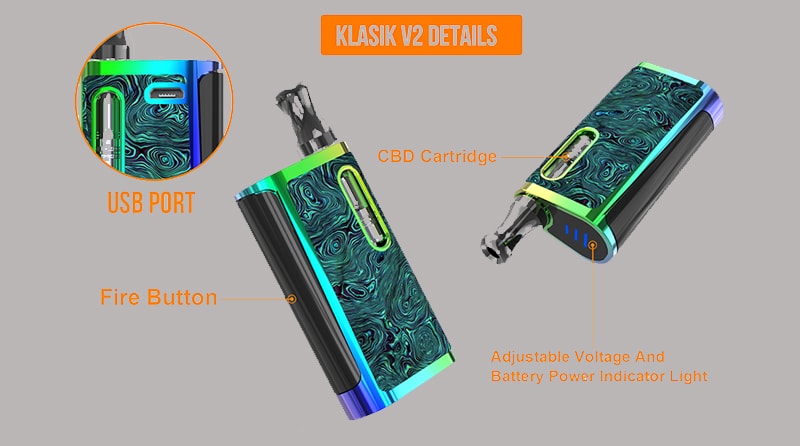 Kangvape Klasik V2 Kit Specifications
650mAh high battery capacity
Adjustable 1.0-3.0ohm atomizer resistance
2V, 3.5V, 3.8V, 4.1V output voltage option
Zinc Alloy material for body construction
18mm x 30mm x 58mm super compact size
510 thread
15 seconds Preheat time for great vaping
120 grams extremely light weight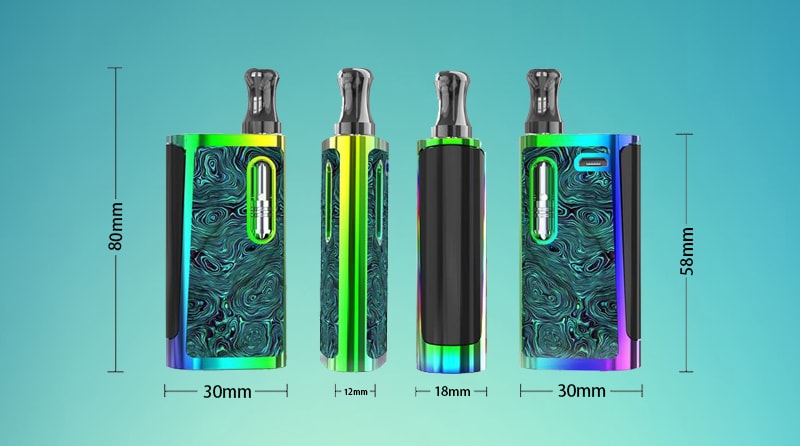 What's More on Kangvape Klasik V2 Kit
Oil Cartridge Battery Kit Equipped With Concealed Power Button
A user will find this device very easy to operate owing to a concealed power button and smart LED power indicator. The device carries a button switch in the form of a bar (instead of a button) that covers the full length of the device body. A user just needs to hold the device in vaping style and press the firing bar.
The device features the innovative preheat mode. The feature enables the device in clearing clogged cartridges and vaping of denser e-liquids. With a dual clicking of the power bar, the Klasik V2 Box Mod warms the liquid for fifteen seconds for a great puff.
Powerful 650mah Battery And High Capacity 0.5ml Cartridge Is Designed For a Complete Day Vaping Fun
The device features a powerful 650mAh battery. The cartridge can hold up to 0.5 ml of liquid with filling from the top. The liquid capacity and powerful battery will enable you to enjoy vaping without having to bother for frequent refills.
Universal 510 Thread Connection with Magnetic Linkage Adapter
Kangvape Klasik V2 Vaporizer Kit is compatible with most of the 510 cartridges available in the market (11mm in diameter). This versatility allows a user to pick from many other models as per personal preference.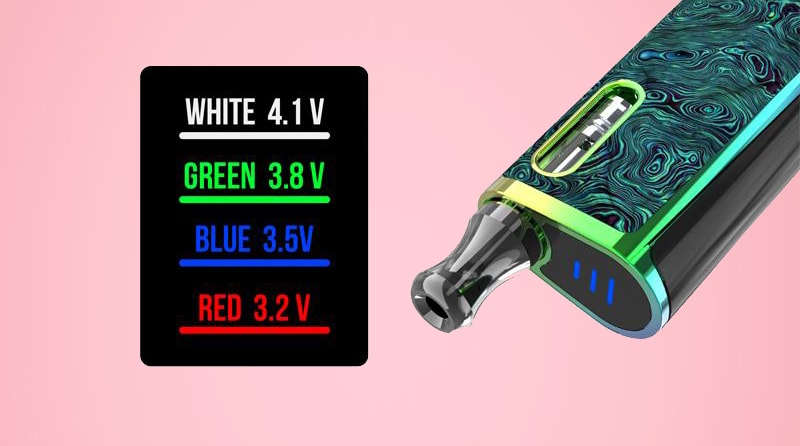 Customizable Voltage Output Personalized Control with Preheat Mode Choice
Kangvape Klasik V2 Kit features amazingly wide choice in voltage range through four inbuilt levels. This feature is meant to deliver top performance through the entire spectrum of personal choices. With the triple click of Klasik V2 Vaporizer's power bar, the LED indicator will flash to indicate four different power levels. A user just needs to press the bar thrice to select the desired output level as follows:
3.2V: Red
3.5V: Blue
3.8V: Green
4.1V: White
4 Broad Inlet Channels Carrying Ceramic Heating Core (Wickless)
The heating system is based on a strong wickless ceramic core. The core heats the e-liquids as they pass through 4 broad inlet ports. The arrangement ensures efficient and complete vaporizing of the oils resulting in impressive vape cloud. The flavor is enhanced beyond your expectations.
FAQ for Kangvape Klasik V2 Kit Problems
How Long Does It Take To Charge Kangvape Klasik V2 Kit?
It will take between 1.5 to 2 hours to fully recharge Kangvape Klasik V2 Kit battery by connecting it to any device accepting USB.
How To Preheat The Kangvape Klasik V2 Kit?
You just need to press the firing button twice and the battery will start warming. The preheating time is about fifteen seconds.
How To Adjust The Power Of Kangvape Klasik V2 Kit?
When the device is already switched on, a user just needs to press the power bar thrice for output voltage selection between 3.2V-3.5V-3.8V-4.1V.
When you don't puff for ten seconds, the device automatically shut down to conserve power.
LED light display white color at 4.1V of output voltage.
LED light display green color at 3.8V of output voltage.
LED light display blue color at 3.5V of output voltage.
LED light display red color at 3.2V of output voltage.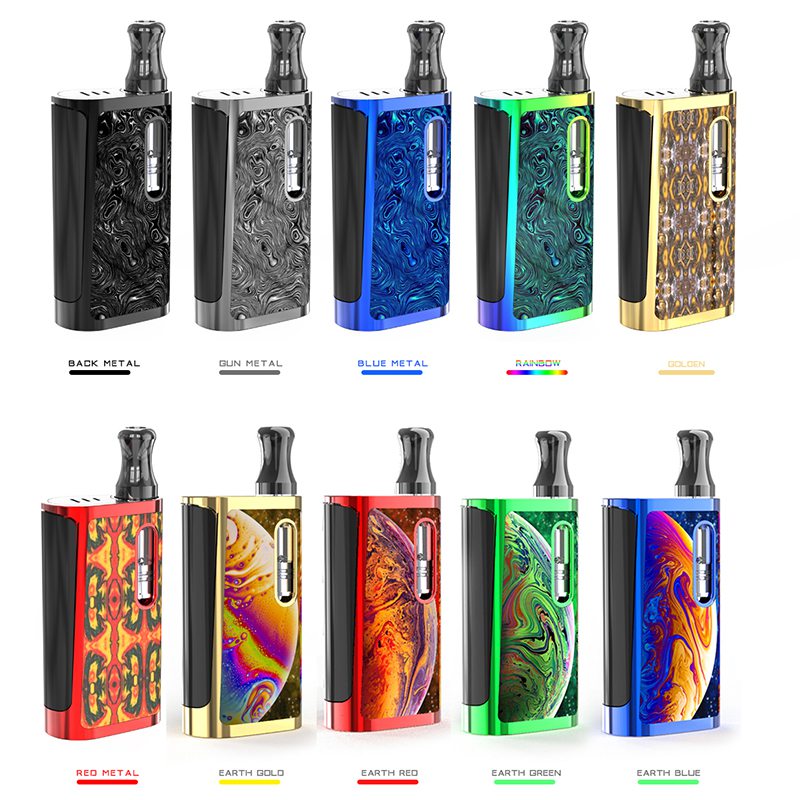 Customers who bought this product also bought:
Product added to wishlist
Product added to compare.

By entering Vape4Ever, you affirm that you are of legal smoking age 21+ and you agree to be Age Verified.