Kangvape TH-420 II 510 Thread Vaporizer 650mAh
There are not enough products in stock
Stock Notice: This product is shipped from China warehouse with 10-15 days delivery time.
Kangvape TH-420 II Kit: 510 Thread CBD Vape Box Mod 650mah is the product of brand Kangvape, it's one of the best vapor products with the option of Black Kit:1pcs, etc.
Kangvape TH-420 II Kit: 510 Thread CBD Vape Box Mod 650mah Instructions
Kangvape TH-420 Instructions
Kangvape TH-420 Review
The Kangvape TH-420 II Kit is a moved variable yield cartridge battery unit that is extreme fragile outwardly with gold aluminum top, with base plates that incorporates a look of indulgence.
Inside each pack there's a cartridge of oil that's full of gold subtleties, this cartridge can be filled again.There's a fixed cup in it that comes with an oil capacity of 0.5mL in like manner has a ceramic focus atomizer that passes on astounding results dependably.
The 510 thread Pyrex oil cartridge is made of glass and it comes with an extremely attractive ring connector. All you have to do is to attach the cartridge with the base of it and then put it inside the TH-420's port, it's quite wide so don't worry, it can easily carry up to 10.5mm oil. Once you do all of that, the magnet will all be wrapped in front of you, all by itself.
The 420 box comes with a mind-boggling summary of features stuffed inside that benefit as much as possible from your fond oils, which is now less complex than whenever in recent times. You can control every component with a single controlling button, making it better for use in a rush.
To turn the battery on or off, all you have to do is to make five quick snaps and the TH420 battery will be controlled right away just as you want it to be.
To start the heating mode, you just have to make three presses that will help you in resetting the voltage and then just with two more presses the heating mode will turn on.
To have the control and to keep a check you can use the LED power light.
During warming the TH420 Box will light one color to tell about its present voltage yield Whenever you want you can similarly check your battery life, simply click the control button a single time following a few moments the LED will streak one color to exhibit the remaining battery.
Kangvape TH420 is pressed in a lithium ion battery that's high in quality and it comes with 650mAH of power. Also, the point of confinement that will prop you up for the duration of the day so you don't need to stress over, over charging over and over. Exactly when the need for charging arises, connect with the USB port, and within a few hours it will be completely charged. When the device is being charged the power button is going to be blue but when it's done being charged, it will turn off itself.
The TH420 Box is adequately a standout amongst the most competitors and by far a champion among the most well designed. Get yours in one of 6 one of a kind colors complete with refined gold shaded plating and comparable CBD oil attachment.
Kangvape TH-420 Kit Features
Easy One Button Control: Perfect for Stealthy in a hurry Sessions
Ultra Convenient USB Charging Method
Bottom Ventilation Design to Prevent Overheating
Short Circuit Protection
Long-enduring Ceramic Core Element for Thick and Flavorful Vapor
Innovative Cup Style Structure for Absolutely No Leaks
Instant and Reliable 510 Magnetic Connector Ring
Kangvape TH-420 II Specifications
Material: Aluminum
Color: Black, Red, Gold, Blue ,White and Skull
Size:35mm(L)*21mm(W)*57mm(H)
Battery Capacity:650mah
Atomizer Resistance:1.2ohm
Atomizer Capacity:0.5ml
Voltage Range:3.4v-3.7v-4.0v
Thread:510 thread
Cartridge material :Ceramic material
Kangvape TH-420 II Kit The Package Includes
1 x TH-420 2Mod
1 x K2 Cartridge
1 x USB Cable
More Details About The Kangvape TH-420 Box II Kit
The Battery
The durable 650mAh TH-420 Battery has three voltage yield settings upgraded for use with concentrates.
Pyrex Glass Oil Cartridge
This Pyrex glass oil cartridge has a cup style structure that makes refilling speedy and wreckage free. It likewise accompanies an attractive ring connector already installed that takes into account a momentous, easy and solid connection.
The TH420 Box Design
At simply 2.24 inches tall by about 1.37 inches wide, Kangvape's TH420 Cartridge Battery makes it as straightforward as can be to take stealthy sessions in a hurry with incredible outcomes and in style.
Match Various CBD Cartridges
This Vape & CBD Box can use for various size CBD cartridge.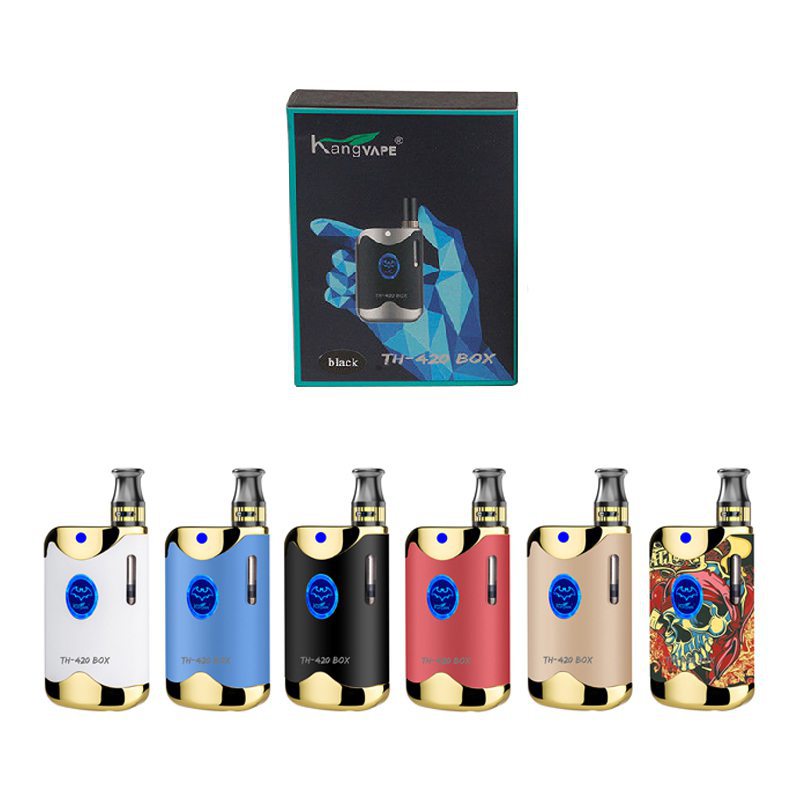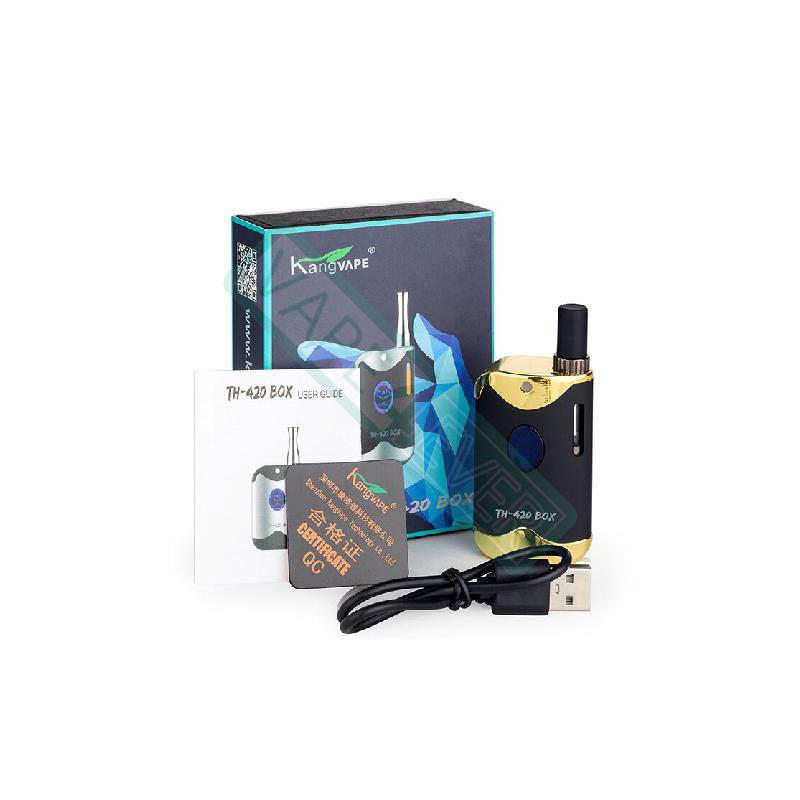 Customers who bought this product also bought:
Product added to wishlist
Product added to compare.

By entering Vape4Ever, you affirm that you are of legal smoking age 21+ and you agree to be Age Verified.