Kangvape Zeus 510 Thread Box Mod 450mah
There are not enough products in stock
Kangvape Zeus CBD Vape Kit: 510 Thread Box Mod 450mah is the product of brand Kangvape, it's one of the best vapor products with the option of Black Kit:1pcs, etc.
Kangvape Zeus CBD Vape Kit: 510 Thread Box Mod 450mah Instructions
Kang vape Zeus Instructions
Overview
The Kangvape Zeus Kit is a great combination of elegance and convenience. Not only it has advanced quality features to heat thin oils (CBD oil or Hemp oil), but it also comes with a modern embellished design that's destined for greatness. This CBD box kit is a small, lightweight, discreet and pocket-friendly device. Its long-lasting zinc alloy construction and sleek exterior sets it apart from its competitors and is guaranteed to turn a few heads.
Inside the kit, you will find the Zeus Box Mod and K3 Crown Atomizer, particularly for oils. This K3 Crown Atomizer can hold up to 0.5mL of oil cartridge with ceramic coil that exhibits either gold or black crown mouthpiece ensuring a right match with the Zeus Battery.
Moreover, Kangvape Zeus Vape Mod features 4 adjustable voltage settings (3.2V, 3.4V, and 3.7V, 4.0V) to fulfill the need of wide range of vapers. It seems that Kangvape Zeus Mod is also aware of the power needs. Just take a hit whether you are using a compatible 510 thread cartridge of your own, or the included oil attachment. The fact it offers an easy-to-use button to warm up the concentrates makes it super easy to use and operate.
The Kangvape Zeus is also equipped with a large power button along with centrally located LED indicator. Make sure to quickly press it five times to switch it on and off. Hit the button three more times during voltage settings adjustment.
The Zeus CBD Vape kit couldn't be simpler to use. The fact that it's built with wickless ceramic core can potentially provide many benefits to vapers. One such advantage is that the Zeus kit lasts much longer than those built with standard wick element. Second, it quickens the process of heating the oils and result in huge clouds and unmatchable performance. Because it lasts longer, you are bound to make use of Zeus kit for a longer time before finding any need to replace it with other vape products that have failed to match that sensation.
Kangvape Zeus Mod Features
High gradeoil cartridge battery kit with ornate and sleek design
Lightweight, easy to carry, andpocket-friendly size
Premiumlithium-ion battery
Convenientsingle button controls
Easypass-through charging option
Elegant black/gold crown mouthpiece
Kangvape Zeus CBD Box Specifications
Material: Zinc Alloy
Color: gunmetal, bronze,gold, silver, copper
Size:38mm(L)*17mm(W)*40mm(H)
Battery Capacity:450mA h
Voltage Range:2V-3.4V-3.7v-4.2V
Atomizer Resistance:0ohm-3.0ohm
Kit Atomizer Capacity:5ml
Thead:510 thread
Reheating time:15s
Weight:99g
Kangvape Zeus Box Kit Package Includes
1 x Kangvape Zeus 450mAh Box Mod
1 x Kangvape K3 Crown Atomizer 0.5mL
1 x USB Charging Cable
More Details About Kangvape Zeus
Variable Voltage Output Control System / 4 Preset Settings (3.2-4.0V)
To switch on the device, you need to press the power button five times and then three more times to modify the voltage output settings. Keep an eye on LED power indicator to manage your settings, since it will flash one of the four different colors to give you an idea of your existing voltage setting (3.2V Purple, 3.4V Blue, 3.7V Green, 4.0V White).
Cutting-Edge 15 Seconds Low Output Preheat Mode
Kangvape Zeus also features an innovative preheat function that will ensure a smooth vaping experience at all times. Kangvape Zeus takes care of the authenticity of tasting flavors. This is why it employs a low voltage output to partially heat the material, and make it ready for optimal use. This way, users are more likely to enjoy accurate vaping experience for what they're supposed to be. This setting also comes beneficial when cartridge starts to clog or having airflow issues.
Press And Quickly Release To Check Battery Level
Want to check your remaining battery life? Well, use that LED to get hold of whether to recharge the device or not. When it is switched on, quickly hit and release the power button. Wait for a second. After that, LED will flash a different color to show off the amount of power you are left with.
Upgrade To Includes Cartridge And Receive K3 Crown Atomizer
It's your choice to either buy the Zeus set with or without a 510 oil cartridge. By upgrading, you can get a high-quality K3 Crown atomizer. It will work as perfectly as the Zeus whether it's about the performance or looks.
Highly Leak-Resistance Silicone Seal System
Leaking is a real problem for vapers. In fact, thinner essential oils generally leak more than thick blends. Choosing silicone seal systems can help you with this issue as it is made up of Pyrex glass with wickless ceramic element, also providing a leak-proof seal system. Now, you won't have to worry about spilling or leaking any liquid.
Easy To Use Single Button Operation
The product is mess free. With a single large power button, you can take charge of heating the material anywhere anytime.
Available With Or Without 510 Oil Cartridge
The Zeus Box Mod has ability to work with any 510 thread cartridge. However, the range should be less than 10.8mm diameter. The best part is its compatibility for majority of 510 thread cartridges in the market. For avid users of vaping devices, this is a great option.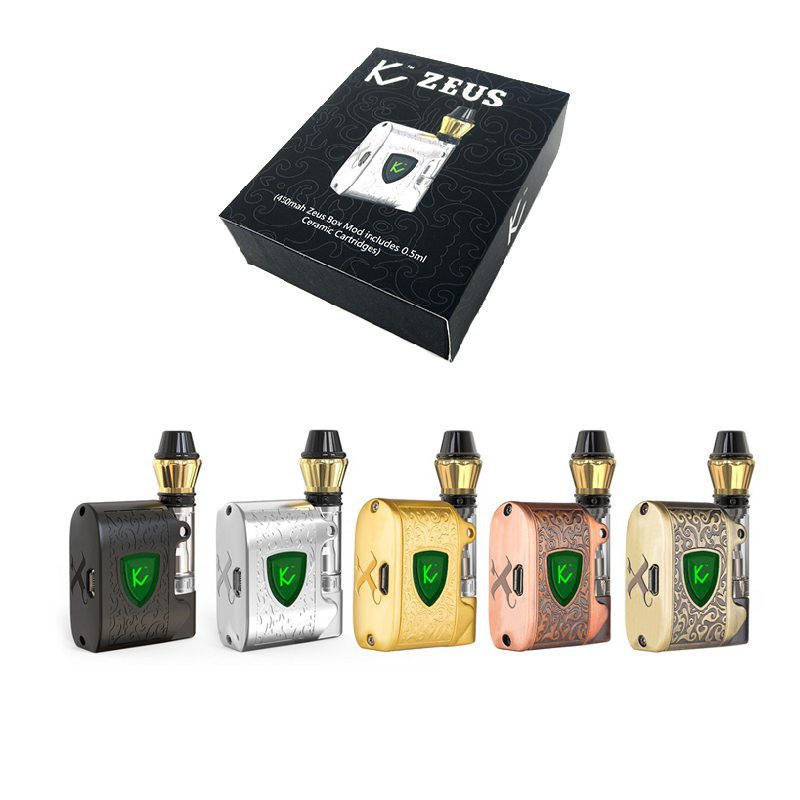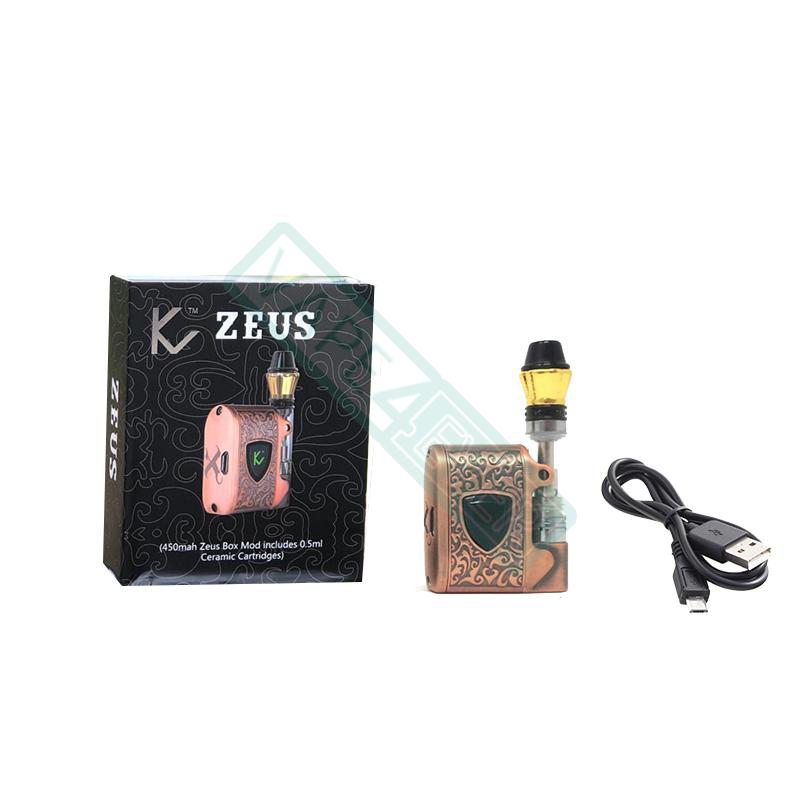 Customers who bought this product also bought:
Product added to wishlist
Product added to compare.

By entering Vape4Ever, you affirm that you are of legal smoking age 21+ and you agree to be Age Verified.