GeekVape Aegis Boost Pod Mod Kit
GeekVape Aegis Boost Pod Mod Kit is the product of brand Geekvape, it's one of the best vapor products with the option of Aura Glow kit:1pcs, etc.
GeekVape Aegis Boost Pod Mod Kit Review
GeekVape Aegis Boost Kit Instructions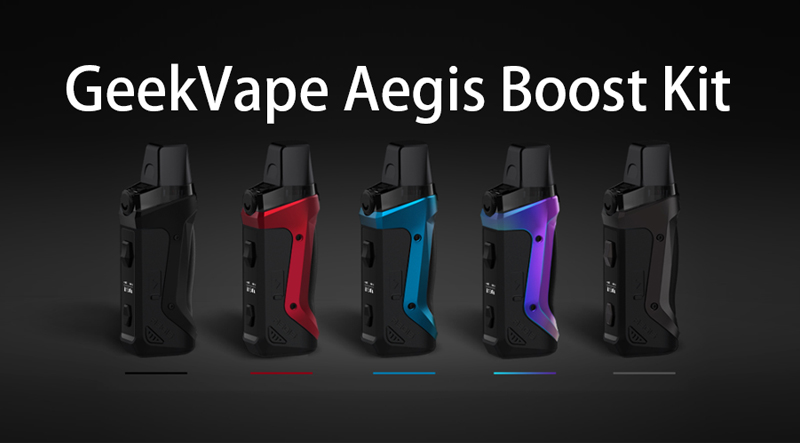 Overview
Geekvape Aegis Boost Kit has two different coils (included solely in the kit set) because it is compatible with both Pod and RTDA. The maximum power is 40W, and the coils are created for DTL and MTL vaping experience. Geekvape designed Aegis Boost as their first All-in-One device. This device also follows Bident as the second vape using pods. The Aegis Boost has a 1500mAh battery incorporated, it has a progressive AS Chipset, and it has the IP67 Rating for being waterproof, shockproof, and dust -proof. The vape kit's chassis is built from long-lasting zinc-alloy, silicone and leather, which make it extremely powerful and safe. The Aegis Boost has a 2 / 3.7ml e-juice pod which can be easily refilled by the top filling system which is closed with silicone. The coils are inserted in a plug 'n' play way and the airflow dial can be modified so that you find the airflow rate which is the most appropriate for your favorite vaping style. The vaping experience and the visual enjoyment are one-of- a-kind. The device has a compact design and a stylized appearance.
Features
Shockproof, Waterproof, and Dust-proof which make it durable and practical for using
It has a 1500mAh battery incorporated for durable enjoyment
The capacity of the e-juice is quite big - 2/3.7ml which provides extended vaping experience
Mobile size and sophisticated and modern design
It can be used both with RTDA and Pod
It has two different coils created for DTL and MTL vaping experience
Corrosion-resistant, stain-resistant, and tear-resistant
The top filling and the airflow valve can be easily accessed
Enhanced taste and balanced heating can be achieved thanks to the mesh coil which is in the kit
The vaping is secure and constant thanks to the numbers protections
Specifications
Dimensions: 106.8 x 39.2 x 27.7mm
Material: Zinc-Alloy, Silicone and Leather
Capacity of the Battery: 1500mAh
Range of the Wattage Output: 5-40W
Range of the Voltage Output: 1.0-6.0V
Firing Speed: 0.08s
Highest Power: 40W
Coil: MESH
Coil Resistance: 0.6ohm
Charging: Micro USB port
Charging Current: 5V/1.5A
Refill Method: top filling which can be easily accessed
Airflow: airflow valve which can be easily accessed
Package includes
1 x Aegis Boost Mod

1 x Aegis Boost Pod

1 x Spare Drip-Tip

1 x Coil Removal Tool

1 x Micro-USB Charging Cable

1 x 0.4ohm Mesh Coil (25-33w)

1 x 0.6ohm Mesh Coil (15-25w)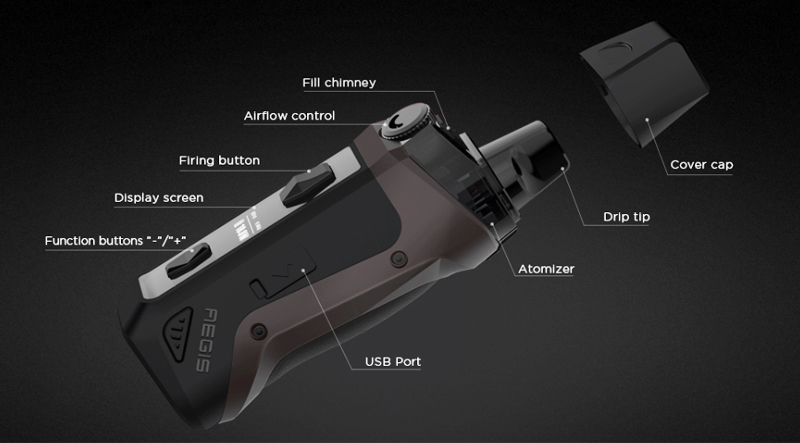 What's more on GeekVape Aegis Boost Kit?
Aegis Boost has a weight of just 120 grams and it is one of the most lightweight pod mods. The maximum power is 40W and it has 1500mAh battery incorporated as well which enables consumers to use it continually for 36 hours. It is advisable to use the coil builds in order to set high wattage.
The device's package contains two different coils and it is compatible with both Pod and RTDA. You can also find guidelines for both DTL and MTL vaping experience.
The device has a moderate design which makes it easy to use. The top refilling system is easy accessible, the leaking-proof airflow valve can be altered by hand, the pod systems can be changed with a quick lock and release, padded leather sleeve grip, and a superior Kanthal coil for incomparable taste.
Aegis Boost maintains a high IP67 rating thanks to the food grade silicone rubber which seals the device and makes it waterproof, the corrosion-resistant body frame made of zinc alloy, and the leather sleeve which is tear-resistant. This device can be used in exceptional outdoor conditions.
The AS Chipset boosts the power effectiveness of this device with variable voltage and an option for altering the resistance. It is extremely fast since it gets started in around 0.8 seconds and the Aegis Boost provides ultimate enjoyment on every shot. It also has a highly developed surge and overheat TC system for protection which provides constant vaping experience and enjoyable outdoor efficiency.
FAQ for GeekVape Aegis Boost Kit Problems
How To Fill the Geekvape Aegis Boost Pod?
1. Take out the silicon Bung placed on the pod's top
2. Add your favorite e-liquid
3. Put the bung at its place and let the e-liquid be soaked by the coil for minimum 3 minutes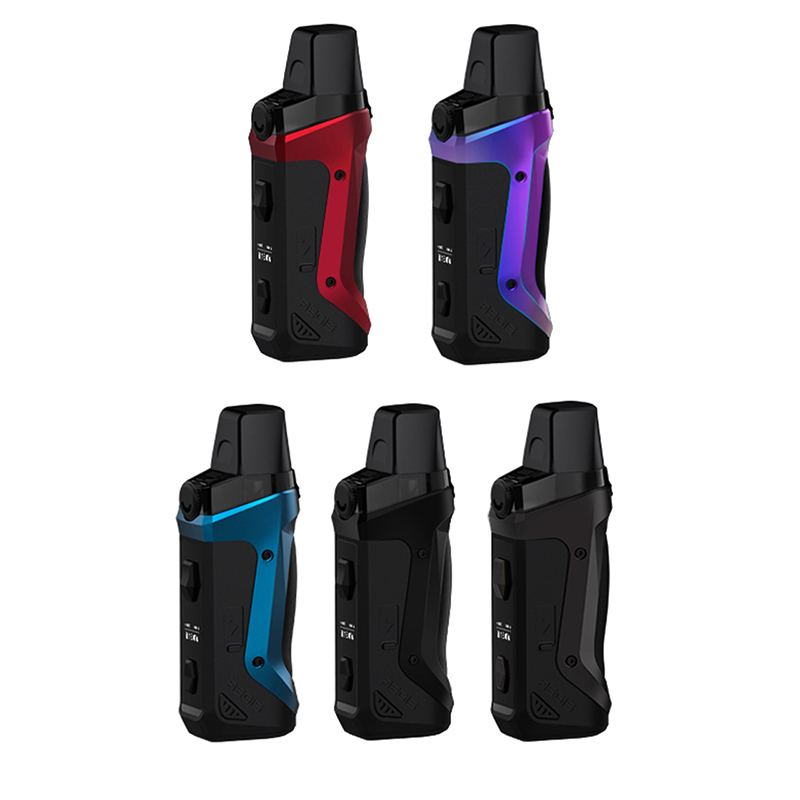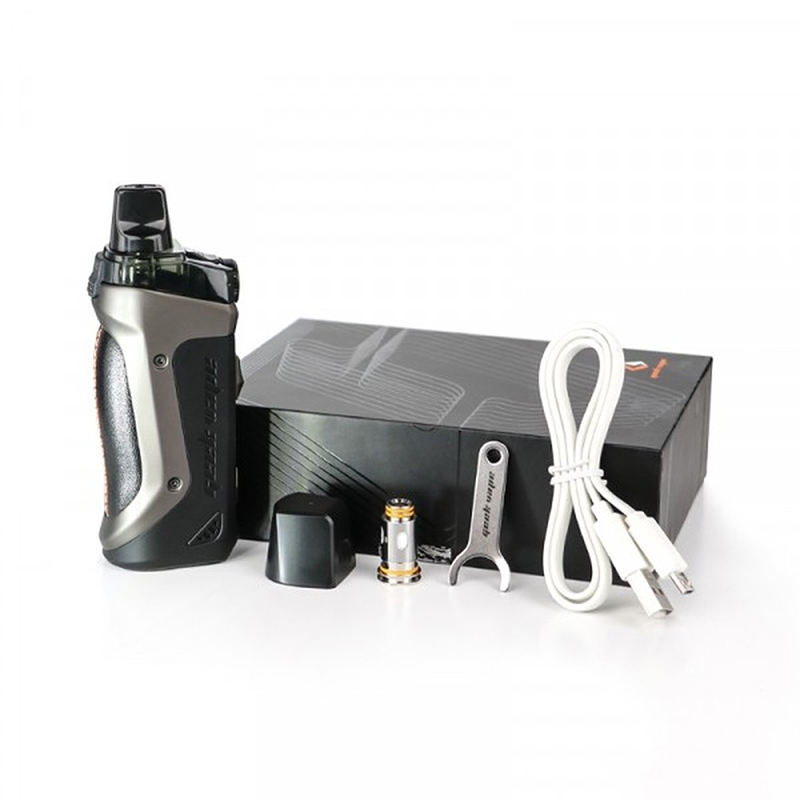 Cheap Vape Products For Sale and Buy
Customers who bought this product also bought:
Product added to wishlist
Product added to compare.