GeekVape B60 Aegis Boost 2 Kit
GeekVape B60 Kit has top airflow leakproof design and is powered by AS-Chip. It has a built-in 2000mAh battery and can be recharged by a Type-C port.
GeekVape B60 Aegis Boost 2 Kit Instructions
Overview
GeekVape B60 Aegis Boost 2 Kit comes with all the essential goodies like the instruction manual, USB Type-C charging cable, an extra o-ring, a crowbar-style coil head removing tool, and a spare 0.6ohm mesh coil head. B60, is crafted from zinc alloy with a leather-like material on the back, making it super grippy.
The outstanding feature of this device is that it is IP68 waterproof, shockproof, and dust-proof. Therefore, the device is the best choice for individuals who are working outdoors because Aegis Boost 2 is durable, wear-resistant, and can take on beating. B60 has a super-fat chiclet-style removable mouthpiece for quick, easy cleaning. Its vape pod is also a guaranteed leak-proof design because the filling system and the airflow are the top. Its excellent large easy-to-open fill port can hold 5ml of e-liquid. The airflow adjustability feature is present on the opposite of the fill system. Slide the lever open or close to adjust the airflow according to your need. The device can provide wide open direct lung and tightly restricted mouth-to-lung (MTL).
Aegis Boost 2 from GeekVape tinted plastic viewing window is transparent to keep tabs on your e-juice level. Since its pod is connected to the base with super strong and secure magnetic connectivity, the device won't separate, even if you drop it by accident. The 0.2ohm mesh coil is attached to the pod's bottom. The best thing is that you can install the coil in any direction without any problem.
Another noteworthy feature is A-lock lever of Aegis Boost 2 Kit that instantly locks the device, eliminating the need to click the firing button multiple times. The single-button operating device also comes with a 0.96 inch LED curved display that allows you to use Boosting and Smart modes. The Boosting or Max mode provides the highest wattage possible for the coil. However, the Smart mode eliminates the process of remembering the recommended wattage because the device reads the coil's resistance automatically and allows you to adjust the wattage within the coil's perimeters.
Holding the firing switch will also allow you to adjust the LED display's brightness. No more dead battery because it includes a USB Type-C charging port to juice up the 2000mAh internal battery. The silicone pad at the bottom makes it grippy when sitting on a flat surface.
Features of GeekVape B60 Aegis Boost 2 Kit
The Smart and Boosting Mode makes vaping effortless
Ideal for novice users or individuals who have difficulty remembering watts
Includes a sliding lock feature
Delivers perfectly intense rips with massive vape clouds
Mesh coils provide pure flavors
Offers direct lung and MTL vaping experience
Durable, robust, waterproof, airflow leak-proof, shockproof, and dust-proof
Rechargeable via a Type-C charger
Includes a curved LED display
Tinted viewing window to quickly check the level of e-juice
Grippy bottom
Allows airflow adjustability
Easy-to-use top-fill system
Single-button operation
Brightness adjustability option
Available in multiple colors
Crafted with an advanced AS chip
Specifications of GeekVape B60 Aegis Boost 2 Kit
Maximum Output: 7.5V, 20A
Output Power: 5W-60W
Battery Specification: Built-in 2000mAh battery
Charging: USB Type-C
Cartridge Resistance: 0.2ohm - 2ohm
Display Monitor: TFT Color Screen, 0.96 inch
Storage Temperature: -20°C~60°C
Operating Temperature: 0°C~45°C
Power Display: Battery icon on the screen
Relative Humidity: 10%RH70%RH
Cooling Mode: Natural Cooling
Fill System: Top Filling
Color: Blue Red, Golden Red, Silver, Black, Bottle Green, Rainbow, Mint Blue
Package Includes
1 x Mod
1 x 5mL Pod
1 x USB Cable (Type-C)
1 x Coil Tool
1 x GeekVape Aegis Boost Coil (Pre-installed: 50-58W 0.2ohm)
1 x GeekVape Aegis Boost Coil (Spare Coil: 15-25W 0.6ohm)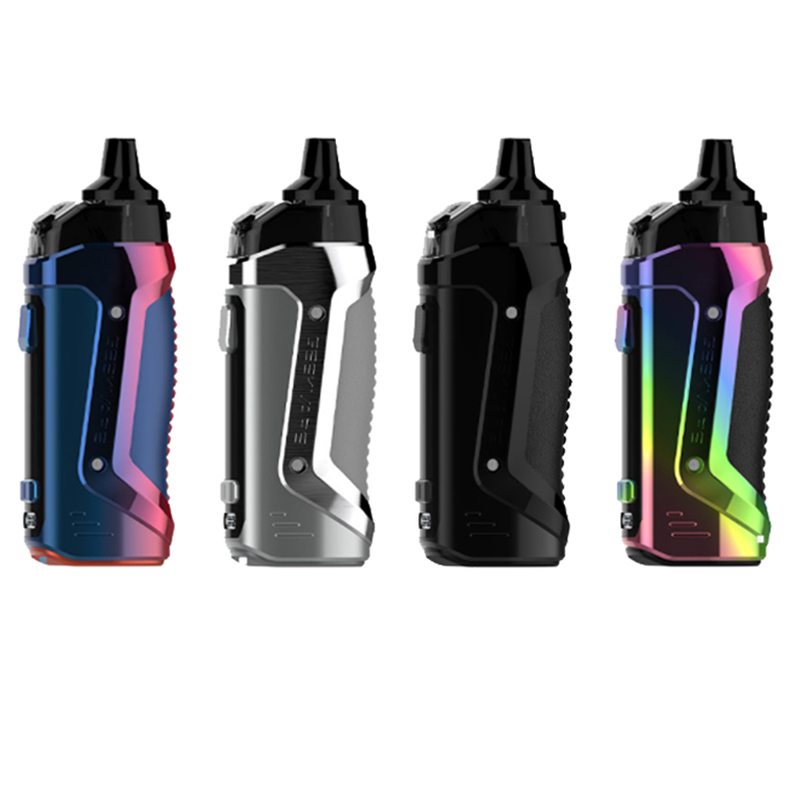 Customers who bought this product also bought:
Product added to wishlist
Product added to compare.

By entering Vape4Ever, you affirm that you are of legal smoking age 21+ and you agree to be Age Verified.