Geekvape Frenzy NS Coils
There are not enough products in stock
Geekvape Frenzy NS Coils is the product of brand Geekvape, it's one of the best vapor products with the option of 0.7ohm NS Mesh KA1 Coil:5pcs, etc.
Geekvape Frenzy NS Coils Instructions
GeekVape NS Coils Instructions
Overview
The GeekVape NS Coil for the GeekVape Frenzy Pod Kit is the best coil accessible for this device.
GeekVape NS loops arrive in a 5-pack and highlight work and standard structures while using natural cotton wicking.
The two loops offer an awesome MTL (mouth-to-lung) experience and are streamlined for use with nicotine salt juice, but at the same time are good with standard e-liquid. The 0.7ohm NS Mesh KA1 Coils include a work plan and are enhanced for lower wattage vapers, while the 1.2ohm NS SS316L Coils highlight a conventional single-coil configuration to concentrate on even airflow and a higher centralization of vapor for those looking for the most extreme MTL experience.
GeekVape NS Coils Package Includes (Options)
1 x 5pcs GeekVape NS Mesh KA1 Coil
1 x 5pcs GeekVape NS SS316L Coil
GeekVape NS Coils Specifications
GeekVape NS Mesh KA1 Coil
Resistance: 0.7ohm Single Mesh Coil
Optimized for lower wattage vapers
GeekVape NS SS316L Coil
Resistance: 1.2ohm Standard Coil
Optimized for flavor saturation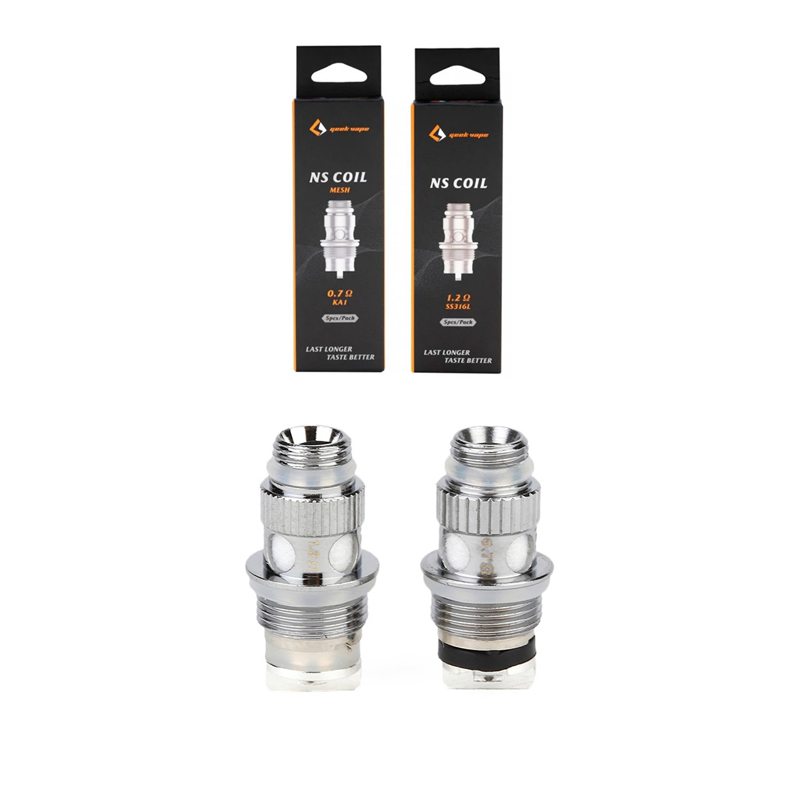 Product added to wishlist
Product added to compare.

By entering Vape4Ever, you affirm that you are of legal smoking age 21+ and you agree to be Age Verified.