GeekVape Aegis Legend 200W TC Kit & Aero Mesh Tank
There are not enough products in stock
GeekVape Aegis Legend 200W TC Kit & Aero Mesh Tank is the product of brand Geekvape, it's one of the best vapor products with the option of Camo Kit:1pcs, etc.
GeekVape Aegis Legend 200W TC Kit & Aero Mesh Tank Instructions
GeekVape Aegis Legend 200W Kit Instructions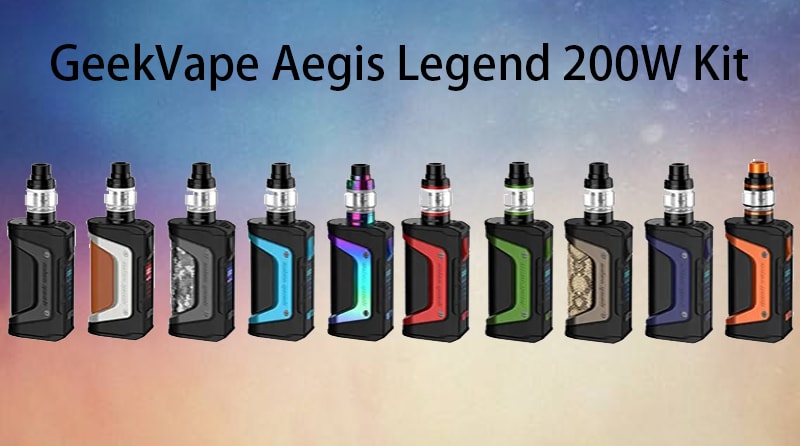 Overview
The GeekVape Aegis Legend 200W Kit is the latest model in the popular Aegis series. The vape kit is compatible to the 18650 battery mounted on a newly designed chassis. The battery packs a powerful punch of 200W and a smart AS Chip. The kit's die-cast aluminum alloy frame is designed to be highly robust, shock absorbent, and ideal for tough outdoors conditions. Superior LSR Injection Molding manufacturing, smart leather grip, and reinforced and carbon steel door for battery cover are just some of the outstanding features. Dual high amperage 18650 batteries can be loaded from the bottom. A hinge locking system allows easy installation and secure holding of the battery. The firing system is fashioned in trigger style and internal LED indication makes it easy for you to track the kit. Equipped with multiple modes of output (Power Wattage, TC-TCR, VPC, and BYPASS Mode), Aegis Legend packs a maximum wattage output of 200W. Thanks to TCR (Temperature Coefficient of Resistance), an internal setting for temperature control setting allows a user to customize the resistance for a huge array of heating elements through various ranges.
GeekVape Aero Mesh Sub-Ohm Tank comes in tandem with this popular mod. The tank can take 5ml of e-liquid. The user gets an optional bubble glass extension with this tank. A couple of other smart options include wider bore delrin drip tip and twin based customizable airflow. This tank is filed through a rotary cap secured port placed at the top of the tank. The tank is manufactured from glass and industrial grade steel. A gold-plated 510 connection makes it compatible with most models in the market. GeekVape IM Coil Family is employed by this cool tank. It is made versatile by its compatibility with the GeekVape Super Mesh Coil System. These coils employ superior quality cotton from Egypt to ensure durability and flavor intensity. The Aegis Legend Starter Kit has two options in Mesh, a 0.15ohm IM4 Quad Coil with 60-80W and a 0.2ohm Mesh X1 Kanthal Coil with 30-90W rating.
GeekVape Aegis Legend 200W Kit Features
Kit employs 6 diverse materials that ensures long life and superior styling.
Modern AS chipset with 200W of power and colored LED screen for quicker and smarter performance.
IP67 waterproofing that holds good for full one-meter depth and thirty minutes water immersion.
High shock absorption feature to ensure safety against accidental breakage.
IP67 dust proofing guarantees clean operation in most polluted environments and easy maintenance.
Made from tough leather, top quality silicon, and strong alloy for high durability.
Features Aero Mesh technology powered through Super mesh coil system for high quality flavor generation and durable use.
Baby coils compatibility
Supported by firmware updates and charging through USB port.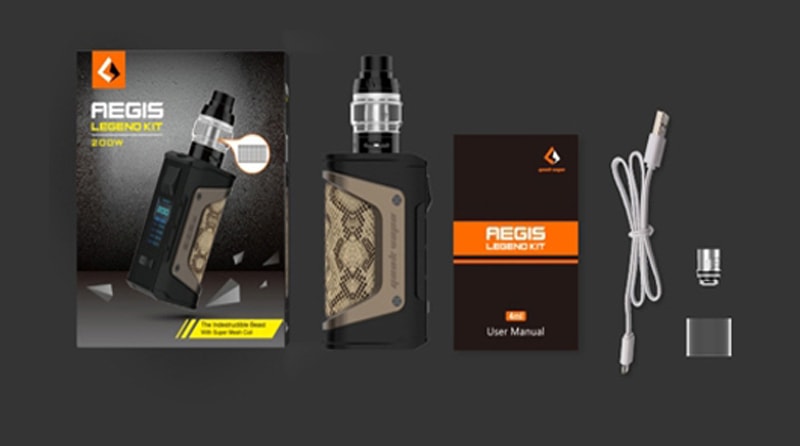 GeekVape Aegis Legend 200W Kit Package Includes
1 x Aegis Legend 200W Box Mod
1 x Aero Mesh Sub-Ohm Tank
1 x 0.4ohm Quad Coil
1 x Spare Bubble Glass Tube
1 x Micro USB Cable
1 x Instructional Manual
Spare Parts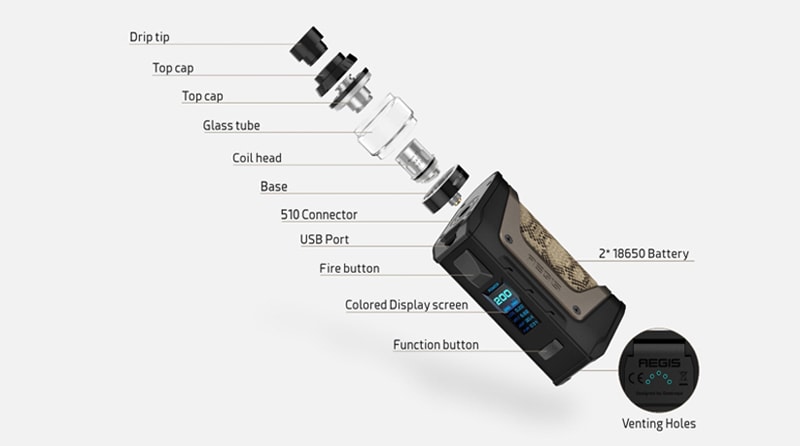 GeekVape Aegis Legend 200W Kit Specifications
90.5 x 58 x 30.6mm ideal size
200W superior power output
VW/VPC/TC/TCR/BYPASS/VPC multiple output modes
0.05-3.0ohm wide resistance range
Silicone +Aluminum + Zinc alloy strong manufacturing material
2x 18650 powerful cells for battery (sold separately)
100-315℃/200-600℉ high range of temperature
4ml high e-Juice capacity
510 thread universal thread head
30-90W rated 0.2ohm Mesh X1 Kanthal Coil technology
60-80W rated 0.15ohm Quad Coil option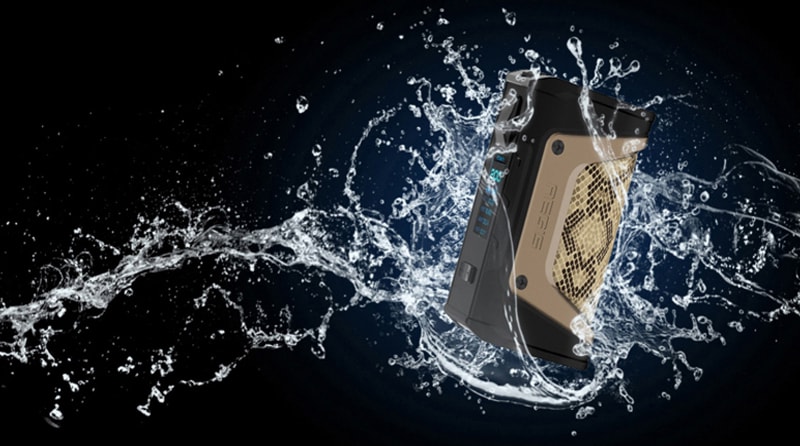 What's More on GeekVape Aegis Legend 200W TC Kit
Built For Durability And Power
The amazing kit is made from leather, high grade silicon, and alloy to ensure long life. The great design packs a variety of functions that ensure safety from accidents. Dual powerful 18650 batteries can be installed easily and grant you a long time of use without replacement.
Water, Shock And Dust Proof Features
IP67 water and dust proofing gives the Aegis Legend a powerful resistance against tough usage conditions. The device is designed to take a fall of one meter and still work perfectly. It can remain immersed in water for under 30 minutes at this depth without any harm. The device keeps the grit and dust out and very easy to maintain.
TCR(Advanced Temperature Coefficient Of Resistance) Variations And Customizable Modes For Power Output
With this vape kit, you can power up your device up to 200W through a range of power output settings. These setting include VPC, variable wattage, TCR, temperature control, and bypass. The device power source is through separately sold twin 18650 batteries that can be easily loaded through a secure slot in the mod bottom. Unlike other mods with brighter screens, this mod boasts a vertical color display for all the relevant information that vapers may need.
Featuring IM Coil & Super Mesh System
The Aero Sub-Ohm Tank is compatible to 60 to 80W rated 0.15ohm Ni80 vertical coil (IM1), 40 to 60W rated 0.4ohm KA1 vertical coil, 30-90W rated 0.2ohm KA1 Mesh, and 60-80W rated X1 coil. 9x2 mm twin air passages allow the air to flow into Aero tank. A tapered 8mm drip tip and top filling slot also features with this device.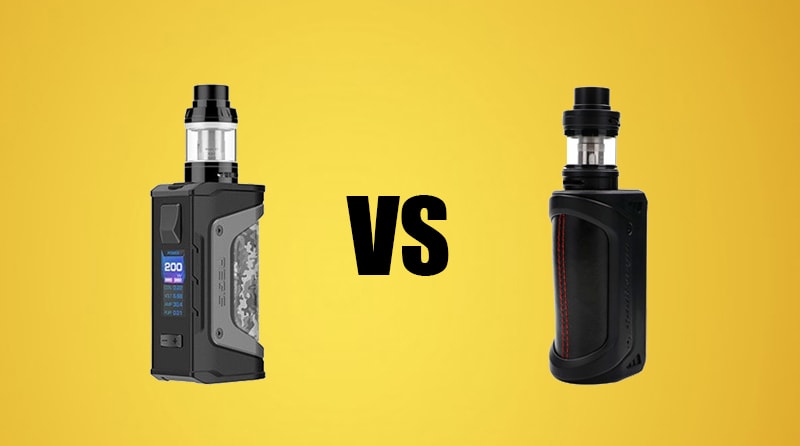 Differences Between GeekVape Aegis Legend 200W TC Kit VS GeekVape Aegis 100W TC Kit
Aegis Legend 200W TC kit is more like the original Aegis 100W TC Kit owing to water, shock and dust proofing features. On the contrary, the Aegis 100W TC Kit has a different shaping to allows fat 26650 cells in its body. The GeekVape Aegis Legend holds the standard dual18650 cells.
Aegis Legend employs 200W powerful dual batteries, whereas Aegis Mod carry lesser powerful single 26650 or18650 batteries.
Measuring at 90.5x58.5x30.6mm, Aegis Legend Mod is larger in size as compared to Aegis Mod that is 88x46.8x37.8mm in measurement.
In a nutshell, GeekVape Aegis Legend 200W TC is a powerful Kit that is ideal for those who love to vape at high power output.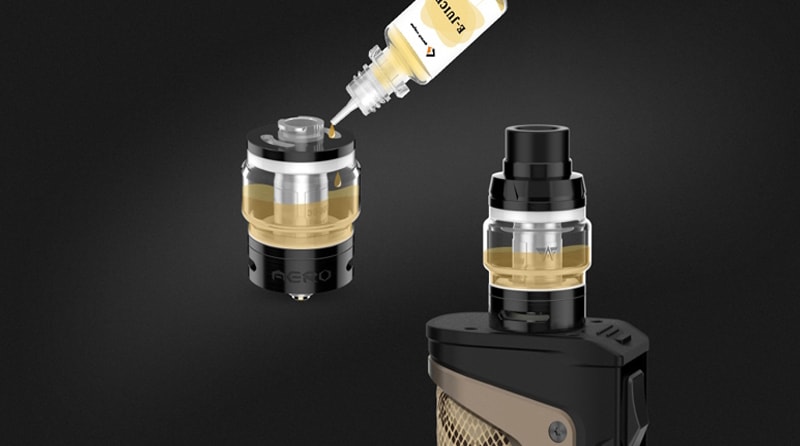 FAQ for GeekVape Aegis Legend 200W TC Kit Problems
How To Update The GeekVape Aegis Legend Firmware?
Detach the battery and atomizer.
Plug the micro USB into a computer slot after pressing the "+" button. Release the button.
Using an internet connection, download the latest firmware. Decompress the downloaded file and double-click to execute it.
Click the" Start "tab.
How To Factory Reset The Aegis Legend 200W TC Kit?
If you want to restore the device to factory setting, place the batteries in the device and turn it OFF by 5 pressings of the fire button. Simultaneously push '+' and '-' button and fire button for three to five seconds. Run the file on your computer folder after unzipping it.
How To Change Aegis Legend Screen Color?
Go to mode selection screen. To change display colors, simultaneously, press the "+" and "-" tabs for one second.
What Can You Do If Your Aegis Legend Screen Go Black
Make sure that the latest firmware from Aegis Legend is installed.
Aegis Legend Mod shows no display in the Stealth Mode. Make sure that it is not in stealth mode. To move out from stealth mode, hold Fire and +, –buttons simultaneously for two seconds.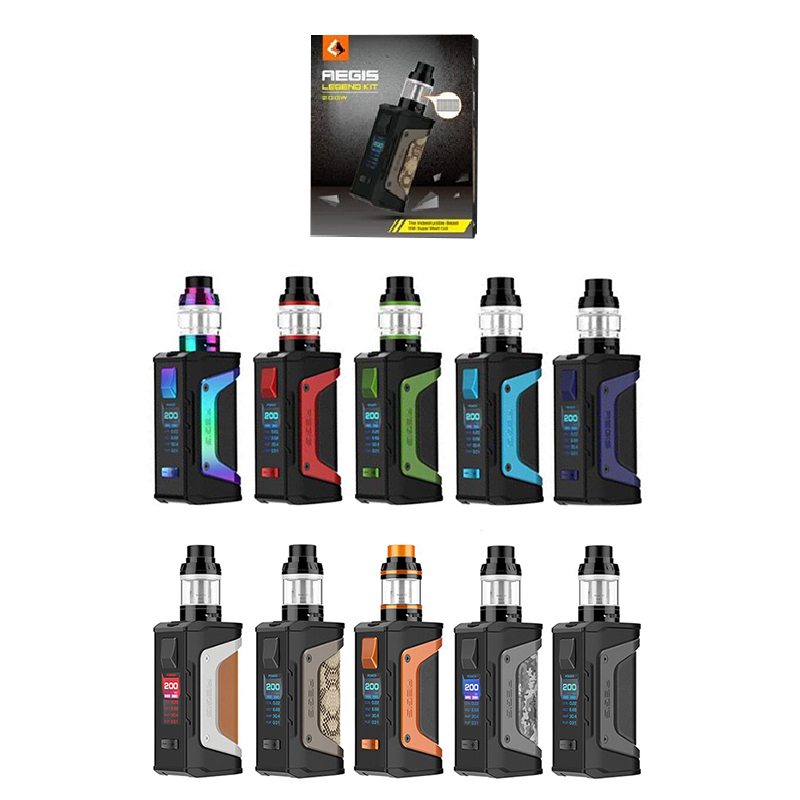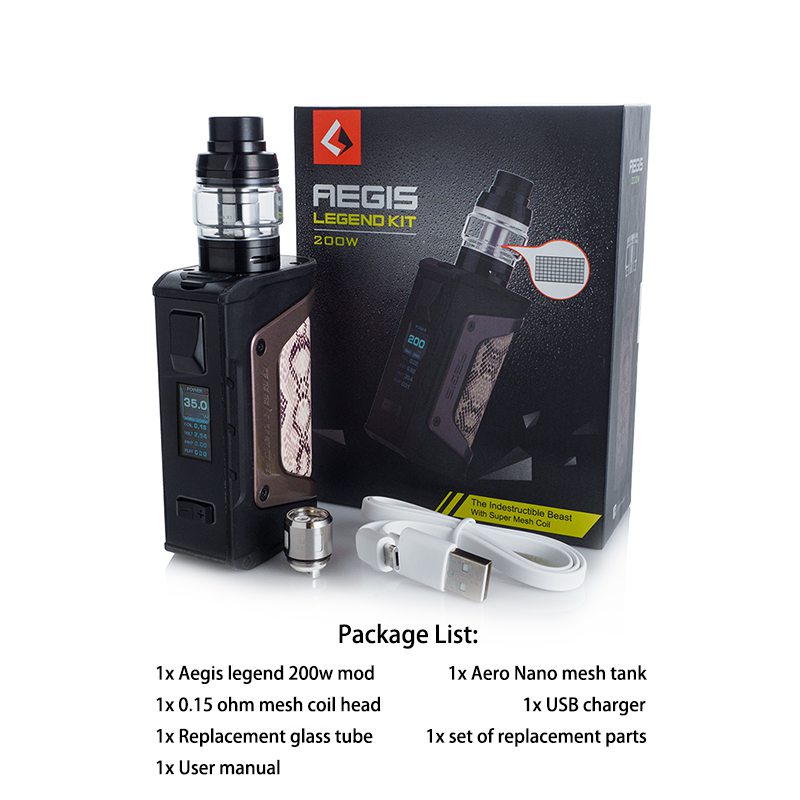 Customers who bought this product also bought:
Product added to wishlist
Product added to compare.

By entering Vape4Ever, you affirm that you are of legal smoking age 21+ and you agree to be Age Verified.