KandyPens Slim 510 Battery Auto-Draw w/USB Charger
There are not enough products in stock
KandyPens Slim 510 Battery Auto-Draw w/USB Charger is the product of brand Kandypens, it's one of the best vapor products with the option of Black:1pcs, etc.
KandyPens Slim 510 Battery Auto-Draw w/USB Charger Instructions
Overview
These are mostly suitable for subtle and easy vaping on-the-go, KandyPens Slim Battery provides a slim body and buttonless feature. The battery works when you inhale from the chamber, which swiftly heats your preferred waxy oil that makes a fine original botanical vapor. It comes with universal threading, which makes it tremendously unique as the sleek Battery can operate with any kind of 510-thread chamber or cartridge.
Kandypens' Slim 510 Battery is a robust device, handy in size, which comes with 180mAH li-ion battery which is rechargeable. Battery's cherry end is equipped with LEDs that brighten up when inhaled or blinks when it requires charging. It can also work as a stylus for smartphone or tablet as the tip is made of a material which is used in smartphones or tablets stylus. It does not have any kind of button that activates it, simply inhale to start vaping your preferred vape oil. To charge the KandyPens Slim Battery a USB charger is given that can easily charge the device.
The looks of the KandyPens Slim makes it as it can't do a lot, but the handiness and subtle design of the device makes it the best device for vaping. With full chamber, vaping from the mouthpiece is a piece of cake. The device does not get warm and its so good that it doesn't give any burnt or dry hits.
Devices similar like Slim which have no manual settings, user can't decide to adjust the level to inhale or exhale the vape. Users need to juggle between long or short puffs or drags. Vaping the oil is not as fun as compared to other units, and it's not just about amount of vapor that it makes. It is a very trendy and fashionable device. People who prefer oil vaping and require subtle and portable devices will love this device because of its distinctive feature of discreetness and handiness.
Features
510 Universal threading which well-matched with all 510 Cartridge
180mAh Battery of Auto Draw
It has a stylus tip with slim design
Ultimate handy
Included with USB Charger
Various battery colors
Specifications
180mAh
Color: Black, Chrome, Gold, Rose Gold, White
Package includes
1 x 180mAh Battery

1 x 510-threaded USB Charging Attachment
How to Use KandyPens Slim Battery
First the atomizer needs to be screwed with the battery. The atomizer is not included to be note. When sucking air from atomizer, the LED light at the end of batter will blink and then will go dim
If the LED light keeps on blinking while drawing on atomizer, then it is indication to charge the battery
When the light is green this is an indication the battery charged 100%. It takes around 3 to 4 hours for full charge.
For first time use, charge the battery 100%. Kindly denote to LED light indicator picture below:
Charger Solid Red / Battery Solid Red = Charging in Process
Charge Solid Green / Battery has no lights = 100% Charging completed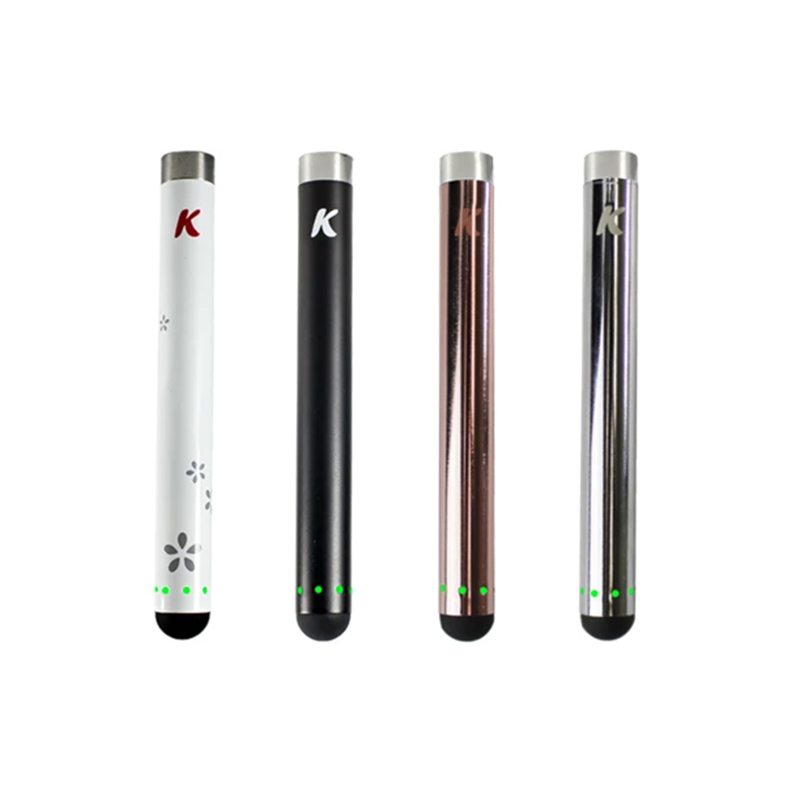 Customers who bought this product also bought:
Product added to wishlist
Product added to compare.

By entering Vape4Ever, you affirm that you are of legal smoking age 21+ and you agree to be Age Verified.