SMOK NOVO 2 Kit Pod System 800mAh is the product of brand SMOK, it's one of the best vapor products with the option of Blue and Brown Kit:1pcs, etc.
SMOK NOVO 2 Kit Pod System 800mAh Review
SMOK Novo 2 Pod Kit Instructions
Overview
SMOK Novo 2 Pod Kit is a sequel of original SMOK Novo Pod Kit. The previous model was very popular and the remodel is far ahead. The Novo 2 pod kit carries a powerful 800mAh battery. This is double in capacity as compared to the original. You can enjoy full day of vaping with the durable battery without recharging.
The Novo 2 pod mouth piece (shaped like a whistle) is designed to fit perfectly between your lips. You can pick from 1.0ohm -1.4ohm pods that can be refilled up to 2ml of nic salt juice.
The air flows more freely in the fresh designs. It enhances the taste and quality of the vape cloud produced by vaping. The changes of leakage controlled by a fresh condensation capturing electrode. The pod kit is supported by a triple colored LED light for battery level indication. Other features include protection against low voltage, protection against short circuit, and auto shut down after 8 seconds inactivity.
The compact design is perfect for portable use. The model carries all the features that users love about Novo pod system. The latest system come with many improvements to make it the best full day reusable pod mod. Novo 2 starter kit and Novo starter kit enjoy cross compatibility for use with each device.
SMOK Novo 2 Pod Kit Features
Latest model from Novo family with advanced features
Enjoy enhanced vaping time with big 800mAh battery
Displays battery condition accurately with advanced LED
Addition of fresh air inlet passage
Remodeled sensory element
Twin replacement cartridges
Compatibility the most models of Novo pod
Buttonless design that is draw-activated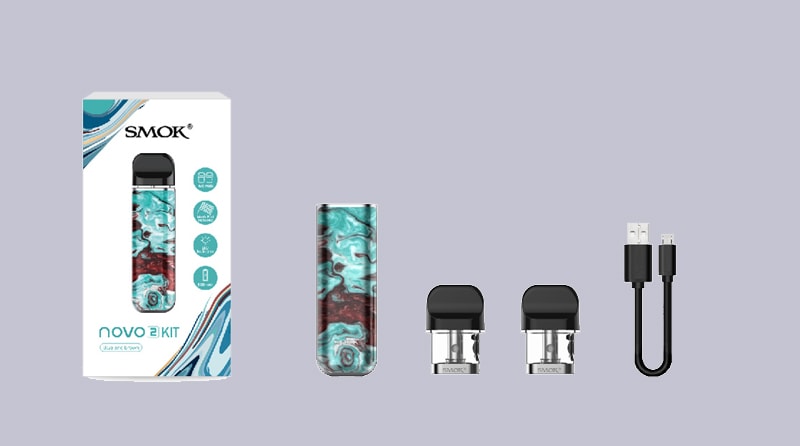 SMOK Novo 2 Pod System Kit Package Includes
1 x Novo 2 Device
1 x Novo 2 Mesh 1.0ohm Pod(No e-liquid)(2ml)
1 x Novo 2 DC 1.4ohm MTL Pod
1 x USB Cable
1 x User Manual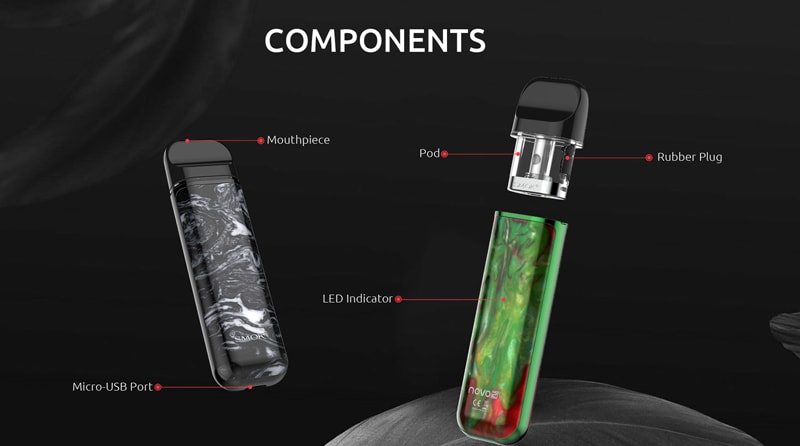 SMOK Novo 2 Pods Specifications
3*24.5*14.5mm compact size
800mAh powerful battery
2ml capacity for e-liquid
<20uA(no-load) <50uA(load) standby current capacity
0ohm pre-installed pod resistance
3V-4.2V input operational voltage
6W-25W wattage output
55A maximum charging current
5V minimum charging voltage
3V overcharge voltage threshold
4V over discharge voltage
1A overcharge current
0V-4.0V output voltage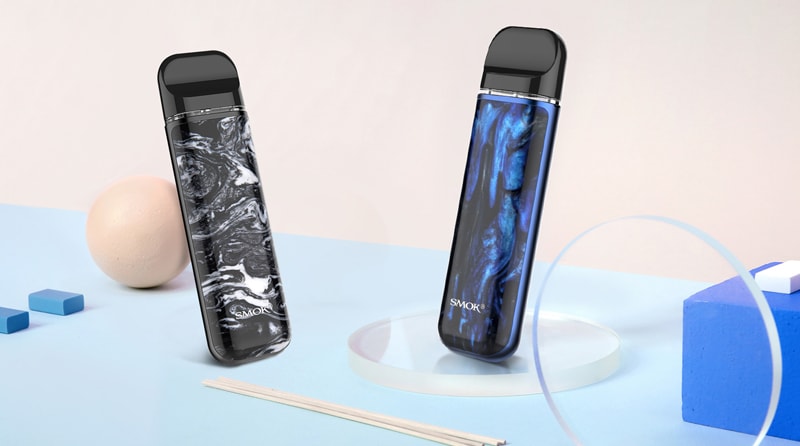 What's More on SMOK Novo 2 pod kit
Innovative Features
Being a sequel of the initial model, Novo 2 pod kit carries a curved body for a comfortable grip. The mouthpiece is designed like a whistle to fit in your mouth perfectly. It is designed to be a representative product in the industry of e-cig.
Easy To Carry On The Go
Sized at just 88.3*24.5*14.5mm, Novo 2 starter kit is smart and small enough to fit in the palm of your hand or to carry in your travel pouch. It can be with you just about anywhere.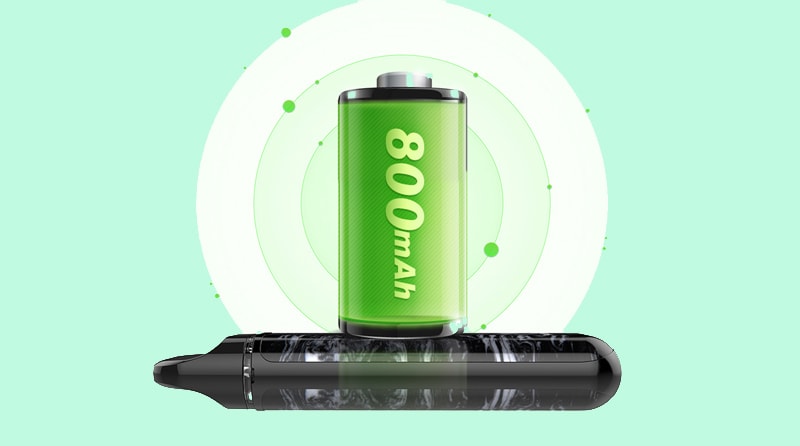 A Long-Lasting Battery and Top-Quality Performance
The device is optimized for charging port operation and structure of the motherboard. This allows you an amazing vaping experience. You can enjoy 200 puffs in a day without having to recharge the 800mAh battery for three days.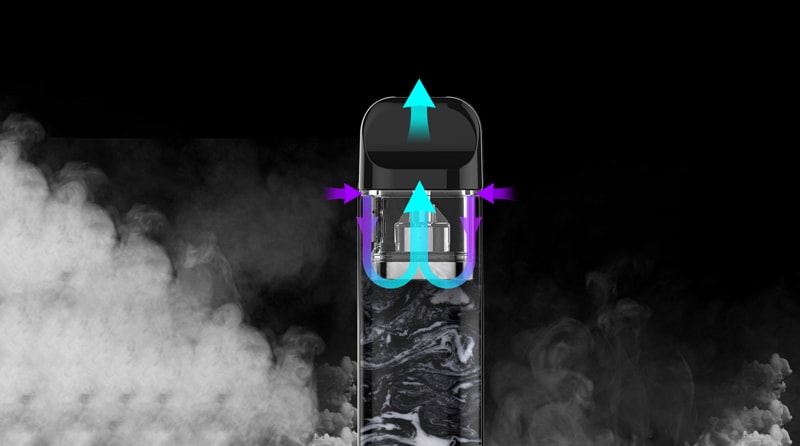 Enhanced Taste Owing to Draw-Activated Operation
The device is equipped with dual U- shaped passages for airflow and twin air drawing paths on either side of the device. You enjoy heavier and denser vapors with each puff.
Derive More Pleasure From Each Puff
The device comes with a redesigned air sensory switch. The sensory element is also incorporated on the side of air intake path (U-shaped). It is also made to protrude out from the plane of the electrode. This is to avoid suction without a contact.
Fresh Groove Design to Handle Serious Problems
The condensation generated while you vape if blocked by a groove that is designed around the electrode. The condensate is thus stopped from flowing around in the device.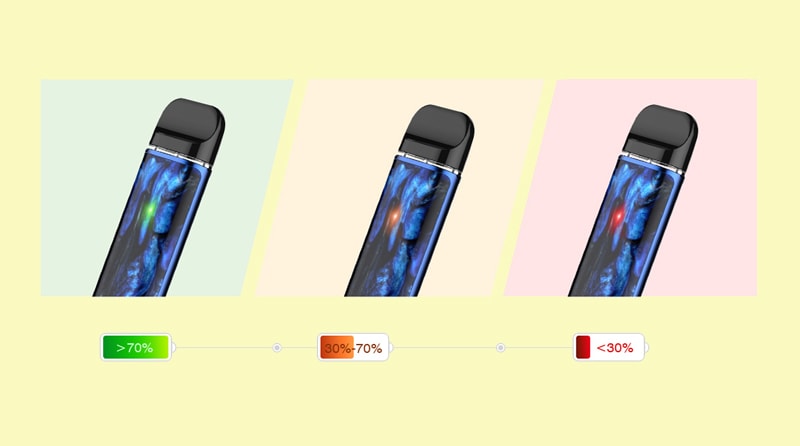 Multi Warning LED Indicator
The body of Novo 2 kit is provided with an LED indicator. Indicator has 3 colored light indicators (red, orange or green light) to indicate the level of battery charging as follows:
Red: Battery lower than 30% level
Orange: Battery between 30%-70% charging level
Green: Battery higher than 70% level
These indications give you an accurate picture of your battery life level.
Long Lasting Warranty Period
Novo 2 pod system comes with a warranty of twelve months. This is the longest period in vaping industry. With no other device, you can enjoy a complete year of worry-free vaping experience.
New and Innovative Novo 1.4ohm, 2 DC MTL Pod
Equipped with twin coils, the pod vaporizes more e-juice and produces denser and stronger clouds. Users can enjoy the amazing MTL experience with this device!
Onboard Charging Support
Charging is so simple with the USB cable provided with the vape kit.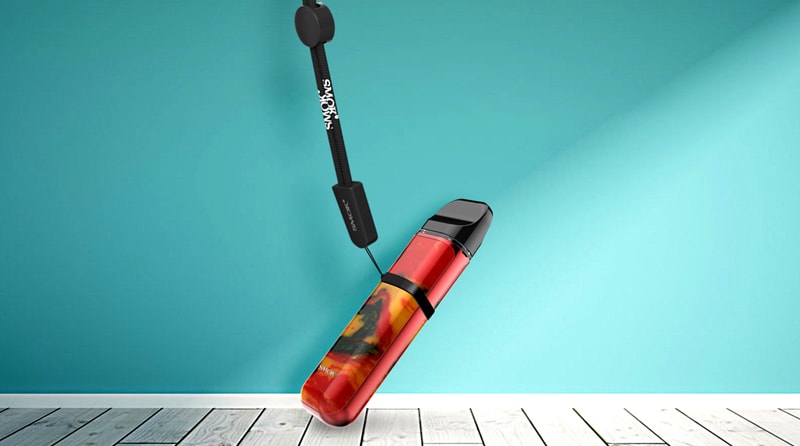 Separately Available Lanyard for Safe Carriage
A lanyard support is available as a separate accessory that allows you to carry the device safely around your neck. This safety feature ensures safe keeping. You can avoid accidental drops as well by using this accessory.
Multiple Levels of Protection
Novo 2 kit is supplied with multiple safety features against expected issues
Auto power Cut-off after eight seconds
Protection against low voltage input
Protection against short circuit malfunction
Availability of Novo 2 Pod Kit Replacement Pods
Novo and Novo 2 have compatibility with following pods.
Ceramic Novo Pod (1.4ohm)
2 ml e-liquid capacity
High-temperature Resistance
Long lasting and durable
2ml e-liquid capacity
Quicker in heating
Dense and powerful production of vapors
Pod system driven by air
2ml capacity for e-liquid
1.2ohm resistance for efficient function
2ml capacity of e-liquid
1.5ohm resistance for higher vapor production
2ml of e-liquid capacity
Larger area for heating
Thicker vapor cloud production
Novo 2 MTL DC Pod (1.4ohm)
2ml of e-liquid capacity
Smoother hits for more pleasure
Purer in taste and vapor
2ml of e-liquid capacity
1.4ohm of resistance for better vaping
Heats up much quickly
Denser and thicker vapor production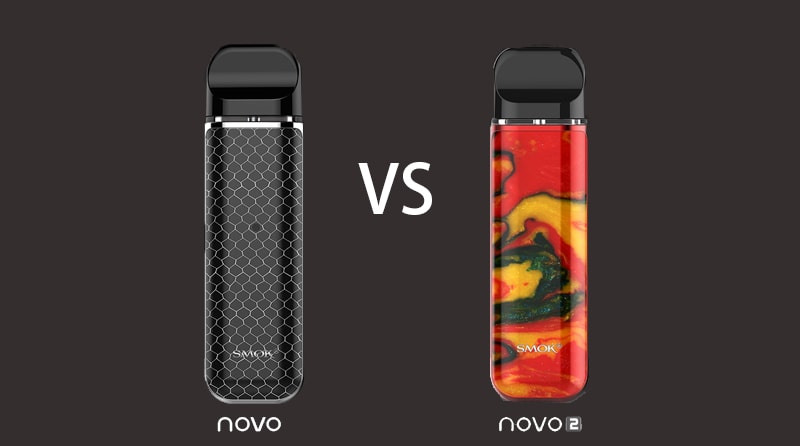 Difference Between SMOK Novo 2 Pod Kit VS SMOK Novo Pod Kit
The SMOK Novo 2 pod system carries a fresher design and color scheme in resin. The color scheme is definitely more popular as compared to SMOK Novo pod kit carbon fiber style. The size of both the kits is almost the same. SMOK NOVO 2 is a bit broader.
Despite the same size, SMOK Novo 2 pod kit carries a battery capacity that is double (800mAh) as compared to SMOK Novo Kit 450mAh battery. It allows operation for longer times without recharging.
The SMOK Novo 2 pod kit comes with an improved pod with dual internal coil (more like a double-wire coil of a sub-ohm tank). This feature allows even and smoother filling of e-liquid.
Double air passages on either side of SMOK Novo2 pod kit allows better flow of air through the device. Vent design in SMOK Novo pod kit is different.
The SMOK Novo 2 pod is equipped with modern grooves to resolve the e-juice condensation problem around the battery module electrodes. The grooves temporarily stock extra juice and ensure prevention of cluttering and leakage.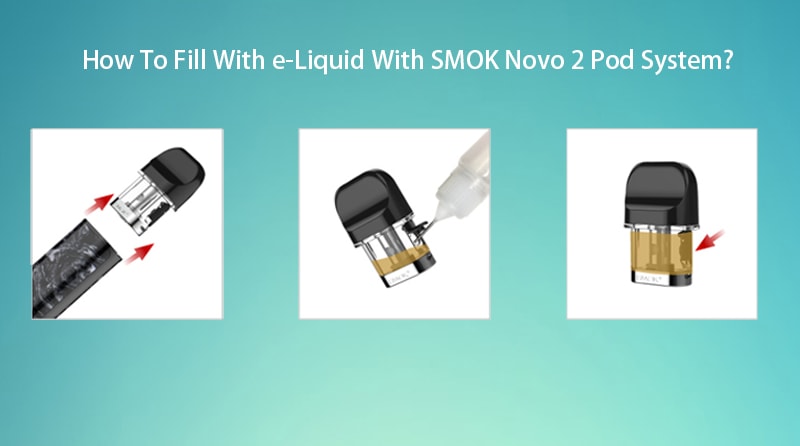 FAQ for SMOK Novo 2 Pod Kit Problems
How To Fill e-Liquid With SMOK Novo 2 Pod kit?
Remove pod from the Novo 2 system by pulling it out
Remove the rubber plug from the slot. Add e-liquid into the pod carefully through the slot
Plug the slot with rubber plug firmly
How Long Do SMOK Novo 2 Pod Last?
Puffing at the rate of around 200 puffs/day, a fully charged device should last for three days without having to recharge the 800mAh battery.
How To Take Apart The SMOK Novo 2 Pod kit?
Join the SMOK Novo 2 pod and SMOK Novo 2 device by taking them in both hands at the same time. The device is designed to hold firmly in place without magnetic connections. For replacing the pod or refilling the liquid, you can simple detach both the parts by pulling them with your hands.
How to Activate the SMOK Novo 2 pod kit?
It is very simple. You just need to place the SMOK Novo 2 pod mouth piece between your lips and take a draw. It will activate the device. Please note! The device is designed to shut down if you take a draw for over eight seconds.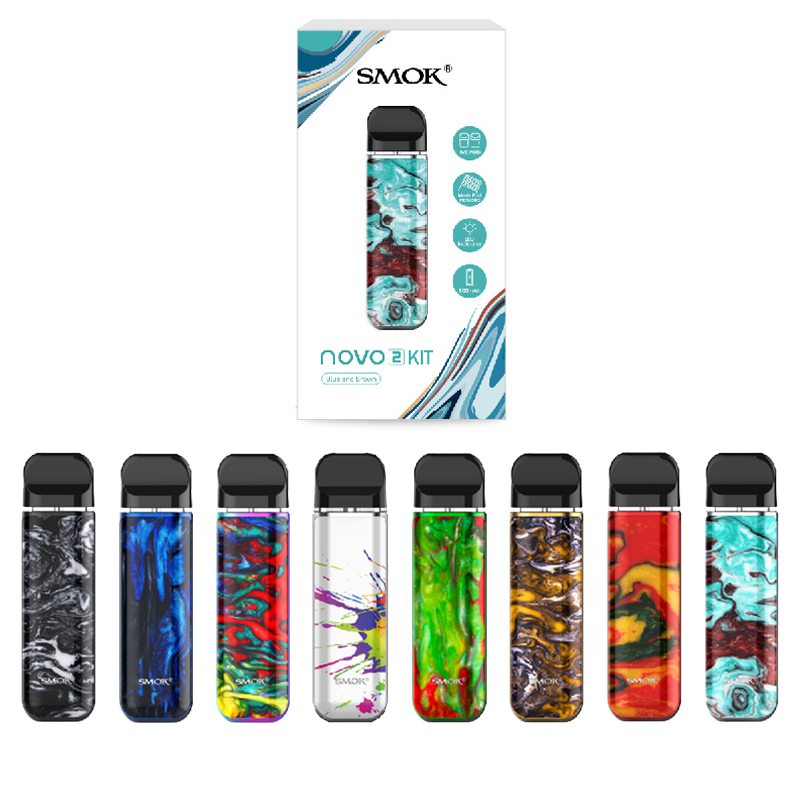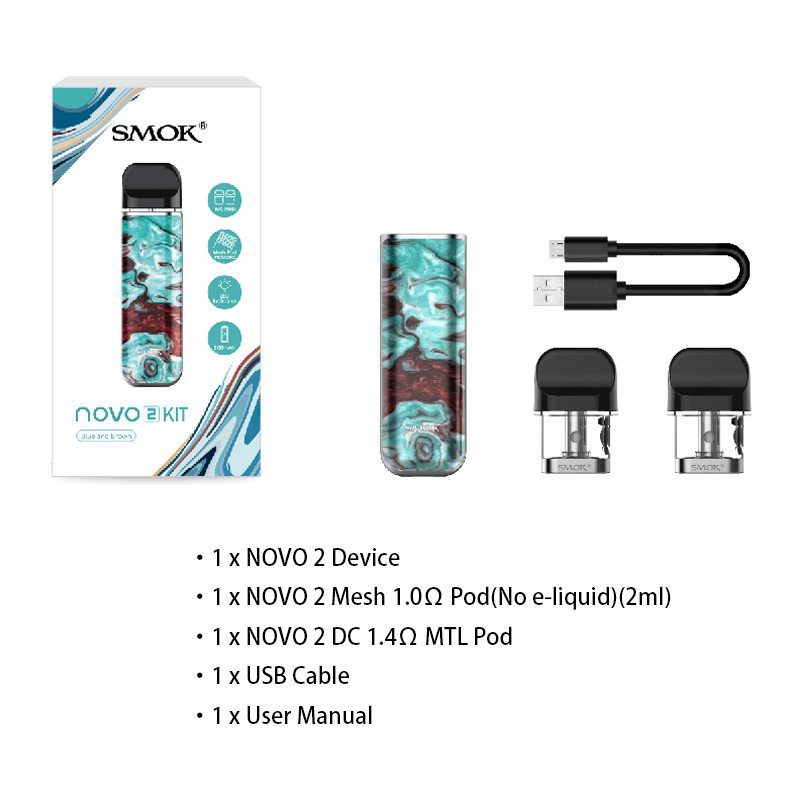 Cheap Vape Products For Sale and Buy
Customers who bought this product also bought:
SMOK Novo Replacement Pod 1.2ohm/1.5ohm/Ceramic/Mesh 3pcs/Pack is the product of brand SMOK, it's one of the best vapor products with the option of Novo 1.2ohm Pod - 3pcs, etc.
Product added to wishlist
Product added to compare.