It's Pixy E-Liquid 100ml Collection
It's Pixy E-Liquid 100ml Collection is the product of brand Shijin Vapor, it's one of the best vapor products with the option of Mango Lime:0mg, etc.
It's Pixy E-Liquid 100ml Collection Instructions
Overview
Shijin Vapor is one of the biggest manufacturer industries of many premium vaping e-juices brands (such as Cole Man). These folks are also behind the establishment of It's Pixy vaping brand. The founder of this industry decided to start this, which is manufacturing system after quitting smoking for the sake of her daughter. Nowadays, this vaping company is ruling the community of vaping brands and creating some of the best vaping flavors in the market. Moreover, similar to all other vaping brands of Shijin Vapors, It's Pixy is also created in best sanitary system. With the facility of ISO-Certification, we can say that you are getting a hygienic product with a proper consistency of flavors. After tasting the best e-juices of this company, you can also understand that why Shijin Vapors refuses to take any risk on the quality. It is tricky and risky to put your family first in today's fast world, and this is actually what you will experience with Shijin Vapors. This is also the one reason behind the success of this vaping company around the globe.
It's Pixy E-Juice - Cucumber Watermelon is an option for vape lovers who are looking for a unique new taste. It combines the sweetness of summer watermelon with a refreshing cucumber flavour and tinge of menthol with a refreshing fruity e-juice that captivates your senses.This combination of watermelon and cucumber will make you forget that you were vaping with an e-liquid taste of candy. As you inhale, you will experience a refreshing watermelon explosion with the perfect cucumber tone and ending with familiar pixy taste. The old vapers and the new vapers will undoubtedly appreciate this taste. It is a cucumber watermelon sugar candy which will make you want more and more just after one puff.
It's Pixy E-Juice - Mango Lime has the perfect sweet and sour flavour. We decided to add a tropical flavour when we created this e-liquid flavour. Immediately after the first inhale, you can taste both the lime and mango mix. Mango dominates a lot, but this seems quite appropriately balanced with the lime. The ripe mango sweetness perfectly mixed with the acidity of the juicy lime so that the mango flavour does not overwhelm your mouth. This Candy flavoured juice is ideal for vape lovers who prefer candy flavors.
It's Pixy E-Juice - Sour Green is the ideal e-liquid to satisfy all your cravings of candy. The acidity of sour green apples is balanced with a sweet tone of sugar. After inhalation, wait for a wave of sweet and sour green apples. Expect a balance of candy during the exhale. This juice is ideal for vape fans looking for the next vape of a sour green apple candy.It is a delicious sour green apple sugar candy flavoured e-liquid that will make you want to vape all day long.
Specifications
VG/PG: 70/30

Nicotine Level: 0mg / 3mg / 6mg

Nicotine Type: Regular Nicotine

Bottle Size: 100ml

Bottle Type: Plastic Dripper

Brand: It's Pixy by Shijin Vapor
Package Includes
1 x 100ml It's Pixy E-Juice - Cucumber Watermelon

1 x 100ml It's Pixy E-Juice - Mango Lime

1 x 100ml It's Pixy E-Juice - Sour Green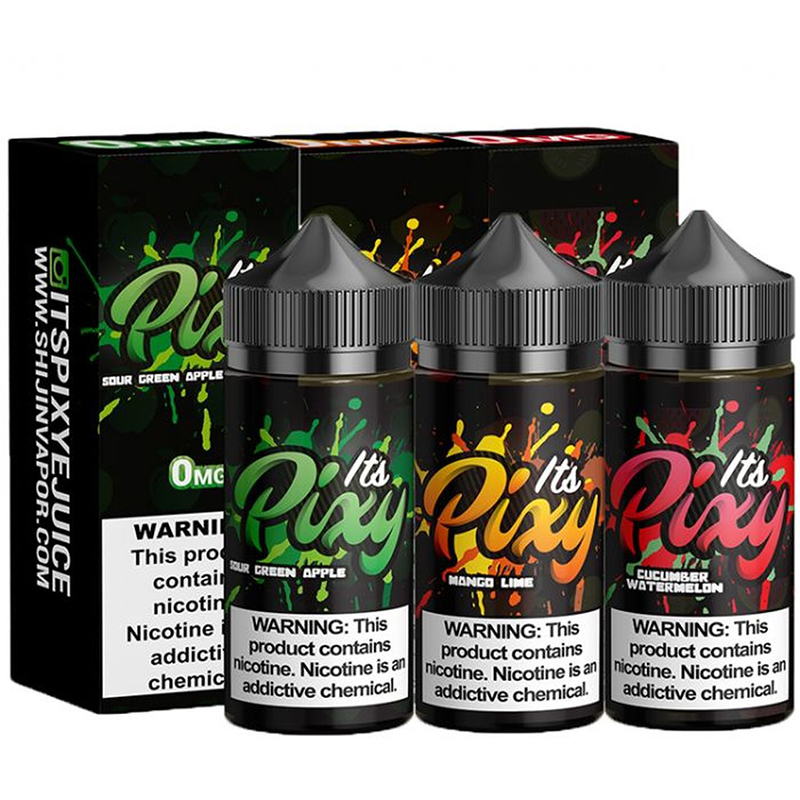 Customers who bought this product also bought:
Product added to wishlist
Product added to compare.

By entering Vape4Ever, you affirm that you are of legal smoking age 21+ and you agree to be Age Verified.