VOOPOO Drag Nano Kit 750mAh Pod System Starter Kit
There are not enough products in stock
VOOPOO Drag Nano Kit 750mAh Pod System Starter Kit is the product of brand VOOPOO, it's one of the best vapor products with the option of Ink Kit:1pcs, etc.
VOOPOO Drag Nano Kit 750mAh Pod System Starter Kit Instructions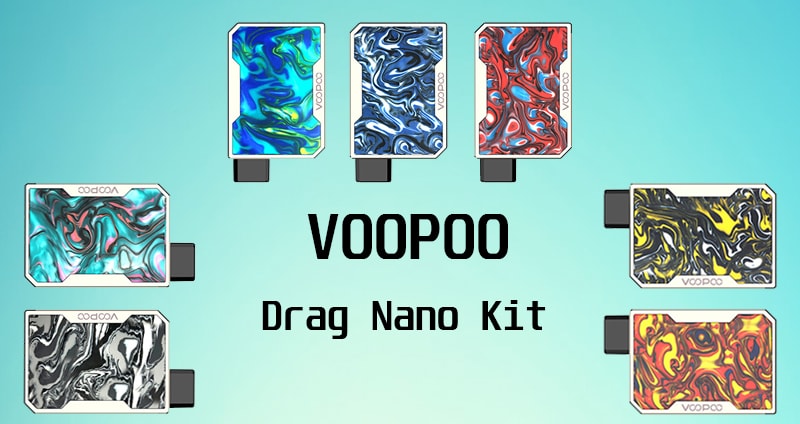 VOOPOO Drag Nano Kit Overview:
Pros:
■Beautiful Resin Panel with a very handy design.
■Compact MTL-specific and portable vaping
■Extremely light weight and strongly built
■ Built for very-tight draws through 1.8-ohm resistance
■750mAh powered battery designed for extended operational life
■Takes complete recharge in just an hour time
■Designed with super safe latest GENE.Pod Chip for multiple protection levels
■The device carries no setting or buttons to ensure easy hold and use.
VOOPOO Drag is one of the most popular box mods in the recent past owing to its amazing resin-based design and reliability of its chip. Drag mini, Drag 2 is again very popular. For those who fancy the drag looks (and not the size), VOOPOO has recently launched a very portable fresh version. VOOPOO Drag Nano Pod Kit is the introductory pod system kit that caters to pod system lovers that need superb vape hit DRAG.
At just 11mm, the device is one of the smallest for any pod-based system. This device is built to last owing to its base materials of the alloys of zinc and aluminum. The detachable pod (located on the device top) carries a 1.8 ohms coil and packs a top-fill design. A rechargeable 750mAh battery can be charged through a micro-USB located at the bottom of the device. With just an hour of charging, you can enjoy over 380 hits. There are no screens or buttons on the device to ensure longer life of battery. However, a tricolor indicator reflects the remaining life of the battery. The device power holding, the charging of the battery gives you optimum output in voltage. The device is activated as soon as you activate the device by puffing on it.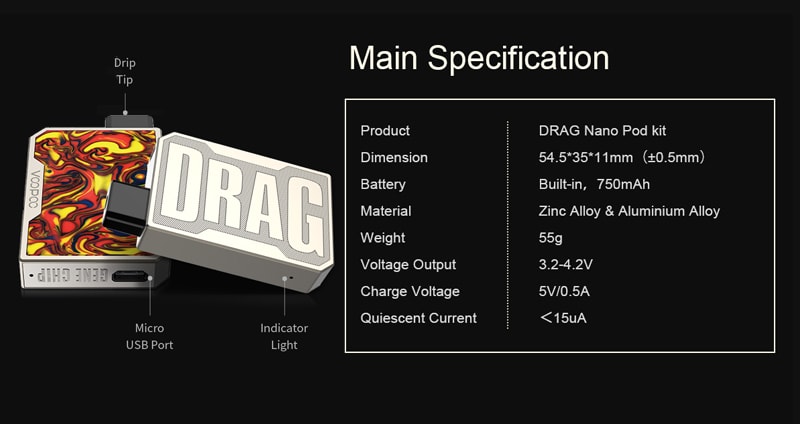 Device Data
Size: 54.5*35*11 millimeters
Type of Battery: 750mAh built in battery
Material of manufacturing : Alloy of Aluminum and Zinc
Weight of device : 55gram
Output Voltage : 3.2-4.2V
Voltage (charging) : 5Volt/0.5Ampere
Current (Quiescent): more than 15uA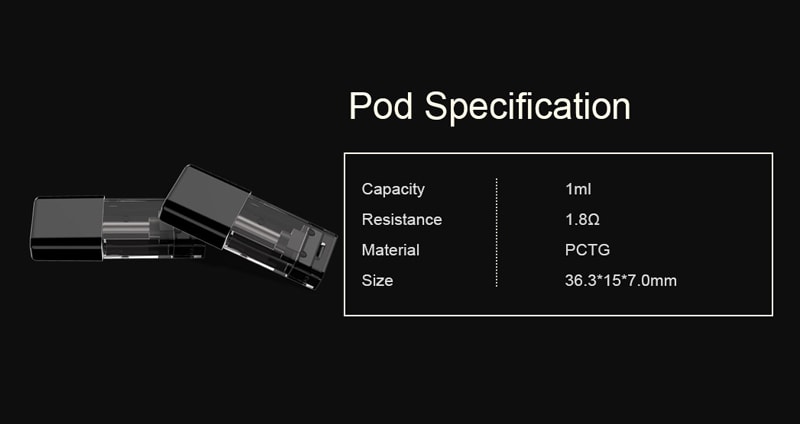 Pod Specification
Capacity: 1ml
Resistance: 1.8om
Material: PCTG
Size: 18 36.3*15*7.0mm
A magnetic connector holds the cartridge in place (with pretty little capacity). Its shape is similar to the Juul cartridges. Perhaps, the shape has been kept as such so that these cartridges can be used with the fresh product. It is designed for side refueling.
■Fans Version Packing List
DRAG Nano*1
Nano Pod(1.80)*1
Chain Necklace*1
USB Cable*1
User Manual*1
Warranty Card*1
GENE CHIP Card*1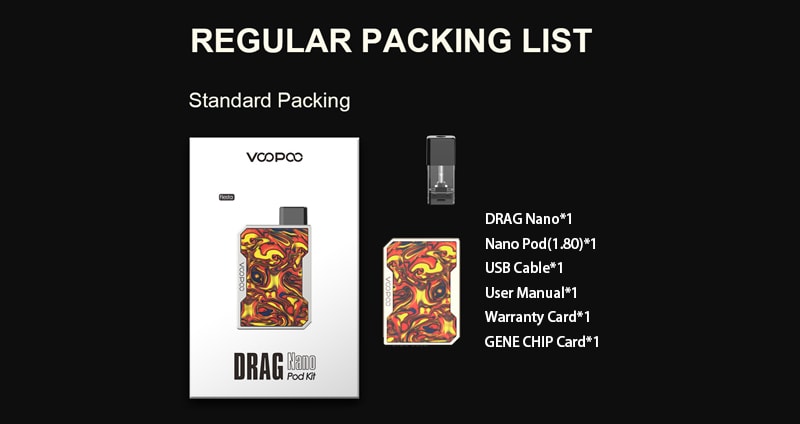 ■Regular Packing List
DRAG Nano*1
Nano Pod(1.80)*1
USB Cable*1
User Manual*1
Warranty Card*1
GENE CHIP Card*1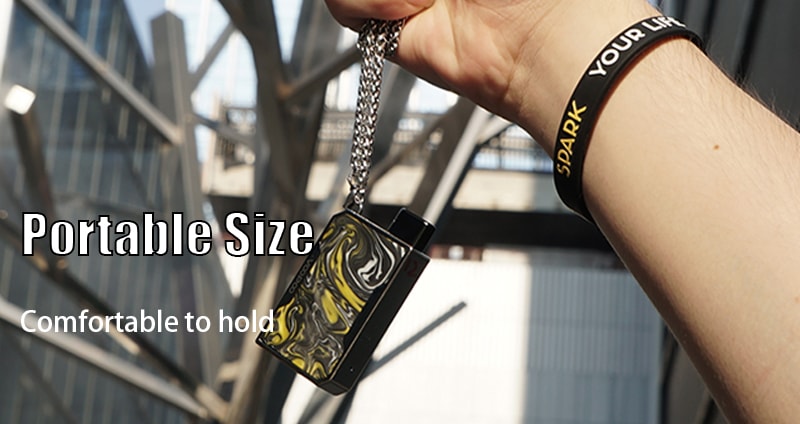 DRAG in Pocket, Comfortable To Hold
The superb product has been designed to glitter so that you can feel its fancy appearance. You can enjoy it simply anywhere and carry it along (owing to its superlight 44g weight).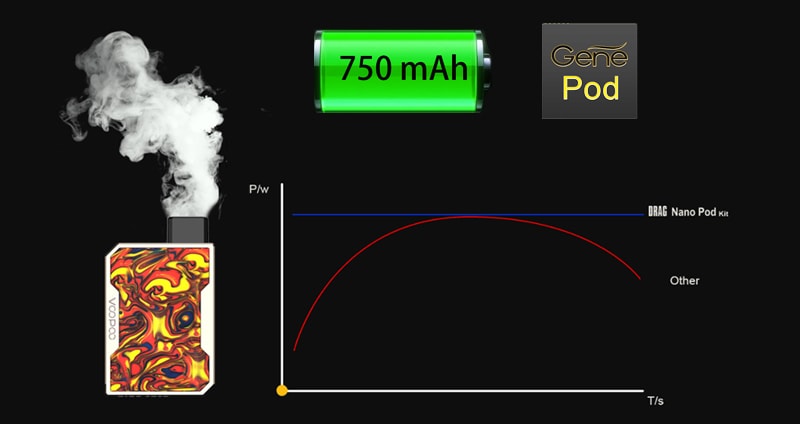 Cold Boot Mode,GENE.Pod Chip, 750mAh Battery Capacity
Intelligent cold boot mode is equipped with an output power source that is intelligent and let you have extreme pleasure with the first hit. A fine balance has been achieved between power and performance with this product.
The device 750mAh Built-in Battery allows you to enjoy over 350 hits (while fully charged). You need just one hour to fully recharge (at 5V/0.5A). You can enjoy durable use with minimum charging time.
The chip was adjusted over forty times and seventeen other products were tested to compare. Two hundred Vapers tasted the flavors for testing purpose.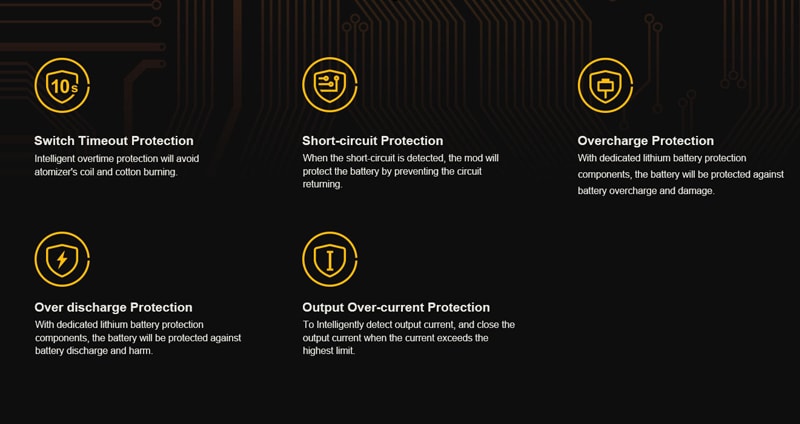 Five Safety protection
■Protection that ensure auto timeout of switch to ensure that cotton or atomizer coil is not burnt out.
■Protection to avoid short circuiting
The mod prevents the circuit from returning (to protect battery) if it detects a short-circuit.
■Protection from overcharge
To avoid the battery damage owing to overcharge the device carries unique component for protecting lithium batteries.
■Protection from discharge
The device carries unique components for protecting battery from accidental discharging and damage.
■Output over-current Protection from over-current due to excess output
The device integrated system automatically shuts down the output current as soon as it is about to exceed design limits.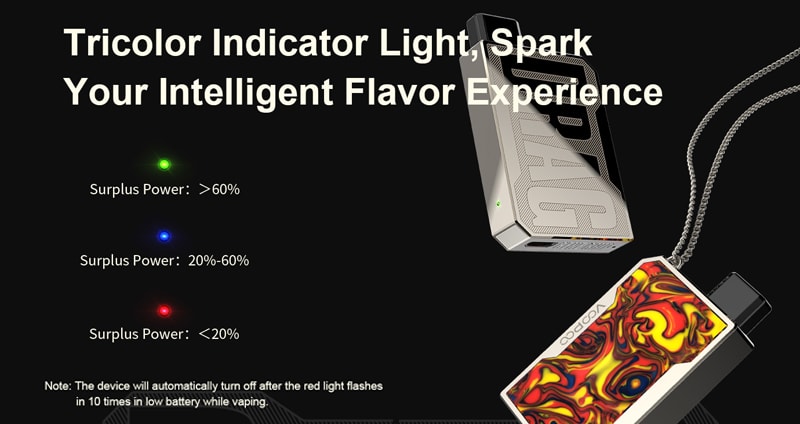 How to check Voopoo Drag
Nano battery level?

VOOPOO DRAG Nano device is equipped with LED tricolor smart indicator which indicates use with a light. The indicator remains green till battery has 60 percent or higher charging. It turns Blue to indicate that battery is 20%-60% charged. It turns Red when the battery charge level drops below 20% or less. In case of low charge, the indicator will blink 10 times before automatic shutdown of the device.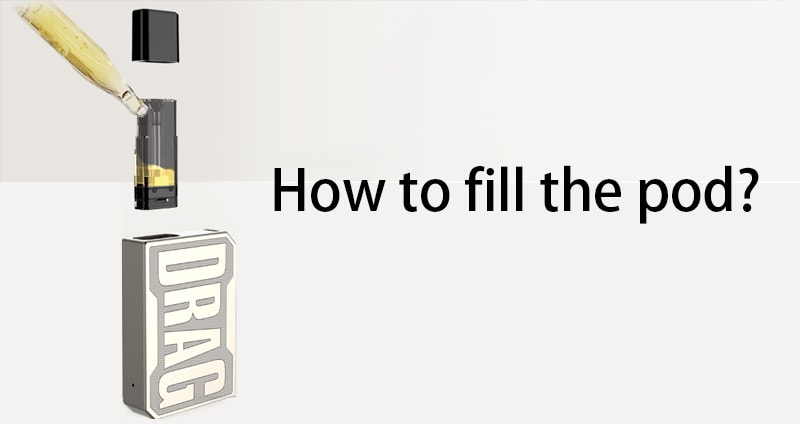 How to fill the e-juice to the Voopoo
Drag Nano pod?
Open the pod by pulling on it
Fill e-juice to two third capacity from the filling hole
Use the device only after the flashing of indicator light after five minutes.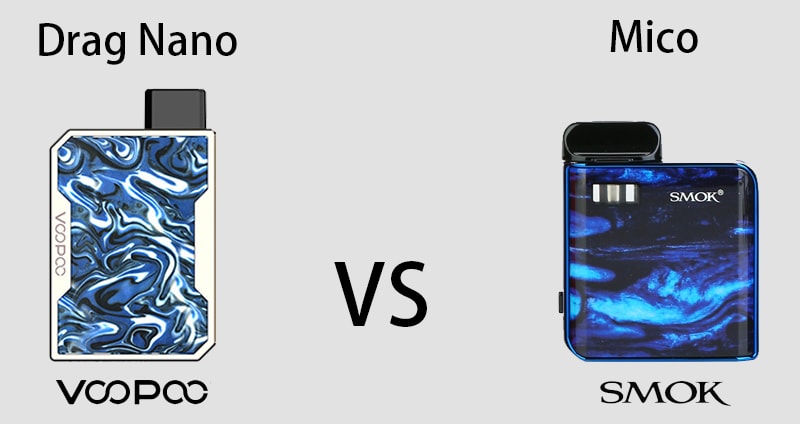 Voopoo Drag Nano VS SMOK Mico?
Voopoo Drag Nano is as good as the Mico vape kit. The SMOK Mico kit is the best and most popular owing to its top quality liquid plate (multi tone) , multi-use 1.7ml pod, powerful 700mAh battery, and a great cross sectional loop art. It is undoubtedly the most prestigious of the SMOKs due to its amazing manufacturing, outstandingly structured sap liquid and magnificent polish. It is simply of piece of art for you to enjoy the best vaping experience with ultimate luxury.
Customers who bought this product also bought:
Product added to wishlist
Product added to compare.

By entering Vape4Ever, you affirm that you are of legal smoking age 21+ and you agree to be Age Verified.