VOOPOO Argus Air Kit
There are not enough products in stock
VOOPOO Argus Air Kit is the product of brand VOOPOO, it's one of the best vapor products with the option of Classic Black kit:1pcs, etc.
VOOPOO Argus Air Kit Instructions
Overview
VOOPOO Argus Air consists of a combination of zinc alloy and leather that comes with a durable surface, making it ideal for outdoor use. With rich color matching, all of the different leather textures come with their own unique characteristics. The VOOPOO Argus Air is not only an excellent product visually, but it is also greatly tactile, which provides the user an overall valued sense. It is quite easy to use the VOOPOO Argus Air. The user does not have to stress about understanding different buttons and complicated settings. The only thing they should be focusing on is the vaping experience. Moreover, the Gene AI chip is VOOPOO's very own technology that was exclusively made for its products. Because of this technology, the VOOPOO Argus Air is able to automatically match the right output power that's according to the coil's resistance and it is automatically restored once the user plugs the cartridge in. Plus, in order to activate the device, the user just needs to inhale from the device's inductive mouthpiece. Also, it is easy to adjust the airflow. All the user has to do is use the 180° rotation feature of the pod in order to adapt it to different types of inhalation methods, like RDL or MTL.
Furthermore, there are two pod types that come with the VOOPOO Argus Air Pod. They are the standard cartridge and the pod cartridge. When it comes to the standard cartridge, it is for 0.6ohm PnP coils. While the pod cartridge is for 0.8ohm built-in coil, so it can meet different requirements for flavor and cloud. In the case of the standard cartridge, the user needs to rotate it at 180°and then insert it in order to receive supreme comfort to RDL and MTL. Furthermore, the PnP-TM1 coil embraces the alloying technology. Its insides are covered with several layers of compound cotton in order to lessen the refilling frequency and make the whole vaping experience a lot more calming and soothing. In addition to all this, because of the 3.8ml/2ml side filling and the powerful magnetic cartridge, the user will find that using their VOOPOO Argus Air device is a lot more convenient and also quite hygienic to use. Using the VOOPOO Argus Air pod system will deliver an exquisite vaping experience like no other as the user gets to enjoy rich flavor with great clouds.
Features
900mAh built-in battery
GENE.AI chip
PCTG POD material
Side Filling
Dual POD (internal and external coils)
Dual start mode (button and pneumatic)
Double airway (large and small)
PnP series coil compatibility
Seven safety protection
Specifications
Use For: E-Liquid

Battery Capacity: 900mAh

Device Screen Display: 0.54 inch OLED

Battery Charge Type: Type-C USB

Capacity: 3.8ml

Wattage Output Range: 5W-25W

Color: Classic Black, Red & Black, Snow Land Camouflage, Vintage Brown, Vintage Grey, Desert Camouflage, Carbon Fiber

Adjustable Airflow: Yes

Coil Resistance: PnP-TM1 0.6ohm mesh coil(20-25W, Nicotines 35mg)

Compatible Coils: VM1 0.3ohm, VM3 0.45ohm, VM4 0.6ohm, M1 0.45ohm, M2 0.6ohm, VM5 0.2ohm, VM6 0.15ohm
Package includes
1 x ARGUS Air Mod

1 x Standard Cartridge

1 x Pod Cartridge(0.8ohm coil, 3.8ml)

1 x PnP-TM1 0.6ohm

1 x Type-C Cable

1 x User Manual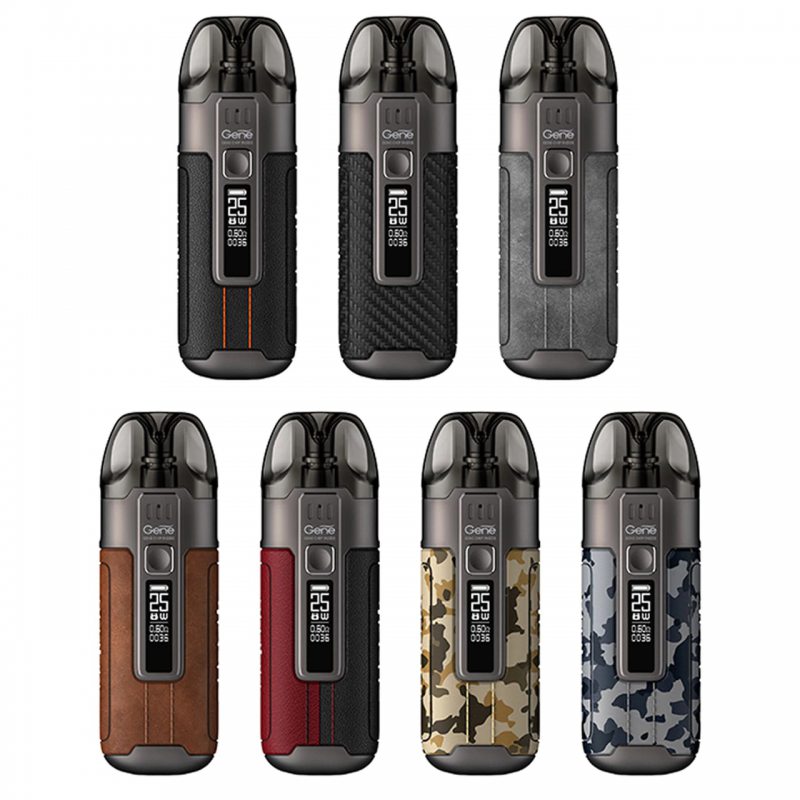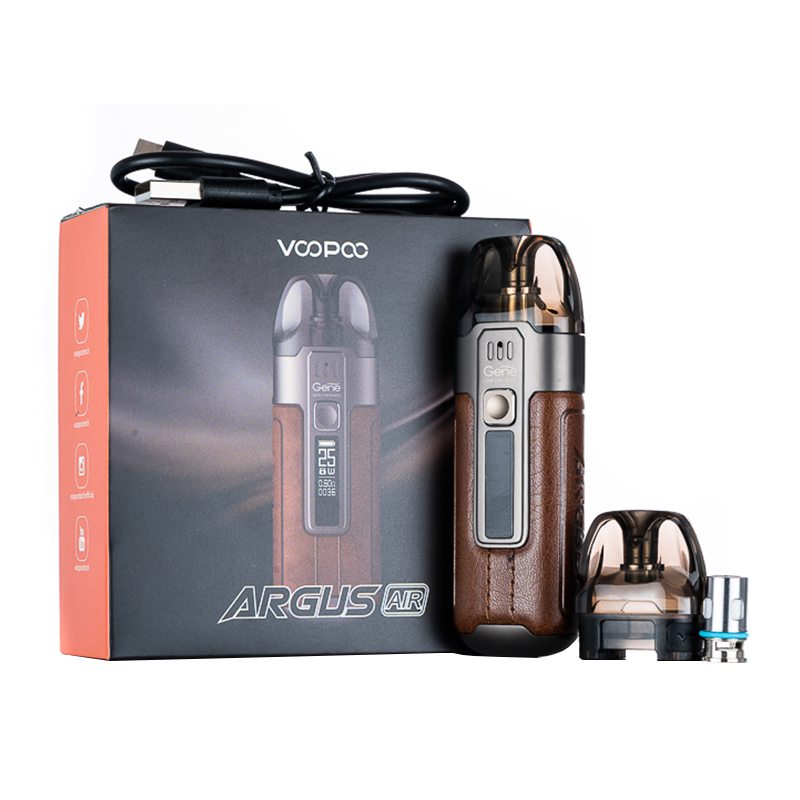 Customers who bought this product also bought:
eGo-C Twist Battery 1100mAh compatible with regular eGo and 510 thread, features precise adjustable voltage control and long-lasting10h battery life per charge.
Vessel Luxury 510 Thread Vape Pen Battery is the product of brand VESSEL, it's one of the best vapor products with the option of Wood [White/Beechwood]:1pcs, etc.
VOOPOO Argus Air Replacement Pods is the product of brand VOOPOO, it's one of the best vapor products with the option of Standard Cartridge Without Coil:2pcs, etc.
Product added to wishlist
Product added to compare.

By entering Vape4Ever, you affirm that you are of legal smoking age 21+ and you agree to be Age Verified.