VOOPOO Drag 3 Box Mod Kit
There are not enough products in stock
VOOPOO Drag 3 Box Mod Kit powered by dual 18650 batteries, Max output 177W, with GENE.FAN 2.0 Chip, charging speed half faster, features TC mode & smart mode.
VOOPOO Drag 3 Box Mod Kit Instructions
Overview
The VOOPOO Mod kit is the latest member of the VOOPOO drag family. Since the name of the family went global after the production of various drugs like the Drag 2, Drag X, Drag Nano, Drag S, Drag Max, and other mods have all been contributing to your vaping experience. The drag 3 VOOPOO is a sleek, lightweight device that helps vapers to enjoy their mods with no stress.
Drag 3 is the first of its kind as VOOPOO launches its first 510 mod dual battery. The Drag 3 VOOPOO was designed with an alloy frame in a premium look and wrapped in a leather pouch with the VOOPOO and Drag 3 embedded in it.
VOOPOO Drag 3 comes with GENE.FAN 2.0 chip that helps the VOOPOO drag 3 to operate a smart switch mode and automatically switches its wattage power to suit the mods which prevent the mods from getting too high. Its power varies and fires between 5 - 177W with a standard wattage mode, TC (Temperature Control) mode, and smart mode.
The RBA mode helps the user to set the power requirements as lofty as possible without constraints. Since the Drag 3 mod is engineered with 8 protections, including short-circuit protection, overtime protection, overcharge protection, over-discharge protection, over-temperature protection, output over-current protection, balance charge with different batteries and battery reverse protection, users are reassured to vape with the Drag 3 box mod. All you need to do when you intend to other modes is just a three-time press on the fire button.
The Button Combinations of VOOPOO Drag 3 is a key point to know before using. It's important to understand the operating techniques of the device because it button is designed with multiple functions.
The power On or Off button - to On or off the drag 3 device; press the fire button 5 times.
To switch Modes: pressing on the fire button three times helps in swapping the device.
Change UI: press down both adjustment buttons and want the UI menu to pop up. Select your desired UI scrolling with the adjustment buttons and confirm the selection with the fire button.
How to Lock/Unlock All Buttons (this includes Fire Button): Hold down the fire switch and the top adjustment switch concurrently.
Reset Puff Counter: Press down the fire button and bottom adjustment switch concurrently.
The Drag 3 also accommodates software and firmware which enable the TC interface. The installation and upgrade will be done when the device is plug into the computer with its USB Type C cable. Click on the downloaded file from the VOOPOO website which will automatically restart your device. Once the installation is successful, your device pops up with the 3 TC features which are the SS (Stainless steel), NI (Nickel), and TI (Titanium). Besides, the TC mode helps you to switch between °C and F°.
Thanks to the Type C fast charging, the charging speed is increased by a half than normal ones, saving time for waiting. Powered by the dual 18650 external battery, the Drag 3 provides you long-lasting use for one charge. When it comes to use, oil filling must be mentioned. The pod is designed with magnetic suction, offering the easiest and the most sanitary way of refilling.
Features of VOOPOO Drag 3 Box Mod Kit
Max 177 power output
Advanced GENE.FAN 2.0 chip
High burst super mode
Precise temperature control mode and considerate smart mode
Dual 18650 battery support long standby energy
Type-C fast charge increases charging speed by 50%
Powerful magnet suction of the pod makes refilling simple and clean
Provides 8 protections for safety
Works with TPP & PnP &510 Platform
Specifications of VOOPOO Drag 3 Box Mod Kit
Size: 138mm x 52mm x 25mm
Power Range: 5W-177W
Capacity of Pod: 5.5ml
Input Voltage Range: 6.4V-8.4V
Range of Resistance: 0.1ohm-3.0ohm
Battery: External Dual 18650 Battery (Excluded)
Material of Mod: Leather, Zinc Alloy
Coils: TPP-DM1 and TPP-DM2
Compatible with and 510 atomizers
Compatible with universal PnP atomizer and all PnP coils
Compatible with Tank Pod Push (TPP) atomizer and all TPP coils
Package Includes
1 x VOOPOO DRAG 3 Mod
1 x TPP-DM1, 0.15ohm
1 x TPP-DM2, 0.2ohm
1 x TPP Pod Tank (5.5ml)
1 x Type-C Charging Cable
1 x User Guide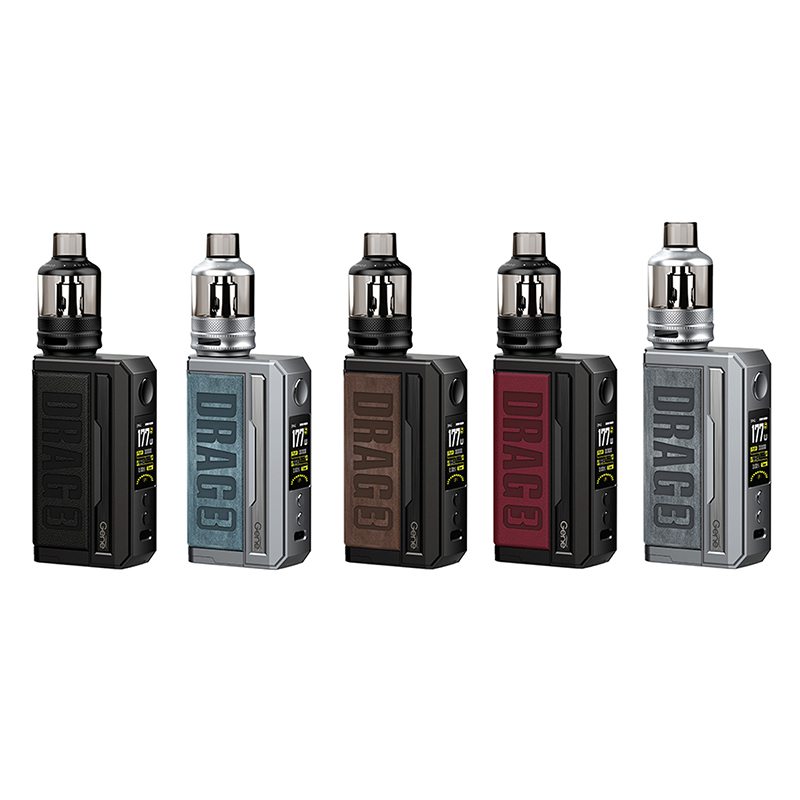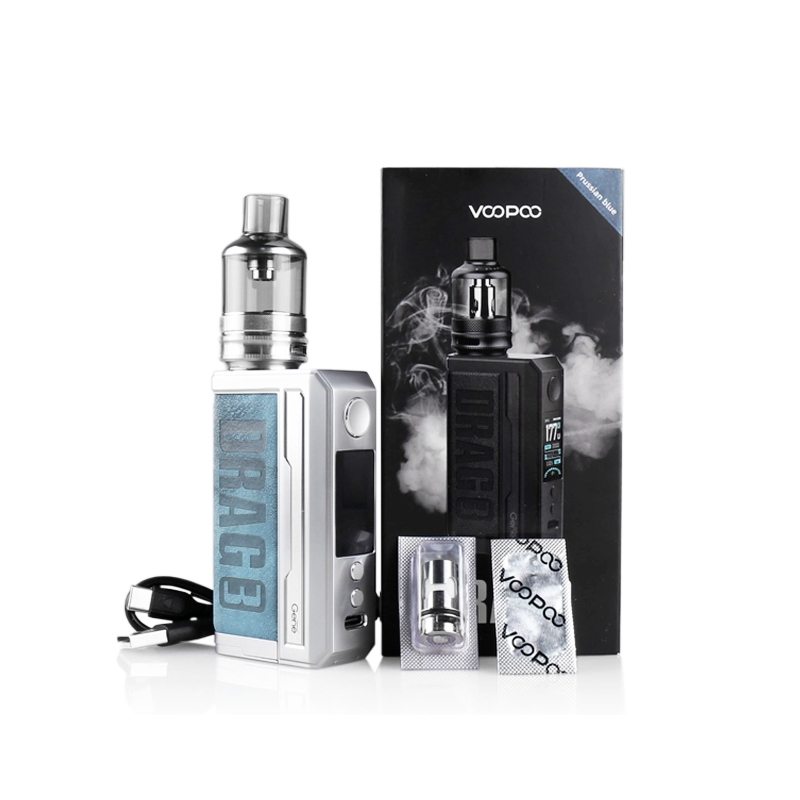 Customers who bought this product also bought:
Product added to wishlist
Product added to compare.

By entering Vape4Ever, you affirm that you are of legal smoking age 21+ and you agree to be Age Verified.