Sudden Death - Bora Eliquids
Sudden Death - Bora Eliquids is the product of brand Shijin Vapor, it's one of the best vapor products with the option of 0mg:100ml, etc.
Sudden Death - Bora Eliquids Instructions
Sudden Death - Bora Eliquids Instructions
Overview
Sudden Death - Bora Eliquids is the tropical mangos flavor vape juice from Bora. The last chance to enjoy something sweet and sweet so you can't get away easily. Of course, many brands of vaporizer have shipped copies of this exciting fruit, but Bora is already taking it to the next level. If desired, sudden death is the taste of the electronic mango liquid that your palate awaits. They have studied a variety of mangoes from around the world and carefully mixed them to provide a complex and small juice that adds layers of passion to their taste buds. We are sure you will lick your lips after each draw. Every inspiration surprises him with an explosion of strange acidity that soothes and deeply refreshes him. So the clear notes in the mouth fluctuate, as the intensity of luster and delicious taste of fruit increases. Peak tip tells the thirst, before the appearance of sweet bumper sugar. Clouds will be very large and delicious in the tropics thanks to the 70VG / 30PG base of sudden death.
Specifications
VG/PG Ratio: 70/30
Nicotine Level: 0mg / 3mg / 6mg
Nicotine Type: Regular Nicotine
Bottle Sizes: 100ml
Bottle Type: Plastic Dripper
Brand: Shijin Vapor
Package Includes
1 X 100ml Bora E-liquid - Sudden Death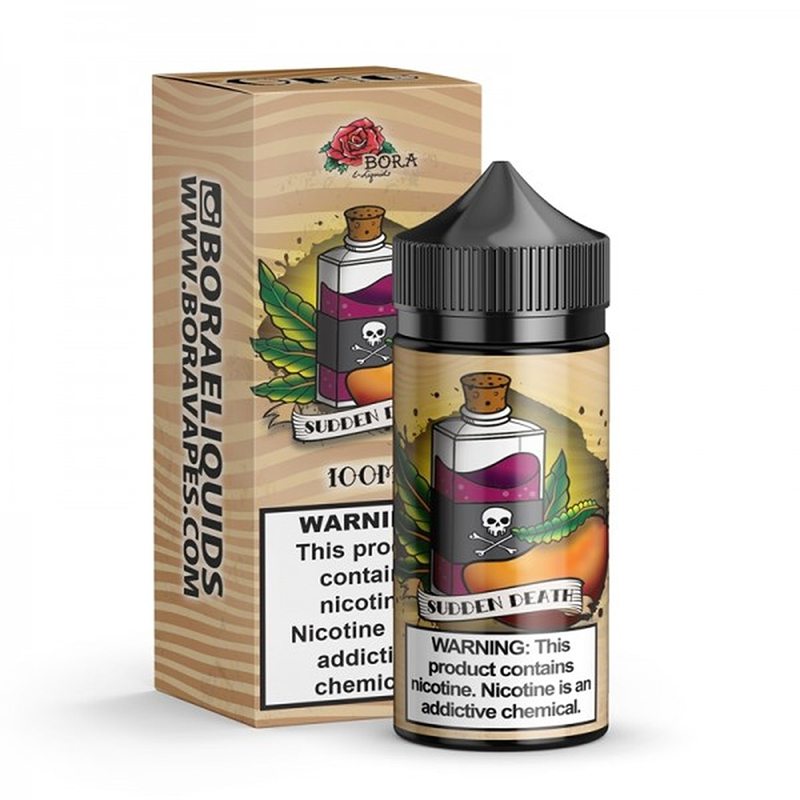 Customers who bought this product also bought:
Product added to wishlist
Product added to compare.

By entering Vape4Ever, you affirm that you are of legal smoking age 21+ and you agree to be Age Verified.