Snap Dragon - Bora Eliquids
Snap Dragon - Bora Eliquids is the product of brand Shijin Vapor, it's one of the best vapor products with the option of 0mg:100ml, etc.
Snap Dragon - Bora Eliquids Instructions
Snap Dragon - Bora Eliquids Instructions
Overview
Snap Dragon - Bora Eliquids is a raspberry flavor which attract many vapers to use. Nothing is better than a delicious hard candy, especially when it is coated in a layer of frosty, chilly ice. Snap Dragon E-Liquid by Bora is a truly extraordinary twist on this classic, merging the garden-fresh pulp of plump raspberries with adequate of sugar and a good amount of menthol. The outcome is a juice that tastes just like those massive confectionaries that could almost break your jaw. On the huff, the luscious taste of everyone's favourite berry makes you slobber right away thanks to the precise amount of tartness and sharpness. Little by little, the sweetness jumps to come through until you feel like you are swimming in syrup. When you breathe out, that frosty breeze calms you down. Those clouds have a enjoyable kick to them too, which gets this e-juice even more alluring to vape.
Specifications
VG/PG Ratio: 70/30
Nicotine Level: 0mg / 3mg / 6mg
Nicotine Type: Regular Nicotine
Bottle Sizes: 100ml
Bottle Type: Plastic Dripper
Brand: Shijin Vapor
Package Includes
1 X 100ml Bora E-liquid - Snap Dragon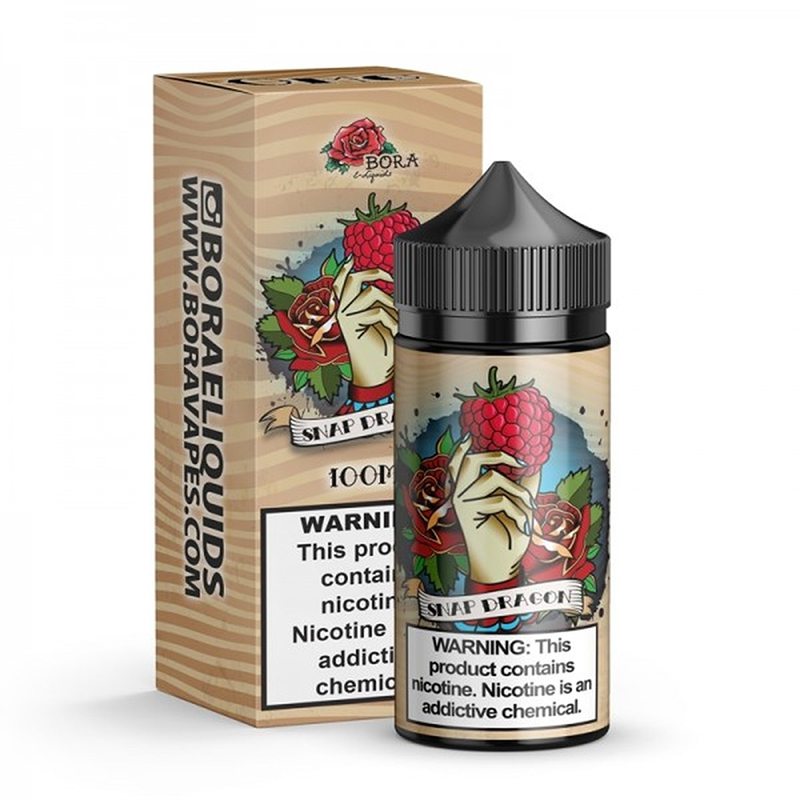 Customers who bought this product also bought:
Product added to wishlist
Product added to compare.

By entering Vape4Ever, you affirm that you are of legal smoking age 21+ and you agree to be Age Verified.