SMOK TFV16 Mesh Coils is the product of brand SMOK, it's one of the best vapor products with the option of 0.12ohm Dual Mesh Coil:3pcs, etc.
SMOK TFV16 Mesh Coils Instructions
SMOK TFV16 Coils Instructions
Overview
The SMOK TFV16 Coil is manufactured to work with TFV16 Sub-Ohm Tank. TFV16 Replacement Coils are based on top-class engineering and manufacturing capabilities of the manufacturer. The coils produce dense clouds and flavor rich vapors.
SMOK's unique honeycomb based hexagonal mesh-coil design gives the new atomizer the most powerful performance. SMOK TFV16 Coils carry the best balance in dimensions and that allows them to heat up very quickly and radiate heat uniformly through the coil hexagonal structure. This ensure richer and denser could formation.
SMOK TFV16 Replacement Coils are available in 3 models. TFV16 Mesh Coil packs 0.17ohm resistance for uniformly heating the elements with larger heat radiation area. TFV16 Mesh Coil is valued for quality flavor production with a 120W wattage output.
SMOK TFV16 Dual Mesh Coil is the 2nd model 0.12ohm resistance rating. Its double coil design carry twin mesh openings that makes it different from singular mesh coil design devices. Presence of top-quality wicking makes it best for denser clouds and better flavors.
SMOK TFV16 Triple Coil carries 0.15ohm resistance rating, featuring triple mesh openings with broader heating surface that allows rapid buildup of heat. Optimized for 90W output, Triple Mesh Coil ideal for cloud-chasers and vaping lovers alike.
SMOK TFV16 Coils Package Includes (Options)
1 x 3pcs SMOK TFV16 Mesh Coil
1 x 3pcs SMOK TFV16 Dual Mesh Coil
1 x 3pcs SMOK TFV16 Triple Mesh Coil
SMOK TFV16 Coils Specifications
SMOK TFV16 Mesh Coil
Resistance: 0.17ohm
Recommended Wattage:120W
SMOK TFV16 Dual Coil
Resistance: 0.12ohm
Recommended Wattage: 120W
SMOK TFV16 Triple Coil
Resistance:0.15ohm
Recommended Wattage: 90W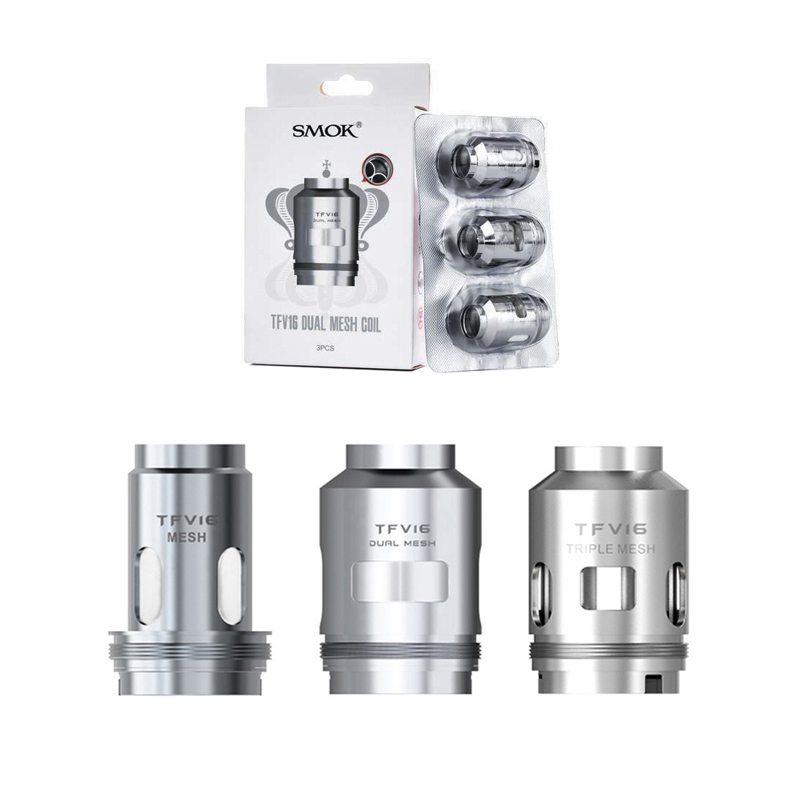 Customers who bought this product also bought:
Product added to wishlist
Product added to compare.

By entering Vape4Ever, you affirm that you are of legal smoking age 21+ and you agree to be Age Verified.